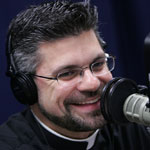 Fr. Matt Williams is the Director of the Office for New Evangelization of Youth and Young Adults (ONE). He was ordained a priest of Jesus Christ for the Archdiocese of Boston in May of 2003.
He served as Parochial Vicar at St. Mary's Parish in Dedham, MA for four and half years. In 2006 he was asked by Cardinal Seán to chair a committee for the faith formation of youth and young adults. The findings of this committee became the groundwork for the creation of the Office for the New Evangelization of Youth and Young Adults. In January of 2008, Cardinal Seán O'Malley commissioned the ONE office and appointed Fr. Matt as the first director.
Fr. Matt has been involved in the Catholic Charismatic Renewal for more than ten years. He is a founding member of Lift Ministries, a monthly gathering of youth, young adults and families where participants encounter the Lord through the Eucharist, His Word, Praise and Worship, and the gathered community.
Fr. Matt has a great passion to preach the Gospel, especially to youth and young adults; helping them to relate the Gospel to their daily lives.
Fr. Matt was born and raised in Braintree, MA and attended Sacred Heart Parish, where his parents and sister continue to worship. Fr. Matt graduated from Xaverian Brothers H.S. in 1992, and Stonehill College (1997) where he earned a B.S. in Business Administration with a focus on accounting. In 1997 he entered St. John's Seminary and began his preparation for the priesthood.