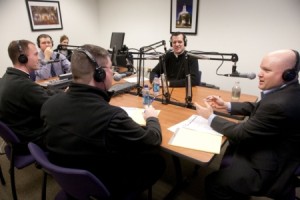 This week's Boston Pilot introduces The Good Catholic Life to the Boston area:
BRAINTREE — Greater Boston will soon have its own locally-produced Catholic radio show devoted to local content.

Beginning on Ash Wednesday, March 9, "The Good Catholic Life" will air on WQOM, a Catholic radio station based in Natick. The show will broadcast live each weekday afternoon from 4 p.m. to 5 p.m. from the archdiocese's Pastoral Center in Braintree, and be hosted by Archdiocese of Boston Secretary for Catholic Media Scot Landry.

Landry said that when Cardinal Seán P. O'Malley formed the Catholic Media Secretariat in July 2010, he hoped to have a "presence in every vehicle" to disseminate the "good news" of the Catholic faith.

According to a program outline Landry provided to The Pilot, the program will discuss key archdiocesan initiatives, various aspects of Catholic teaching, profiles of Catholic leaders and current events from a Catholic perspective.

He will be assisted each day by one of several co-hosts, including such as Judicial Vicar Father Mark O'Connell; Office of Religious Education Director Susan Abbott; Office for the New Evangelization of Youth and Young Adults Director Father Matt Williams; and Father Chris O'Connor, vice-rector of St. John's Seminary.

Landry also said the program could include segments on local and national current events by a Boston Pilot staffer and editorial analysis by Father Roger Landry, executive editor of The Anchor, the newspaper of the Diocese of Fall River. Father Landry is the brother of Scot Landry.

"The Good Catholic Life" will also have a companion website,www.thegoodcatholiclife.com and the show will be available on iTunes.
Read the rest of the article at The Pilot.