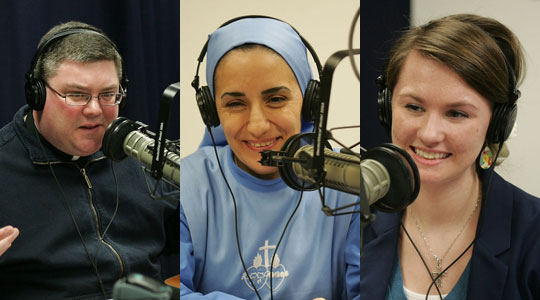 Listen to the show:
Podcast: Play in new window | Download
Today's host(s): Scot Landry and Fr. Chris O'Connor
Today's guest(s): Sister Olga Yaqob and Sarah Doyle
Links from today's show:
Today's topics: Preparing for Lent
Summary of today's show: Lent starts tomorrow. How are you going to take full advantage of this season to prepare for Easter? Scot Landry and Fr. Chris O'Connor are joined by Sr. Olga Yaqob and Sarah Doyle to talk about Lenten resolutions ("What are you giving up for Lent?"), prayer, fasting (and abstinence), and almsgiving. They share practical tips and spiritual insight for approaching the penitential season with joy.
1st segment: Scot welcomes Fr. Chris back to the show and Fr. Chris said last week while in Florida he caught his first ever. It was an edible fish and they had it for dinner. He then showed how it is an illustration for the preaching of the Gospel and the notion of being fishers of men. Fr. Chris also said that "Fat Tuesday" is his patronal feast day. At the seminary, the men prepare their ethnic dishes of their heritage. The word 'Carnival' comes from the Latin words for "Farewell to meat."
Scot said on today's show, we'll be talking about preparing ourselves for Lent.
Scot and Fr. Chris discussed the consistory in Rome over the weekend where Pope Benedict made new cardinals. They quoted Cardinal Timothy Dolan of New York who said to those who asked if he was looking to be pope next that he was seeking a higher calling: to be a saint.
2nd segment: Scot welcomed Sr. Olga and Sarah Doyle to the show. Sarah graduated form Boston University last May and has been giving a volunteer year at the Catholic Center at BU. She's been helping carry on the work of Sister Olga when she was there.
Sr. Olga formed a new religious community, the Daughters of Mary of Nazareth, and they now have 8 young women and four more are preparing to join this summer. They are all between 18 and 30 years old. Scot also said Sr. Olga's successor at BU, Fr. John McLaughlin, has been named a Monsignor by Pope Benedict for his work in the Archdiocese of the Military. Fr. Chris said Monsignor is an honorary title that recognizes some particularly distinguishable service. He recruited vocations for the Military Archdiocese and was the first to hold that office. The Military Archdiocese provides spiritual care for all Catholics serving in the US military services. Dioceses will co-sponsor men who are ordained in the diocese and serve for a few years before going off the military chaplaincy for up to 20 years and then return to the diocese.
Scot talked about the requirements for abstinence and fasting during Lent. Abstinence means Catholics over age 14 and in good health must abstain from meat on Ash Wednesday and the Fridays of Lent. Fr. Chris said 14 years old is about the age of Confirmation and thus the person is about an adult. The reason we abstain is not that the Church has something against meat, but that we are doing some penance together. We are giving something up to set aside Lent as a different time. Giving something up is to reflect why we give it up. Christ gave his life on the cross for us as an offering and so we make an offering, we are reminding ourselves of our membership in the body of Christ and the great gift that Christ gave to us.
Scot asked about vegans and vegetarians. Sr. Olga said she's a vegetarian and so she gives up something else. Whatever we give up during Lent is a sign of love for Jesus. We are giving in return to the One who on Friday pours out his whole life to redeem us.
On Ash Wednesday and Good Friday, those between 18 and up to their 60th birthday, we are asked to fast, which means to have only one full meal and up to two small meals that don't add up to a full meal. No snacks between meals. Sarah said the freshman students at the Catholic center are just 18 and so may be fasting for the first time. The Catholic community gives them support to endure.
Scot said he would play some clips from Fr. Robert Barron on the three practices of Lent: Prayer, fasting, and almsgiving. (See video linked above.)
Fr. Chris commented on Fr. Barron's practical tips on prayer. He suggested praying while driving. Fr. Chris said he knows a priest who gives up music for Lent, including in the car, and substitutes it with prayer. He recalled Pope Benedict's World Day of Communications message that talked about silence. If we don't hear the Word, silence is aloof, cold and barren. They go together. We need moments of silence to hear the Lord.
Sarah said it's very difficult to find silence on an urban college campus like Boston University. Students will say they don't have time for prayer, but what in life could you take out to take time for prayer. How about five minutes in prayer before or after homework.
Sister said she told someone she was excited for Lent and Ash Wednesday and someone thought she was crazy to look forward to it. Scot said Cardinal Seán describes Lent as a 40-day retreat.
Fr. Chris said when we're making Lenten resolutions, we have to be reasonable and practical in order to succeed. We don't want to become disheartened with ourselves when we fall, but so we can pick ourselves up when we continue. They should be practical and reasonable and good for us. It's not about the quantity of what we do, but the quality of what we do during Lent.
Sr. Olga said the Holy Spirit led Jesus into the desert after His baptism. Even Jesus needed the Holy Spirit to lead him. We need to pray about our Lenten season, to ask for the grace to have a faithful, blessed, and fruitful Lenten season.
Sarah said you also have to take Lent in a humble way. Have someone in your life who can hold you accountable for your Lenten resolutions. It helps you with a sanity check, if it's something you can actually carry out. It's not cheating to rely on your friends, on the Body of Christ. Scot said in his message for Lent, Pope Benedict that we don't go through Lent alone.
Scot said of accountability, that you go public with your goal to receive help for furthering your prayer life. Sarah said she asked a friend for suggestions on a way she could work on her goals for Lent.
Scot introduced another clip from Fr. Barron on fasting.
3rd segment: Scot said to Fr. Chris that Fr. Barron defines what fasting isn't. The purpose isn't a diet nor is it just giving up food. If we have suppress what we gravitate toward on a daily basis, we create space for God. Fr. Chris said the passions create enmity between us because we are always responding to our passions or appetites. St. Paul said the spirit is willing but the flesh is weak.We discipline ourselves so the stronger or more beautiful parts come forward.
Sr. Olga said when she was at BU, she used to encourage students to fast from Facebook and spend that time in person with a friend or writes notes to a friend, in order to be attentive. She said we are going on a camping trip with Jesus in the wilderness so we need to be attentive to him.
Scot said addiction might be too strong, but we can get addicted to many behaviors or activities that eventually mean we say we don't have time for prayer. Fr. Chris said there are some things that are essential and others that can crowd into our life and separate us from Christ. We aren't asked to give up the essentials, but to break through the habits and patterns that keep us from Christ.
Fr. Chris said Fr. Barron said we aren't Puritans, and he addressed the lifting of abstinence and fasting when St. Patrick's Day is on a Friday in Lent. St. Patrick is patron saint of the Archdiocese of Boston and a patronal feast is a time for feasting.
Scot said Lent is a time of joy as well. The readings for Ash Wednesday tells us not to look gloomy when fasting. Sr. Olga used the example of an engaged couple during the preparation for marriage, working hard to get the wedding ready, but it's also a time to be enjoyed and to look forward to sacrament on their wedding day. If we know why we are doing what we are doing during Lent, there is so much beauty we can't help but more joyful. The Church is giving us a whole season to work toward sainthood, so how can we not be joyful.
Scot introduced a clip of Fr. Barron talking about almsgiving. He suggests the practice of responding to every request for money you receive by mail during Lent, give them something. When you see a homeless person, give them something. If you're buying something, choose the one you like, buy the next one down, and give the difference away to the poor.
4th segment: Scot said almsgiving is a generosity of spirit. All we own is not to be used just for ourselves. We are only stewards of those gifts. Fr. Chris said all we have been given comes from God so to be generous is to imitate the Divine. We give because God has given to us. He quoted St. Vincent de Paul who said when someone asks you for something, there's poverty there, so give.
Scot said it's a spirit of almsgiving that's more important than how much we give. Sister Olga suggested carrying gift cards to grocery stores or a fast food restaurant to be able to give to someone who asks for help. She said almsgiving can also be service, both spiritual and corporal works of mercy. It can even be visiting a cemetery to pray the Divine Mercy chaplet for the deceased.
Sarah said she and several students are going on an alternative Spring Break. They are taking a road trip to different convents to do service for the sisters, whatever they need of them. They will also be going to the National Shrine of Divine Mercy in Stockbridge, Mass.