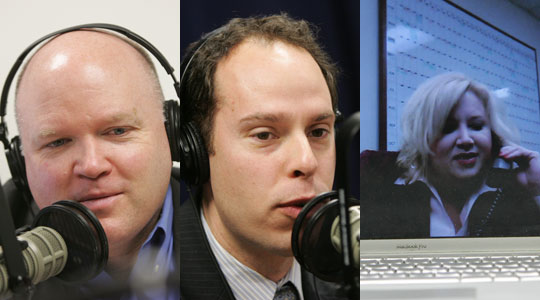 Listen to the show:
Podcast: Play in new window | Download
Today's host(s): Scot Landry
Today's guest(s): Victor Pap and Alexis Walkenstein
Links from today's show:
Today's topics: Catholic communications and public relations
Summary of today's show: Alexis Walkenstein and Victor Pap discuss with Scot Landry their work at the Maximus Group, promoting books, movies, and other media—Like The Way, There Be Dragons, and Mighty Macs— that incorporate Catholic values using a grassroots efforts among Christian communities in a way that really has never bee done before.
1st segment: Scot welcomed listeners to the show. He said there are so many good books and movies and other media being produced that the owners want to let Catholic families know about, but the Church in the US is so decentralized with thousands of parishes and schools that it's difficult for the Church to promote and market those initiatives. The Maximus Group entered that market a few years ago as a professional promotional and marketing agency. Two local people who grew up in the Boston area have now joined Maximus in leadership positions and Scot welcomed Victor Pap and Alexis Walkenstein to the show.
Alexis joined Maximus about one year ago. Scot asked her about her background. She grew up in the Archdiocese of Boston, starting in Framingham. After graduating from Regis College, she started with WHDH-TV Channel 7 as the news assignment manager and a producer. Her last big assignment was covering the death of Pope John Paul II. From there she wanted to serve the Church, which led her to the Diocese of Palm Beach, Florida, where she served as the diocesan spokesperson, for five years. She wanted to move back to Boston and after praying a novena, she was contacted by Lisa Wheeler of Maximus out of the clear blue to come work for them.
Scot asked Alexis what it was like working on the Channel 7 news desk during the height of the sex abuse crisis in Boston. Alexis said you couldn't escape it. Your faith is your whole life and your job can't be compartmentalized from it. Being an objective journalist and a fearless witness to the faith was difficult. She had already been considering leaving secular news because of the type of news that they cover. But sometimes God puts you in a difficult place to be a light in the darkness.
Scot then noted that the diocese of Palm Beach had two of its bishops resign after being accused of abusing young men. They were followed by then-bishop Sean O'Malley, who himself was followed by Bishop Barbarito, who Alexis worked for. Alexis said much of her desire to leave secular news was being tired of seeing the Church take it on the chin, but she also wanted to go on offense to proclaim the good news of the Church and bringing the Gospel to people.
Scot then asked Victor about his background and how he came to work for Maximus. Victor said he grew up in Weymouth. One of his parents came from Hungary and the other from Brazil and they both fled oppressive governments. They met at the Colonnade Hotel. They settled in Weymouth where he grew up and went to Sacred Heart School. He didn't have an interest in government. He went to Suffolk University and got an internship at the State House. He was amazed at how the process worked. His communications and journalism degree helped him understand how he could have a greater impact. He remembers a vote on junior operator requirements to limit their driving. He was struck by how his peers didn't know how they were being affected. From there he worked in campaigns for the next 13 or 14 years and lead the group Catholic Citizenship. It was a grassroots effort of laity to work with the Mass. Catholic Conference to influence lawmakers. Victor is also on the town council in Weymouth, bringing his Catholic faith to local government. He said Catholics have to become more savvy in how we communicate with our government.
Victor's Catholic faith has always been important to him, especially after getting married and having kids. He sees his own fatherhood in relation to the Father's relationship to us.
In college, Victor was a member of a debate team and they were national debate champions among the Ivy League. There was a lot of travel and it was very stressful.He remembers one tournament at Cornell during his junior year where he was nervous and had a scholarship riding on it. He went to a chapel before his round instead of practicing. He ended up winning that round and it showed how important it is to go to prayer.
2nd segment: Scot asked Alexis about the history of Maximus Group. She said it was founded in 2005 by Robert DeBellis, Lisa Wheeler, and Matt Pinto, seeing the need for the Church to be represented after the years of the sex abuse crisis and the death of John Paul. They said the need to engage the media with the right message with the right people on the topic of the day. Through that process Maximus was born and has been growing ever since. Maximus has been building a bridge between the sacred and secular.
They have many clients they represent. They are often known because of the films they represent, but there's a lot more they do. They are even hired by entities that are secular but want to have a reach in the Church, including Walmart and Proctor & Gamble. They represent Ignatius Press. Every day is different with Maximus.
Alexis said she met Victor when he was working with Newt Gingrich promoting his film "9 Days that Changed the World."
Scot said to Victor that The Passion of the Christ was very successful and marketed very differently from other big films. It was very much a grassroots effort among churches and the idea came that this was a good way to market films. Victor said it takes a lot of organization and outreach to ensure each film or project is successful. Catholics need to realize the same is true about politics. They have to be organized a in a grassroots fashion. Marketing and promotion are the same. The personal touch of reaching out to a neighbor or parishioner is important. It's far more important than mass marketing and advertising.
Scot said Maximus helped to market a new book on the changes in the Roman Missal last year by Dr. Ed Sri. This exemplifies Maximus' relationships with parishes and dioceses and Catholic media. Alexis said so much discussion about the Mass last year helped them to put the Catholic liturgy in the secular media. They haven't had an opportunity like this in decades. They put together a press availability with Sri and Cardinal Wuerl and a number of others as well to talk about the changes and the first question came from a rabbi which showed Alexis that they were bridging the gap.
Victor said it's challenging as a Catholic parent who enjoys books and films and the major media are putting out so many products that are antithetical to Christian values. He was struck by the movie The Way, starring Emilio Estevez and Martin Sheen, having seen those actors in other movies over the years but seeing them in a film that shares real Christian values. This made him want to be part of the Maximus Group's work in promoting this type of media.
3rd segment: Scot said the movie The Way takes place on the Camino de Santiago del Compestela about a father following his father's footsteps of the pilgrimage. Alexis worked on the promotion of the film, traveling with them around the country promoting it. It was very impactful. Churches turned out in force wherever they went to see this film which shows humanity seeking the divine and journeying as a community.
Scot asked what led to them wanting o market this independent film in this grassroots fashion. Alexis said it speaks to their personal nature. Scot said it inspired him to want to walk the Camino in Spain as part of the ancient pilgrimage. Victor said there isn't necessarily an appreciation for art among Victor's generation. It allows for a form of prayer that's different from what we're used to it. It's a different kind of way to affect your community and share with it.
Scot said his sense is that the momentum for The Way built over time and it got a lot more public relations coverage than other films. Alexis said it was an incredible experience to be with them. They are a unique family that attracts a lot of attention all the time anyway. They were so generous with their time. The DVD is coming out on February 21 and because the movie didn't reach every market in America, the buzz is inspiring others to want to see it too.
4th segment: Scot asked some of the other projects Maximus promoted in 2011. Films included Of Gods and Men, There Be Dragons, Soul Surfer, The Way. There many publications including Pope Benedict's book on Holy Week, Lino Rulli's Sinner, Teresa Tomeo's Extreme Makeover. Scot asked if promoting 13 Days, a religious film about Fatima, and Mighty Macs, a film about a girls' basketball team, is similar. Alexis said there is a lot of work and planning that goes into executing these projects months in advance. They have to carve out who the audience is, for example. Every project is individual. For some they're charged with only reaching Catholic audiences, while others have them reaching every audience.
Victor said he's started his first project is a new film with Andy Garcia, who's got a great story of his family. The film is about the role of the Mexican lay faithful during a trying time in their history in which their faith is challenged. October Baby is another film talking about how a young woman is facing some challenges in her life.
Scot said he saw that October Baby was premiered at the March for Life. aLexis said it's a story of a young woman who survived a failed abortion attempt and tries to find out who she is and her biological mother. It shows the wounds that exist and healing that needs to take place. Fr. Peter West was at the screening as well as other important lay leaders on the front lines of the pro-life movement. They were blown away by the quality of the film. She said the teens that saw the movie loved it as well.
Scot said the premise of the movie sounds like the other movie Bella, which is a beautiful way to speak of the mystery of life. Victor said October Baby will be out in late March. It upholds the dignity of life, not in an abstract way, but a real human way.
Alexis said they are also working on a book project written by Pope Benedict's brother, Msgr. Ratzinger.