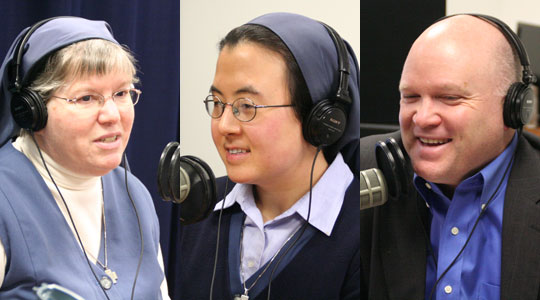 Listen to the show:
Podcast: Play in new window | Download
Today's host(s): Scot Landry
Today's guest(s): Sr. Emi Magnificat and Sr. Christine of the Daughters of St. Paul
Links from today's show:
Today's topics: The Daughters of St. Paul
Summary of today's show: The Daughters of St. Paul proclaim the Gospel in every medium available from printed books to films and TV to music to ebooks, apps, and websites. Scot Landry interviews Sr. Christine and Sr. Emi Magnificat about the mission of the Daughters of St. Paul, whose American headquarters are right here in the Boston area; their paths to the vocations in the order; and the story of the order's founder, Bl. James Alberione.
1st segment: Scot recounted that yesterday the show did not broadcast over WQOM due to technical difficulties, but it is available on our website. This week is a big anniversary as well.
He also noted that Friday, January 6, we mark 10 years since the first publication of major revelations concerning clergy sexual abuse in the Archdiocese of Boston. Cardinal Seán is marking that anniversary with perhaps the most significant rounds of media interviews he has done since coming to the Archdiocese. Links to those are below. He's also conducted other interviews that will be published in the coming days as well in the National Catholic Report, the Pilot. This Friday, January 6, Cardinal Seán will be on The Good Catholic Life.
2nd segment: Scot welcomed Sr. Christine and Sr. Emi to the show. He said he's somewhat embarrassed that he hasn't had the Daughters of St. Paul on the show before now. Sr. Christine said the Daughters were started specifically to work in media. They started in Italy and worked in books and other print, then radio and eventually TV, movies, cassettes, CDs, DVDs, websites, ebooks, and smartphone apps.
Scot said if St. Paul himself were evangelizing today, he'd been on radio and TV and Twitter and Facebook. Sr. Emi said Bl. James Alberione, their founder, said that was their mission, to be like St. Paul. She said St. Paul was so convinced of the love of Christ that he wanted to give his life proclaiming the Gospel. that spirit impels the daughters today.
Sr. Christine said Bl. James started with a group of men he wanted to train to be the media apostles of the 20th century. In 1915 he founded the Daughters of St. Paul because he thought women should be evangelizers. They should be there as mothers and sisters of the church to spread God's word in that manner, but also through personal contact. They do that in the media centers and at conferences and wherever they encounter people.
The witness of their vocation and vows is the first proclamation of their mission and the mission flows from that. In 1932, Sr. Paula Cordero was sent from Italy to New York to start a foundation. She went to St. Patrick's Cathedral and put a medal of St. Paul behind the bishop's chair to pray for the intercession of St. Paul with the cardinal. Cardinal Cushing invited them to Boston to start their novitiate here and there American headquarters is in Jamaica Plain.
Sr. Emi said about 60 sisters live in Jamaica Plain, including the novitiate, provincial government, bindery, and the sisters who work at the Dedham book center. She said the novitiate stage is the first entrance into the community and occurs after about two years of postulancy. At the end of the 2 years of novitiate, they take first vows and then about5 years later, they take perpetual vows.
Sr. Christine said there are 2,500 sisters in 32 nations. She said in Africa, there are many books printed and many book centers. Each country works in the predominant media needed in that society. In Italy they are the major religious publisher. Near the Vatican they have a multi-language bookstore. From Boston, they record radio programs that air in the US and Latin America. Six months ago, they started a Spanish and Portuguese initiative where they are working on distribution of books in those languages throughout the US.
Sr. Emi said the book centers sell all of the Daughters' own books and music, but also any materials they think will help others. Every book center also has a chapel with the Blessed Sacrament. Sr. Christine said it's a 50/50 ratio of Pauline books versus other publishers. They are looking forward to receiving new daily Missals for the new translation of the Mass. The bookstore in Dedham is on Route 1 across from Legacy Place. There is a beautiful little chapel there. They look to serve people any way they can so if they don't have a book, they will suggest another one. They have many CDs and many Catholic DVDs. They will be soon adding St. Paul DVDs.
Sr. Christine spoke of some of the books they publish. They have weekly meetings to determine what manuscripts will be accepted. They have the book printed by an outside company. They warehouse the books in Jamaica Plain and do the marketing and sales from there as well. They also ship orders from Boston. Many of the senior sisters do the packaging of books and sets. They don't have retired sisters; everyone does what they can.
Sr. Christine said that while their books are available on Amazon.com, it provides more support to them if people buy them directly from their website or book centers. They have a Facebook presence too, especially for their choir. They do two CDs per year and have many concert performances around Christmas. They have their music on iTunes as well for downloading to iPods and iPhones.
Sr. Emi said all their new books they hope to make available as ebooks in addition to bringing their popular older titles to ebook. The whole province is also working to reach out more to Catholic schools with book fairs in the schools.
They also have new apps for iPhones, including a Rosary app, a Missal app, Saint of the Day, and the Mass Explained app. Sr. Christine said Jaymie Stuart Wolfe wrote a booklet about the new translation of the Mass and it was so popular that they turned it into an app. Sr. Emi said they have an app for healing psalms and prayers. It accompanies people throughout the day in prayer.
3rd segment: It's time to announce this week's winner of the WQOM Benefactor Raffle.
Our prizes this week are Girls' Night Out: Having Fun with Your Daughter While Raising a Woman of God
and A Lamp for My Feet and a Light for My Path (For Catholic Teens)
.
This week's benefactor card raffle winner is Kathleen Sullivan from Cohasset, MA. Congratulation, Kathleen!
If you would like to be eligible to win in an upcoming week, please visit WQOM.org. For a one-time $30 donation, you'll receive the Station of the Cross benefactor card and key tag, making you eligible for WQOM's weekly raffle of books, DVDs, CDs and religious items. We'll be announcing the winner each Wednesday during "The Good Catholic Life" program.
4th segment: Scot asked Sr. Emi how she came to be a Daughter of St. Paul. She said as a sophomore in high school, she encountered the Daughters' website which inspired her. She had an aunt who had worked with the Daughters for many years in Japan. The order has a program for high schools to come to Boston for a week in the summer to get to know the community. That's when she felt at home with the sisters and was attracted to their way of life. She was so impressed by how the prayer of the sisters fit so well with their mission of proclaiming the Gospel. Because they are always looking to the new forms of media, their mission will never grow old.
Scot asked her to talk about her aunt. Sr. Emi said she expressed the joy she felt in working with the sisters. Discovering her vocation as a Daughter of St. Paul was not a "being struck by lightning" moment, but something she became aware of over a longer period of time. Right now, she's working in much of the bookkeeping and computer operations work. She's also served in St. Louis, Honolulu and Texas, but now lives in Boston.
Sr. Christine said she joined the Daughters in 1964 at 17 years old. She went to Catholic school only for first grade, but it made a big impression on her. She told God at 6 years old she would be a nun. She had another love as well: TV and movies. As she grew older, especially during high school, the call waned a bit, but she told God that if He showed her an order that works in show business she would join. So she encountered a book that said the Daughters of St. Paul work in show business. She encountered the congregation right in the middle of her senior year of high school. Sr. Christine said she made a second "Yes" to God in her mid-30s when she came through difficulties and uncertainties and knew that this was truly where God had called her.
Sr. Christine said her attraction was the apostolate. The Sisters talked about living in community, the challenges of different personalities, but also the joys of getting to know each other, their different cultures and backgrounds. Sr. Emi said they often have fun together. Sr. Christine said they have a movie night every Saturday, they play board games together, they play games like scavenger hunts. They have space and place for recreation and relaxation.
Sr. Emi said 6 temporary professed sisters and two of them are in Rome in preparation for final vows. There is one novice and five postulants. Sr. Christine said they have come-and-see weeks and weekends. An interested woman would meet with a sister, then come and live with the sisters for a time.
Sr. Christine said she's been friends with Marianne Luthin, director of the archdiocesan pro-life office, and for the last 4 years has been helping in the office for several hours a week. She helps with Women Affirming Life, which includes two prayer breakfasts per year with speakers. She mentioned the archdiocesan Holy Hours for Life coming up on January 22.
5th segment: Scot said he recently heard a presentation on Bl. James Alberione, who founded five religious congregations, including the Daughters of St. Paul. Sr. Emi said he grew up on a farm in Italy. She told a story of how he illuminated his family's planting the farm by holding up a lamp and that became a metaphor for him for his life's mission.
Scot said on the Daughters' website there are photos of Bl. James behind a film camera directing a movie. Sr. Christine said his motto was "Ever onwards, Daughters of St. Paul." He was always pushing onwards. He always wanted to read the news of the day in order to pray with the news of the day.
The co-founder of the order was Mother Thecla. He invited her to share with him in his dream of establishing the Pauline orders. Sr. Christine said she was a holy quiet soul. Her role was to take the feminine branch and to see them grow. She sent many of the missionaries from the orders throughout the world. She has been declared Servant of God.
Sr. Emi said BL. James was kicked out of the first seminary he was in and was admitted to a second seminary on probation. It was then that he was given the great grace of his mission from God.