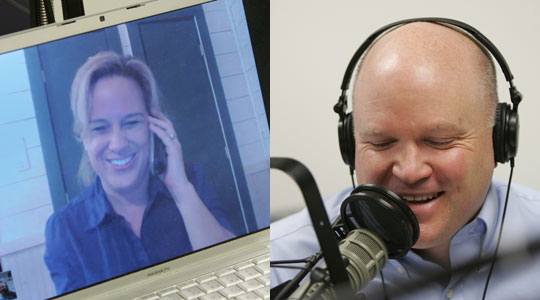 Listen to the show:
Podcast: Play in new window | Download
Today's host(s): Scot Landry
Today's guest(s): Danielle Bean, editor-in-chief of Catholic Digest and co-host of CatholicTV's The Gist
Links from today's show:
Today's topics: Danielle Bean, Catholic Digest, TheGist, and Faith and Family Live
Summary of today's show: Danielle Bean is a homeschooling mother of eight, author of three books, editor-in-chief of America's largest Catholic publication, a well-known blogger, and now the co-host of CatholicTV's The Gist, an all-new talk show for women. Whew! Scot Landry talks to Danielle about being the queen of all Catholic media, how she juggles her responsibilities, and her vision for serving Catholic women and their families by offering inspiration, support and community.
1st segment: Scot welcomed everyone to 2012 and he wished everyone a Merry Christmas and a Happy New Year. We start the new year with a great guest, Danielle Bean.
He also noted that Friday, January 6, we mark 10 years since the first publication of major revelations concerning clergy sexual abuse in the Archdiocese of Boston. Cardinal Seán is marking that anniversary with perhaps the most significant rounds of media interviews he has done since coming to the Archdiocese. Links to those are below. He's also conducted other interviews that will be published in the coming days as well in the National Catholic Report, the Pilot. This Friday, January 6, Cardinal Seán will be on The Good Catholic Life.
2nd segment: Scot welcomed Danielle Bean to the show. He noted that she is a very busy mom living her Catholic faith. He asked her about her new TV show on Catholic TV called The Gist. She said it's an opportunity for Catholic women to have a new voice in Catholic television. It's Catholic women talking to one another about the topics they care about: family lives, faith lives, balancing schedules, balancing work and family life. Scot said this month's CatholicTV magazine said Danielle posed the idea for the show to Fr. Robert Reed this past summer. In her work on Faith and Family magazine helped her to understand what Catholic women need from media to serve them as whole persons. Her goal for The Gist was to do something similar to Faith and Family in television form, offering women what they care about from a Catholic perspective.
Scot asked Danielle how the Gist will compare with shows like the View. Danielle said those shows are popular because they meet a need. Women like to communicate with one another and talk. Women respond to a talk show of women sharing and connecting. But those shows appeal to less admirable qualities. The Gist will help them encourage and build up one another, to share their struggles and triumphs from a Catholic perspective. Danielle said recording the show never felt awkward. She said her co-hosts are Carolee McGrath and Rachel Balducci and they have a real connection to one another because they share their core values.
Danielle said each show takes up two different topics, balancing deeper topics and lighters ones, plus interviews, including recent TGCL guest Lisa Hendey. They will also do brief review segments, sharing ideas and products they find useful in their lives. Scot noted that Lino Rulli will also be on the show, as well as Martin Sheen and Emilio Estevez talking about their new movie The Way, and later this month author Fr. Jim Martin.
Scot said doing TGCL has been wonderful to get to know new people both as guests but also to develop new relationships with the co-hosts. Danielle said a big part of what they do as Catholic women in the Church is to support one another, and sometimes that comes in the form of knowing that someone out there who shares your values, shares your circumstances.
Scot said Danielle has worked in print, online, and radio. What's it like to learn to do TV? She said it's been fun and she went into it hoping to learn alot. She's found a lot of great energy. She credited CatholicTV for the great shows they're making. She said it's also been humbling. She said watching the taping of This Is Day, she remarked to Rachel how much fun TV is.
Scot said Helen Lee and Bonnie Rodgers were on TGCL before Christmas and talked about the social media component of the show. Danielle said she and Rachel have been active online for many years and it felt natural to do stuff online for the show. They've already built up a Facebook page where they will include poll questions and ask viewers their opinions on the topics they take up. She hopes to get that feedback on a regular basis and incorporate it into future shows. During the premiere tomorrow they will host a live chat on Faith and Family Live to talk about the show as it airs. The show will air on Wednesday morning at 10:30am with numerous rebroadcasts throughout the week or on-demand at CatholicTV.com.
3rd segment: Scot said Danielle is also beginning the new year with new responsibilities as editor-in-chief of Catholic Digest. He asked her about the new position. Scot said he was surprised to hear that it's the number one Catholic publication in the US. Danielle said she came into the position sort of sideways. She was editor of Faith and Family magazine for years and it was purchased last year by Bayard, the company that owns Catholic Digest. They made the decision not to publish Faith and Family in its current form. (She emphasized that the website is continuing.) Faith and Family will be combined into Catholic Digest and the Digest will re-launch in March with a new look and a larger format of 6×9. It will have a new contemporary look. They want to create a magazine that will be attractive to the core of their audience, which is Catholic women. It will be more visually appealing. She hopes to bring the visual appeal of Faith and Family to Catholic Digest. It's a broader audience than Faith and Family. She's been looking for a balance between the old content and the new and is looking forward to the March re-launch, speaking to a new audience and being respectful to its 75 year tradition of publishing.
Scot said said it publishes 11 times per year. Danielle said the magazine reaches about half a million people, including issues in parishes. They are looking to build the subscriber base and trying to find a right balance with providing content for free online. They will provide 9 regular issues and 2 special issues that will ship simultaneously with regular issues. They hope to give added value for the subscriptions. Danielle said Catholic Digest will even less a news magazine and more a lifestyle magazine and will include the kind of content you can't get online. She wants people to be inspired but she also wants it to be a tool for Catholic living. She wants to the pages of the magazine to reflect community and practical support.
Scot said other magazines called Digest often have shorter articles or abridged articles from elsewhere. Is that what Catholic Digest will be like? Danielle said they talked about possibly changing the name of the magazine to address this question, but they kept it because it the number-one recognized Catholic publication name. She said reprints were part of Catholic Digest history, but that's not the plan for the future. Her focus is on providing fresh and relevant content from contemporary writers.
Scot talked about the way the Catholic Digest website is organized. He said there's a lot of content available there on a wide range if subjects. Scot said he was impressed by how broad the content is. It shows that living the Catholic faith isn't just about praying, but it's about embedding our faith into all aspects of life. Danielle said her goal is to serve the whole person. This is what the Church does for us.
4th segment: Scot said Faith and Family Live is a very strong community that built up around Faith and Family magazine. He asked how that developed and why is it important to continue when Faith and Family ends as an independent entity. Danielle said it goes back to the days when she started her own blog in 2004 and she said gathered a following of Catholic women who would have weekly conversations on whatever was on their minds. When she took on the role of editor of Faith and Family, she convinced them to create a beautiful website that fosters the same sort of community. The look and feel is expressive of the kind of community they have built there. They managed to grow the site through promotion in the magazine and other ways.
On a daily basis, the cadre of bloggers who contribute regularly post on topics of interest, but they also do a daily coffee talk where it's freeform discussion on various topics. Early on they discussed that access to one another was the most valuable commodity they could offer. The greatest resource was the community of Catholic women online, not just the writers for Faith and Family.
Scot said one of the comments he often heard at the Boston Catholic Men's and Women's Conferences was being present with other people like themselves and Faith and Family Live is one of those conferences every day. Danielle said she's often heard from women who say the best part is just not feeling alone. Many women don't have someone they can talk to about their faith and family life. For those living their faith counter to the culture, they often feel isolated from everyone else. You don't want to feel constantly on the defensive or so alone.
Scot said someone could bring up a question about NFP in an environment they can feel is safe, unlike a random gathering of friends or neighbors. It's a private and perhaps anonymous forum for asking questions and getting answers. Danielle acknowledged that the Internet can be a difficult place to keep charity and they have struggled with the comments, but they don't want to forbid anonymous comments because of that very reason. Scot said all the supportive comments show how much Catholics care for one another and anyone looking for help. Danielle said it's like the holy Father says, which is we want to give the Internet a soul.
Danielle said you don't have to register or provide personal information to comment on the site. But you can also join the free online community by registering.
5th segment: Scot said Danielle has written three books, My Cup Of Tea: Musings Of A Catholic Mom
, Small Steps for Catholic Moms
, and Mom to Mom, Day to Day: Advice and Support for Catholic Living
. My Cup of Tea was the first book and it included some reworked columns from when she was a columnist at National Catholic Register, but also some new essays sharing in a very real way what the day to day living of the Catholic life looked like from her perspective. After that book was published, she started a website to promote the book and through the blog she started to get lots of request from women from advice. She heard a lot of the same questions over and over from women who were struggling and looking for help. From that came the idea for Mom to Mom. She tried to do it with humor and honesty from her own experience.
Scot said parenting without a sense of humor is very challenging. Sharing the moments of humor with first-time moms and others who are struggling can expose them to deep and profound joy. As the mother of eight children she has a lot of experience and many moments to share. Being a writer, especially a daily blog, gives her a perspective to step back and see the bigger picture. It's easy to get lost in the day to day drudgery, so it's important to step back and see what a high calling it is. She remembers early on in her writing career, she was at home and fell down some stairs and at the bottom lay there and thought, This will make a great column. This is part of that perspective.
Small Steps was a project she worked on with her friend Elizabeth Foss. They had the idea that they like the daily support from a book that gives them guidance to inspire and encourage and support in a practical way.