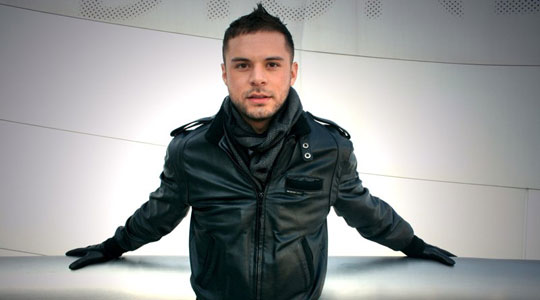 What is this?
Listen to the show:
Podcast: Play in new window | Download
Today's host(s): Scot Landry and Fr. Matt Williams
Today's guest(s): Joe Melendrez, Catholic rap musician
Today's topics: Ministry of Catholic rapper Joe Melendrez and the Rosary Rap
Summary of today's show: Joe Melendrez joined Scot and Fr. Matt to talk about how he came to develop the Rosary Rap, the prayer set to a hip hop beat; and the unique way in which Joe used 1,000 burritos to bring Christ to his community and engage in a ministry of presence and a Eucharistic experience in a meal.
1st segment: Scot welcomed Fr. Matt back to the show. Youth ministry heats up in the summer and this past weekend Franciscan Unviersity hosted Steubenville East youth conference at the University of Rhode Island. Three thousands teens were there for speakers, music, Mass, Adoration, and Confession. They hear a strong emphasis on Jesus' love for them and there is a strong promotion of the sacraments. Every 5 minutes 20 kids went through the confessionals.
On Monday night, they hosted the annual high school harbor cruise in Boston Harbor with 300+ high school students. It's meant to be an outreach event with lots of social interaction and a message from a high school teen who talked about the priesthood and the importance of living the faith. They had Eucharistic Adoration on the boat. On the top deck they had music and dancing and on the bottom deck they had adoration. Fr. Matt thinks about one-third went through the chapel for a prayer.
Last night they went to the Red Sox game, which was a beautiful evening and a great game. All of the World Youth Day organizers were able to attend and see the game from the rooftop terrace seats.
Scot said Kate Zabriskie who works in the chancellor's office suggested that he get Joe Melendrez, the rosary rapper, on the show.
Scot also noted that this is The Good Catholic Life's 100th show.
2nd segment: The segment began with a decade of the Rosary being rapped by Joe. Scot asked Joe about his background. He grew up in San Antonio and went to the University of Dayton. Joe said his parents have always been supportive of his dreams. When he was 15 he went on a retreat that he had an experience of God that he believed to be a calling of some kind. He looked for ways to bring God to others in service and helping on retreats.
Scot asked him when he first thought about praying through rap. Joe said he loves all kinds of music. A lot of people stop at the bad word, but Joe sees beyond the profanity in which the big-time rappers express themselves. He started by writing poems to girls he liked, then to writing about the way his days were going, and suddenly it occurred to him to start freestyle raps as prayer, while in his car, for example.
Scot noted that it is an axiom in the Church that singing is praying twice. Joe said that Tupac Shakur wrote once that he was aware that his gift was from God. So Joe knows that he is gifted from God and he wants to express himself. He wants to be in tune with the Holy Spirit in order to glorify God with that creative act.
On one retreat when he was about 16, he was asked to teach the other kids how to pray the Rosary and he decided to try it through rap. One of the retreat leaders encouraged him to record a rosary rap CD.
Fr. Matt said rapping prayer must count for 2.5 times praying. He asked Joe how old he is and Joe said he is 25. Fr. Matt asked him what music he grew up listening to and he said he's loved all kind of music. He recalls the first rap CD he had was by Sean Coombs (P. Diddy) and the CD opened with a prayer and in another CD he made a song about Jesus being his best friend. That made Joe ask why Jesus couldn't be his best friend.
Fr. Matt said it's a powerful witness when you have these superstars pointing to Christ. It's powerful when he can elevate the culture with the Gospel. For a leadership retreat they did soon, they made a song parody of the popular song, The Dougy, called The Jesus Dougy.
Joe said it's essential to connect culture to the Gospel. They have to constantly adapt. Songs on the radio are changing each month; are we doing that ourselves? We maintain our traditions and teachings, but do we adapt to the changing culture? Make good music first and after they like the music, they notice it's about Jesus.
3rd segment: Scot said he was inspired by reading about how Joe won the Chipotle burrito contest and what he wrote to win the contest and how he used the thousands of burritos he won to have conversations about God. Joe had a chance to study at Chaminade University, a Marianist university in Hawaii and while there a friend told him how sharing a meal with a someone can be a Eucharistic experience. Chipotle is a Mexican burrito chain. They had an essay contest about what the contestant did over their summer vacation and how it connected to Chipotle. He wrote that he was trying to write raps and had writer's block and after he ate a Chipotle burrito and was inspired to write a song called "Gotta Get It Now." He won the contest and won 3 burritos a day for a year and four 20-burrito parties. "With great power comes great responsibility" so he saw this as a sign of God providing food so he could have these Eucharistic experiences with people.
Joe said his first meal was with a friend where they came up with a format: talk about their university, with a relationship, with something in their faith now, and their future aspirations and dreams. They would cover all these topics in one-hour's time at A Chipotle, like a mini-retreat. He started inviting random people on campus. People thought they were on Candid Camera, but out of that year he missed only about 30 days of Chipotle because he was either in a city without a Chipotle or it was a holiday.
Fr. Matt asked him how he came out of a comfort zone to bear witness to Christ in this way. Joe said he spent a lot of his faith journey searching on his own so he combined it with his enjoyment of being with people. He didn't get a lot of rejections, mainly because it was a college, the students were often hungry, and the kids enjoyed Chipotle.
They also threw a homeless burrito party during Lent. He put flyers up around town and Chipotle gave them an extra 20 burritos. The homeless people would come in and Joe and his friends would sit down with them and talk with them too. Fr. Matt said he loves how Joe combines evangelization with service. He feeds them physical food and feeds them Jesus. Scot asked him how the people at Chipotle responded to Joe's decision to use his prize this way. The company gave him a special metal card that he was to show at any Chipotle. He had Chipotle burritos at many places around the country. He thinks they probably didn't expect him to really come every day.
4th segment: It's time to announce the winner of the weekly WQOM Benefactor Raffle.
Our prize this week is "Rediscover Catholicism" by Matthew Kelly.
This week's winner is Ann Marise Jaboin from Salem, MA. Congratulations Ann Marise!
If you would like to be eligible to win in an upcoming week, please visit WQOM.org. For a one-time $30 donation, you'll receive the Station of the Cross benefactor card and key tag, making you eligible for WQOM's weekly raffle of books, DVDs, CDs and religious items. We'll be announcing the winner each Wednesday during "The Good Catholic Life" program.
5th segment: Scot said Joe is known nationwide for this rap and asked him how he got the idea to go national. Joe said like anything else he prayed about it and he knew that it would be known by its fruit. If the fruit is good, then it will succeed. In the rap, he raps an introduction, he raps the mystery, and then raps the prayer. He started with a demo version that he played for friends. He was encouraged to make a professional recording, but he experienced many obstacles. He prayed that if it is God's will that it succeed. That night he received a call from a friend who said his youth group loved it and he took that as a sign from God. After that everything came together.
Scot asked him about resistance to rap as a form of music for prayer. Joe said it is merely a means of expressing words and those words can be good or bad. The rosary is a universal prayer and it is for all generations.
Joe said it's not difficult for people to learn how to rap the Rosary. It's not difficult to pray the Rosary, but when you think about it, it blows your mind to realize that you are praying with the Mother of God. How many people are praying t he Rosary through rap now? Joe said that he gets Facebook messages and emails from all over, including from soldiers in Iraq who said it was helping them get through. He knows that God only knows how far and wide it will spread. He's heard from elderly people who are praying the Rosary rap. His primary audience is the younger generation ,especially college students. Fr. Matt guess that it really touches the teenage boys and young adult men. Joe thinks back to when he was in high school, if there was someone like him out there doing this then, he would have been inspired sooner to go out and put his faith in action like this. He hopes people will pray the Rosary in other forms as well.
Joe said he heard about families praying the Rosary rap together; kids asking their mom to pray the Rosary rap in the car on the way to school; grandparents praying it with their kids. Fr. Matt said he would love to be a fly on the wall when the Landry family is praying the Rosary rap.
Joe spoke to the Los Angeles Religious Education Congress' Youth Day. Last year he had 500 people show up for his session. This year 5,000 people showed up to hear his talk: "Hip Hop Prayer: The Revolution." He had a number of Christian hip hop artists came out and performed with him. He also talked about how focusing on one main idea in prayer helps the prayer life. He also talked about focusing on phrase that encapsulates who you are and who you are called to be. For Joe, it is "God's son".
Scot said Joe will be performing in Madrid at World Youth Day next month. He will be connecting with a Spanish rapper who is also a Marianist brother and rapping with him at the apostolic nunciature on August 19, the home of the Pope's ambassador to Spain.