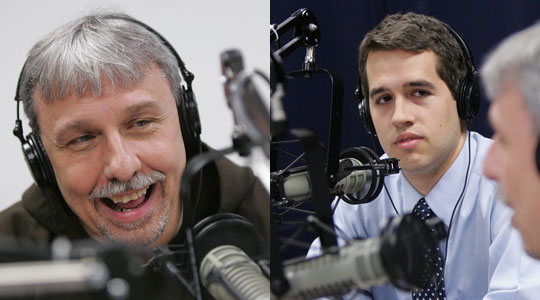 What is this?
Listen to the show:
Podcast: Play in new window | Download
Today's host(s): Scot Landry
Today's guest(s): Fr. David Couturier and Joshua Phelps from the Archdiocese of Boston's Office for Pastoral Planning
Today's topics: The changing face of parishes
Summary of today's show: Fr. David Couturier and Joshua Phelps discuss with Scot a national study on the changing face of parishes and how those numbers compare to the situation of the Archdiocese of Boston.
1st segment: Scot said while the truth of the Catholic faith remains the same, the structures of the Church continue to evolve as it has over the past 2,000 years. Last week, the Center for Applied research in the Apostolate published a study on the changing face of Catholic parishes in the US. Today, we'll look at the study and at how it compares to the Archdiocese of Boston.,
Scot welcomed Fr. David Couturier to show. Fr. David said it's an excellent look at a very important question/: where are parishes today, how did they get there, and where will they be in the future? Scot it's great to see hard data about the changes we've been seeing in our own parishes over time. Joshua said the report gives a set of benchmarks by which we can gauge what's going on in the Archdiocese. He thinks there's a big opportunity to talk to people about mission and evangelization.
Scot said the study said the number of parishes in the US have declined by 7.1 percent over the past 10 years. Fr. David said in the Archdiocese it's been 22.04% in Boston. Scot said the areas most affected by closures are where there were large numbers of immigrants in places which are highly populated and densely populated at a time when industry demanded large numbers of workers and those industries have decreased. Now the large numbers of immigrants growing the Church are in different places.
Scot said the Catholic population has realigned itself, but the parishes and schools have not. Fr. David said the Church in those areas with declines gave the people the ability to move out of the places where they first came by giving them better education and better economic opportunities. Now we can look at the institutions that have been left behind. Scot said most Catholics moved outside the city of Boston and into the suburbs. Fr. David said Boston has a unique relationship to its parishes compared to any other place he's seen. He related a story of a Jewish man who said he lived in St. Brendan's parish. Because people in Boston identify with the local parish, even if they're not Catholic.
Scot said the study found that the average parish grew in the number of households and people. The number of people grew by 45% over the past 10 years. The average number of households in Boston parishes are higher, about 43.8% larger. Scot said there is a dense concentration of Catholics in the Northeast, with higher density and more parishes. We have a long history of the Catholic Church in the area. Fr David said this is one of the silver linings of the report.
Scot said the study talks about seating capacity utilization (the percentage of spaces in the pews used by parishioners at Mass). In Boston, it's 33%, which means at the average Mass in Boston, about 33% of the seats will be filled. Scot said this is partly because we offer a lot of Masses at our parishes and it's extremely convenient for people on a Sunday morning. Fr. David said we offer more Masses per parish than other other diocese in the country. He said they have just completed a study that shows how many Masses are needed to serve the people of God, and they've found that there is about double the Masses that the Archdiocese needs right now. He said it shows that there's a lot of room to move for parishes to ask what kind of community do we want to be, what kind of liturgies we want to have. Do we want to continue to have liturgies that are 33% full or do we want to have a full Mass with a cross-section of the people of the parish. That will affect how we plan for priests and parishes.
Scot said in the past that we have focused on the number of Masses when looking at how to allocate priests, but now as parishioners we can ask whether we want to have fewer Masses that offer a richer experience of the liturgy. A priest who celebrates one or two Masses on Sunday will likely have more energy than a priest who has to celebrate two Masses on Saturday and 3 or 4 on Sunday. Fr. David said we have gotten used to a downsized mentality, and have forgotten the wonderful truth of abundance. once we get back to a notion that we want to see our churches full again, we will receive a blessing.
Josh mentioned Good Shepherd Parish in Wayland, where two parishes became one. they had to cut down their Mass schedule and now their experience of Mass has shot through the roof. Going to Mass on Christmas and Easter, by virtue of being packed in the pews, tells us that something special is going on. Scot said there are many benefits when we are worshipping with many people. For example, someone new to the parish will find that it is alive and it is much more likely they'll want to come back. If two-thirds of the pews are empty, it leads to the question about whether it really is a great place.
2nd segment: The number of worship sites of a typical parish across the country averages 1.3, but this is expected to rise over the 10 years. Fr. David said as dioceses face a chronic vocation shortage, they are deciding how to best use their priests. In Boston we want to keep our churches open as much as possible and so the future will include new arrangements for how to use these worship sites. There are already situations across the Archdiocese where priests are pastoring more than one parish and where parishes have more than one church. It's not about property, it's about evangelization. Scot said our Catholic community transcends parish lines and town lines.
Ten percent of parishes in the US have one Sunday Mass, 13% have two, 26% have three, 50% have four or more. 12% have five, 9% have six. The average parish has 3.8 Masses. In the Archdiocese our parishes beat those numbers by a large amount where more than 50% have five or more. Scot said the average number of weekday Masses at parishes across the US is 5.3, but there are 11% have 11 or more weekday Masses. Scot said in Boston we're beginning to see parishes offer schedules of weekday Masses for nearby parishes. Fr. David said they're encouraging parishes to work together to schedule their Masses in cooperation with other parishes in order to offer the Mass to as many people as possible.
Fr. David said they are also working with a certain set of parishes to think beyond their own parish boundaries, but to look at the Church in their whole town or city. People are beginning to see that Church is about this two or city, not just their parish. In Boston, all politics is local and all Church is parochial. Joshua said this is where the pragmatic needs of parish boundaries meet with mission. People go to Church to come together in communion to worship Christ. When people begin thinking this way, there become new opportunities for evangelization.
Fr. David said if we keep our communities of parochial with the added value of regionalism, then we can share assets and resources across parish boundaries, particularly gifts and talents. Thus parishes can work together to have a youth minister and a business manager and a director of faith formation and all of those ministries for all of God's people in those towns. Many parishes aren't large enough to do it alone, while the parishes working together can do it.
In 29% of parishes across the country, Mass is celebrated in a language other than English. In many of them, English is the language of at least one Mass. In the Archdiocese of Boston, this is about the same. Fr. David said we have Mass celebrated in 20 different languages. We are not just one ethnic church with add-ons, but we are very diverse.
Scot said people sometimes use the ratio of infant baptism to funerals as a measure of vitality and growth. Nationally, the average ratio is 2 baptisms to every funeral. That's the minimum for growth. In Boston, it's 1.2 to 1. But we have 89% more funerals than the national average, which means that the Church here is more established and it's a lot grayer population.
The average infant baptisms: 64 and First Communions: 65. Scot said that tells him that the kids remain in the Church from baptism to First Communion, but the number drops to 51 in confirmations. It gets even worse for marriages (dividing the number of confirmations by two, it would be 25.5) with only 11 per parish. Scot said an Australian study found that many Catholics believe you don't need to go to Sunday Mass to be a good Catholic, but Scot added that many people also believe it doesn't matter if you get married outside of a church, perhaps on a beach or something. Fr. David said we're seeing a long decline in the number of weddings since the late 80s. New York has declined by 70% or more. That has an effect on other vocations as well.
Cardinal Seán has focused on the need for evangelization and marriage. Joshua said parishes that have a focus on marriage ministry have higher rates of all the sacraments.
3rd segment: In terms of parish finances, the national study say the average operating revenue is $609,000. Josh said the Archdiocese is about 6% less than that. Scot was surprised by that because the average offertory is in the mid-300,000s so they must be having other sources of revenue like rent and grand annuals. About half of a parish's income is from sources other than weekly offertory, while nationally about two-thirds of income come from the offertory. Fr. Dvid said fewer Catholics are going to church in Boston than the national average, but Boston is maintaining the same amount of income. That shows that fewer people are bearing the burden and we need to look at that. It's a huge sacrifice.
Across the country, it's $9,091. In Boston, it's closer to about $6,000. The average operating expenses nationally are $620,000. Thirty percent are below break-even. In Boston about 57% are above break-even and the rest are below. The typical parish across the country is saving about $70,000 per year. The average parish in Boston is saving about $1,000 per year. A major weekend snowstorm can put a parish in the red.
Scot said the average family across the archdiocese gives about $20 while in Boston it's less than that. The smaller the parish, the more people contribute, and the bigger, the less they give. Fr. David said it's a sense of ownership. The smaller the parish, the more that people feel like they have a say in how the money is used, which leads to more giving. Scot said it's much easier in a large group to say that if you don't give, everyone else will give a little more. In a small church, it's easier to say that they're really needed.
Fr. David said a big part of the solution would be to move people from seeing themselves as member to seeing themselves as disciples. Joshua said the most successful offertory enhancement programs ask people to get more involved, not for more money. People who are more involved give more.
Across the US, 24% have a school and 25% are affiliated with a non-parish school. About 100 of the 291 parishes in Boston are affiliated with a school.
Nationally, the number of lay ecclesial ministers is estimated at 38,000, trained and certified performing many of the same duties priests and religious used to. Total parish staff is about 160,000, which includes priests, religious, lay ecclesial leaders, and others. Fr. David said there are 3,500 staff members: deacons, business managers, pastoral associates, youth ministers, and DREs. Some of them are paid and many are not. There are about 100 Master's-level pastoral associates. Joshua said the vision of the future of lay staffing in parishes is someone who coordinates and invites the people of the parish to take ownership of the ministries.
Nationally, 93% of parishes have a pastoral council and 97% have a finance council. It's a little lower in Boston. Fr. David said our pastors need to be encouraged to have these groups, especially to help the parish plan for the future. 31% of parishes in the US are in some sort of clustering arrangement. Fr. David said cooperation and collaboration are not dirty words, but are the ways for parishes to work together to evangelize and spread the Word of Christ.
Joshua said the culture of pastoral planning is a culture of hope. It's an opportunity. The people they are working with now have an entrepreneurial spirit. We're called to give our best to the Church.
4th segment:
5th segment: