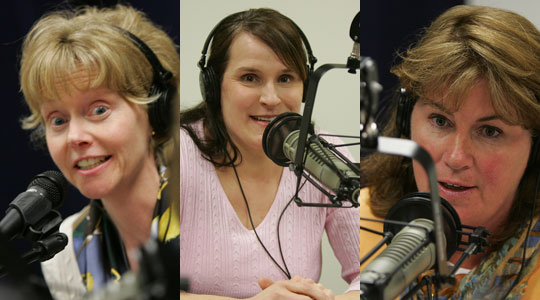 Listen to the show:
Podcast: Play in new window | Download
Today's host(s): Scot Landry and Fr. Mark O'Connell
Today's guest(s): Erika Bachiochi, Joanie Kingsley, and Kathleen Sotell
Today's topics: A discussion of the new book "Women, Sex, and the Church: A Case for Catholic Teaching" as well as a general roundtable on women in the Church. Also, our regular Friday feature looking at the upcoming Sunday's Mass readings.
A summary of today's show: Erika Bachiochi talks with Scot and Fr. Mark about her new book and her own journey from pro-choice radical feminism to an embrace of the authentic feminism of the Catholic Church, which isn't anti-woman and misogynist after all. Also a look at the Gospel for the 4th Sunday of Lent.
1st segment: Happy April Fool's Day! Scot asked Fr. Mark if he's had any pranks pulled on him and he said if there have been, he hasn't noticed. He also said his parents are celebrating their birthdays this week.
It's also opening day for the Red Sox who are traveling to Texas. Put it on the TV, turn down the volume and turn up the radio with WQOM!
This weekend are two events we've been talking about lately including the Eucharistic Congress in the North End tonight and tomorrow and the Faith and Family Mom's Day Away in Stoneham tomorrow and the weather isn't going to hold them back.
2nd segment: Scot and Fr. Mark welcome Erika Bachiochi, Joanie Kingsley and Katherine Sotell. Scot said Erika's book is a great service to the Church and anyone that wants to understand Church teaching and why it makes sense. The book discusses Church teaching on abortion, premarital sex, marriage, contraception, infertility treatments and the priesthood. Erika first points out that the book was co-written by many women who each took a chapter said her motivation for the book was a widespread assumption, even in the pews of the Catholic Church, is that the Church's teachings are misogynist and that no serious, self-respecting woman would embrace them. She saw this played out in the media during the 2005 conclave that elected Pope Benedict XVI, in which nearly every pundit was a dissident Catholic disputing the Church's teachings. It was very frustrating for her, having come to see these teachings as found in authentic feminism. She knew that lots of data from secular academics was corroborating the Church's teachings.
Even many of the Church's theologians believe the Church's teachings are against women. One of the most difficult teachings for women to swallow is the all-male priesthood. She did a lot of research on her own to make pro-woman arguments for Catholic teaching that doesn't necessarily rely on theological arguments because there are many people who aren't interested in theological arguments. She found scientific, biological, psychological data that shows that straying from the Church's teachings actually hurts women.
Erika said that while the book is often placed among books on the Theology of the Body, Pope John Paul's exploration of theology of how God created man and woman, this book is very different because it takes a step back, almost as a prerequisite for TOB. Many people need to embrace the Church's teachings before approaching TOB and this book is for them. The target of the audience is people who are estranged from the teachings of the Church. It's philosophically an apologia for the Church's teachings. She wants to be clear that when she says the book is filled with data, it is not dry and full of statistics. It is a readable book. It's for both the average reader and academics.
Scot said it's important for Catholics who are looking to return to the Church, they need to know that the Church is not against them. Erika said Pope John Paul has gone to great lengths to promote an authentic feminism, but many still don't believe it.
As an example of something that seems impossible, but does help women to flourish is the chapter in her book on premarital sex. It not only talks about the pitfalls for women, but lays out a beautiful alternative in chastity that isn't just pro-woman, but is an articulation of what self-mastery—for both women and men—can look like. Women have allowed themselves to be purchased at very little cost. Women today don't require much of men before premarital sex. Now there can be a new sexual revolution of self-respect. They also know now that premarital sex harms women more than men because of the hormone oxytocin. Women need to take their bodies back and their emotions back to prepare for lifelong marriage without all the baggage of premarital sex.
Joanie was powerfully affected by the book and by hearing Erika speak. She was inspired to host another event for her to have a new audience hear her message after hearing Erika's witness about her life and growing up. It's nice to see and hear how powerful and wonderful our great Catholic faith is as a story of redemption and forgiveness. This isn't just a story for Catholic women, but non-Catholics and men and everyone. As a mother of college-age kids, she sees this as pressing issues, because the culture out there wants to take their souls away from God and from what is true. If her words can help one person, it's a success.
Kathleen said she realized as she heard Erika for the first time that Erika is the person who needs to get the message out that the Church is not anti-woman.
Scot quoted Archbishop Fulton Sheen: "There aren't 10 people in the world who hate the Catholic Church, but there are millions who hate what they think the Church is." This applies equally to people's perceptions about the Church's teachings. Many see the Church as the Church of No, but the Church is a Church of Yes to life, beauty, and truth.
Fr. Mark said getting the facts into people's hands is key. He said it took him 19 years of priesthood to get the facts on Natural Family Planning, for example, and that changed everything.
3rd segment: Scot and Erika talked about her journey as a teen and college student. Her background is that her mother was married and divorced three times in her childhood. In her teen years, she dabbled in alcohol and drugs and acting out in other ways as well. They brought them to her knees at a young age, which she's grateful for now, but was very difficult then. As a college athlete she had difficulty just performing in the midst of the life turmoil. While she was never actively suicidal, she had two close friends who did take their lives.
At college, her despair and depression turned her outward toward radical feminist causes at Middlebury College in Vermont. She thought, as many did, that changing external environments, like politics, would bring her internal peace. She found herself taken by secular feminism, because of its sophisticated construction of their worldview, especially since she never even knew any serious Christians at that point. One bright spot was that she had left behind drinking and casual physical encounters, but believed being strongly pro-choice was important for her. She had serious beliefs that it would help poor women and ethnic minorities. But when she started to work with poor women and their children, she started to question her pro-abortion assumptions. What she had been hearing from pro-abortion women's organizations that abortion was necessary to help poor women out of poverty and it seemed absurd that this rich nation's only answer to poor women was for them to rid themselves of their children.
That epiphany along with intense prayer brought about an intellectual conversion. She started distancing herself from her feminist friends because of her changing views and because of her own need to pray just to make it through the day. At one point she went to a Catholic lecture intending to debate the Church as being sexist, but was awestruck by what he said and ended up at a Newman Center on campus. Although much of what they were saying was foreign to her, she was very moved. She was so scared that she went back to her dorm room and prayed to God seriously and over the next month she entered into the Catholic community on campus.
Erika had been jumping from one Protestant church to another and asked God to guide to the right church, but not the Catholic Church. She encountered a Catholic priest and asked him why he was Catholic. "Because it's the easiest road to heaven," he said. She thought this was preposterous because she always thought the road to heaven was difficult, but she found herself in Mass week after week. She began to drill over months and years on every question about becoming Catholic and Christian.
Scot said it's important to be ready to offer an answer for why we are Catholic ("Always be ready to give an explanation to anyone who asks you for a reason for your hope." 1st Letter of Peter 3:15) The important answer will be unique to us, but it can be a profound moment for the person who hears it.
Later, she went to graduate school for theology and then law school; she got married and had a baby while in law school. These were also difficult times, but she was steeped in prayer and kept responding to God, to be His instrument. We are all called to be quiet and ask Him what he wants to do.
Fr. Mark asked if a college student comes up to Erika and asks her why be Catholic how would she respond. She would ask them about the emptiness they might feel in their life. Most people feel like there's a sense we can't live up to our ideals and potential. We all feel that way, but God gives us the strength and peace to live up to that through the help of grace.
Scot asked her how difficult is to be out there of talking about the decisions she made in her past, especially as a mom. Her children aren't old enough to read what she writes, but she is more opaque about it when writing. When she's speaking live, she's more open about it because they won't be there to hear it. She hopes that as they grow she will be able to explain to them in terms they understand. Being prayerful allows her and her husband to be prudent.
Joanie said she hopes at the gathering in Wellesley next week at which Erika will speak that people will be able to take away hope that their lives can change and the great value we have in the Catholic Church and our faith.
Scot said it's important that as a Church we take the great work that Erika and the other authors of the book and get the word out. Kathleen said
Erika will speak April 7 at the Wellesley Country Club from 9am-12. It is free. They request that people RSVP at paxtibi123@yahoo.com and tell them how many people will be coming in your party to ensure that there will be enough seats for everyone. Continental breakfast will be provided free of charge. Both men and women are welcome. 75 people have responded and they can accommodate up to 200. They encourage even people are who are questioning or who are on the fence or are truly seeking.
Scot said most adult Catholics in their life have had a time in which they didn't understand why the Church teaches what she teaches on a particular issue. While the book is great, it's also different to hear the information live. It's one thing to know what the Church teaches, but also the why of Church teaching, and not just the theology of why.
Pauline books also have a study guide for parishes and small groups.
4th segment:
Scot said he's often felt that to get the most out of Mass, we need to be prepared. That's true of all meetings we might have at work or big presentations. "The more you put in, the more you'll receive." The better the preparation, the better the experience. So on Fridays, Father Mark and Scot and their guests will look to the upcoming Sunday readings and help us all prepare for the messages we will hear on Sunday. Fr. Mark read the optional short version of the following Gospel reading:
As Jesus passed by he saw a man blind from birth. His disciples asked him, "Rabbi, who sinned, this man or his parents, that he was born blind?" Jesus answered, "Neither he nor his parents sinned; it is so that the works of God might be made visible through him. We have to do the works of the one who sent me while it is day. Night is coming when no one can work. While I am in the world, I am the light of the world." When he had said this, he spat on the ground and made clay with the saliva, and smeared the clay on his eyes, and said to him, "Go wash in the Pool of Siloam" —which means Sent—. So he went and washed, and came back able to see.

His neighbors and those who had seen him earlier as a beggar said, "Isn't this the one who used to sit and beg?" Some said, "It is, " but others said, "No, he just looks like him." He said, "I am." So they said to him, "How were your eyes opened?" He replied, "The man called Jesus made clay and anointed my eyes and told me, 'Go to Siloam and wash.' So I went there and washed and was able to see." And they said to him, "Where is he?" He said, "I don't know."

They brought the one who was once blind to the Pharisees. Now Jesus had made clay and opened his eyes on a sabbath. So then the Pharisees also asked him how he was able to see. He said to them, "He put clay on my eyes, and I washed, and now I can see." So some of the Pharisees said, "This man is not from God, because he does not keep the sabbath." But others said, "How can a sinful man do such signs?" And there was a division among them. So they said to the blind man again, "What do you have to say about him, since he opened your eyes?" He said, "He is a prophet."

Now the Jews did not believe that he had been blind and gained his sight until they summoned the parents of the one who had gained his sight. They asked them, "Is this your son, who you say was born blind? How does he now see?" His parents answered and said, "We know that this is our son and that he was born blind. We do not know how he sees now, nor do we know who opened his eyes. Ask him, he is of age; he can speak for himself." His parents said this because they were afraid of the Jews, for the Jews had already agreed that if anyone acknowledged him as the Christ, he would be expelled from the synagogue. For this reason his parents said, "He is of age; question him."

So a second time they called the man who had been blind and said to him, "Give God the praise! We know that this man is a sinner." He replied, "If he is a sinner, I do not know. One thing I do know is that I was blind and now I see." So they said to him, "What did he do to you? How did he open your eyes?" He answered them, "I told you already and you did not listen. Why do you want to hear it again? Do you want to become his disciples, too?" They ridiculed him and said, "You are that man's disciple; we are disciples of Moses! We know that God spoke to Moses, but we do not know where this one is from." The man answered and said to them, "This is what is so amazing, that you do not know where he is from, yet he opened my eyes. We know that God does not listen to sinners, but if one is devout and does his will, he listens to him. It is unheard of that anyone ever opened the eyes of a person born blind. If this man were not from God, he would not be able to do anything." They answered and said to him, "You were born totally in sin, and are you trying to teach us?" Then they threw him out.

When Jesus heard that they had thrown him out, he found him and said, "Do you believe in the Son of Man?" He answered and said, "Who is he, sir, that I may believe in him?" Jesus said to him, "You have seen him, the one speaking with you is he." He said, "I do believe, Lord," and he worshiped him. Then Jesus said, "I came into this world for judgment, so that those who do not see might see, and those who do see might become blind."

Some of the Pharisees who were with him heard this and said to him, "Surely we are not also blind, are we?" Jesus said to them, "If you were blind, you would have no sin; but now you are saying, 'We see,' so your sin remains.
A powerful reading for the fourth Sunday of Lent. Scot said we all have blind spots in our lives, including biases and prejudices, even to how we are formed not to see the world as God sees it. Fr. Mark said the Gospel and last week's Gospel about the woman at the well is perfect for both Catholics Come Home and what Erika is talking about. The woman and the blind man both come to a gradual understanding of Jesus and a gradual coming to faith. Meanwhile the Pharisees who see the exact same evidence are stubborn and refuse to believe. They are the real blind men. This goes along with what Erika was saying.
Erika said what jumped out at her was the Pharisees' reaction to the blind man's former sin. Our own culture doesn't forget people's sin either. In our society we hold up the bare minimum as if it is the ultimate in holiness. We don't see our own sins—even venial sins—as any kind of fault that needs to be confessed and dealt with.
Joanie said she found it impressive that a religious leader would affect sinlessness in the face of the sinner, when in fact we all struggle with the help of grace.
Kathleen was struck by the concept of both physical blindness and spiritual blindness. She thinks of the Gospel of John as a book of light and that Jesus is always portrayed as the Light. She hopes that Erika's talk will spread the Light for people to see the Church truly.
Scot said his favorite line is where they shoot the messenger and then throw him out. This is a summation of how people often treat those who bring the truth when it's unwanted and unlooked-for.