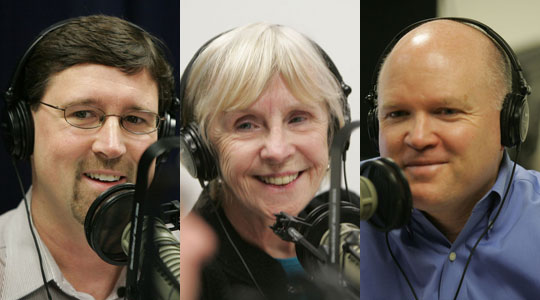 Summary of today's show: Our regular Thursday panel looks at some of the top stories of the week from the headlines of the Pilot and Anchor newspapers, including the 5th annual Eucharistic Congress held in the North End of Boston last weekend, including a Eucharistic procession through the streets on Saturday night; the opening of First Communion season with quotes from communicants expressing nervous excitement; and the visit of Havana's Cardinal Jaime Ortega to a Harvard forum in Boston that made an international stir.
Listen to the show:
Podcast: Play in new window | Download
Today's host(s): Scot Landry and Susan Abbott
Today's guest(s): Gregory Tracy, managing editor of The Pilot, the newspaper of the Boston archdiocese
Links from today's show:
Some of the stories discussed on this show will be available on The Pilot's and The Anchor's websites on Friday morning. Please check those sites for the latest links.
Today's topics: Eucharistic Congress, First Communion, Cuban cardinal in Boston
1st segment: Scot and Susan talked about the seminar they attended today on Women, Sexuality, and the Church's teachings. The speakers tackled some of the controversial Church teachings that are often misunderstood. The speakers are authors of the book "Women, Sex, and the Church," including Erika Bachiochi, who was on The Good Catholic LIfe last year to talk about the book, and Dr. Angela Franks, Katie Elrod, and Sister Sara Butler, MSBT.
Scot said on the front page of the Pilot today is an article about the Eucharistic Congress that took place in the North End last weekend. Gregory Tracy said it was the fifth year for this congress. The highlight of the congress is the Saturday evening Eucharistic procession through the streets of the North End. On a Saturday night, the North End is full of people out for dates and revelry and dining. Scot said the slideshow by George Martell is phenomenal.
Scot said his favorite part was the talk by Damon Owens.
"How ofren do we frame our retreats as getting away from it in order to rejuvenate to get back to it, where the reality
is getting back to the job, getting back to our responsibilities? But every once in a while we have to back up and catch
our breath," he said.

He said favoring the toil of this world over the contemplation of the gift Christ offered the world in the Eucharist is like holding a preference for exhaling over inhaling.

He said in his struggles with the idea of always working hard, he had trouble finding stillness when he did adoration
with his wife.

"I love you Lord but I got to do something for you. I got ro do something period," he recalled thinking.

With time, he said he realized the need for balance between serving God in action and loving Him in adoration.
Scot said that was like a bolt to the heart for him. People who work for the Church are often busy with the work and need to remember to step back and pray. Susan said that's why integrating prayer into daily life is important. It is both/and, not either/or. We can adore the Lord by serving Him in what we do each day in addition to praying before the Blessed Sacrament.
Break for fund drive banter. Make a gift to support Catholic radio in the Archdiocese of Boston on WQOM.
2nd segment: Scot introduced a front-page story in the Anchor this week about youngsters getting ready for First Communion. Scot noted that most parishes begin First Communion ceremonies this weekend and Susan said they continue throughout May. Susan noted her favorite quotes of the children from the story.
"I feel excellent about receiving First Communion," he said. "I'm looking forward to getting a blessing and having
a good life."
Susan said while we don't diminish the importance of the First Communion, this is about the second and all the following communions. There should be a lifetime of communions. Scot quoted Mother Teresa who told priests to celebrate each Mass as if it were his first, his last, or only Mass he'll celebrate and that's how we should receive Communion. Do we act like we truly believe it's the Body and Blood of Christ.
Scot said his own daughter made her First Communion last month. Greg said he and his wife had made their First Communion every other since 2000 and will continue until 2017. His son will receive his First Communion on Mother's Day. He said his son is nervous about having to go up to and do one of the prayers of the faithful. He noted how recently his son has been watching his parents every week at Communion during Mass and thinking about his upcoming First Communion.
On the other hand, people can take it too far, making it like a little wedding and concentrating too much on the clothes and gifts instead of the Eucharist. Scot said what he does love about doing it big for First Communion is that it's one of the top three biggest days in their life at this point after birth and baptism. Susan said everyone in the church, whether they have a child or not, loves to see First Communions. Susan noted there are no private sacraments, they all have a communal effect. Scot said when he's old and grey what he'll remember is the sacramental celebrations.
Break for fund drive banter. Make a gift to support Catholic radio in the Archdiocese of Boston on WQOM.
3rd segment: Scot said Cardinal Jaime Ortega of Havana, Cuba came to Boston to give a public talk. There are not many cardinals in the College of Cardinals and Cardinal Ortega's been a cardinal for several decades. His talk occurred at the Kennedy School of Government at Harvard. Greg said a number of local universities had invited Cardinal Ortega to come speak as a followup to the Pope's visit to Cuba. He also spoke at Boston College and at colleges in other countries.
One talk was a light talk on what it's like to live in Cuba and in the evening he participated in a forum that included Cardinal Seán. His remarks at the forum were more pointed and he spoke about the hope of the Cuban people for the Pope's visit. He said it was very important that they were allowed to bring a statue of Our Lady of Charity, the patroness of Cuba, to every town, which was quite unusual in this heavily Communist country.
Greg said the cardinal had strong words for the exile community in Miami, who Scot said criticizes the Church in Cuba for not being strong enough critics of the Castro regime. the cardinal said the Church is not political.
"Now that the Church is expanding and gaining footing in Cuba, there is likely going to be added criticisms from those on the outside," [Mario Paredes] said in an April 27 the telephone interview with The Pilot.

"The fact that [Cardinal Ortega] doesn't criticize the regime directly is seen as his collaborating with the regime, which is untrue," Paredes said. "The Cardinal is doing what he is supposed to do," he continued, noting that the cardinal's role is "to bring people to faith, to call on collaboration in rebuilding Cuba, to bring Cubans to reconciliation."

"It's very hard for people to understand his role," he said.
Susan said Cardinal Seán's blog has some pictures of the forum. Greg clarified a point in the article about an incident when 13 protesters were removed from a church in Havana before the Pope's visit. They said they were protesting in favor of freedom, but the cardinal called them "former delinquents," which was the same language the Castro regime used. This was one of the reasons Cardinal Ortega was criticized by the exile community. Scot said they were trying to disrupt a very delicate situation that takes years to plan and many negotiations. Greg said he sympathizes with those who want greater change in Cuba. His sense from Cardinal Ortega is that he feels squeezed between a rock and hard place.
Break for fund drive banter. Make a gift to support Catholic radio in the Archdiocese of Boston on WQOM.