By Scot Landry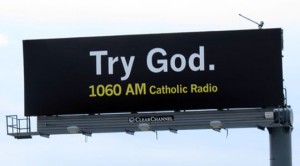 Please see below WQOM's statement on the defacing of one of its 23 billboards in the Boston-area as part of its "Try God" campaign.
Also at the bottom of this post are the photos taken by WQOM's billboard partners this morning before and after they removed the sticker added by the vandalizers.
I've also included a JPG of the Boston Globe cartoon that Dan Wasserman drafted in last week's Boston Globe, which was referenced in Chris Kelley's comments.
We will discuss this on Monday's episode of The Good Catholic Life.
Scot
---
FOR IMMEDIATE RELEASE
August 23, 2013
Media Contact:
Chris Kelley – Station Manager
1060 AM WQOM Catholic Radio
Phone: 617-855-9350
Email: ckelly[at]wqom.org
1060 AM WQOM Responds to Defacing of its "Try God" Billboard 
BOSTON, MA – Earlier today, listeners of 1060 AM WQOM Catholic Radio informed station management that its billboard along the Massachusetts Turnpike in Brighton (I-90 East) had been defaced.  Instead of reading, "Try God: 1060AM Catholic Radio," the defaced billboard said, "Try God: The Other White Meat."
"It's very sad to learn that someone would deface our billboard and its uplifting message which encourages people to explore their friendship with God," stated Chris Kelley, 1060AM station manager.  "This is clearly not a circumstance of some teenagers with spray paint.  Someone went to a lot of trouble to make it appear that the new text was a real billboard message."
Kelley added, "This act, however, is an indication that the 'Try God' billboard campaign is attracting attention and making people reflect on the role of God in our lives.  Last week the Boston Globe's editorial cartoon focused on the "Try God" campaign and today we see this well-planned act of vandalism.  That attention is the silver-lining and a sign that the campaign already has been successful."
"We pray for those who did this that whatever troubles they have that would cause this action that God heals them and then get the help they need.  We ask them to 'Try God,' perhaps by listening to 1060AM Catholic Radio."
Scot Landry, host of The Good Catholic Life radio program weekdays at 4 p.m. on WQOM, remarked that, "An act against one faith, in some ways, is an act against all faiths, and against all people of faith.  This act of vandalism was certainly not a prank.  It should cause us to reflect on the subtle and not-so-subtle ways that hostility is increasing against the practice of faith and against religious expression.  People of faith, including Catholics, contribute so much to the fabric of our society in the Boston-area, through social service organizations, hospitals, schools and in little acts of service in every community.  The message of "Try God" is a hopeful one as it invites everyone, in some way, to connect with a faith community and participate in building a civilization of love."
The Try God: 1060 AM Catholic Radio billboard campaign is taking place in the Greater Boston area from July 22-Sept 22, 2013. The purpose of the campaign is to reach a broad cross-section of the Boston community and share the "good news" of the gospel message and introduce listeners many outreach ministries of the Catholic Church.  The campaign features 23 billboards distributed around Boston on major thoroughfares, including I-90 East (Brighton), I-93 North (Medford) and I-93 South (Dorchester).
About WQOM 1060AM Catholic Radio
1060 AM WQOM has been serving the Boston community since November 1, 2010. 1060 AM offers a combination of national shows from EWTN Radio (Ave Maria Radio, Catholic Answers) and local productions (The Good Catholic Life, daily Mass, and the recitation of the Rosary).
Boston-area Catholics can listen to Catholic radio programming in 3 ways: on 1060 AM, on wqom.org on their computers and on the iCatholicRadio app. for mobile devices and tablets. iCatholicRadio has close to 100,000 downloads of the popular app from 122 countries worldwide and countless testimonials from listeners whose lives have been transformed through Catholic radio.
For questions or more information, please contact Chris Kelley, Station Manager at 617-855-9350 or visit www.wqom.org
###
Image 1: Billboard, 1-90 East, Friday August 23, 2013 in the morning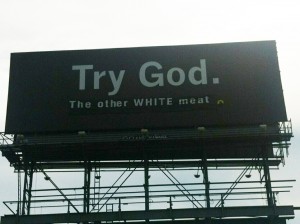 Image 2: Billboard, I-90 East, after vandalism removed.
Image 3: JPG of the Globe Editorial Cartoon by Dan Wasserman on 8/16/2013 from Mr. Wasserman's Twitter Account (https://twitter.com/GlobeWasserman/status/368054977257684992/photo/1)