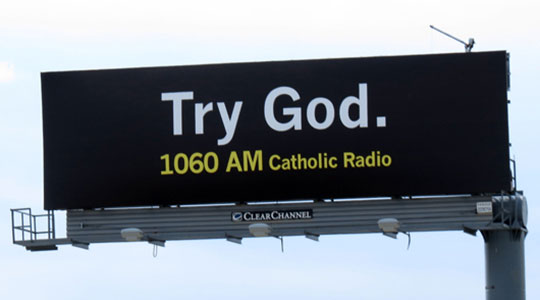 1060 AM WQOM Catholic Radio is launching a billboard campaign with the message Try God : 1060 AM Catholic Radio across the Greater Boston area from July 22-Sept 22, 2013.  The billboard campaign is intended to expand Catholic radio's listening audience as a way to contribute to the revitalizing of the Catholic faith in a region with strong Catholic roots.
The campaign features 23 billboards distributed around Boston on major thoroughfares, including I-90 East (Brighton), I-93 North (Medford) and I-93 South (Dorchester).
The broad and inclusive Try God theme is a message geared toward all people, regardless of their present faith, beliefs, or circumstances, inviting them to explore the Catholic faith and grow closer to God through Catholic radio.
"We believe billboard advertising is integral to our mission of sparking interest in our Catholic faith and reaching souls in the name of Jesus Christ," said Jim Wright, President of 1060 AM.  Chris Kelley, Station Manager said that, "The Try God theme will create vital exposure and broad interest for 1060 AM. Catholic radio's goal is to reach as many souls as possible, particularly when they are in their cars – a great time to listen. The variety of the programming combined with numerous call-in-shows allows for direct listener participation on most any subject. "
Boston-area Catholics can listen to Catholic radio programming in 3 ways: on 1060 AM, on wqom.org on their computers and on the iCatholicRadio app. for mobile devices and tablets. iCatholicRadio has close to 100,000 downloads of the popular app from 122 countries worldwide and countless testimonials from listeners whose lives have been transformed through Catholic radio.
1060 AM WQOM has been serving the Boston community since November 1, 2010.  1060 AM offers a combination of national shows from EWTN Radio (Ave Maria Radio, Catholic Answers) and local productions (The Good Catholic Life, daily Mass, and the recitation of the Rosary)
For questions or more information, please contact Chris Kelley, Station Manager at 617-855-9350 or visit www.wqom.org