By Scot Landry, March 12, 2013
Tuesday began in Rome at 7:00am at the North American College.  The American Cardinals had gathered there for one last time as a group for a "class" shot of the Cardinal-electors.  Originally this was going to be a simple event with only the Catholic News Service photographer present.  However, late on Monday there was a thought that it would be good to open it up to the media, particularly the American media.  I consider this a wise and thoughtful reconsideration.  There are so many American media in Rome now and I know they appreciated covering this moment in history.
George Martell was able to enter the Red Room at the North American College.  It is a location where the Rector of the North American College can host small official gatherings for the NAC.  It also has an entrance and driveway (that almost never gets used except for large events like this).  Cardinal Timothy Dolan of New York was a former Rector of the NAC in the late 1990s and he was in a very good mood, posing for this picture with his brother whose luggage didn't make it with him to Rome and consequently he's been wearing jeans to big events – something his brother, Cardinal Dolan, was poking fun at him for yesterday morning.

From Left: Cardinal Justin Rigali, Cardinal Donald Wuerl, Cardinal Francis George, Cardinal Seán, Cardinal Timothy Dolan, Cardinal Daniel DiNardo, Cardinal Roger Mahony and Cardinal Edwin O'Brien.
Many of the other Cardinals were in a more intense mood.  For the last week, several Cardinals have stated that their decision about the name to write on their ballot(s) in the Conclave was probably the biggest decision of their lives.  It was evident yesterday morning that these Cardinals knew the seriousness of the task at hand.  They've been praying, discerning, researching and meeting with fellow Cardinals since February 11, when Pope Benedict XVI resigned.  Today all that effort would be put to use in the Conclave.
I was reflecting on what it must be like for the Cardinal-electors while I was awaiting their exit from the Red Room.  I thought back to many big moments in my life where I was anxious, nervous, focused, and intense.  Moments flooded through my mind like final rounds of job interviews I really hoped to get, the day of a big event I was coordinating such as a Men's Conference, the day of my wedding, my college and graduate school interviews and many others when I was involved in sports when it seemed like a very big game or match.   Standing there on the grass of the NAC, I thought that this moment for the Cardinals is several times more intense than any of those moments in my life.  It made me want to pray for each of them much more as they prepared to begin this very intense week in the Conclave.
There is a saying at the NAC, "If it is worth doing, it is worth OVERdoing."  The NAC has a reputation for celebrating the big moments in the Seminary calendar with a lot of energy and joy.  I have always loved that at the NAC and my 1 year there in 1995-1996 formed in me the desire to celebrate others' birthdays or special moments in life in a way that makes them memorable, if not occasionally, over-the-top!
So it was no surprise for me to see the NAC celebrate the sendoff to the American Cardinals in a big way.  The entire seminary community was there lining the long driveway from the back of the NAC to the main entrance.  They were ringing the bells and they were clapping hard.  George Martell was capturing still images, so here is my iPhone video of the sendoff.  The last Cardinal entering the bus is Cardinal Dolan, and in classic NAC fashion, was very energetic at thanking the media for their presence and coverage.
I was happy to participate in interviews with WCVB (Channel 5) and WHDH (Channel 7) afterward to share my reactions to the sendoff of Cardinals.  It is wonderful for Catholics back in Boston that there is so much coverage being provided to them about the papal transition and this Conclave.  The journalists, producers and camera operators have been truly wonderful to meet and to discuss the events of each day.
After we were done, we proceeded down to St. Peter's Basilica to get in line for the Mass to Pray for the Election of a Supreme Pontiff.  Even though we have journalist and photographer passes this week, we were advised to simply enter as a member of the faithful for the Mass.  There are more than 5,000 credentialed media in Rome (as of last week) with only a couple of hundred official spots for the media.  We enjoyed the 45-minute wait speaking with many of the NAC seminarians, including Donato Infante, from Southborough and the Diocese of Worcester who is in his second year at the NAC.
They opened the Basilica at 8:30.  Even though the Basilica can seat more than 10,000, it was funny to see the sprints of the first few through the line (including religious sisters!) to get to the Basilica to make sure they get a great seat, as most seating is general admission.
We got to our seats about 8:45 about half-way down the Basilica Nave (near the Blessed Sacrament Chapel).  More importantly, our seats were only 3 deep from the center aisle, which we hoped would allow us better views of the procession of Cardinals and then of the Mass.  George took the seat closer to the aisle to get the better photos and I took a seat to his right.  Next to me was a young graduate student from Romania named Mariam.  After introducing myself, I found that she spoke fluent English and we had a brief conversation.  She is receiving a Masters in Economics from the Sapienza University here in Rome.  I have enjoyed this week asking everyone I meet if they are hoping for a particular Cardinal to come out on that central balcony earlier this week.  When I asked Mariam, she said "Oh yes, I definitely want it to be Cardinal Dolan!"  The forcefulness of her answer made me chuckle.  "You are from Romania and you really hope for Cardinal Dolan?  Why?"  Mariam's response was "We love him in Romania.  He is so friendly, such a good evangelist, such a happy Cardinal and he's so funny!"  I can testify, having known then-Msgr. Timothy Dolan 18 years ago at the North American College that Mariam is totally right.  I thought to myself that it is amazing the universality of the Church and the strong international affection being expressed for Cardinal Dolan and Cardinal Seán.
The Basilica was full by 9:00.  It was a great opportunity for me at that moment to pray for Cardinal Seán, for all the Cardinals, for the one to be elected and for all the new prayer requests I have received at PrayerRequests@PilotNewMedia.com.  Interestingly, several yesterday were from people that simply wanted me to pray near the tomb of St. Peter the Apostle for the Cardinals and the election of a great new Holy Father.  I welcome additional Prayer Requests as long as I'm here in Rome.
George and I discussed before Mass, looking around, that perhaps we've never seen a more diverse crowd.  We observed so many young people, a good number of seniors and many in between.  There were many religious sisters, seminarians, priests and of course lay faithful.  Within view or hearing, George and I think we saw people from nearly every continent and we heard at least 10 languages being spoken.  We saw several national flags draped around congregants' shoulders.  I recognized one as the flag of Mexico, a few were wearing the Vatican flag, but the others I wasn't sure which country they represented.
At 9:35, I was surprised and pleased that there was the recitation of the Rosary.  They announced each of the Sorrowful Mysteries in each of 8 languages but all the prayers were in Latin.  It's been about 18 years since I last prayed a Rosary in Latin, so I could only remember the Our Father.  Thankfully, I had my iPhone and was able to pray along in English with the help of the Family Rosary app from Holy Cross Family Ministries in Easton, MA.
At 10:00, the Mass began.  George and I were very pleased with the view of the procession from our seats.
It was moving to see all of the 115 Cardinal-electors and several Cardinals over 80 years of age walk within 10 feet of our position.  I was thinking as they were passing by that we are praying for the election of one of them as the new Pope.  So I began to focus my prayers during the Mass for the one who would be elected Pope, whose life will change forever likely in just a few days.  Here's a video of the procession and then some of George's photos of various Cardinals as they entered.
One of the cool aspects of the procession was that Cardinal Dolan was processing on the right side and came close to us.  I waved hello as he saw me and then he made a gesture with his hands that seemed a combination of "hello" and "pray for me."  My new Romanian friend, Mariam, was over-joyed that Cardinal Dolan had looked our way and recognized George, Mariam and me.  It was a moving and frankly funny coincidence to see how excited she was and how happy it made me to see her joy.
We have been allowing George's photos this week to be picked up by media across the world and many of his shots have been, including the shot of Cardinal Dolan's greeting.  Here's how it appeared on Catholic Memes, a website we were both unaware of until yesterday.  It seems to focus on funny photos, captions and graphics about life in the Church.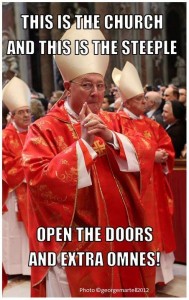 The Mass was a beautiful two-hour prayer, with parts of the Mass in various languages.  The Mass program was great in that it provided English and Italian translations of the Latin or other languages being utilized.
The first part of the Mass that was especially moving for me yesterday was the Collect (Opening Prayer) which read, "O God, eternal shepherd, who govern your flock with unfailing care, grant in your boundless fatherly love a pastor for your Church who will please you by his holiness and to show us watchful care.  Through our Lord Jesus Christ, your Son, who lives and reigns with you in the unity of the Holy Spirit, one God, for ever and ever."  This prayer expresses what I've heard from so many pilgrims in Rome this week: Please provide us another holy pope.
Another moment in the Mass that was moving for me was the chanting of the Pater Noster (Our Father).  It's something to hear 10,000+ people chanting or singing everything.  Yesterday, was such a diverse crowd and we were praying to God together.  Not that I know what heaven will be like, but yesterday it seems was a small glimpse of it when we worship God our loving Father together.  Being someone with a below-average singing voice, it has never mattered the quality of the singing to me just that everyone sings.  And everyone was singing yesterday.  Listen in.
The stackable chairs are packed in at St. Peter's.  George was asking me before Mass how the distribution of Communion would work.  I explained that priests will come down the center aisle and distribute at the center barricade.  George thought it might be chaotic.  And it was – in a very good way.  People were essentially climbing over each other, very politely, and helping each other to be able to receive the Lord in this Sacrament.  It was another moving memory of the day.
At the end of the Mass, the Cardinals all took part in the recessional.  It gave us an opportunity to see up close the Cardinals who were on the other side during the processional.  Here's how it looked from our seats.
After Mass, as we exited St. Peter's Square, I spotted Fr. Roderick Vonhogen from the Netherlands.  He is one of the founders of SQPN.com and the annual Catholic New Media Conference.  I've learned so much about utilizing New Media for the Church's mission from him.  Back in 2005, his podcasts from St. Peter's Square became known worldwide.  He was doing his podcasts yesterday, saw me and interviewed me about the Mass.  It was great to catch up a bit with him.
For lunch, George and I organized a small birthday gathering for Father Jonathan Gaspar, priest secretary for Cardinal Seán.  My brother Fr. Roger Landry, Terry Donilon and Greg Burke who works at the Holy See in Communications joined us at one of Fr. Jonathan's favorite restaurants, Tre Pupazzi on the Borgo Pio, because it is a Portuguese-Italian place that has wonderful food and service (Fr. Jonathan is of Portuguese Azorean descent).
From there, most of us went to the EWTN-TV studios in Rome.  It was a good location out of the rain and brief hail to interview Fr. Roger and Terry for Tuesday's episode of The Good Catholic Life.    Fr. Roger had also asked George to take some photos of the set for the team helping Raymond Arroyo with The World Over this week in Rome.
Then we went to St. Peter's Square to watch with thousands gathered there the ceremonies from the Pauline Chapel and procession into the Sistine Chapel of the Cardinals.
After we watched Cardinal Sean take his oaths, we were able to spend a few minutes with Jay Fadden from CatholicTV for yesterday's radio show.
At 7:00, I returned to St. Peter's Square to see if the smoke would be white (signifying a new Pope has been elected) or black (signifying the Cardinals have more voting to do until one receives 77 of the 115 ballots).  Nearly everyone expected black last night.  Here is how it felt to be in St. Peter's Square.
Here is how it looked on TV:
We look forward to returning to St. Peter's Square on Wednesday to once again see the smoke signals.  Please continue your prayers for Cardinal Seán and the other Cardinal-electors as they continue their work to elect the Church's 266th pope.
Here's the Conclave schedule for Wednesday March 13.
06:30 Rome/1:30am Boston – Breakfast served in Domus S. Marthae (until 7:30)
07:45 Rome/2:45am Boston – Transfer from Domus S. Marthae to Sistine Chapel
08:15 Rome/3:15am Boston – Mass
09:30 Rome/4:30am Boston – Hora Media in Sistine Chapel
Morning vote(s) taken
12:30 Rome/7:30am Boston – Cardinals return to Domus Sanctae Marthae
13:00 Rome/8:00am Boston – Lunch
16:00 Rome/11:00am Boston – Cardinals return to Sistine Chapel
16:50 Rome/11:50am Boston – Votes taken
19:15 Rome/2:15pm Boston – Vespers
19:30 Rome/2:30pm Boston – Cardinals return to Domus Sanctae Marthae
Thanks for reading this blog at TheGoodCatholicLife.com.  God bless you.
Scot Landry