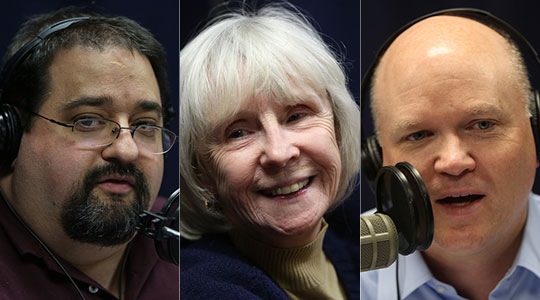 Summary of today's show: Our Thursday panel of Scot Landry, Susan Abbot, Fr. Roger Landry, and Domenico Bettinelli considered the news headlines of the week, including Cardinal Seán's four steps to stop assisted suicide in the final four days before the election; making your vote count and Catholic citizenship; Synod recommendations for the new evangelization; fifth-graders visit St. John's Seminary; remembering our deceased deacons; and the effects of Hurricane Sandy.
Listen to the show:
Podcast: Play in new window | Download
Watch the show via live video streaming or a recording later: BostonCatholicLive.com
Today's host(s): Scot Landry and Susan Abbott
Today's guest(s): Fr. Roger Landry, pastor of St. Bernadette Parish in Fall River, and Domenico Bettinelli, creative director at Pilot New Media
Links from today's show:
Some of the stories discussed on this show will be available on The Pilot's and The Anchor's websites on Friday morning. Please check those sites for the latest links.
Today's topics: Final days before election; 4 steps in 4 days to stop assisted suicide; fifth graders visit seminary; remembering deceased deacons
1st segment: (As our show transcriptionist was a guest on today's show, we will not have the usual transcription. Some of the links to stories discussed are below and the remainder will be on the Pilot's and Anchor's websites on Friday and Saturday.)
2nd segment: