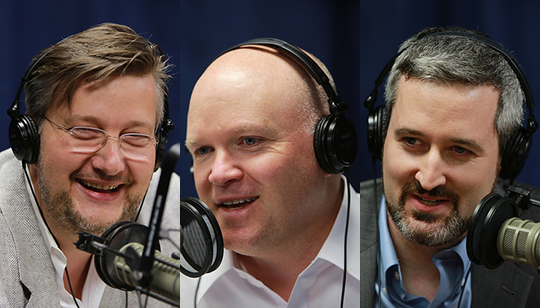 Summary of Today's Show: Scot discusses the future hopes and dreams of WQOM with new General Manager Christopher Kelley and Director of the Advisory Board Andreas Widmer.
Listen to the show:
Podcast: Play in new window | Download
Watch today's show on BostonCatholicLive
Today's host(s): Scot Landry
Today's guest(s): Christopher Kelley, General Manager of WQOM; Andreas Widmer, Director of the Advisory Board of WQOM
Links from today's show:
1st segment: Scot mentioned that for the first time TGCL is live streaming the radio show on Bostoncatholiclive.com!
Scot introduced Andreas Widmer and Christopher Kelley, both new to the management team at WQOM in the last few weeks. Chris will serve as the General Manager, handling day to day operations, while Andreas will serve with the Advisory board to create a vision and stable base of supporters for the station.
Scot asked Chris about his connection with Catholic radio. Chris said that before he started working for WQOM, he used to work for WNEB Catholic radio in Worcester, his hometown. He was drawn in to it because of the idea of new evangelization through radio which rapidly and strongly expanding. Scot mentioned that one of the reasons for catholic radio expansion in the country is because EWTN provides free programming to radio stations throughout the country.
Scot asked Andreas to share a little about his faith. Andreas shared his story from when he was a Swiss Guard in Rome and was blessed to witness the life of Pope John Paul II who inspired him to want to live the Christian faith.
Scot noted that the last time Andreas was on the show he talked about his book "The Pope and the CEO." Andreas said he is very happy with the book and that it has sold over 10,000 copies. He also said that is he is really humbled with the messages he receives from the readers about how much the booked has helped them.
2nd segment: Scot asked Chris about some of the duties he has as the station manager for WQOM here in Boston. Chris said that his first duty is to increase the number of listeners through the website, newsletter social media and word of mouth. He is also engaged with the fundrive, which will happen October 17th-20th.
Scot said that the 1060AM bumper sticker he has on his car is a great conversation starter and way to promote WQOM and asked what else can people do to help share about WQOM. Chris encouraged the listeners to write to WQOM by sending an email and this way they will receive information and material, including the bumper sticker, about WQOM that they can use to help share about WQOM.
Scot asked Andreas more details about the Facebook page for WQOM Boston. Andreas said that one of the primary focuses is to bring together the catholic community and to engage them and this way they will be able to not only listen to the program but also participate by getting more involved. Chris said that one of the ways people are getting engaged is that Catholic school teachers are asking students to listen to Catholic radio as a homework assignment and that alone is a great way to get the kids to listen and also their parents.
Scot asked Andreas about the major gift campaigns and the work he is hoping to do. Andreas shares that there are people who want to make a difference with evangelization and he hopes to find that group that would support with ideas and financially because this is a commercial free radio station. Andreas said that with the vibrant catholic community in the area he doesn't think this will be a problem.
Scot asked about the advantages for radio to have tools like an app and podcasts. Andreas said that you can control the program you want to list to and create your own radio schedule. Through the technology you can hear unfiltered catholic information and news and learn about the faith.