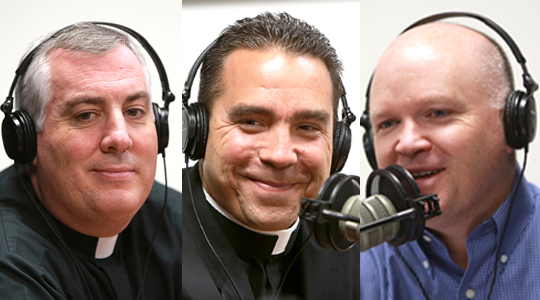 Summary of Today's Show:Scot and Fr Mark profile Fr Jason Makos, Pastor of Holy Ghost parish in Whitman.
Listen to the show:
Podcast: Play in new window | Download
Today's host(s): Scot Landry and Fr. Mark O'Connell
Today's guest(s): Father Jason Makos
Links from today's show:
Today's topics: Pastor Profile: Father Jason Makos
1st segment: Scot Landry welcomed everyone back, and commented to Father Mark O'Connell that we may not be able to celebrate the end of August, but we're certainly at the end of August! Fr Mark replied that he had a great summer, and is happy to be finishing it off with such beautiful weather. Scot asked Fr Mark to discuss his training sessions with Pastoral Associates this past week in the Tribunal. Father Mark described a summer course he offered for Pastoral Associates to become certified in marriage and declaration of nullity issues, as well as discuss Blessed John Paul II's Apostolic Exhortation "Familiaris consortio." He concluded the program with interviews, which was a great chance to meet some of the class members and get to know them a bit better.
Scot welcomed Father Jason Makos from Holy Ghost parish in Whitman, one of the youngest pastors in the Archdiocese. Scot commented that he had never been to Whitman before; Fr Mark said he visited Fr Jay's parish about two weeks ago for the first time. Fr Jay said he will be celebrating his two year anniversary at Holy Ghost this coming October, and is the parish where he entered the Church as a teenager. Fr Jay said he really enjoys the wide variety of people from as far as Amesbury who come to visit the Perpetual Adoration chapel at Holy Ghost. Scot asked Fr Jason about his early upbringing. Fr Makos said he comes from a small family in Bridgewater with a twin brother Justin, and grew up Greek Orthodox. Scot asked what the bigger differences between a Greek Orthodox and a Roman Catholic Mass are – Fr Jason replied that the services are generally in Greek and last 2-3 hours normally, and the churches are much more ornate than many Catholic churches. He didn't understand one word of Greek, Fr Jason said, which sometimes made services seem very long, but the incense, icons, and chanting made it very beautiful.
Scot asked Fr Jay when he heard the call to become a Roman Catholic – Father Jay said it was actually right after his high school graduation. He went on a pilgrimage to Canada to see the Basilica of St Anne de Beaupré and St Joseph Oratory with a bus full of Catholics. They had lively discussions about faith, and Fr Jay said he was inspired by both the beauty of the Basilica and the beauty of the faith of people around him. It made him think about people beyond himself, which initiated the thought of becoming a Roman Catholic. When he returned from the pilgrimage, Fr Jay said he started going to the Greek liturgy every week, and wanted to investigate the Catholic church too. Pope John Paul II also inspired Fr Jay to come to be a Catholic, he said, but talking to people who were living their faith out in an active and dynamic way made the Catholic church very attractive. Fr Jay said he enrolled in an RCIA course to learn more about the Catholic faith – Fr Mark said that Fr Jay actually wouldn't necessarily have needed to take RCIA classes as a Greek Orthodox, but Fr Jay said he wanted to know solidly what he was getting into. A year later, he entered the seminary to study for the priesthood.
Fr Jay said he had no intention at all to become a priest during his RCIA process – it was maybe 6 months later that he was going to daily Mass that he started looking at the altar and thinking there was something attractive and beautiful about what a priest does. Through prayer and God poking him, Fr Jay enrolled in the seminary, and was open to discern his vocation at St John Seminary. Father Bob Flag told him something that he still tells young people today – to take a risk and explore his vocation.
Scot asked Fr Jay about his time at the Pontifical North American College in Rome. Fr Jay replied that it was very surprising when he was asked, but after much thought and prayer it was a great opportunity to learn more about the faith. Fr Mark asked what Fr Jay's family thought of the conversion – Fr Jay said that, especially for his grandmother, it was hard at first. There is a very strong link between Greek culture and being Greek Orthodox. As time went on, though, his family became one of his best prayerful and physical supports. Fr Jay said his parents even visited him twice when he was in Rome. Scot asked Fr Jay to summarize his time in Rome – Fr Jay said his greatest experience was looking down to the Vatican and experiencing the different people in Rome, especially Catholics from all over the world.
Scot mentioned that Fr Jay served for a summer at St Edith Stein parish and returned to Rome for a year to finish his studies in Theology before being assigned to his first full-time parish at St Mary Parish in Foxboro. Fr Jay said he loved his first experience as a parish priest with Fr Tom Riley, and that the people in Foxboro were very active and provided a great experience to come home to a vibrant parish. After his assignment in Foxboro, he was named an administrator in Amesbury, a town Fr Jay said he'd never even been to before. In his short period of time there Fr Jay said he fell in love with the area and loved the people there. Soon after that, Fr Jay said he was called to be a pastor. He was scared at first and thought he needed some more experience, but has tackled the challenge head-on.
Fr Jay said one of the things that helped him at Holy Ghost right out of the gate was the amazing volunteerism of all the parishioners – it helped make the transition very smooth. It was a gift to be sent to his "spiritual" home parish where he had entered into the Catholic Church through RCIA, Fr Jay said. Scot commented that there must be parishioners still at Holy Ghost who remembered him from the RCIA program – Fr Jay agreed and said it makes it feel like a true home. Scot asked Fr Jay to describe the Perpetual Adoration Chapel and the benefits it brings to Holy Ghost. Fr Jay said that the chapel is just over 11 years old. The benefit, Fr Jay said, is that it activates people in their faith to see people come in and out every hour of every day refreshed from having spent time with Jesus in the Eucharist. Scot asked if Fr Jay has to fill in very often – Fr Jay replied that he or a deacon may occasionally cover, but it surprisingly isn't as necessary as one might think. Scot asked what else makes Holy Ghost special – Fr Jay said that the active service commitment from the parish is impressive, with an active St Vincent de Paul society and food pantry.
Fr Mark asked what the connection between Cardinal Spellman of New York and Holy Ghost in Whitman was. Fr Jay explained that Cardinal Spellman grew up in Whitman and called Holy Ghost his home parish, and his family was always very involved in the parish. The altar in the Perpetual Adoration chapel was also donated by the Spellman family.
2nd segment: Scot mentioned that Fr Jay's time studying in Rome overlapped with the passing of Blessed John Paul II and the beginning of Pope Benedict XVI's papcy. Fr Jay said it was an incredible experience to be in Rome at that time for everyone studying at the North American College. When they got the word of the Pope's death, everyone immediately went to St Peter's Square to pray the rosary. When he was laid in state, Fr Jay said it was striking to see the miles long lines to see people waiting in line. The seminarians helped serve water to the people in line, and even though the waits approached 12 or 14 hours the people were determined to pay their last respects to the late great Pope. When the Conclave was in session, the seminarians were taking shifts to alert everyone to whether there was white smoke or black smoke. During the time of the white smoke Fr Jay said he was one of the lookouts, so was able to be in St Peter's Square. He said the noise in the Square was louder than anything he has ever heard in his life, with people excited and jubilant.
Scot asked Fr Jay about his hobbies – Fr Jay said on his days off he enjoys fishing, sometimes with his dad. He joked that the great thing about modern technology and the iPhone is that now he can prove he caught a big fish, no tall tale needed! Fr Mark commented that it is very symbolic that Fr Jay as a priest enjoys both fishing for fish and being a fisher of men as Jesus called the original Apostles to do.
3rd segment: Scot, Fr Mark, and Fr Jay reviewed the second reading and Gospel for this coming Sunday, the 22nd Sunday in Ordinary time.
2nd Reading: James 1:17-18, 21b-22, 27
Dearest brothers and sisters:
All good giving and every perfect gift is from above,
coming down from the Father of lights,
with whom there is no alteration or shadow caused by change.
He willed to give us birth by the word of truth
that we may be a kind of firstfruits of his creatures.

Humbly welcome the word that has been planted in you
and is able to save your souls.

Be doers of the word and not hearers only, deluding yourselves.

Religion that is pure and undefiled before God and the Father is this:
to care for orphans and widows in their affliction
and to keep oneself unstained by the world.
Gospel: Mark 7:1-8, 14-15, 21-23
When the Pharisees with some scribes who had come from Jerusalem
gathered around Jesus,
they observed that some of his disciples ate their meals
with unclean, that is, unwashed, hands.
–For the Pharisees and, in fact, all Jews,
do not eat without carefully washing their hands,
keeping the tradition of the elders.
And on coming from the marketplace
they do not eat without purifying themselves.
And there are many other things that they have traditionally observed,
the purification of cups and jugs and kettles and beds. —
So the Pharisees and scribes questioned him,
"Why do your disciples not follow the tradition of the elders
but instead eat a meal with unclean hands?"
He responded,
"Well did Isaiah prophesy about you hypocrites, as it is written:
This people honors me with their lips,
but their hearts are far from me;
in vain do they worship me,
teaching as doctrines human precepts.
You disregard God's commandment but cling to human tradition."

He summoned the crowd again and said to them,
"Hear me, all of you, and understand.
Nothing that enters one from outside can defile that person;
but the things that come out from within are what defile.

"From within people, from their hearts,
come evil thoughts, unchastity, theft, murder,
adultery, greed, malice, deceit,
licentiousness, envy, blasphemy, arrogance, folly.
All these evils come from within and they defile."