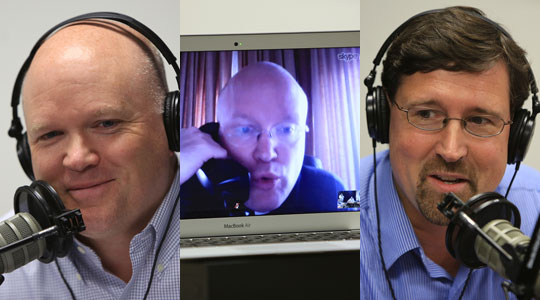 Summary of today's show: On our first live Thursday show in several weeks our panel of Scot Landry, Fr. Roger Landry, and Gregory Tracy look at the news headlines of the week, including the passing of pro-life icon Nellie Gray; the Republican Party's pick of vice-presidential candidate Paul Ryan who ensures that the next vice-president will be Catholic; and the controversy over the New York archdiocese's Al Smith Dinner and Cardinal Dolan's traditional invitation to the sitting president to attend.
Listen to the show:
Podcast: Play in new window | Download
Today's host(s): Scot Landry
Today's guest(s): Gregory Tracy, managing editor of the Pilot, the newspaper of the Archdiocese of Boston, and Fr. Roger Landry, pastor of St. Bernadette Parish in Fall River
Links from today's show:
Some of the stories discussed on this show will be available on The Pilot's and The Anchor's websites on Friday morning. Please check those sites for the latest links.
Today's topics: Nellie Gray; Paul Ryan; Al Smith dinner
1st segment: Scot Landry welcomed everyone to the show and said Susan Abbott had the day off from the show. He welcomed Gregory Tracy to the show and they caught up on what Greg has been doing since he's last been on the show about a month ago, including his vacation on a lake in southern Virginia. Scot then welcomed Fr. Roger to the show and they talked about his trip to the Caribbean and St. Lucia and the unique way of celebrating the liturgy with the local steel drum music.
Scot said we're beginning today' examination of the news with a story about the death of one of Cardinal Seán's heroes, Nellie Gray, the organizer of the annual March for Life in Washington, DC for the past 39 years. Greg said Cardinal Seán had known Nellie from the beginning of the March when he was just a Franciscan priest serving in DC.
Having received news of Nellie Gray's death, I wish to express my sincere condolences and prayers for her family and for all who came to know and love her in the Pro-Life Movement. Her love for life and her dedication to protecting the unborn, the most vulnerable among us, have inspired countless generations of Catholics and non-Catholics alike, and we will miss her tremendously.

Nellie Gray will be remembered as the Joan of Arc of the Gospel of Life.

The architects of the pro-abortion movement in the United States thought that the opposition would go away, but close to 40 years later the issue is still very much alive, thanks in part to the annual March for Life and because of people like Nellie who are committed to the culture of life. Having participated in every single March for Life since its inception, I have witnessed firsthand her advocacy and dedication. I was honored by her presence in Boston in 2009, when during the Boston Catholic Women's Conference we conferred upon her the Culture of Life Award.

Her death is a great loss for both our Church and our Country, but her life has left a meaningful and lasting impression upon the hearts of those who knew her and upon the many hearts of those whose lives she saved. We will keep Nellie Gray and all those who mourn her death in our prayers. We ask God to grant her eternal rest and peace, and we give thanks to Him for the gift of her life.
Scot asked Fr. Roger what it means for her to be the Joan of Arc of the Gospel of Life. Fr. Roger said in the great battle between life and death, she had all the great virtues of a real military leader, including organization and courage. She was also an incredible inspiration in her faith just as the young girl in armor inspired so many men in her cause. Nellie as like that as well.
Scot said Nellie leaves much in her legacy, including the many lives saved. she was never officially asked by the bishops, but responded to a need and that effort was blessed by the bishops. Scot said the Church needs many entrepreneurs who want to innovate. He said the March for Life is one of the biggest gatherings in the Church in the US ever year. Greg said he has gone nearly every year he's worked for the Pilot and he has seen it grow younger in that there are more and more young people coming every year.
Greg said he was touched by Nellie's story and to see that she started her work on the March later in her life and she thought at first it was going to be a one-time deal and she ended up doing it for the rest of her life.
Fr. Roger said the March for Life allows people not to feel alone in being pro-life, especially in the Commonwealth of Massachusetts. He recalls the first time going to the March when he was a pro-life student leader at Harvard and it wasn't easy. He remembers being warmed by the presence of so many from colleges all over the country, proudly standing up for life. He believes that today the median age of the participants is under 22 and this is what frightens those on the other side of the issue.
3rd segment: Scot said last week Republican presidential candidate Mitt Romney announced Wisconsin Rep. Paul Ryan, a Catholic, as his running mate. For the first time, we have two Catholics on the opposing tickets. Greg said Ryan's selection is a good choice, bringing something to the ticket that Romney lacked. In addition to being pro-life and pro-marriage, he appeals to a wing of the Republican party that wanted someone more conservative.
Scot said he and Fr. Roger speculated in the days leading up to the announcement about the running mate and Fr. Roger had picked Ryan. He had a sense that Ryan would be good on economic issues for the Republican ticket because he's been articulate on these issues. He has a plan that's coherent and compelling, even if not everyone will agree with specifics or even generalities. Fr. Roger said that as an individual and as a moral theologian, we he recognizes the need to address the massive federal dent. What he likes about Paul Ryan is that he not only goes to Mass on Sunday (Biden himself goes to Mass every Sunday too), the faith appears to penetrates Ryan's life in a way that it doesn't for Biden. Fr. Roger said there was an interesting exchange of letters between Ryan and Cardinal Dolan on economics and the federal budget in which Ryan showed his facility with Catholic theology. Fr. Roger noted that some more liberal Catholics, like the National Catholic Reporter, have criticized Ryan as a "dissenting" Catholic. Fr. Roger said Ryan has argued persuasively for his point of view as compatible with Catholic social teaching. If Ryan can engage so well with Cardinal Dolan, it shows Catholics how we should know our faith.
Scot said in the coming months part of the election story will be the defining of what it means to be a good Catholic in the public sphere. Greg said many Catholics feel like they are political orphans without a party because neither party fully represents their views. In the past the Democrat Party was the party of choice for many Catholics and many older Catholics still reflexively vote Democrat.
Greg noted that the bishops don't tell Catholics for whom to vote, but they do propose the principles and application of the principles by which Catholics should consider candidates.
Scot said one of the ways Catholics form their consciences before voting are voting guides. There will be several voting guides coming out in the next few months. He said not all issues are created equal. He asked Fr. Roger to help listeners to prepare for the types of voting guides and the types of issues they'll hear. Fr. Roger said there is a hierarchy of truths in the Church and some of them are so central that we would be prevented from voting for a candidate who opposes them. If there were a candidate who was very good on the economy, but wanted to torture for a candidate who wanted to torture children, we couldn't vote for him. It doesn't mean we had to vote for the other party, but there are some things we just can't do. We laos have to distinguish between ends and means. We have to make sure candidates line up with the ends we want as Catholics even if we disagree on means. But if they disagree on ends, calling evil good, then we cannot support them. Fr. Roger warned that some voter guides will try to understate the Catholic faith and make an equivalence between tax policy to benefit the poor and the safeguarding of marriage. They are the same value. one is an intrinsic evil in which it can never be done and the other is a narrow issue in which it could be applied in some cases.
Voting is a moral decision and like any more decision we will have to answer to God for it. What values will we show to God?
Scot said one of the most important political events in the Catholic realm each year is the annual Al Smith Dinner in New York. Al Smith was a Catholic presidential candidate in the early 20th century. Before the presidential election, the major party candidates are invited to the dinner, which benefits Catholic healthcare for the poor. This year's invitation to President Obama and Mitt Romney has generated controversy, with some shocked that the Catholic Church would bring the architect of the HHS mandate to this fundraiser for Catholic healthcare.
Greg said it's always been the tradition to invite the candidates, except on a few occasions and when that has happened, there has been criticism of the Church for seeming partisan. Cardinal Dolan has made it clear that the issue of the HHS mandate is not partisan. He also noted that tone of the dinner is lighthearted and Cardinal Dolan has said that this isn't a honor being given neither is it a platform for Obama to expound on his views. He also made a point that he wants to bring a level of civility to politics. We want to dialogue with the government on the HHS mandate. What would it say to the president if we said we couldn't stand to be in the same room with him for dinner?
Scot asked Fr. Roger for his take on the controversy. He said some people want to see that this is an opportunity to make a point about Obama. Fr. Roger said what motivates a lot of critics is that many Church leaders have been pathetically soft on Catholic legislators who have dissented from Church teaching and so many see this incident in that light. At the same time, we have to beware of a pharisaicalism in which we write off all the sinners. The Pharisees took such great exception to Jesus talking to, eating with, and going into the homes of sinners and Cardinal Dolan is receiving the same kind of criticism. Some people want a kind of excommunication for Obama, but Fr. Roger thinks we need to keep lines of communication open and have an opportunity to have a conversation that highlights how the Catholic charity they're raising money for is just the kind that is affected by the HHS mandate. Cardinal Dolan also said he hoped his own credentials in defense of life would prevent people from questioning them or questioning their own relationship with the Church.
Scot said in local stories about Fr. Jack Ahern and Fr. Doc Conway receiving awards from the City of Boston for their work stopping crime in Dorchester; the news of Fr. Thomas Foley being sworn in as a chaplain in the US Air Force; the retirement of Fr. Robert Kennedy; and a priest-physician who gives a unique perspective on physician-assisted suicide.