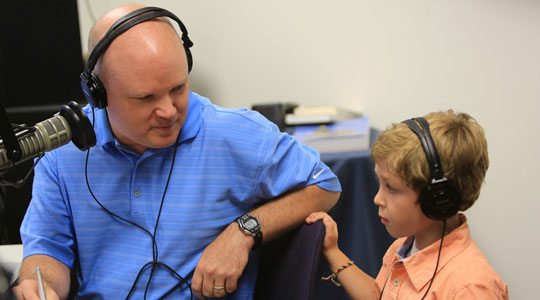 Summary of today's show: Our Thursday panel of Scot Landry, Susan Abbott, Fr. Roger Landry, and Antonio Enrique look at the news headlines of the week, including Cardinal Dolan's declaration of the US as a mission territory; a survey that shows falling confidence in the Church and all organized religion; a slew of new priest assignments; a ministry that cares for ailing priests; new leadership for the Sisters of St. Joseph; and vocations retreats and pro-life boot camps in the Fall River diocese.
Listen to the show:
Podcast: Play in new window | Download
Today's host(s): Scot Landry and Susan Abbott
Today's guest(s): Antonio Enrique, editor of the Pilot, the newspaper of the Archdiocese of Boston, and Fr. Roger Landry, pastor of St. Bernadette Parish in Fall River
Links from today's show:
Some of the stories discussed on this show will be available on The Pilot's and The Anchor's websites on Friday morning. Please check those sites for the latest links.
Today's topics: US mission territory; low confidence in religion; ministry to priests; pro-life boot camp
1st segment: Scot Landry and Susan Abbott caught up on their week. Scot noted that his young sons, Christian and Dominic, are in the studio today. Dominic is six years old today.
The Pilot has returned from its two-week hiatus and there's a lot of news to catch up on plus a provocative piece by Cardinal Timothy Dolan of New York.
2nd segment: Scot and Susan welcomed Fr. Roger and Antonio to the show. Scot said Cardinal Dolan wrote a column that called the Archdiocese of New York and all of the United States is a mission territory.
"I was raised – as were most of you – to think of the missions as 'way far away' – and, to be sure, we can never forget our sacred duty to the foreign missions," the New York archbishop wrote on his "Gospel in the Digital Age" blog.

"But, we are a mission territory, too. Every diocese is. And every committed Catholic is a missionary. This is at the heart of what Blessed John Paul II and Pope Benedict XVI call the New Evangelization."
Susan said she was reminded of a conversation with an Irish Holy Ghost Father 15 years ago who had just come from Africa. He told her that the US is a mission country needing a second evangelization, which is harder than the first. Susan noted how Cardinal Dolan spoke from the heart and warned that we've taken our Catholic faith for granted. He said we all need the Year of Faith.
Cardinal Dolan was referencing a speech by Archbishop Charles Chaput of Philadelphia that his archdiocese is a mission territory. Antonio said many Catholics live their faith as if they just happen to be Catholic. He said the religious understanding of life doesn't go very deep anymore and hopefully we renew our focus on passing the faith onto the next generation.
Scot quoted from the Cardinal's blog:
Because, guess where we're at: We're with the apostles on Pentecost Sunday as we embrace the New Evangelization.

No more taking our Catholic faith for granted!

No more relaxing in the great things the church has accomplished in the past!

Cynicism is replaced by confidence …

Hand-wringing by hand-folding …

Dullness by dare …

Waiting for people to come back replaced by going out to get them …

Presuming that people know the richness of their Catholic faith replaced by a realistic admission that they do not …

From taking the Church for granted as a "big corporation," to a tender care for a Church as small and fragile as a tiny mustard seed Jesus spoke about…

Keeping our faith to ourselves to letting it shine to others!

This is the New Evangelization!

The Archdiocese of New York is a mission territory!

The whole Church is! Our parishes are! Culture is! The world is!

You and I are missionaries!

No longer can we coast on the former fame, clout, buildings, numbers, size, money, and accomplishments of the past. As a matter of fact, all of this may have dulled us into taking our faith for granted.

No more! We are missionaries. And, it starts inside.
Fr. Roger said at the same time as there will be a Synod of Bishops from around the world on the new evangelization in the Vatican in October we'll be launching the Year of Faith for us to re-examine our own faith and re-found it in Christ in our daily life. He said he often talks about the New Evangelization in retreats and talks about the methods of the New Evangelization. Pope Benedict said in a Jubilee Year address that the first method of the New Evangelization is prayer. We need to be praying far more for people to come and experience the fullness of the Lord's love as we have in our own lives. Then we need to be docile to the Holy Spirit, who makes the converts to the faith. We must become more and more united to God. Pope Benedict is asking us to reflect more on our faith.
Scot said the Holy Father has called the Year of Faith because of a crisis of faith in the West, as seen in a recent Gallup survey that shows a low in confidence in the Church by Catholics and in organized religion in general.
Forty-six percent of Catholics express "a great deal or quite a lot of confidence" in the church and organized religion, compared to 56 percent of Protestants. Overall, 44 percent of Americans expressed that same level of confidence in church/organized religion. The percentage is slightly lower than what Gallup has found in recent years; in 2002, it was 45 percent and in 2007, 46 percent.

"This follows a long-term decline in Americans' confidence in religion since the 1970s," Gallup said. In 1973, 66 percent said they had a high level of confidence in religion.
Antonio said it's not very surprising, given all the social unrest in the Sixties and movements to separate people from organized religion. He said maybe it's time to start the New Evangelization because we can see the effects of the last four decades which haven't been fulfilling to people. All the societal decline goes together with this decline in religion and so we can go out and announce the beauty of Christianity and the fulfillment found in God.
Scot said a related finding is that American's confidence in other important societal institutions is also at an all-time low, so it's not just the church, but all institutions. Susan said it seems the whole country is in a funk. She said Scripture tells us we must always be ready to give reasons for our hope. (1 Peter 3:15) If we have no hope, where do we go? How do we more forward? The whole spiritual/not religious dichotomy shows the emptiness and loneliness when their is faith without community. She said we see it in our own Archdiocese when the pastoral planning proposal was made and was met by fear and suspicion. Scot said Cardinal Dolan said that cynicism needs to be replaced by confidence.
Scot said when he sees that 46% of American Catholics have great confidence in the Church, he would have expected it to be a lot less. Fr. Roger said that number is about double weekly Mass attendance, so we have great reason to hope that there are a lot of people who could be ready to be invited back to Mass. He also noted that many institutions are much lower than the Church (like Congress which was in single digits), even though we really do want 100% to have total confidence in the Church. We are living in an anti-institutional, anti-authoritarian age. Confidence from top to bottom: military, small business, police, church/organized religion, banks, US Supreme Court, public schools, medical system, presidency, television news, newspapers, criminal justice system, organized labor, big business, HMOs, and Congress at the bottom.
3rd segment: This week's benefactor card raffle winner is Fr. Thomas Bouton of Dorchester, MA
He wins a "Praying for our Priests" 3 Pack:
"Praying for Our Priests" – A Book of prayers for the priesthood
An audio CD of the Stations of the Cross and Divine Mercy Chaplet with meditations on the priesthood
An audio CD of the Rosary with meditations on the priesthood
If you would like to be eligible to win in an upcoming week, please visit WQOM.org. For a one-time $30 donation, you'll receive the Station of the Cross benefactor card and key tag, making you eligible for WQOM's weekly raffle of books, DVDs, CDs and religious items. We'll be announcing the winner each Wednesday during "The Good Catholic Life" program.
4th segment: Scot announced all the recent priestly assignments made in recent weeks:
Cardinal Sean P. O'Malley, OFM Cap., has announced the appointment of Father Rodney J. Copp from pastor at St. Charles Borromeo Parish in Waltham, to pastor at St. Gerard Majella Parish in Canton. The effective date of
this action is Aug. 28, 2012.

Cardinal Sean P. O'Malley, OFM Cap., has accepted the request of Father Robert R. Kennedy to resign as pastor at St. Monica-St. Augustine Parish in South Boston. The cardinal has
also granted Father Kennedy senior pries/retirement status. The effective date of these actions is July 31,2012.

Cardinal Sean P. O'Malley, OFM Cap., has announced the appointment of Father Thomas J. Powers as pastor at Our Lady of the Assumption Parish in Lynnfield. This appointment is in addition to Father Powers' assignment as pastor at St. Maria Goretti Parish in Lynnfield. The effective date of this action is Aug. 1,2012.

Cardinal Sean P. O'Malley, OFM Cap., has announced the appointment of Father George C. Hines from pastor at St. Mary Parish in Wrentham and from pastor at St. Martha Parish in Plainville, to pastor at St. Joseph Parish in Medford. The effective date of this action is Aug. 1, 2012.

Cardinal Sean P. O'Malley, OFM Cap., has announced the appointment of Father Frank J. Silva from pastor at Corpus Christi-St. Bernard Parish in Newton, to pastor at St. Margaret Parish in Burlington. The effective date of this action is Sept. 4, 2012.

Cardinal Sean P. O'Malley, OFM Cap., has announced the appointment of Father Robert J. Carr from pastor at St. Benedict Parish in Somerville, to pastor at Holy Trinity Parish in Quincy. The effective date of this action is Oct. 1,2012.

Cardinal Sean P. O'Malley, OFM Cap., has announced the appointment of Very Reverend Thomas F. Nestor, V.F., from pastor at St. Eulalia Parish in Winchester, to pastor at St. Paul Parish in Hingham. The effective date of this action is Aug. 26, 2012.
Scot, Susan, and Antonio discussed the priests they know and the affect it will have. Fr. Roger said anytime there's a change in pastors, it's a time for people in those parishes to bond themselves even more to Christ who sends the priests to serve in His name.
Scot noted an article in the Pilot this week profiling Fr. Jim Flavin, a priest of the Archdiocese, who has been sent by Cardinal Seán to work at the St. John Vianney Center in Pennsylvania that provides pastoral care to priests and others in religious ministry who require spiritual and psychological care.
He said the work he undertakes can restore a priest or a nun to ministry serving thousands of others in some cases. "If I get a priest healthy, that's a thousand people that get a priest, get the Eucharist, and get God in their lives. So, it's good work," he said.
Antonio liked Fr. Flavin's quote on the foolishness of youth which is also the gift of youth, that is that they think they can change the world. Scot thinks another quote relates to pastoral planning in the archdiocese:
"We are getting to a point where we just give priests more work. Where there was one parish with four or five priests, now we are giving one priest four or five parishes," he said.
Scot mentioned Fr. Flavin's relationship with Dorchester native and movie actor Mark Wahlberg. Fr. Roger said the work of the Vianney Center is important because of the work they do for clergy who receive unique stresses in their work. How can a priest deal with the stress of hearing upsetting things in confession when they can't reveal it. So having a talented priest can minister to his brother priests, he can understand better than anyone else who isn't a priest. Fr. Roger said there are several centers like St. John Vianney Center around the country.
Also in the Pilot is the 20th anniversary of the Archdiocese of Boston Black Catholic Choir. They had a Mass and gala dinner on June 30 at Boston College High School. Susan said it was pointed out in the article that their work is really a ministry of prayer. Scot said it can be difficult to start ministries but it's even harder to keep them going year after year. He said the choir does more than just sing in some churches, but travel all over to sing at conferences and other events as well.
The Diocese of Fall River had its Quo Vadis high school vocation retreats days for young men to consider the call to the priesthood or to just be better formed as Catholic men whatever their vocation. They've had one of their largest gatherings this year and already some of the men entering the seminary now have been on previous Quo Vadis Days.
Scot referred to another local story about the Sisters of St. Joseph, a local religious order, who have elected a new leadership team. Susan said Sr. Margaret Sullivan, one of the new leaders, used to work in the Pastoral Center and misses her terribly but wishes her well.
In her reflections at the end of the liturgy, Sister Rosemary Brennan said, "Each transition of leadership dares us to dream we can co-create a future which 'moves always towards profound love of God and love of neighbor without distinction.' The passion and enthusiasm we have for being Sisters of St. Joseph and Associates is what impels us to live – knowing that relationship
is always at the heart of who we are; and when we find ourselves in situations which test our relationships we will always seek to live in and through our charism – a charism that is our unique gift to our Church and our world."
Also in the Anchor this week is a story about the pro-life boot camp taking place on the campus of Stonehill College in Easton. Fr. Roger said it was founded last year to help young pro-life Catholics to receive real training to be effective agents in the culture of life. Several years ago some members of the youth group wanted to set up a training program for them so they could then train others. The diocesan pro-life apostolate took on the program, sent a couple of young people to a boot camp in Texas, and then set up the first sold-out boot camp in Easton last year. Fr. Roger said he will be participating and a number of other pro-life leaders will be coming from around the country to help.
Scot said Jaymie Wolfe has a great column on what she learned from her time serving three months on a grand jury, especially 16 particular findings.