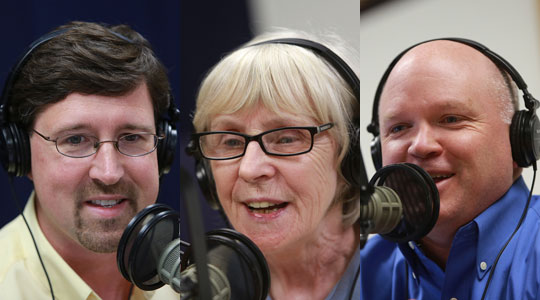 Summary of today's show: Our panel of Scot Landry, Susan Abbott, Gregory Tracy, and Domenico Bettinelli looked at the headlines of the week on Thursday, including a special Pentecost vigil Mass with Cardinal Seán and members of ecclesial movements and ethnic communities; 10 new graduates of the Master of Arts in Ministry program at TINE; the Archdiocese is looking for a new director of pastoral planning; Fr. Gerry Dorgan retires after 21 years as pastor; a native son becomes Bishop of Buffalo; and more Americans are self-identifying as pro-life.
Listen to the show:
Podcast: Play in new window | Download
Today's host(s): Scot Landry and Susan Abbott
Today's guest(s): Gregory Tracy, managing editor of The Pilot, the newspaper of the Boston archdiocese; and Domenico Bettinelli of Pilot New Media
Links from today's show:
Some of the stories discussed on this show will be available on The Pilot's and The Anchor's websites on Friday morning. Please check those sites for the latest links.
Today's topics: Special Pentecost Mass; Master of Arts in Ministry; Seeking Pastoral Planning Director; New Buffalo bishop; More pro-life; Vatileaks
1st segment:
2nd segment:
"New ecclesial movements and realities join cardinal for Pentecost Vigil," The Boston Pilot

"Ten receive Masters of Arts in Ministry degrees," The Boston Pilot
Those receiving Master of Arts in Ministry degrees are:
Marika Donders, of Keene, N.H.
Linda Russo of Watertown
Chad Puclowski of Hanover
David Gilpin of Quincy
Kathleen T. Riordan of Milton
Kay Kociuba of Wellesley
Susan Horne (Tierney) of Needham
Kristin Campbell of Medford
Marie (O'Connor) Sweeney of Melrose

Jeff Volkers of Goshen, N.H.

"Archdiocese begins search for Pastoral Planning Director," The Boston Pilot

"Father Thomas F. Murray, 81," obituary, The Boston Pilot

"Danvers pastor Father Dorgan granted senior priest status June 5," The Boston Pilot
3rd segment: