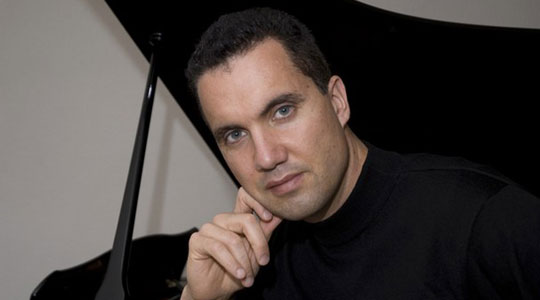 Summary of today's show: Music transcends words and beauty moves the soul. Catholic world-class musician and composer Eric Genuis has dedicated his life to bringing beautiful music to schools, churches, concert halls, and prisons and Scot Landry talks with Eric about his mission, which brings hope to the hopeless and beauty to those starving for beauty. Eric will be performing at St. William in Tewksbury on Monday, April 16, and St. Mary in Waltham on Tuesday, April 17.
Listen to the show:
Podcast: Play in new window | Download
Today's host(s): Scot Landry
Today's guest(s): Eric Genuis
Links from today's show:
Today's topics: Catholic musician and composer Eric Genius
1st segment: Scot wished all listeners a Happy Easter and reminded them that Easter is eight days long until song. He asked Rick Heil how he celebrated Easter. He said he was with his parents and they went to Mass at Bl. Kateri in Plymouth with Bishop Dooher. They discussed the bishops' homily.
Rick said his mother and father sing in the choir at the parish and sang in many of the Triduum Masses. Scot said his family participated in all the Triduum liturgies at St. Agnes, allowing his kids to participate as one family for the first time. He said the St. Agnes choir was beautiful. He congratulated everyone who was a part of that. Scot said he ate dinner at his brother's house and they started a new family tradition of kickball.
Cardinal Seán's Easter homily:
Scot said Eric Genuis is our guest today and said Rick Heil will be participating in the conversation today. Eric is a Catholic composer and musician and he will be coming to St. Williams, Tewksbury on Monday 4/16 and at St. Mary, Waltham on Tuesday 4/17, both at 7pm. The concerts are free but a free-will offering will be taken up.
2nd segment: Coming from the break, we hear an Eric Genuis composition called "Russian Ballade". Scot read a quote from Jim Cavizel complimenting the work of Eric Genuis and the quality of his music:
"What a pleasure to listen to not only a world class pianist and composer, but an artist whose music translates beyond its genre to lift the audience to belief and hope in the power of the human spirit. I have been honored to be present at several of Eric's concerts. Every time with every unique audience nuance, those present felt the power of Eric's music and his words clearly elevated people".
Scot welcomed Eric and asked him about his background. Eric has a degree in piano performance after growing up in Canada. He'd always promised God that he would never refuse to play anywhere based on money or availability of instruments. He;s played in school, churches, concert halls, prisons, and stadiums. He began to notice very early the impact of music. He said his music is classical in form with a modern feel.
He's always known theoretically about the effect of music, but when you see it and experience it it really moves the performer. Deciding to pursue music was a difficult decision in this culture, which views rap and Lady Gaga as music. But it's not the same thing that will bring beauty and reflect human dignity. He knows that what he plays isn't very popular in culture and he knew it wouldn't be easy to make a living for his family, which includes 4 children now. But he and his wife feel strongly that this has to be done.
He speaks to about 100,000 youth per year, performing for them. He sees that what the young lack right now is hope. They have no hope for their futures, economically, societally. They are suspicious of their parents' generation. In this suffering, they are taking desperate measures to alleviate suffering and fear. These are young people who have been bathing in a very low level of entertainment, which isn't really art anymore. Being entertained is reasonable, but it was never just that. We can sink to a low-level if we're only seeking entertainment. It's like eating only junk food.
Scot said when he was young Madonna was big and it seemed that with every album she created it ramped up the debasement of herself and her audience. He remembers asking himself where it stops. Rick said it reflects the devaluation of life in our culture from previous decades to now and our pop culture descended on the same level.
Eric with this age of instant communication, we've created the superstar celebrity phenomenon. He cited the Spice Girls, whose music was really very simple, yet it was constructed by record companies to become icons for young children and make billions of dollars. Now the girls who were fans of the Spice Girls are now young adults and he's performing for them. He finds that music was used as a vehicle for commercialism and the creation of a product. He notes that many of the musicians can't even carry a tune without computer processing. So if it wasn't about music, it was about image. there's now a machine that can take "star quality" that has nothing to do with music and propel them.
Eric said he performs at colleges and many in his audiences have never hear a cello played live. He hears from parents who tell him they don't know what to do about the music. Confucius once said if you want to know a nation's morality, listen to the music. Plato said if given a choice to govern law or govern music, he would govern music because music moves men's souls.
He said there is a mysterious way of atmosphere being brought about with music without a word being spoken. He said his daughters with Downs can communicate a depth beyond words even though she can't speak. The image and likeness of God within us speaks beyond words in us.
Eric said the goal of his concerts is to entertain, but also to do much more. He tries to writes music wit the genius of a Bach or Mozart, but for the audience of today so it's accessible to them. He goes into a school in the Bronx or a musically sophisticated audience and appeals to them both. This is the mystery of music that touches the soul.
He was performing in New Mexico and he saw a grandmother who had brought her 15-year-old granddaughter, who was obviously upset she had to come. After the concert, the girl was in tears and gave him a hug and thanked him for moving her as she'd never been moved before in her life. This is the power and impact of music.
Scot asked what parents and grandparents can do to help them expose kids to music that empowers the soul. Eric said his own parents came from Malta and came to Canada after the Second World War. They never studied music, but they wanted to expose their children to good things. For Eric, the music resonated with him. He practiced the piano and became obsessed with it. He'd play 7 or 8 hours per day. He knew very young that children had free time and knew that he'd never get the opportunity to play as much once he got into his 20s. He was exposed to all kinds of music. Being a parent now, he feels music is much more in your face than it was when he was a kid: Internet, iPhone, iPods, and it's everywhere. So just banning the music just shuts off conversation and they find it anyway. They don't learn how to make good choices and discern. Not everything new is bad. He doesn't want his own children to be afraid of culture.
Eric's son comes to him with a song he likes. It could be something Eric doesn't like, but he tries to understand why his son likes it. To reject the song would be to reject the son because he doesn't understand the separation. So he asks what is it about the song he likes and then plays different styles of music for him that has the same qualities, whether from movie soundtracks or from Beethoven or from his own compositions. He asks him whether he gets the same feel from both. Then they talk about "colors" in music, which one has positive energy or negative energy. They talk about atmosphere, positive or negative. For his son, it's not about he quality of music, but how it makes him feel. We can't just dismiss this music that's out there and we have to deal with it.
Rick related how when he was in eighth grade, he was into heavy metal music when a teacher gave him Gustav Holst's the Planets to listen to. He learned he wasn't looking for negative energy, but for weightiness.
Scot said as a parent who hasn't had to have these conversations yet, hearing Eric go through the stages has helped him.
3rd segment: Coming back from the break, we heard another one of Eric's compositions, Romanza Tranquilla. Eric said about his concerts that families are welcome. He wants people to bring their children. He doesn't care if the children cry during the concerts or fuss. He is bringing violinists and cellists are extremely talented and gifted. The children will be moved by them. Bring your children to live performances. He will also be talking about the instruments.
Scot asked Eric about his performances in prisons. Eric said he doesn't look at his prison performances any differently from any other concert. He feels honored to perform before an audience that wants to hear him. He said prisons are the ugliest places on earth, without beauty. There is nothing beautiful about anything. It is strictly utilitarian. There is nothing beautiful about amy of the human interaction. There is nothing to inspire anything human in anyone. So he arrives with stellar soloists, some of the best musicians in the world, and the inmates can't contain themselves. They are moved to cheers and one time a man rushed to the stage, wanting to embrace the violinist for the beauty of her music, but knew he couldn't and just stood there shaking. If you want to change people on a deep level, bring God to these people, don't use words, use beauty.
Scot said he learned how beauty can lead you to understanding and knowledge of God, whether it's art or natural beauty. Eric said beauty like nothing else moves. It's the unspoken. Eric said sound is just a physical wavelength, but when you play it you affect people. He received a letter from an inmate who'd been in prison for 13 years how he was filled with and surrounded by hate. He had only been growing in hate in his time in prison. But after the concert, he kept the program because when he wanted to remember something beautiful he would look at it and have hope again. The music brings hope.
Eric related a letter from a prison warden in Wisconsin who said the behavior of the inmates during and after the concert indicated it had a powerful impact on the inmates. Everyone who works in the prison noted the difference it had made to the prisoners, bringing the peace of the world into their lives. Eric remembers a young inmate, about 22, after the concert came up to him and said thank you for the 90 minutes of freedom. If it can do that for him, what can it do who are imprisoned in figurative ways in the rest of the world. Let's give each other hope, not just this low stuff that we want to sell them.
Eric said there is a great mystery between us and our Creator that we must tap into through art and music. St. Thomas Aquinas wrote about the Eucharist by writing poetry, Panis Angelicus, because the art and music transcends words.
Scot asked what people can expect from a performance before the Blessed Sacrament in a beautiful church. Eric said it's amazing because the Eucharist is the most beautiful art on the planet. He wants to being his best. He will be playing music and telling stories. There will be great music and world-class performances.
The show ended with some of Eric's music, a composition called "Here I Am."