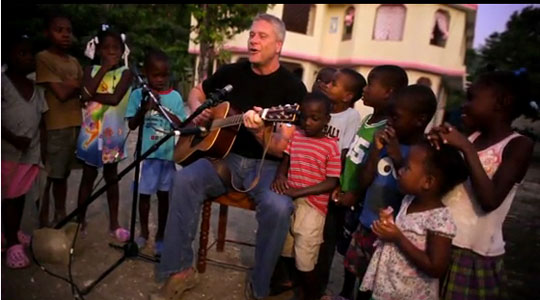 Summary of today's show: Scot Landry and Fr. Matt Williams welcome Catholic musician and convert Sean Forrest who talks about his journey from a successful secular music career to the Catholic Church where he ministers to thousands of teens and adults every year. And if that wasn't enough, in 2002 Sean started a new mission in Haiti, creating a model orphanage that local and international organizations say is the cleanest and most joyful in the country. When you hear Sean's joy and faith expressed with such awe and excitement, you'll want to know how you can take part.
Listen to the show:
Podcast: Play in new window | Download
Today's host(s): Scot Landry and Fr. Matt Williams
Today's guest(s): Sean Forrest
Links from today's show:
Today's topics: Catholic musician Sean Forrest
1st segment: Scot welcomed Fr. Matt back to the show. They discussed his weekend which began with the Jesus in the North End young adult gathering. On Saturday and Sunday, he attended 10 CYO basketball games, and then on Monday was a retreat day for youth ministers. On Tuesday, he was in the North End again, begging restaurants to donate food for those attending the annual Eucharistic Congress for Youth and Young Adults.
On Tuesday, Fr. Matt also posted on his Twitter a photo of himself with Boston Bruin Zdeno Chara, who he ran into in the North End. One of the restaurant owners is friends with Zdeno and introduced them and asked Fr. Matt to give him a blessing.
After the break, we will hear a clip of one of Sean's signature songs "Movin' with the Spirit".
2nd segment: Scot welcomed Sean to the show. Scot recalled that Sean spoke at the 2006 Boston Catholic Men's Conference, where he was photographed by the Boston Herald and placed on the front page of the newspaper.
Scot said many probably don't know he wasn't raised Catholic. Sean was born to Baptist parents who kept searching for the perfect church, which depended on how good the pastor was. As they got older, his brother Michael converted to Catholicism. Michael began challenging Sean with questions he couldn't answer, like how he could know Pastor Bob was interpreting the Bible correctly. From there he began reading more and more.
At the time, Sean was a fairly successful musician, and even dropped out of college because he was making so much money. He played for many influential people and making very good money. Then one Sunday morning he woke up with an epiphany. He has a song on the CD about it. He had been out partying the night before and he woke up to find his wife had already been up and out for a walk on the beach. He realized he'd been putting his wonderful wife second to networking with people in his business. That caused him to think that God didn't put him here to play Jimmy Buffett songs and watch people drink too much while not being with his wife every day.
So he stopped the partying, but he still needed to make a living. He was trying to live in the world, playing bars, while trying to follow Jesus Christ. Then he had a health crisis: a vascular seizure that crippled him on his couch that scared him tremendously. For six months, he went from doctor to doctor and was chronically ill. He started having anxiety attacks and thinking he's going to die. He finally acknowledged God had his attention and it helped him break from that scene.
Scot said one of his favorite songs is called "Righthand Land," which talks about living life in the fast lane and needing to slow down to have contemplation and prayer. That seemed to be Sean's life. As part of his suffering, Sean went to Medjugorje, even though he wasn't Catholic yet. He had been invited by a friend to go. He saw things he now knows were supernatural, but due to the hardness of his heart he wouldn't believe them. He finally heard a homily on the true presence in the Eucharist and he was blown away.
After his conversion, Sean started working in youth ministry. He had been studying like crazy after that homily and a priest in Stratford, Connecticut, invited him to come work there, even though he wasn't Catholic yet. He was so excited to become Catholic at the Easter vigil and the cradle Catholics around him didn't understand his excitement.
After about six months, Sean felt called to go out beyond the parish to speak to others about his faith and running confirmation retreats. (Sean said the youth ministry program is still going on strong in that parish.) In the first year, he did 15 retreats. The next year he did 50. That also gives him time to write music and let God use his past to help heal the present.
Fr. Matt said like Sean he was influenced by Medjugorje and working in youth ministry. He asked Sean what it was like to welcome Our Lady into his life. Sean said he had to get past the feeling of betraying Jesus. but as he read the Church fathers, he saw how they all prayed to the Blessed Mother. He prayed to ask God to guide him. So he prayed a rosary and praying that God would stop him if it was wrong. He realized he was meditating on the life of Christ along with people from all over the world and that they were a large global family.
This Easter vigil will be 15 years since Sean entered the Church. Scot said the Church is strengthened by all converts.
After the break, we will hear Sean's most recent song "Kay Mari (Hey oh)", :
3rd segment: This week's benefactor card raffle winner is Clare Walsh from East Bridgewater, MA
She wins 2 items:
An audio CD from Living His Life Abundantly: The Defense of Traditional Marriage
Meditations on the Stations of the Cross, an inspiring booklet of meditations accompanying prayers that will enrich your Lent by helping you deepen your relationship with Love Himself, Jesus Christ.
If you would like to be eligible to win in an upcoming week, please visit WQOM.org. For a one-time $30 donation, you'll receive the Station of the Cross benefactor card and key tag, making you eligible for WQOM's weekly raffle of books, DVDs, CDs and religious items. We'll be announcing the winner each Wednesday during "The Good Catholic Life" program.
4th segment: Sean said Kay Mari is an orphanage in Haiti that he's working with. He said the government and the UN tells him that it's the cleanest and happiest orphanage they've seen in the country.
Scot said Sean began his relationship with Haiti in 2002. Sean said he worked with the Haitian Health Foundation and it was his first experience. He went back but wanted to find something he could do since he's not a doctor. He wanted to find orphans that he could help. It's perhaps the poorest country in the world with more than 1 million orphans. He walked into an orphanage and there so many of them and so few caretakers. The children were so lacking in stimulation that they were pacing or banging their heads against the wall. They weren't being held by anyone because there weren't enough workers.
Sean walks in and a little boy stands in front of him. He tried to pick him up, but the director told him not to touch because the boy had contagious scabies. He pulled away and started to walk away, but he turned back and saw the boy looking at him still, with lifeless eyes. He heard Christ tell him that He carried Sean's sins to the cross, but he wouldn't hold Him in this child because he was afraid of a little rash. So he put his arms around him and the boy latched onto him so tight. The other children saw this and they all ran to him. He tried to kiss as many of them as he could and hold them. He spent the whole day doing it. He never contracted any skin rash or anything.
Sean decided he wanted to direct his resources toward helping these children. They built an orphanage with a Haitian-American team and as he traveled to speak and play, he would find people wanting to get involved and take part.
Scot compared it to the ministry of Fr. Paul O'Brien and St. Patrick's in Lawrence with the Cor Unum Meal Center, where they treat people with the dignity and love of Christ, the way Christ would do it. Scot said it makes him proud that Sean and other Catholics did an orphanage in the way that Jesus himself would set it up.
Scot asked how the orphanage got funded and how they secured the land. Sean said one of his co-ministers in a summer camp he runs told him that she knew someone from Haiti whose parents owned some land. So they bought the land and that man has become a priest in Haiti (Fr. Louis in the Kay Mari video). When they first got to Haiti they were living in huts with no bathrooms and no running water. But he kept going back every three or four months and fundraising here in between. Conferences he was speaking at would hold a collection for him to raise $20,000 and other cases like that where in a couple of years they raised $175,000. Sean said he's a professional beggar now, not for himself, but for these kids who will become the great generation for Haiti's future. They're empowering the Haitian people to evangelize and spread the faith on their own.
Fr. Matt asked where in Haiti the orphanage is located. Sean said you arrive in Port au Prince, which is definitely the third world, even more so after the earthquake. The orphanage is four hours drive and about 60 miles. They drive up a little dirt road into the mountains into the most beautiful country. When they arrive everyone comes running out to welcome them with great joy.
One time Sean arrived with a priest-friend from Kingston, MA. It's so quiet there and while they were out walking they encountered a hut were an old woman who was laying in a bed and very sick. But when they saw the priest enter her hut, she threw her arms up in the air and asked, "How is that the servant of the Lord has found me here." He gave her the anointing of the sick and she threw her arms around him weeping and he wept too. Sean loves to bring priests to Haiti. They don't care about celebrities in Haiti. Priests are the rock stars.
Sean said there are 14 children in the orphanage now. They're expecting 3 more and the state has told them that they might have 20 more brought to them, so they're being careful. There are 15 staff workers and they're feeding and caring for about 70 people.
Sean said the buildings are completed, they just need to tile it to keep down the dust. They have a chapel and a clinic and Sean said the church is very beautiful. They need pews, tiles, altars, and paint. They are also building a school which was funded with $400,000 from Mexico. They need to furnish and pay for housing for the teachers.
To support the mission go to Haiti300.org. They need money to support the local economy and to buy goods, but they also need the donation of rosaries prayed for the orphanage. They also have a wish list of items they need on the website. Sean said they also bring mission trips every month so people can help and also spread the word, anything from hard labor to giving the workers a break by holding the kids.
Scot said a few days ago, his Facebook news feed was full of people talking about this Kickstarter project to help him raise money to underwrite the cost of a new album. In four days they raised the goal. Sean has been producing albums on a shoestring budget, but a friend in the music business who puts on the annual Soulfest festival in New Hampshire told him that if God gave him a gift of music, he needs to get real about it. His friend told him about Kickstarter.com, a way to self-fund projects, and they went to Nashville where a Grammy-winning producer helped them record a great album.
Sean said he now thinks he should set the goal at $50,000. Kickstarter gives people a chance to get on board with a pledge and get rewards like a t-shirt or even a concert in your own home. People are still giving because they want to take it to $100,000. Scot said he hears about Kickstarter projects from his business school friends about entrepreneurial goals, but hopefully this will encourage Catholics with ideas for projects to use this unique means of funding.
Sean said it's very humbling to see the response. It's humbling to see people believe in what he's doing. Even now he still has doubts in himself, but God keeps proving to him how he wants to use him to change hearts and do something in this world.