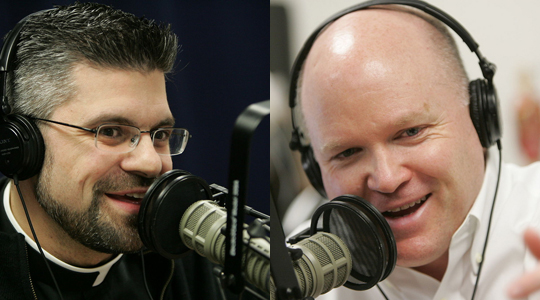 Summary of today's show: Last October, Pope Benedict issued the motu proprio Porta Fideo (the Doors of Faith), declaring a Year of Faith to begin in October 2012, coinciding with the 60th anniversary of the Second Vatican Council. Scot Landry and Fr. Matt Williams dive into Pope Benedict's words, examining just what the Holy Father wants for us in this year, which is for the whole Church to rediscover the joy and abundance in Christ that leads the world out of the desert toward life.
Listen to the show:
Podcast: Play in new window | Download
Today's host(s): Scot Landry and Fr. Matt Williams
Links from today's show:
Today's topics: The Pope's declaration of the Year of Faith
1st segment: Scot welcomed Fr. Matt to the show and they discussed his recent blogging and video messages for Lent. They discussed the Mass readings from last week. In the first reading we see the giving of the Law to Moses and how God is teaching what it means to be human and live in this world. Israel' responsibility was to be holy, a people unique to God alone, and be a light to others. But throughout the Old Testament, Israel looks to the other nations and wants to be like them. They fall into pagan worship and break the First Commandment.
Then we see in the Gospel that Jesus cleanses the Temple in Jerusalem. The area was called the Court of the Gentiles and it had become a marketplace. They had lost sight of what it meant to be on holy ground. The Lord restores the proper order. Taken together, we see how when we stop going to Mass, we lose touch with God. If we don't fall in love with Jesus, we will fall in love with something else or someone else. If we take a Sunday off, before we know it, we take another Sunday off. It's easy to get separated and we begin to seek other gods. If we don't keep worship of the Lord first and foremost in our lives, we're putting something else ahead of him. Restoring worship of the Lord restores the order in our lives.
Scot asked Fr. Matt about the leadership retreat for 57 high schools teens who will be leading the Hunger for Justice service retreat on Good Friday and Holy Saturday for several hundred teens. It was held at Immaculate Conception Church in Salem last weekend. They looked deeply into the cardinal virtues-prudence, justice, fortitude, and temperance— in order to live a more disciplined life. The theme was "Cross" Training. God wants us to be disciplined, especially if we're going to be leaders. It's not enough to just avoid vice, but we also must strive for virtue.
We also must live with discipline. Discipline leads to peace, happiness, and contentment.
At the end of the retreat, they talked about creating a prayer discipline for themselves. They listed three levels of prayer life, which they called junior variety, varsity, and intramural. They included practices like the rosary, divine mercy chaplet, visiting the Blessed Sacrament and so on. They also created a Facebook group to create some accountability among themselves. They make a pledge on the page, saying they're going to be "junior varsity" today for example and then checking back in later to see how they did.
Fr. Matt said he's enjoying his new work in social media. He's getting a lot of good feedback from others and it's become part of his daily routine. He looks forward to it and it's very simple.
They also discussed that The Light Is On For You tonight in every church and chapel in the Archdiocese. Find out more at http://www.thelightisonforyou.org and find a parish near you at http://www.pilotparishfinder.com.
2nd segment: Last October 2011, the Holy Father released a document called Porta Fidei (Door of Faith) announcing that a Year of Faith lasting 13 months would begin in October 2012 to commemorate the 50th anniversary of the Second Vatican Council.
The "door of faith" (Acts 14:27) is always open for us, ushering us into the life of communion with God and offering entry into his Church. It is possible to cross that threshold when the word of God is proclaimed and the heart allows itself to be shaped by transforming grace. To enter through that door is to set out on a journey that lasts a lifetime. It begins with baptism (cf. Rom 6:4), through which we can address God as Father, and it ends with the passage through death to eternal life, fruit of the resurrection of the Lord Jesus, whose will it was, by the gift of the Holy Spirit, to draw those who believe in him into his own glory (cf. Jn 17:22). To profess faith in the Trinity – Father, Son and Holy Spirit – is to believe in one God who is Love (cf. 1 Jn 4:8): the Father, who in the fullness of time sent his Son for our salvation; Jesus Christ, who in the mystery of his death and resurrection redeemed the world; the Holy Spirit, who leads the Church across the centuries as we await the Lord's glorious return.
Fr. Matt said he loves the opening of the ritual of baptism, which welcomes the candidate into the church. He starts it at the front door of the church and asks the questions of the parents and godparents. Then they walk through the door into the sanctuary. The symbolism is so rich because baptism is the entryway into the Church. It is the root of all sacraments and the life of the Church. The parents are promising to raise the child in the faith and model their faith to them.
When you think about it, when God reveals himself, he makes a gift of himself to his people. God makes himself to vulnerable, in a way. Faith is in many ways that reception of that gift of God's divine life and it assimilates into our being and transforms our hearts.
Ever since the start of my ministry as Successor of Peter, I have spoken of the need to rediscover the journey of faith so as to shed ever clearer light on the joy and renewed enthusiasm of the encounter with Christ. During the homily at the Mass marking the inauguration of my pontificate I said: "The Church as a whole and all her Pastors, like Christ, must set out to lead people out of the desert, towards the place of life, towards friendship with the Son of God, towards the One who gives us life, and life in abundance."[1] It often happens that Christians are more concerned for the social, cultural and political consequences of their commitment, continuing to think of the faith as a self-evident presupposition for life in society. In reality, not only can this presupposition no longer be taken for granted, but it is often openly denied.[2] Whereas in the past it was possible to recognize a unitary cultural matrix, broadly accepted in its appeal to the content of the faith and the values inspired by it, today this no longer seems to be the case in large swathes of society, because of a profound crisis of faith that has affected many people.
Scot said the Holy Father echoes that he's been encouraging the Church to rediscover the journey of faith, but also to show how the church leads people out of the desert, i.e. depression, pain, toward the life of abundance in Christ. Not that we'd have every material thing, but that our life would be full of peace and joy, knowing we are where God wants us to be in this life. Fr. Matt said there was a time when as a society we were defined by our relationships with friends, family, colleagues, and the Lord. But very often today we are defined by our jobs, our degrees, our titles. The Holy Father is saying that we are defined by our relationship with the One, who reveals what it means to be human. We experience a joy, peace, life ,love, grace that the world cannot give. Even a spouse cannot give it because he or she is not God.
Scot said he's been reading a book by author Gus Lloyd called "Magnetic Personality." The general thesis is that to help grow the Church and be all we're called to be, we are supposed to be magnetic. He mentioned Sister Olga Yaqob, who powerfully attracts people to Christ through her positive attitude and the way she interacts with people. We're supposed to be a person that is confident and encouraging and humble in our faith. That's what the Holy Father is calling all of us to.
Fr. Matt said Mother Teresa was not beautiful physically, but she was beautiful because the love of Christ radiated from her. We become magnetic by the joy in the life of abundance that comes from knowing Christ. Scot acknowledged that those of us in the Northeast culturally don't often share the joy of our faith on our faces, but he challenged listeners to share the good that has been done in our lives by Jesus in a way that others want to have what we have.
Fr. Matt said Preach always and when necessary use words. We may be the only Gospel some people ever read.
In the light of all this, I have decided to announce a Year of Faith. It will begin on 11 October 2012, the fiftieth anniversary of the opening of the Second Vatican Council, and it will end on the Solemnity of Our Lord Jesus Christ, Universal King, on 24 November 2013. The starting date of 11 October 2012 also marks the twentieth anniversary of the publication of the Catechism of the Catholic Church, a text promulgated by my Predecessor, Blessed John Paul II,[3] with a view to illustrating for all the faithful the power and beauty of the faith. This document, an authentic fruit of the Second Vatican Council, was requested by the Extraordinary Synod of Bishops in 1985 as an instrument at the service of catechesis[4] and it was produced in collaboration with all the bishops of the Catholic Church. Moreover, the theme of the General Assembly of the Synod of Bishops that I have convoked for October 2012 is "The New Evangelization for the Transmission of the Christian Faith". This will be a good opportunity to usher the whole Church into a time of particular reflection and rediscovery of the faith. It is not the first time that the Church has been called to celebrate a Year of Faith. My venerable Predecessor the Servant of God Paul VI announced one in 1967, to commemorate the martyrdom of Saints Peter and Paul on the 19th centenary of their supreme act of witness. He thought of it as a solemn moment for the whole Church to make "an authentic and sincere profession of the same faith"; moreover, he wanted this to be confirmed in a way that was "individual and collective, free and conscious, inward and outward, humble and frank".[5] He thought that in this way the whole Church could reappropriate "exact knowledge of the faith, so as to reinvigorate it, purify it, confirm it, and confess it".[6] The great upheavals of that year made even more evident the need for a celebration of this kind. It concluded with the Credo of the People of God,[7] intended to show how much the essential content that for centuries has formed the heritage of all believers needs to be confirmed, understood and explored ever anew, so as to bear consistent witness in historical circumstances very different from those of the past.
Scot said the Holy Father is saying that it's a time for all of us to rediscover our faith. Lent is the often a time for us to refresh our faith and this Year of Faith is a way to do this in a special way. Fr. Matt said the Holy Father is challenging us to counter the faith fatigue so many of the faithful show. He said every time we reread the Catechism and the documents of Vatican II are inspired by the Holy Spirit and speak to us at this juncture in the Church's life and give us new insights.
We want this Year to arouse in every believer the aspiration to profess the faith in fullness and with renewed conviction, with confidence and hope.
Scot said theHoly Father wants us all to say, "I believe" like in the new translation of the Roman Missal. We will say we believe in the fullness of the faith. It's a time for us to ask ourselves if there are elements of our faith we don't understand or disagree with and then with the help of the Lord to seek out understanding and to have the courage to say "I believe" in public, even if it's unpopular. Fr. Matt said the more we dive into our faith, the more we can own it for ourselves. People often hesitate to being a witness because they don't feel articulate.
To a greater extent than in the past, faith is now being subjected to a series of questions arising from a changed mentality which, especially today, limits the field of rational certainties to that of scientific and technological discoveries. Nevertheless, the Church has never been afraid of demonstrating that there cannot be any conflict between faith and genuine science, because both, albeit via different routes, tend towards the truth.
Scot said there are many non-believers who put a lot of faith in science and believe there faith and science are opposed. Pope Benedict tells us that faith and science work together as long as they seek truth. The technology of ultrasounds is a good example where our faith in the sanctity of life is supported by emerging science.
3rd segment:
This week's benefactor card raffle winner is William Wallack from Peabody, MA.
He wins a Series of CD's by Peter Kreeft from the Envoy Institute:
· "How to Win the Culture War"
· "Being Catholic in a Post-Christian World
· "The Importance of Critical Thinking Skills and How to Acquire Them" AND
· "The Logic of Relativism"
If you would like to be eligible to win in an upcoming week, please visit WQOM.org. For a one-time $30 donation, you'll receive the Station of the Cross benefactor card and key tag, making you eligible for WQOM's weekly raffle of books, DVDs, CDs and religious items. We'll be announcing the winner each Wednesday during "The Good Catholic Life" program.
4th segment: Moving on with the Holy Father's words in the document Porta Fidei:
The Year of Faith will also be a good opportunity to intensify the witness of charity. As Saint Paul reminds us: "So faith, hope, love abide, these three; but the greatest of these is love" (1 Cor 13:13). With even stronger words – which have always placed Christians under obligation – Saint James said: "What does it profit, my brethren, if a man says he has faith but has not works? Can his faith save him? If a brother or sister is ill-clad and in lack of daily food, and one of you says to them, 'Go in peace, be warmed and filled', without giving them the things needed for the body, what does it profit? So faith by itself, if it has no works, is dead. But some one will say, 'You have faith and I have works.' Show me your faith apart from your works, and I by my works will show you my faith" (Jas 2:14-18).

Faith without charity bears no fruit, while charity without faith would be a sentiment constantly at the mercy of doubt.
Fr. Matt said faith is a supernatural gift oriented toward God. As we receive this Communion with God, the natural expression of encountering the God who is love is to mirror the one who is love. Faith must lead to acts of charity.
Scot said faith isn't just a set of beliefs. The beliefs give foundation to our actions that we are impelled to do out of love for God and others. Faith without charity is just asset of beliefs. Charity without faith is good action without proper roots in why we do it is like the seeds planted in shallow soil. Without deep roots, it's easily uprooted.
Fr. Matt said faith directs us to the Lord so charity without faith has only an earthly frame of reference.
Faith and charity each require the other, in such a way that each allows the other to set out along its respective path. Indeed, many Christians dedicate their lives with love to those who are lonely, marginalized or excluded, as to those who are the first with a claim on our attention and the most important for us to support, because it is in them that the reflection of Christ's own face is seen. Through faith, we can recognize the face of the risen Lord in those who ask for our love. "As you did it to one of the least of these my brethren, you did it to me" (Mt 25:40). These words are a warning that must not be forgotten and a perennial invitation to return the love by which he takes care of us. It is faith that enables us to recognize Christ and it is his love that impels us to assist him whenever he becomes our neighbour along the journey of life. Supported by faith, let us look with hope at our commitment in the world, as we await "new heavens and a new earth in which righteousness dwells" (2 Pet 3:13; cf. Rev 21:1).
Scot recalled Monday's show with Fr. Andrew Apostoli. He had quoted Mother Teresa who said in serving the poorest of the poor, she didn't just see the face of Christ in them, she saw Christ himself.
"That the word of the Lord may speed on and triumph" (2 Th 3:1): may this Year of Faith make our relationship with Christ the Lord increasingly firm, since only in him is there the certitude for looking to the future and the guarantee of an authentic and lasting love. The words of Saint Peter shed one final ray of light on faith: "In this you rejoice, though now for a little while you may have to suffer various trials, so that the genuineness of your faith, more precious than gold which though perishable is tested by fire, may redound to praise and glory and honour at the revelation of Jesus Christ. Without having seen him you love him; though you do not now see him you believe in him and rejoice with unutterable and exalted joy. As the outcome of your faith you obtain the salvation of your souls" (1 Pet 1:6-9). The life of Christians knows the experience of joy as well as the experience of suffering. How many of the saints have lived in solitude! How many believers, even in our own day, are tested by God's silence when they would rather hear his consoling voice! The trials of life, while helping us to understand the mystery of the Cross and to participate in the sufferings of Christ (cf. Col 1:24), are a prelude to the joy and hope to which faith leads: "when I am weak, then I am strong" (2 Cor 12:10). We believe with firm certitude that the Lord Jesus has conquered evil and death. With this sure confidence we entrust ourselves to him: he, present in our midst, overcomes the power of the evil one (cf. Lk 11:20); and the Church, the visible community of his mercy, abides in him as a sign of definitive reconciliation with the Father.

Let us entrust this time of grace to the Mother of God, proclaimed "blessed because she believed" (Lk 1:45).