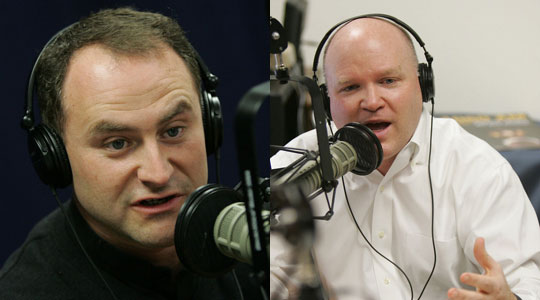 Listen to the show:
Podcast: Play in new window | Download
Today's host(s): Scot Landry
Today's guest(s): Fr. Dan Hennessey, Vocation Director for the Archdiocese of Boston
Today's topics: Vocations
Summary of today's show: Scot Landry and Fr. Dan Hennessey discuss the discernment of lifelong vocations as well as God's will in the small moments of every day. Meanwhile, WQOM is having an emergency fund drive to meet operating expenses and Scot spent those breaks talking with Rick Paolini from the Station of the Cross network in Buffalo.
1st segment: WQOM is having an emergency fund drive to raise $105,000 to meet operating expenses for the next three months. During the show on Wednesday and Thursday, our regular segments will be interspersed with fundraising appeals from the Station of the Cross network headquarters in Buffalo. Every gift matters. If you want to donate go to their website or call 888-711-6279.
Scot said WQOM is having an emergency fund drive to cover costs until the Spring Fund Drive in May. Fr. Dan is covering for Fr. Matt Williams who's down with the flu. Scot asked Fr. Dan how vocations is going. He said between Christmas and Easter is a time when a lot of men want to meet with him about being open to the possibility of the priesthood.
They then discussed the number of men studying for the archdiocese, increasing from 30 a few years ago to 70 now. Fr. Dan said it's the result of people praying for priestly vocations.
All young men and women should be asking them what life God desires for me. Every person's meaning of life is to figure out what God desires of us to get to heaven. Scot the question just doesn't lead people to becoming priests or religious, but integrates into their daily lives to figure out what God wants us to do each day or at this moment.
Fr. Dan said we shouldn't equate vocation with career. What we should ask is what mode of life is God calling us to lay down our life for him? Priesthood, married life, single life, religious life?
2nd segment: Scot said he knows some seminarians at St. John's Seminary who listen to the The Good Catholic and they hear many priests talking about their own lives as priests. Fr. Dan said the witness of good priests is invaluable and hearing from the priests how they came to hear the call from God to the priesthood is a beautiful part of The Good Catholic Life. Fr. Dan said a culture of vocations is a Catholic culture and having the Catholic faith on the radio builds that up.
Scot said the Vocations office is planning discernment retreats from men under 40 and men over 40. He aid this weekend are two retreats. The first one is for men age 18-40 at Connors Family Retreat Center and St. John Seminary. It's in two locations because they didn't have enough space in the seminary. The cardinal gives three conferences on Saturday, there's a seminarian witness, small-group discussions, Mass, and Rosary. For men over 40, there's a retreat this weekend as well at Blessed John XXIII National Seminary.
Go to VocationsBoston.org for more information and to contact Fr. Dan.