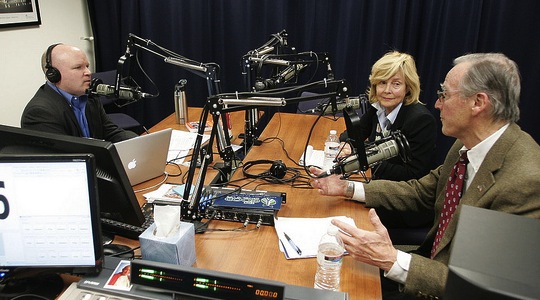 Listen to the show:
Podcast: Play in new window | Download
Today's host(s): Scot Landry
Today's guest(s): Dr. Kevin Ryan, Mrs. Marilyn Ryan, educators, Pilot columnists, and grandparents.
Links from today's show:
Today's topics: Catholic homeschooling
Summary of today's show: Scot sits down in today's show with Kevin and Marilyn Ryan, career educators and grandparents of a set of entirely homeschooled grandchildren. Kevin and Marilyn share their wisdom, advice, and opinions on the research, and explain why Catholic homeschooling is entering the mainstream. Scot and the Ryans discuss the academic benefits, social benefits, and most importantly faith benefits to parents guiding their child's learning in the home.
1st segment: Scot welcomed everyone and said he hoped everyone had recovered from the Patriots' stunning loss in the SuperBowl last night. Last week was a great week that featured our Catholic Schools here in Boston for Catholic Schools week. Today, we'll feature the growing Catholic homeschool movement. Kevin and Marilyn Ryan wrote a column in the Pilot on January 20th entitled "Why homeschool your children," and they join Scot today to discuss homeschooling. Although the Ryans both have much experience in public education throughout their careers, all of their grandchildren are either homeschooled now or scheduled to be homeschooled.
Scot welcomed Kevin and Marilyn to the program. Kevin said that they'd been writing the columns for seven or eight years, and it's blood sweat and tears every month to collaborate as a couple and complete a column. Marilyn said they always start writing by coming up with a topic that's been bugging them lately, and then writing an outline. One of the other will take the lead, and the other does the severe editing and criticism. Marilyn said that they have ten grandchildren, all living in the South – all of their children have moved South for jobs or with spouses.
2nd segment: Scot said the first thing that struck him about the Ryan's column was that 3% of students in the country are now homeschooled. Kevin said it surprised them as well – the growing number of homeschoolers across the country seems to be intense among traditional Catholics in particular. Marilyn said that the first question is "how do you socialize your children?" Most people think homeschool students just sit in their room and listen to music by themselves, which is not at all the case. Many times, homeschool parents band together and form academies or co-ops for socializing, and participate in many extracurricular activities as well. Latin and Greek classes taught by one of the academy parents can be a big part of the classical background that motivates many parents to homeschool, Marilyn added. Kevin said many parents think homeschool children will be "oddballs" or be missing the common American experience of middle or high school. While that's true, he continued, one of the motivations for some parents to homeschool is that parents do want the children to miss some aspects of curriculum or environment. Increasingly, local and state governments are imposing sex education or classes critical of faith. For example, Kevin said, the State of California has had eleven sex education curricula in the last few years, all celebrating promiscuous and gay lifestyles with no opt-out for parents to remove students from their classes.
Scot noted that some public schools can contain a toxic environment that prevents the child from living a fully integrated life – parents have to explain away some of the things that students are learning in school. Marilyn agreed – de-educating and de-toxifying children can be a burden for parents. Homeschooling is a way to escape some of the toxic culture and enforce a Catholic-centered education, but also to teach valuable life skills. Scot gave the example that he took his son car shopping with him last weekend to give him some insight on what the experience of negotiating and evaluating large purchases means. It was fun too to share that experience with his son – Scot said that having a less structured day with homeschooling can allow for more of these moments.
Kevin said that content control is another great benefit for parents who homeschool their children – they can decide their own answer to the most important educational question, "what is worth knowing?" Kevin added that his grandkids learn strongly from their parents how to work and stay on a task – not just in an academic sense, but in a chore sense too. His grandchildren in Texas got five chickens and were tasked to raise them and take care of them, and the chickens are now healthy and producing plenty of eggs for the family. These kinds of tasks, Marilyn said, are valuable for future concentration.
The second major reason that some parents choose to homeschool from the Pilot column, Scot continued, is to "educate the whole soul." Marilyn explained that this holism is integral to what they have been talking about so far, too – helping your child find the right things to hold close and believe in. Of course they will still be interested in the maturation issues (dating, love, sexuality), but they are better able to frame those discussions if they are grounded properly with a wide education from home. Whole soul education also involves learning responsibility, Marilyn continued. Learning to take charge of your own chores, homework, and even sometimes siblings is a valuable lesson. The ideal of home schooling is to transfer authority from yourself as a parent to the child, charging them to complete the work, as opposed to nagging constantly. It's not always completely effective in all cases – every kid is different, Marilyn reminds the listeners. For example, one of their granddaughters is now a music student in college at age 16, having completed all her curriculum quickly; whereas her brother will be going to public high school next year because his parents see it as a better fit – he needs more structure in the math and science areas.
Kevin said that when their children went off to school, they lost them in one way – their world was a school world. He said he remembered asking his son Justin for help with a project on the weekend, but Justin was too busy with massive amounts of homework and a project. In a way, Kevin continued, you don't know what the specific demands on the children are – with homeschooling, you're setting the tasks and workload, and therefore there's not a division between what the family requires and what teachers at school are requiring.
Scot said some parents feel they may not be up to educating their children because they weren't the best students many years ago. Marilyn said that many people forget that they aren't alone – homeschool co-ops and academies allow a chance for students not only to socialize but also offers a chance for parents to drop their kids off with a fellow parent who can more effectively teach a language, math, science, or any area that they aren't as comfortable with. Marilyn also said that there are many online resources and print resources that parents can depend on for curricula, such as the Angelicum Academy or Laura Berquist's book "Designing Your Own Classical Curriculum." Scot asked Kevin what his opinion on Catholic schools versus homeschooling is – Kevin answered that, just like any public school, Catholic schools are not always a perfect fit for every child. Whether it be greater involvement from parents, class sizes and teacher to student ratios, or just greater closeness to a child's formation, homeschooling can offer a different method for parents to help raise their kids.
3rd segment: Scot asked Marilyn to describe the schedule for homeschool students – it isn't mom in the basement with a chalkboard for 8 or 9 hours a day, as many people think. Marilyn agreed, and said that there's more flexibility in the homeschool schedule. For example, one of their child's family does morning chores, prayer, exercise, and breakfast before starting their studies for the day. When she asked one of her grandsons where he goes to school, he simply replied "upstairs!" Marilyn said that only a few hours a day are usually necessary for the actual "hitting the books." Having a separate space is very important, Marilyn continued, and said that their grandchildren have desks in separate rooms to enhance their focus. Again, she said, the urge is to transfer the authority from the parent to the child. The homeschool situation helps with scheduling too – being able to schedule lessons or sports "off hours" from the usual creates more flexibility in many cases. Scot asked Kevin about the issue of time. Kevin said it's usually difficult to see, because we've mostly gone through a standard class structure going from class to class, taking roll, collecting milk money. Kevin said even he had a vision of six hours of supervision in the classroom getting small lectures – in fact, it's about 1.5 to 2 hours per day that the kids are working at their desks. The parent spends the time rotating around the room with the children individually, and will occasionally meet up with other families for additional instruction twice a week.
Kevin said that one worry is that, as a teacher, the parent won't know enough. He said that, even as a high school teacher, he was scared to death that the kids he was teaching would be smarter than he was – and some of them were. But eventually, he realized that while they could be book-smart, they didn't know enough about life to truly put it into context, which is where the true learning was. A good parent who homeschools grows and learns along with their child. Many times, Marilyn said, they talk with their daughters about current research in education, and their daughters are implementing new teaching methods all the time. Marilyn said that learning delayed gratification helps homeschool children focus more on their homework, but that this depends strongly on how the child learns. Scot asked about the academic performance of homeschool children. Kevin said the superiority is stunning, as reported both by college admissions officers and state officials comparing studies and standardized test scores. In many ways, Kevin said, it makes sense – the kids are in control of their own education to a greater degree, and "own" it more. In a regular classroom, Kevin continued, a teacher is aiming at the middle of the class, and can't always slow down for those who have difficulty or speed up for those who are ahead and getting bored. A good teacher will respond to all three segments, but individualized instruction keeps the child on-task at the level he or she needs. Scot commented that sometimes it can be difficult for his son to sit still for 5 or 6 hours in kindergarten, whereas the girls seem to deal with the structure better. Homeschooling would be easier for some rambunctious boys to deal with – shorter periods of more intense study, Marilyn said, can be tuned to the attention span of the individual child.
4th segment: Scot asked Marilyn and Kevin to describe how listeners might discern that homeschooling is right for them and their children. Marilyn said having both parents on board is essential – it gives the parents a focus on how to talk about their children. Scot mentioned that there are strong homeschooling curricula for parents that can help for parents who don't always know where to start. Kevin added that the internet is also awash in good resources and information for and about homeschooling. Kevin said that cost is also a consideration – Marilyn added that materials can cost up to $1,000 a year, which is definitely not insignificantly. Kevin said that, ultimately, parents must consider what their responsibility to their child is – a great part of developing a future adult is the information that goes into their heads. Evaluating your situation and what you can do, praying and looking at your mission will allow you to make a decision on whether to homeschool your children. Scot concluded by saying that he's been told many times that as a parent he is charged to raise healthy, intelligent, and holy children – in some cases, it's best to form all three of those in the home. Marilyn agreed, and said that homeschooling can be very gratifying for parents – raising adult children is to their benefit too.