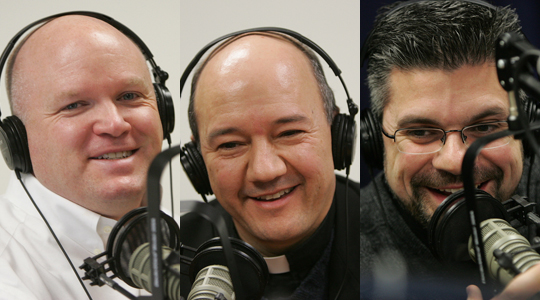 Listen to the show:
Podcast: Play in new window | Download
Today's host(s): Scot Landry and Fr. Matt Williams
Today's guest(s): Father Paco Anzoategui, Pastor of St. Stephen in Framingham and Director of the Spanish Apostolate
Links from today's show:
Today's topics: Fr. Paco Anzoategui and Hispanic ministry in Boston
Summary of today's show: Fr. Paco Anzoategui joins Scot Landry and Fr. Matt Williams to talk about his journey from Mazatlan, Mexico, to the priesthood in the Archdiocese of Boston and how he credits the Blessed Mother for his vocation in a direct way. Fr. Paco also discusses Hispanic ministry in the Archdiocese and the US, including the trend of the growing Hispanic majority, plus why some Hispanics leave the Catholic Church for Evangelical churches, and how to make one parish family that includes both English- and Spanish-speaking communities.
1st segment: Scot welcomed Fr. Matt Williams back from a month off from the show. Last week he was a the Theology of the Body institute in Pennsylvania. He heard Dr. Janet Smith, an expert on Catholic teaching on human sexuality. The institute's mission is helping people understand Bl. John Paul's Theology of Body, which is all about love.
2nd segment: Scot welcomed Fr. Paco to the show. Scot said Fr. Paco is both a pastor and director of the Spanish apostolate. He asked him to share his background. He grew up in Mazatlan, Mexico, in a very Catholic family. That was the origin of his vocation. He went to Catholic schools his whole life, most of them in a Xaverian missionary school. The missionary zeal appealed to him in high school, but he didn't think of being a priest. But he was finishing high school in 1979 when Pope John Paul came to Mexico. This made such an impact on his life and that of all Mexicans, especially when he addressed the young people of Mexico as the hope of the world. Something happened to him then and he couldn't stop thinking about those words. The Lord made clear to him that he was being called to be a priest. He became a Xaverian priest in 1988. He studied for the priesthood in the United States. He came to the Fatima Shrine in Holliston run by the Xaverians. He was quickly found by the bishops and inserted into the Spanish apostolates. He was incardinated as a diocesan priest in 2004. He lived there for his first 9 years of his priesthood. It's especially beautiful because of the walking rosary and at Christmas they put up many lights.
Scot asked Fr. Paco to explain the process of incardination. Fr. Paco said it's a canonical process by which a man who is already a priest becomes part of a diocese at the request and agreement of both the superior of the religious congregation and the local bishop. It lasts for five years. He was first assigned to St. John the Baptist in Peabody, and the pastor at the time was Msgr. John McDonough. At the end of the five years, he was incardinated. He was sent then to St. Patrick in Lawrence for two years and then to St. Rose of Lima in Chelsea. Now he's in St. Stephen in Framingham. All those parishes have large Spanish-speaking populations. His entire priesthood, he's been assigned to multicultural parishes.
Fr. Matt asked Fr. Paco about his great devotion to Our Lady. Fr. Paco said if he's a priest today, it's because of Our Lady. Growing up in Mexico, the devotion to Our Lady of Guadalupe is very prevalent. He grew up with that devotion. He remembers at the end of high school as he considered the priesthood, he was afraid he wasn't qualified. One day he prayed in church and was led to a picture of Our Lady of Guadalupe where he consecrated himself to her at that moment if the call to vocation was true. He has since had amazing confirmation that she was listening to his prayer. He was ordained in the Marian Year of 1988 at the Cathedral of the Immaculate Conception on the Feast of the Annunciation. He had lost his parents and sister six months before his ordination and his devotion to Our Lady kept him going. As he walked down the aisle of the church and saw the statue of the Immaculate Conception, he felt Our Lady telling him that she brought him to this moment. Then his first assignment was Our Lady of Fatima shrine. At the important moments of his life, she was there.
He tries to spread devotion to her everywhere because she always finds a way to keep us close to her son. Scot asked if Mexicans are particularly close to Mary because of Our Lady of Guadalupe. Fr. Paco said Mexico may be 95% Catholic but 100% Guadalupano. Even the non-Catholics have picture of Guadalupe in their homes and cars. He remembers his mother praying the Angelus at noontime every day and praying the rosary.
Scot asked if Spanish speakers in Peabody, Lawrence, and Chelsea came from the same places. Fr. Paco said St. John the Baptist had a young Hispanic community when he arrived at the time. The community was mostly Dominicans and some Puerto Ricans. In Lawrence, they were majority Dominican again. But in Chelsea it was mainly Central American—Salvadoran and Guatemalan. In Framingham, it's also Central American, but also Colombian, Mexican, and Cuban.
3rd segment: Scot asked about St. Stephen Parish. Fr. Paco said he is in team ministry with Fr. Albert Stankard. The majority of the community is Hispanic. They get close to 700 people for Mass on Sunday. They are trying to integrate the two components of the parish, so they are one parish family. They have made great progress to bring the community together. Every year they have a Family Day, bringing dishes from their cultural background. They also have a parish picnic. During Holy Week, they have bilingual services together. When people pray together and see the same love for the Lord and Our Lady, it transforms people.
Scot said when he travels to Rome, he loves to see the universality of the Church and the richness of all the cultures within the Church. He said in the history of the Archdiocese, we've solved the immigrant Catholic problem in different ways. We used to build a different parish for each language group. Today, we try to integrate communities into one. This helps prevent the necessity of closing parishes in the future when the language need has gone away.
Fr. Paco said one thing that helped a lot was working with the staff to convey the spirituality of integration. They found people of both Anglo and Hispanic backgrounds for parish council and other ministries. It's only when you bring two groups to the same level, that both feel that the other is not favored, that they can become integrated. One way to do that is to make sure that you don't do everything separately. Over time, it conveys a powerful message to the parish: This is who we are and we're going to celebrate who we are. We are not threatened by each other. We are family.
They also do bilingual bulletins and have worship aids that are bilingual. So they all hold the same hymnal and look at the same bulletin, even if they are looking at different languages on the page. When people see each other during worship, during social events there's a willingness to reach out and get to know each other better.
Fr. Matt asked about the youth groups for different languages. Fr. Paco said they have two groups for different age groups. Anglo youth are often younger than the youth involved in Hispanic youth group. He added that in the youth group, the children are usually second generation and are very comfortable in English. Many even want to take religious education in English. This makes it easier for the young people to bridge the cultures.
4th segment: It's time to announce this week's winner of the WQOM Benefactor Raffle.
Our prizes this week are two audio CDs by Catholic theologian and educator Jeff Cavins: "Are You Happy?" and "How to Simplify Your Life". In "Are You Happy?", Jeff notes that everyone wants to be happy, this seems so obvious that it hardly needs mentioning. But what is the secret to happiness? We all want to be happy, but how do we achieve it? To answer these crucial questions, Jeff asks a more fundamental one: "What is it in your life that you are continuously desiring and seeing?" Answering this question is the key to understanding what will truly make you happy.
For "How to Simplify Your Life", Jeff observes the chaos of modern life: got to get it, got to see it, got to have it, got to be it; deadlines, commitments, the things I need to do, whether for work or family. How can you navigate though the stress and strife?
"Just simplify," Jeff says. But don't just buy a weekly planner or listen to an Anthony Robbins "success" tape or read Seven Habits of Highly Successful People. As Jeff points out, simplicity is not an external but an inner struggle. In this inspiring presentation, you will learn practical ways to separate the wheat from the chaff in your life; to stop organizing the frantic and urgent calls in your life and answer the one true call to right relationship with Christ. As Jeff notes, we live in a world filled with worry, and this worry translates into excessive activity that "burns out" many in our culture. Discover discernment tools to help you clear away the internal and external clutter in your life, and learn the keys to true success, joy, and peace.
This week's benefactor card raffle winner is Debra Michalski from Somerset, MA. Congratulation, Debra!
If you would like to be eligible to win in an upcoming week, please visit WQOM.org. For a one-time $30 donation, you'll receive the Station of the Cross benefactor card and key tag, making you eligible for WQOM's weekly raffle of books, DVDs, CDs and religious items. We'll be announcing the winner each Wednesday during "The Good Catholic Life" program.
5th segment: Scot said many statistics say that most of the growth of the Church in the US is due to Hispanics. For Catholics under 35, a majority are Hispanic. This trend is likely to continue in this direction. Fr. Paco said according to the latest US Census, there about 50 million Hispanics in the US and about 68% are believed to be Catholic. By 2025, it's believed that Hispanics will be the majority of Catholics in the US.
Hispanics come to this country mainly with a Catholic heritage. Protestantism doesn't have a large footprint in Latin America, although even that's been growing. He noted that the 15% of Hispanics in the US who are Evangelical has been doubled in the past 10 years.
He said some of the younger generations are being assimilated into the dominant culture. More important than maintaining their culture, they need to maintain their faith. They need to help them have an encounter with Jesus that transforms them.
Fr. Matt asked why they're leaving and why are they going to Evangelicalism? Fr. Paco said there isn't one answer. One reason is that Hispanics in general are seeking to be in community. Sometimes the policies in some US churches don't make it easy for them to get the sacraments, especially since the policies in their own countries were less rigorous. For example, to receive confirmation they need to go through a formation program in the US, even if they know their own faith very well. If someone moves a lot, they can't complete a long program. This is particularly acute for migrant farm workers. Fr. Paco said we need to be accommodating. We need to be more welcoming and not to be so precise in everything. Not that we don't need regulations, but that we have to look at the particular circumstances and be flexible. Because this is what they find in the Evangelical churches. They find a welcome and a sense of community. For Hispanic people, the church is their second home and the priest is like their father, and if they don't find that in the Catholic parish, they will find it elsewhere. Fr. Paco said 80% of Hispanics in the US find the Catholic Church very welcoming.
Scot said storefront churches are specifically targeting immigrants by using very Catholic-like symbolism to encourage them to come and check out their church. Fr. Paco in many parishes with Spanish Masses, they don't offer anything beyond the Mass. Cardinal Seán has said he wants parishes with Spanish ministry, they must offer more. Hispanics want Bible studies, charismatic groups, Marian groups, and youth groups. That connects people to their parish more.
Scot said 37 of the 291 parishes in the Archdiocese have at least one Mass in Spanish. How does the Apostolate coordinate and connect those parishes? Fr. Paco said his office offers services to respond to the needs of each of the parishes. They provide programs that bring people together rather than multiplying efforts. They also try to find Spanish-speaking priests and other lay pastoral ministers for parishes. He also said so many of the priests who have served part of their priesthood in the St. James Society in Latin America come back speaking Spanish and knowing much more of the culture. This means that priests are available to provide the sacraments.
Fr. Paco said he has seen a growth in the Spanish-speaking diaconate and lay leadership programs, including catechists. They are doing well for the near future. As for priests, they are counting on so many priests who should be retired already.
Fr. Paco said the charismatic movement has been a part of his spirituality and he has found it appeals to more than just Hispanics. People who follow the spirituality helps people to grow in their faith and grow more excited about it. They have prayer group Mondays in English and Fridays in Spanish.
Fr. Matt said he met Fr. Paco while he was in seminary at a healing service and asked him to explain healing ministry. Fr. Paco said it happens within the context of the charismatic renewal ministry. It comes from the miracles of Jesus and brings them closer to people, with the message that Jesus is alive and continuing to heal people today. When people open up to the power of the Holy Spirit, he's seen miracles. He noted that it's distinct from the Sacrament of the Sick. Everyone can come forward and receive prayers of healing.