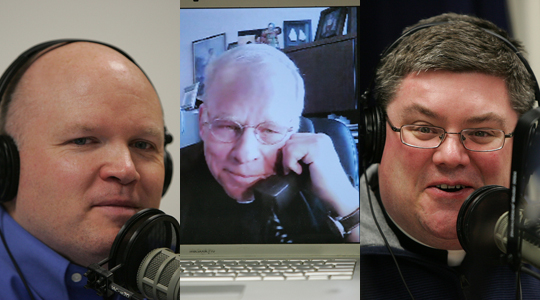 Listen to the show:
Podcast: Play in new window | Download
Today's host(s): Scot Landry and Fr. Chris O'Connor
Today's guest(s): Fr. Willy Raymond, National Director of Family Theater Productions
Links from today's show:
Today's topics: Family Theater Productions
Summary of today's show: Family Theater Productions wants to bring faith and family values back to Hollywood and Fr. Willy Raymond, national director of the ministry, talks to Scot Landry and Fr. Chris O'Connor about some of the ways they're doing that, including an annual student film festival, faith-based outreach to the entertainment industry, and creating original productions. Fr. Willy also shares some stories about celebrity encounters, including meeting Patriots QB Tom Brady on his wedding day.
1st segment: Scot welcomed Fr. Chris O'Connor back to the show after a month off. Fr. Chris said Merry Christmas and Happy New Year. He traveled in the footsteps of St. Paul, going to Istanbul, Turkey, and Ephesus, near Izmir, Turkey. He recalled the Letter to the Ephesians and was in the amphitheater where St. Paul would have spoken. They also visited St. John the Evangelist's church there and Catholic tradition is that the Blessed Mother lived with St. John there until she was assumed into heaven. He was able to pray in St. John's house there. Fr. Chris thinks that Ephesus is where she was assumed into heaven. As early as 451 AD, the Church documents refer to Ephesus as the final earthly home for Mary.
Fr. Chris said being in a Muslim country was very interesting. He visited the Blue Mosque. He said the only Turkish he learned was, "Let me out of this cab immediately."
The men have returned to St. John Seminary. Archbishop Alfred Hughes, who was a rector of the seminary and was most recently in New Orleans, is leading a retreat for the men today. Scot said Archbishop Hughes confirmed him and his brother when he was an auxiliary bishop here.
2nd segment: Scot and Fr. Chris welcome Fr. Willy Raymond to the show. Fr. Willy is in Hollywood, California, but was born in Old Town, Maine. There were 12 siblings and they spoke French primarily at home. His father was a lumberjack. His mother never learned to speak English. He grew up in a close-knit parish community and it was the social center of their lives and they used to pray the Rosary every night in French. He owes a lot of his vocation to the priests and sisters of his parish. He's now a member of the Congregation of the Holy Cross. They're known for Notre Dame University and Father Peyton.
Fr. Willy said the pastor had encouraged a lot of the boys to go to college in New Brunswick, Canada, and he won a scholarship to go. The Holy Cross Fathers operated that school. He pointed out that they are not Congregation of the Holy Cross, but Congregation of Holy Cross, because their founder was from a place called Holy Cross.
The charism of the Holy Cross Fathers is somewhat eclectic but somewhat family-centered. The order was founded after the French Revolution and the founder, Bl. Basil Moreau, aw the family as the foundation on which to rebuild the Church. He modeled them on the Holy Family and the charism is unity for the mission and the virtue is complete trust in divine providence and zeal for the mission. They wanted to reach young people to educate both their mind and heart. They also seek to help out in parishes wherever they are located.
Scot said many people know Fr. Peyton for "the family that prays together, stays together" and promoting the Rosary. He was born in County Mayo, Ireland, as one of 9 children. They ended up in Scranton, PA, and he was working as a janitor. He heard a parish mission by a Holy Cross priest and felt called to a priestly vocation so he went to Notre Dame.
When Fr. Willy was eight or nine years old, he became an altar server, which every Catholic boy wanted to be at the time. When he went to the university, it was not to enter the seminary, but to get an education. In his sophomore year, the prefect of studies told him that if he was thinking of entering seminary, he had to decide whether to apply then. He took the test, was accepted, and the next year went off to the seminary in Montreal. But then changed his mind and wanted to go to the Holy Cross Fathers instead and then went to Stonehill to the seminary there.
Fr. Peyton's drive to promote the rosary came from a miraculous healing from tuberculosis through the intercession of the Blessed Mother. He wanted to promote a devotion to her and found that he could do so more widely through radio and television. So he came out to Hollywood convinced that the glue of the family is prayer.
3rd segment: Scot asked for an overview of the types of projects that Family Theater Productions has done. Fr. Willy said they are evangelizing the culture through the mass media through programs that entertain, educate, and inspire the family. they do everything through that lens. In radio, Fr. Peyton broadcast a half-hour radio drama nationally. The network agreed as long as there was a Hollywood actor involved each week. They were able to do it 22 years until 1969. The first program featured Jimmy Stewart. Fr. Peyton came to know many stars, including James Dean who got his first screen credit through Family Theater Productions. They have a list of the celebrities who worked with Family Theater over the years. Scot read some names from the list which includes stars from the past and present.
Fr. Willy said after John Paul II issued his letter on the Rosary, they wanted to find a fresh way to introduce the rosary to a new generation. They asked young people what would make the rosary helpful to their spiritual life. They came up with Rosary Stars praying the rosary. It's available at rosaryfamily.org.
The Angelus Student Film Festival is for college students and the theme is exploring respect for the dignity of the human person. Last year, they had over 500 submissions. They weed about 80% of them in the first round. They have blue-ribbon committees that select winners in documentary, animation, and live action categories. A prior overall winner last year also won an Oscar. The film was "God of Love" by Luke Matheny.
Fr. Willy said many of these students will end up in Hollywood as key figures and they want to engage with them early to encourage them to make true works of art, to make what is true and beautiful and good. Fr. Willy believes that Hollywood can change, especially through prayer. Every day at Family Theater, they have Mass and the rosary for the conversion of Hollywood, to use these incredibly powerful communication tools to shape a culture open to life and the Good News.
Scot asked how Hollywood is changing to be more friendly to family-friendly and faith-friendly films. Fr. Willy said this year, there are several films, like Hugo and The Artist, that deal with serious issues and do it well. There are a lot of films that wouldn't have been made 10 years ago. He credits the Passion of the Christ for convincing a lot of people that religion is something that the public will come and see if it is well done and isn't trivialized. He said most of the truly successful small-budget films are films we could take our whole family to see.
Fr. Chris said there's a fascination in media and the culture with faith. He cited the example of Tim Tebow, who some are rooting for and others are rooting to fail. HE then asked what stars today are good role models.
Fr. Willy said some Eduardo Verastegui is a noble figure for sacrificing part of his career to put his faith and our Lord first. Matthew Marsden is another, Jim Caviezel too, who is in a successful TV series, Person of Interest. Martin Sheen is another faith-filled Catholic, who just made the movie The Way. He named Patricia Heaton from Everybody Loves Raymond and the current show, The Middle. There are also a lot of writers and producers who are less well-known but very serious about their faith. Fr. Willy noted Boston native Mark Wahlberg who has a checkered past, but goes to daily Mass now.
Fr. Chris said he read an interview with Wahlberg in Time magazine where he said the most important thing to teach his children is the faith.
Fr. Willy brought up Tom Brady, who lives in his parish, St. Monica's. He told the story of meeting Tom Brady in the sacristy of the church during Tom's wedding. He noted that Tom's grandmother prays the rosary for him and that Gisele's family was involved in the Sao Paolo Rosary rally. They then discussed rooting for Tim Tebow or Tom Brady. Fr. Willy said he also celebrates Mass for the Dodgers when they're at home, but he still roots for the Red Sox.
4th segment: They discussed which came first, St. Monica parish or the name of the town, Santa Monica. Fr. Willy said the town was named first by Blessed Junipero Serra.
Fr. Willy said Family Theater's archives have the whole Life of Christ filmed by Fr. Peyton in the 1950s in Spain. They have a number of documentaries filmed over the years and are in the middle of producing a series of dramas intended for teens for catechetical purposes. They are also located right on Sunset Boulevard, so they have an outreach to young Catholics, mainly through an open house called Prayer and Pasta, which includes prayer, meal, and a speaker or film and discussion. They also have a Bible study and holy hour every week for people in the industry. They have an RCIA program and they are also discussing Fr. Barron's Catholicism series.
Fr. Chris noted the new series coming out this spring called Faith Bowl. Fr. Willy said it was filmed last year with Vin Scully as the host and five-time All Star baseball player Mike Sweeney. Fr Willy talked in an aside about how difficult it can be for professional athletes to go to Sunday Mass. For Faith Bowl IV, Mike and his dad were interviewed about their faith life and then a young woman, Kristen Sheehan, who runs the program Play Like a Champion Today out of Notre Dame. This promotes that faith and morals and virtue should be integrated into sports. They are now working on Faith Bowl V, hoping to get NFL players on board.