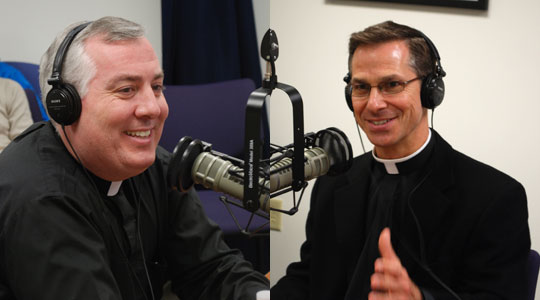 Listen to the show:
Podcast: Play in new window | Download
Today's host(s): Scot Landry and Fr. Mark O'Connell
Today's guest(s): Fr Bryan Parrish, Assistant Vicar for Administration and Special Assistant to the Vicar General.
Today's topics: Priest Profile: Fr. Bryan Parrish
Summary of today's show: In another of our occasional series of profiles of priests of the Archdiocese of Boston, Fr. Bryan Parrish relates the story of his vocation, including how the words of Pope John Paul II on Boston Common ignited the spark of his vocational call, then showcases the series of parish assignments that encompass the broad diversity of the Archdiocese. Listeners will also learn the correct way to pronounce "Quincy" and learn about Fr. Bryan's family connection to a beloved South Shore institution.
1st segment: Scot and Fr. Mark caught up on the the week in the Pastoral Center, including the employee Advent party, where reserved parking spots are given out to lucky employees by lottery. They also had the Presbyteral Council yesterday. They are about 50 priests who give advice to Cardinal Seán on important matters. Yesterday they discussed pastoral planning, how the archdiocese will respond to an assisted suicide referendum next November, and the progress of the improved financial relationship model. Fr. Mark noted that there are representatives from each of the 20 vicariates that make up the Archdiocese and those priests are encouraged to go back and report to their fellow priests in their vicariate. Fr. Mark is also closing out the seminary year for his canon law classes.
2nd segment: Fr. Bryan Parrish grew up in Canton, Mass., and he heard the call to the priesthood at the end of high school. It was not a gradual call and came out of the blue, in a sense. He attended Xaverian High School in Westwood from 1976 to 1980. His parents were daily communicants and their faith was very much a part of his life. Going to Xaverian was a deepening of his faith and getting to know a couple of the priests who were chaplains, including then-Father Richard Malone, who is now Bishop Malone of Portland, Maine.
Pope John Paul II came to Boston during Fr. Bryan's senior year and when he spoke on Boston Common, Fr. Bryan had not been looking at the priesthood. He'd been thinking of studying engineering. But he preached his homily to young people, including the phrase "Follow Christ". This beautiful line in his homily challenged young people: "Whatever you make of your lives, let it reflect the love of Christ." The phrase stayed with him through his senior year. It was also a difficult time for his family, because his sister had been diagnosed with Hodgkins lymphoma and for the first time in his life had to pray for someone.
At the end of March, his senior year, it all just came together and he felt the Lord was calling him to the seminary to explore the priesthood in a more concrete and direct way. His parents were a little unsettled at first, because he hadn't talked about it. He feels blessed that he didn't go through any serious questioning of whether he should stay in the seminary.
Fr. Mark said he knew Fr. Bryan's brother, Mark, because they played hockey together. Fr. Mark said he also was a patron of Fr. Bryan's family business, Crescent Ridge Dairy in Sharon, well known in the area for its ice cream.
Fr. Bryan said his whole family was very supportive all along the way.
3rd segment: Fr. Bryan's first parish was St. Mary's in Quincy. Fr. Bryan corrected Scot's pronunciation of Quincy (said with a Z sound, not S sound). Fr. Bryan said the pastor had only been there five days when Fr. Bryan arrived at 25 years old.
Fr. Mark and Fr. Bryan both worked in a parish in Quincy together when Fr. Mark was a deacon and Fr. Bryan was a seminarian.
From Quincy, Fr. Bryan went to St. Paul, Wellesley. He was there for six years. It was a very different community, very affluent in the MetroWest. The pastor was Msgr. Joe Lind. It was an experience of growing in ways he hadn't previously. He was able to experience the colleges nearby, but specifically Babson which had a relationship with the surrounding parish priests to offer an 8pm Sunday Mass with the college students. He had a great experience meeting students from all over. His parishioners were very interesting too, many of them from outside Massachusetts or other countries. During the three years previous to the new millennium, families in the parishes would welcome in others to their home where one of the priests would celebrate Mass for those gathered.
Fr. Bryan also served St. Mary in Plymouth, which Father Bryan said was America's Hometown. It was a blessed 7 years. When he came to St. Mary's as pastor, it needed a lift after having gone through some difficult times. There were challenges in terms of ethic communities: Portuguese and Italian, and being an older community. There were families and young people in the parish, but not involved. He met people with a great love of the church. He had to adapt to the culture and learn that just because someone was yelling at you didn't mean they were mad at you, and may even like you. He was there from 2000-2007. The Brazilian community brought lots of life and over time, the parish came alive.
Those initial years were very difficult for all parishes, including 9/11, the abuse crisis, and the reconfiguration in the Archdiocese, which all brought the parish closer together.
Every Monday night at St. Mary's, the Brazilian community celebrates Mass with a Brazilian priest in the Archdiocese. They certainly know how to pray and sing and have a good time.
In Plymouth, Fr. Bryan was a Vicar Forane, who organized the priests of the vicariate, a regional grouping of parishes. They came together on a regular basis to collaborate and discuss issues. He noted that he was a young vicar forane compared to the other pastors, so having a certain influence with regard to assisting the regional bishop was awkward at first. That area of the diocese has a good number of great senior and retired priests who either live in their own homes or assist at local parishes and he invited them to the gatherings of the vicariate. They also got together for socializing and priestly fraternity.
He then moved to Holy Family in Duxbury, succeeding Msgr. Glynn who was there for 24 years. They built a new church in 1988 and it was founded in 1946. Fr. Bryan was only there for just three years. He had known Holy Family because it was in his vicariate and knew Msgr. Glynn, who is close to 90 years old but is still active. Scot said for priests who serve in a one-parish town, which Duxbury is, everyone comes together as one community instead of there being any kind of intra-town rivalries like in the bigger communities. Fr. Bryan said Holy Family connected more directly with the community of Duxbury than other places.
There were some tragedies of young deaths during his time there and the community and parish came together beautifully at the time. Fr. Bryan said he also welcomed a newly ordained priest to holy Family, Fr. Sean Maher, which was a new experience for Fr. Bryan. He was proud of the parish which was very welcoming. That parish experienced a priest ordained in 1947 and a priest just ordained in 2008 at the same time.
Just a few years into his assignment, Fr. Bryan was called by the then-vicar general, Fr. Rich Erikson, to come help him in the Pastoral Center. Scot asked him what it was like to leave the pastoral parish ministry to enter a more administrative job. Fr. Bryan said it is an adjustment. The rhythm of parish life which he'd lived for 20 years was an adjustment. He feels like he's into the flow now. He's experienced that he has brought his pastoral parish experiences into his new role. The experiences he had in parish life have very much formed and shaped his decisions and ministry in administration. Fr. Bryan's sister had recommended that he read Pope Benedict's homily at Pope John Paul's funeral and he spoke at one point with regard to pastoral ministry and how John Paul brought his parish experiences into his future ministry as Pope. He's grateful to bring his parish experiences into his present life.
Fr. Bryan said he assists on the weekends at St. Gerard's in Canton, which was not his home parish in Canton. Fr. Mark said this is a different kind of priestly work, but it's still parish work. At the end of the day, it's still ministry and their hearts are still those of parish priests. Scot said Fr. Erikson always said the word administration has "ministry" in it and it can be holy work. Fr. Bryan said in a sense now the Archdiocese is his parish.
4th segment: Now as we do every week at this time, we will consider the Mass readings for this Sunday, specifically the Gospel reading.
The angel Gabriel was sent from God
to a town of Galilee called Nazareth,
to a virgin betrothed to a man named Joseph,
of the house of David,
and the virgin's name was Mary.
And coming to her, he said,
"Hail, full of grace! The Lord is with you."
But she was greatly troubled at what was said
and pondered what sort of greeting this might be.
Then the angel said to her,
"Do not be afraid, Mary,
for you have found favor with God.

"Behold, you will conceive in your womb and bear a son,
and you shall name him Jesus.
He will be great and will be called Son of the Most High,
and the Lord God will give him the throne of David his father,
and he will rule over the house of Jacob forever,
and of his kingdom there will be no end."
But Mary said to the angel,
"How can this be,
since I have no relations with a man?"
And the angel said to her in reply,
"The Holy Spirit will come upon you,
and the power of the Most High will overshadow you.
Therefore the child to be born
will be called holy, the Son of God.
And behold, Elizabeth, your relative,
has also conceived a son in her old age,
and this is the sixth month for her who was called barren;
for nothing will be impossible for God."
Mary said, "Behold, I am the handmaid of the Lord.
May it be done to me according to your word."
Then the angel departed from her.
Scot said there's so much richness in the world, including that God sending angels into the world. Fr. Bryan noted God's faithfulness in light of his promises in the Old Testament. The First Reading is the promise to King David that his house will live forever. Also, Mary is the model disciple for us to follow in our lives as she was faithful to what God asked of us.
Scot said he loves the line: "For you have found favor with God." That's God's message to all of us by the gift of our life and our baptism. Fr. Mark said Mary is a bit questioned by the angel. He said Zechariah is visited by the angel and is struck mute when he questions him, but that's because he should have known better because it had happened before. What happened to Mary was unique in all of history.
"For nothing is impossible for God". Fr. Bryan said Advent is a season of hope and these are beautiful words of hope that encourage and support us. Fr. Mark said hopefully all of us will in some way say to God, "Let it be done according to your word." Scot said the message of turning everything we have over to God like Mary reminds us to be open to God leading us.