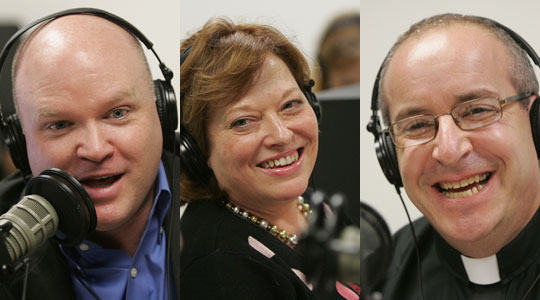 Listen to the show:
Podcast: Play in new window | Download
Today's host(s): Scot Landry and Fr. Chris O'Connor
Today's guest(s): Fr. Richard Clancy, Director of Campus Ministry at the Massachusetts Institute of Technology, and Mary Doorley, Vice President of Development for Boston Catholic Development Services
Links from today's show:
Today's topics: The Cardinal's Christmas Letter benefits the Office for Campus Ministry
Summary of today's show: Cardinal Seán's annual Christmas letter customarily urges end-of-the-year support for one archdiocesan ministry and this year he's asking for help for College Campus Ministry. With 23 colleges and 250,000 students in the Boston area, Fr. Richard Clancy and his fellow campus ministers are bringing Christ to population that is most missing from our parishes and yet are those seeking the truths that Church has to offer. Scot Landry and Fr. Chris O'Connor are joined by Fr. Clancy and Mary Doorley of Boston Catholic Development Services to talk about engaging in effective campus ministry with limited resources and how even small donations can make a big difference in the life of young people and the future of the Church.
1st segment: Scot discussed with Fr. Chris the new translation of the Roman Missal and how it went for him this weekend. The idea of celebrating a Mass that is both new and still the same was disconcerting. He had the altar server stand next to him the whole time with the Missal. Today, he concelebrated Mass at the seminary and he found himself slipping back into the old, familiar ways, but he believes over time this will be beautiful for the Church. He said the men at Norfolk Prison last night were prepared and raring to go. He said it will be daunting in the seminary because the only group more critical than priests are seminarians because they know every rubric. Fr. Chris said priests also have the added burden of finding their way around the new Missal and so it will be a time of getting reacquainted.
He also wished Scot a happy new year with this first week of Advent marking the beginning of the liturgical year.
2nd segment: Scot and Fr. Chris welcome Mary Doorley and Fr. Clancy to the show. Fr. Clancy has been in campus ministry for 15-1/2 years and he's been director for 10 years. He grew up in Woburn and was always involved in his parish. St. Anthony. He worked in the rectory, helped the custodian with the grounds, was an altar server and lector. His parents were a good example as we was so involved with the church. He always considered it as a child, but it was when he went to college that it came to the fore. He attended Merrimack College and was very involved in alternative spring breaks and retreats. There were Augustinian brothers who influenced him.
Mary said she's worked at the Archdiocese since the beginning of September. She grew up in a family whose parish the center of their life. That was in Pittsburgh. She has worked in fundraising with many Catholic organizations over the past 25 years. Fr. Chris said he is ecstatic about the Cardinal's Christmas Letter benefiting campus ministry this year because many of the men in the seminary now started their vocational journey through campus ministry at local colleges.
Scot asked Fr. Clancy about campus ministry in the Archdiocese of Boston. He said there are 250,000 students in the Boston area. He added that they have different relationships with different schools. For example, most Catholic colleges provide their own campus ministry and then assist with resources and facilities. At private schools like MIT, many of the resources are partly provided by the archdiocese and partly provided by alumni and donors. At state schools and some private schools, the donations from donors and alumni are the sole support.
Scot read a list of colleges and universities that have a Catholic presence on campus. Fr. Clancy said many of these schools used to be mainly for commuters, like Suffolk, Merrimack, or Northeastern. Now most colleges are residential and that increases the dependence on campus ministry even if the overall numbers aren't that much higher. He said where there are residence halls there is a need for the presence of the Church to aid the students where they are not receiving ministry from their home parishes.
There was a discussion of Newman Centers and campus ministry offices and chapels. Fr. Clancy said each school has a different way of relating to campus ministry. At Boston University, for example, they have their own building. In other schools, they might literally have just a table and a chair.
Scot said Mary has put together a brochure to accompany Cardinal Seán's letter, which has various statistics on campus ministry. He noted that 25% of adults under 30 claim no religious affiliation. Mary said we do need to be present on college campuses as well as to celebrate the good things that are happening in campus ministry. She said she's been amazed by what she hears is happening there. She hopes people will look at the pamphlet they will receive this week. The brochure also talks about how campus ministry can be helped with relatively small funds. For instance, just $5,000 can take 40 students for a weekend-long retreat at the Franciscan Guest House in Kennebunkport, Maine.
Fr. Chris said this is the way the Church can reach out and connect to this generation. When he's in parishes, he notes that this age group is the one that's missing, age 18 to 25 or 30.
3rd segment: Scot asked Fr. Clancy what works to connect with young people with their Catholic faith. He said first, you have to build a local community of students, staff, and faculty around the Eucharist. They emphasize the sacramental life of the Church. Everything comes from the Eucharist and returns to it. He said they are on the front lines of evangelization. It is outreach. Campus ministers talk about constructive loitering. Walking around in a Roman collar brings attention. Set up a table and train students to be welcoming and inviting. They then provide ways for students to connect with the Church in addition to Mass. Campus ministry is not just an extension of youth ministry. There is an intellectual component and they want to know. They want documents and experts. There is also a desire to meet other Catholics.
Fr. Clancy said more than 50% of young adults are marrying people of other faiths, so it's exciting for them to see people meeting their spouses in the Catholic centers and going on to leadership in parishes.
Something else that works for many students is service by putting their faith into action. They are generous, idealistic and want to make a difference in the world. He sees more and more students volunteering after graduation.
Scot said he's heard constructive loitering described as ministry of presence. He said it's important that students see a Catholic presence so they might be prompted to ask the big questions, such as why am I here, what does God want me to do? Fr. Clancy said he goes through papal encyclicals and has bible studies and to see them making connections and see the lights go on in their eyes is inspiring. Their faith was their parents' faith and now it's becoming their own.
He said it's a lot like being a parent. It's not just dramatic moments. The foundation for those moments is laid on a daily basis. He told the story of a friend who was a producer for the Oprah Winfrey show. They sent a terminally ill woman on a whirlwind tour with her only daughter, but the daughter said her most important memory was a quiet time in the middle of the night together. This is the important basis for the dramatic times.
Fr. Clancy said when you look back, you don't remember the programs so much as the relationships you had.
Fr. Chris said the Church has the truth and the truth is attractive. Young people are adept at sniffing out hypocrisy and untruth, so when we are faithful to the Church's teaching that is very attractive. He said some of his seminarians spoke so highly of a particular priest as a model for the priesthood. He said his secret was to preach the truth, prayed with them, and celebrated the Mass and that inspired many priestly vocations.
Fr. Clancy said there are wonderful and dedicated campus ministers throughout the archdiocese, who work hard and even pay for a lot out of their own pockets. He said they don't create cults of personality around the campus minister. It's all about the Lord. They have many opportunities to be with the Lord, to pray, to receive the sacraments. It's about leading them to Christ and then getting out of the way.
Mary said in talking with many college and university public affairs' office she has found that they value the work of campus ministry and how it enriches campus life. Fr. Chris asked Fr. Clancy for his recommendations to parents of students going off to college on getting them connected to campus ministry. Fr. Clancy said the tricky part is that students have to make their own decisions to go to Mass and get involved. The parents can pray, set a good example, and continually encourage. He said Mass attendance on campus is about what it is in the general society. He said when they come home, encourage them in their faith, take them to penance services et al, and let them know that it's important to them that the student continue to practice his faith.
Scot said over the past five years, Cardinal Seán has used his Christmas letter to encourage extra support for a particular ministry and this year it's campus ministry. One of the new initiatives is FOCUS, the Fellowship of Catholic University Students, which take newly graduated students who commit to two years of service and send them to campus ministries to work with students about their own ages. This program costs money and so far they have received funding from a foundation. More funding will allow them to expand this ministry.
He notes that many of the campus ministers have to take a part-time job to supplement their income. A full-time campus minister makes $35,000 per year. On vast state universities they have one full-time person and that's just not enough. We need boots on the ground to meet students and we need visibility.
Fr. Clancy said the Brotherhood of Hope have been a gift to the Archdiocese with a great charism. They have a new ministry with an outreach to the smaller colleges in the Northeastern University area and collaborating with ministry at Emmanuel College and some of the neighboring parishes.
4th segment: Scot asked Mary about what Cardinal Seán has written in his letter. Mary said the Cardinal asked those who receive the letter to prayerfully consider their giving to the Catholic Appeal and if they have given to the Appeal, to think about giving a little bit extra. Giving to the campus ministry has a wide and immediate impact.
Scot quoted from the Cardinal's letter:
In the course of the academic year, this office reaches out to tens of thousands of young adults at critical points along their faith journey through the work of lay ministers, religious, priests, and brothers. During a time of life when many young people drift away from the Church, campus ministers serve the student population by instilling a love of the faith in their hearts and minds. Through campus ministry, students are provided the celebration of the Eucharist and the sacrament of reconciliation, invited to consider their vocation in life, including the possibility of priesthood or religious life, and their overall educational experience is enriched.

This Christmas, I invite you to invest in the future of our faith by making a gift to the Office for Campus Ministry. Gifts to this year's Christmas campaign will support the Office for Campus Ministry and its programs, helping to ensure sound spiritual formation and prayerful encouragement for the next generation of Catholic leaders.
Scot said it's not just the financial contributions that the letter provides, but also leads to more prayers and an awareness of the many college students who come to our area every year and how we can be an example of Christ's love to them. Fr. Clancy said his office doesn't have a lot of resources and nearly every dollar they get is spent on student services. People from all over the country and all over the world send their children to these colleges and the parents entrust their children to them. Parents contact him individually, asking for him to watch out for their students. There is an obligation on us as an Archdiocese because people are sending their children to Boston to go to school and we have to take it as a call from the Lord to care for and be responsible for these students so that when they go home, they kept the faith and it has grown.
Mary talked about some of the ministries that can be expanded with contributions. For instance, $75 provides sacramental wine and hosts for one month of weekly student Masses at one college. $100 pays for one Catholic fellowship activity like a spaghetti dinner or pizza. Fr. Clancy said you have to have food at every gathering to get the students to come. Mary said $500 per campus will pay for the purchase or repair of vestments, altar cloths, chalices, and other sacramental items.
Scot said gifts from this campaign can also help coordinate helping students to go to the annual March for Life or to World Youth Day. Fr. Clancy said the community that is built is first and foremost. Fr. Clancy thanked Cardinal Sean and all the people in the development office for their help for his ministry.
Scot said to donate online go to BostonCatholic.org.