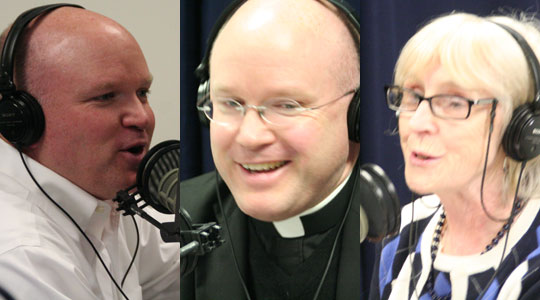 Listen to the show:
Podcast: Play in new window | Download
Today's host(s): Scot Landry and Susan Abbott
Today's guest(s): Fr. Roger Landry, Executive Editor of the Anchor, the newspaper of the Diocese of Fall River
Today's topics: Assisted suicide, 7 billion people, WQOM and Station of the Cross fund drive
Summary of today's show: Birth, death, and birth were the watchwords today as Scot Landry, Susan Abbott, and Fr. Roger Landry—live in the studio for the first time—discussed the news of the day, including the birth of Susan's newest grandson, November as religious education month, Cardinal Seán's strong call to leadership against physician-assisted suicide by medical professionals at the annual White Mass; and the implications of the 7 billionth child born in the world (not Susan's grandson as far as we know).
1st segment: Scot welcomed Susan back to the show. She was away last week visiting her newest grandson in California. Last night she was at Immaculate Conception Parish in Weymouth which has a Catholics Come Home committee continuing the work of the program. She spoke on reconciliation. Scot said it's also the first time that Fr. Roger Landry is live in the studio after eight months coming via Skype.
Scot said this week in the Pilot there is a special section on religious education. Susan wrote an article on November as religious education month. In order to read all the parish programs which may meet weekly or biweekly, they have a whole month dedicated to celebrating the good work done in parishes. Susan said religious education encompasses everything from baptism through adult faith formation.
Scot said there are 400 parish religious education leaders, 12,000 catechists, and over 115,000 children in religious education. Fr. Roger said Jesus once said the greatest in the kingdom of heaven are those who keep his commandments and teach others to do the same. Our catechists are the greatest in the Church because of the example they set and the leadership they provide. The seeds they plant are seeds that will change the world. Scot said he was a substitute catechist in his own parish this past week.
Susan said faith begins in the home, but it can be daunting to parents whose own formation is not as solid as they want it to be. But the first step is just being at Mass with the children, even if the parents have to split going to Mass if an infant must stay at home. The best thing you can do for your kids is to give them a relationship with Jesus Christ rooted in the sacraments of the Church. Scot said those parents who don't have a strong faith formation can supplement it by listening to Catholic radio.
Break for Fund Drive Appeal. To support the work of WQOM and The Station of the Cross, which brings programming like The Good Catholic Life, please go to WQOM
2nd segment: Scot said Cardinal Seán had strong words about physician-assisted suicide when addressing doctors and other healthcare workers last weekend at the White Mass at Holy Cross Cathedral. Fr. Roger said the Cardinal is looking to medical personnel to take the lead in rejecting efforts to legalize assisted suicide. The Cardinal cited many scary statistics from Oregon, where it was legalized. It's not just those who are terminally ill who are affected. When society says some suicide is okay, we start to see a rise in teen suicides and suicides by people who are not terminally ill.
Scot said the cardinal understands the treasure of the vocation of the physician. He's calling them to be both Catholic and physicians and calling them to honor their Hyppocratic oath which says "first, do no harm." Susan said assisted suicide is a false compassion. She said advocates want depression to be re-defined so it would not be an obstacle to prescription of lethal drugs. Scot added that there is an effort to rename suicide to "aid in dying". Scot said the petitioners are asking people to sign a petition to "help elderly people who are sick". It's dishonest and manipulative. Scot said it's important to have Catholic radio to be able to disseminate this information. Scot said even if you sign your name to the petition under false pretenses you can't have your name removed. It's permanent.
Fr. Roger said there are people who don't understand the meaning of suffering or death and so when they see someone suffering from terminal illness they have no means to understand what good can come of it.
Break for Fund Drive Appeal.
3rd segment: Scot said another new story this week is the birth of the 7 billionth person. he said the real story is that half of the countries in the world aren't even having enough children to replace themselves and that population is soon going to go into a precipitous decline. Fr. Roger said this story is a litmus test for us. If we responded with horror, those people are looking at life as a leech sucking up resources as opposed to a joy to be celebrated. He said that Vladimir Putin has set a holiday in Russia for couples to stay home and conceive children because that country's population rate is slow. Fr. Roger said the sustainable population rate is 2.1 children per family. He highlighted how 18 European countries are reporting more deaths than births, how in a generation people will not know brothers, sisters, aunts, or uncles because of so many only children. Many European countries will become predominantly Muslim because Christians aren't having children.
Break for Fund Drive Appeal.
It's time to announce this week's winner of the WQOM Benefactor Raffle.
Our prize this week is My Life with the Saints
by Fr. James Martin, SJ, and Read Me or Rue It by Fr. Paul O'Sullivan, OP.
This week's benefactor card raffle winner is Ruth Casey from Roslindale, MA. Congratulation, Ruth!
If you would like to be eligible to win in an upcoming week, please visit WQOM.org. For a one-time $30 donation, you'll receive the Station of the Cross benefactor card and key tag, making you eligible for WQOM's weekly raffle of books, DVDs, CDs and religious items. We'll be announcing the winner each Wednesday during "The Good Catholic Life" program.