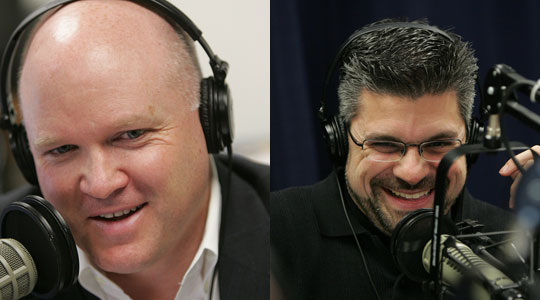 Listen to the show:
Podcast: Play in new window | Download
Today's host(s): Scot Landry and Fr. Matt Williams
Today's topics: All Souls Day; Ad limina visits; WQOM and Station of the Cross fund drive
Summary of today's show: Are you praying for all the faithful souls in Purgatory today? Scot Landry and Fr. Matt Williams talk about All Souls Day and the Catholic approach to death. They also discuss all the bishops of New England going to Rome this week for their ad limina visits (andwhat does "ad limina" mean anyway?). Finally, we begin the WQOM Fall Fund Drive today. Will you consider supporting Catholic radio in Boston?
1st segment: Scot welcomed Fr. Matt back to the show. He said All Souls Day and All Saints Day are some of his favorite holy days. Fr. Matt said this is for all the Christian deceased to be remembered in our prayers. Fr. Matt recalled St. Augustine's homily about the death of his mother St. Monica and how she told him that all she wanted of them after her death was to remember her at the altars of the Lord.
Scot said we as a Catholic family, those on earth and in purgatory and in heaven, have bonds between us and we all need to pray for one another. Scot said today's Mass readings are so uplifting, especially the Gospel from John:
Jesus said to the crowds:
"Everything that the Father gives me will come to me,
and I will not reject anyone who comes to me,
because I came down from heaven not to do my own will
but the will of the one who sent me.
And this is the will of the one who sent me,
that I should not lose anything of what he gave me,
but that I should raise it on the last day.
For this is the will of my Father,
that everyone who sees the Son and believes in him
may have eternal life,
and I shall raise him on the last day."
Fr. Matt said the focus on the reading is the resurrection and Christ's victory over death. He said the first part of the passage is important for us to understand why we pray for the dead. The reality of purgatory is for us to be purified of ourselves. We don't do it "My Way", we do it God's way. Purgatory is a gift and a mercy of God, but not something we want to aim for. We know from the mystics that in purgatory we see the presence of God, but don't experience. It's like smelling the most awesome meal, but unable to eat it. You know you will be with God in heaven someday, but can't be with him yet. That is suffering.
Break for Fund Drive Appeal. To support the work of WQOM and The Station of the Cross, which brings programming like The Good Catholic Life, please go to WQOM
2nd segment: Scot said the Anchor newspaper of the Diocese of Fall River has an editorial this week on how we confront death and fear of death. Scot recalled how his Uncle Sonny faced death and how he brought a joy to his family even as he approached the end. Fr. Matt said it's beautiful to be with someone who is prepared for death at the end. It's so peaceful and beautiful as he's entering into a new life.
Fr. Matt observed that popular culture acknowledges the existence of heaven and hell, so the question for the culture is who decides where people go. Scot then talked about how he talks to his own children about heaven and the afterlife and how we prepare ourselves for eternal life. We have to be present at Mass, be involved in adult faith formation to know our faith.
Break for Fund Drive Appeal.
3rd segment:Scot said the bishops of Region 1 of the US Bishops conference are in Rome this week for their 'ad limina' visit. That is short for 'ad limina apostolorum',which means "at the threshold of the apostles". They meet with Vatican curial officials and Pope Benedict XVI to discuss what's going on in their dioceses, bring their concerns to Rome, and bring back the concerns of the Holy Father. They also pray for us in a special way.
Fr. Matt said Rome is one of the most beautiful cities of the world with a rich spiritual history. Everywhere you turn, you find a new church with the tombs of apostles and martyrs and other saints or some other amazing element of our faith. He said having Pope Benedict as a such a holy man of God adds to that beauty of Rome.