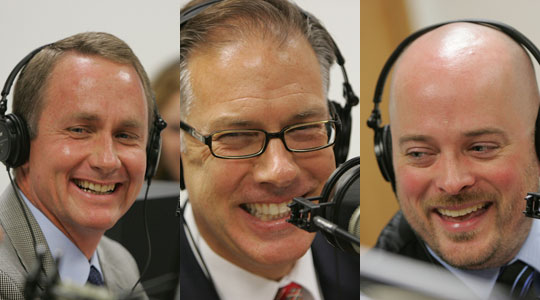 Listen to the show:
Podcast: Play in new window | Download
Today's host(s): Scot Landry and Fr. Matt Williams
Today's guest(s): Kyle Hamilton, Terry Poplava, Aaron Winn, and Eileen Herrington of Our Sunday Visitor
Today's topics: How Our Sunday Visitor serves parishes today, including good parish websites
Summary of today's show: Scot and Fr. Matt are joined by Kyle Hamilton, Terry Poplava, and Aaron Winn to discuss how Our Sunday Visitor has been serving Catholic parishes for 100 years in various areas of communications, including most recently providing excellent parish websites that are easy to create and maintain, adhere to best practices, and don't cost a lot of money. They also talked about how the Archdiocese has partnered with Our Sunday Visitor to create a special package of content and visual designs for Boston parishes.
1st segment: Scot welcomed Fr. Matt back to the show. Fr. Matt had the honor of concelebrating at the funeral Mass of the priest who baptized him as a child. Fr. Francis would have celebrated 70 years as a priest in December. Also, the Mass for the feast day of Bl. John Paul II at the Cathedral was beautiful and George Weigel gave an excellent talk on the Holy Father. Weigel talked about how his biographies of John Paul were used in the beatification process. About 1,000 people attended. They don't yet have a family for all of the priests in the archdiocese for the adopt-a-priest prayer apostolate just yet so anyone interested should go to the Serraboston.org site.
Today at the Pastoral Center we had many parish staff come to hear about creating excellent parish websites. The goal was to expose people to best practices for websites. Scot highlighted the work of our own Karla Goncalves in assessing 243 parish websites on 68 different characteristics.
2nd segment: Scot welcomed Terry Poplava from Our Sunday Visitor and Aaron Winn from OSV's Radius Webtools to the show. Terry said OSV works with thousands of parishes nationwide. They help parishes communicate with parishes in a way that creates involvement and engagement. They help with printed media like bulletins and offertory envelopes and with electronic media like email and websites. They wanted to offer a full package of different channels a parish can use and work with them create consistency across their messages.
Aaron said little has changed with the fundamentals of communication so what makes a great website is the same as making great print media. The content of the message is the most important thing you do want to communicate. Sometimes churches put things on their website that people aren't looking for. People want Mass times, for example, but not so interested in mission statements.
Scot said in Boston 16% of our parishes don't have websites. Nationwide that would translate to thousands of parishes and thousands more would have a poor website that doesn't communicate that the parish is a place people want to be involved. Terry said as a Church we should be better about communications. But parishes have limited time and money and skills for this area. Parish leaders may not realize how much easier it has become to have a website. They need to put the right amount of emphasis on the importance of websites.
Scot asked Aaron what makes Radius easier to use. Aaron said it has one interface to do everything on your website, not separate tools for email and blogs and calendar and so on. He gave the example of a complicated remote control or getting in a rental car and not knowing how to make anything work. That's bad user interface. Radius's user interface has a lot of thought behind it that it just works. It saves minutes and even hours in maintaining the website.
Fr. Matt asked whether parishes have staff or volunteers who maintain the site. Terry said it's a mix, but less often is it a staff member. Those who have a staff member dedicated to maintaining the website will have a better website. Sometimes volunteers can leave or aren't on message.
Scot describes the parish website as the virtual front door to the church and if someone came down the street and found graffiti on the building, trash on the steps, overgrown weeds, and an old sign, they might pass by. It's the same thing for the website that looks like it's not been updated in years. It shows the parish doesn't take communications with its parishioners seriously.
Scot asked Aaron how long it takes for a parish to get a new website. Aaron said it takes a week or two. With Radius they can have a new website in place within 15 minutes. The technology is in place to move quickly. Realistically, it takes a couple of weeks to make all the decisions, like what domain name to choose, what visual design to use, what content to post.
3rd segment: Aaron said parishioners are generally looking for practical information, like Mass times or maps and directions or staff contact. Also, not just times, but also expectations of what they'll find. For those who might be returning to the Church, there's trepidation in what they should expect: dress code, what is expected of kids, etc. Also interactivity: contact forms, blogs, downloadable forms. Ability to sign up for things, learn more about the faith, photos of the community, online calendars.
Scot asked what OSV suggests for how parish websites can reach out to people who are new to parish or to the Church or the town they're in. Terry referred back to the virtual front door. The first thing someone who moves to an area will first go to the parish website. Too often they don't even have the parish address on the website. To help bring people back in, he suggests a very prominent section that asks "Are you to new?" and provides information to them in these areas.
Scot suggested two parishes using Radius Webtools as examples of the Webtools in action:
How much time is the parish spending on maintaining the sites. Aaron said they might have worked on these daily for the first few weeks, but now they could be updating once per week. Because there is a lot of dynamic content that updates itself, the website stays fresh without requiring a lot of manual interfacing.
Terry said St. Anne's is focused on stewardship and they have a whole section of their website on the topic. As for St. Patrick's, they wanted to appeal an Asian demographic and that is part of why they chose the the visual design they did.
For thou shalt nots for parishes, Aaron said don't bite off more than you chew. Both of these parishes put in a lot of attention on the top two pages with great images, but as you go deeper there is more text. They focus attention on the first pages you see.
Thou shalt not focus on your own mindset: In the Church we understand the things we can assume, but we can't assume people outside our parish understand our jargon or insider lingo. Ask someone from outside the site, maybe a non-Catholic, read it for clarity.
Don't use background music because it can startle or disturb the web user. Be careful in the use of Flash, because it doesn't work well with some mobile devices. Aaron said we tend to gravitate to the newest technology, but it can take the place of good communication.
Scot said Pilot New Media of the Archdiocese has partnered with Radius Webtools to offer a special package of visual designs and content templates to our parishes that meets all the goals of best practices we implement in Boston and integrates the ease of use of Radius. Terry said he loves that Boston has paid a lot of attention to the kinds of information about learning the faith and being welcoming to people interested in the Church. The goal is to drive very fine websites to all of the websites in the country, whether OSV provides them or not. OSV wants to serve the Church. They believe their products can help parishes get the best information and convey the best information and engage parishioners in the life of the Church. They hope to help parishes amplify some of things they do through printed materials in ways that you can do in print and that can be updated regularly.
Scot said Pope Benedict has encouraged everyone in the Church to embrace the digital continent.
"Without fear we must set sail on the digital sea, facing into the deep with the same passion that has governed the ship of the Church for two thousand years…[W]e want to qualify ourselves by living in the digital world with a believer's heart, helping to give a soul to the Internet's incessant flow of communication."
Scot said giving a soul to the internet is an important part of why we want to encourage parishes to go online. Fr. Matt said if we want to hunt ducks, we have to go where the ducks are. This is where people are communicating and finding out about all aspects of life.
4th segment: It's time to announce the winner of the weekly WQOM Benefactor Raffle.
Our prize this week is Made for More
and The Salvation Controversy

.
This week's benefactor card raffle winner is David Walsh from Roslindale, MA. Congratulation, David!
If you would like to be eligible to win in an upcoming week, please visit WQOM.org. For a one-time $30 donation, you'll receive the Station of the Cross benefactor card and key tag, making you eligible for WQOM's weekly raffle of books, DVDs, CDs and religious items. We'll be announcing the winner each Wednesday during "The Good Catholic Life" program.
5th segment: Scot welcomed Kyle Hamilton to the show. Kyle is president of Our Sunday Visitor's offertory solutions. Fr. John Francis Noll founded Our Sunday Visitor in 1912. At the time there was a lot of anti-Catholic sentiment and Fr. Noll wanted to respond to the attacks. He even offered a $10,000 reward to anyone who could prove the claims being made against the Church. In 1912, he started a newsletter and wrote a book communicating the basics of the faith. In the early 1920s, he borrowed the idea from Protestants of replacing pew tithes with offertory envelopes. About 10,000 parishes now use OSV envelopes and other services and there are about 18,000 parishes in the United States. Fr. Noll ended up being an archbishop in Indiana.
Terry said Fr. Noll was pretty feisty in defending the faith. Today, OSV is about bringing your Catholic faith to life in every medium in ways that the average Catholic can understand. Scot said OSV's book publishing is amazing, He toured the warehouse in Indiana and couldn't believe how many books he saw. The Our Sunday Visitor national newspaper is the largest Catholic newspaper in the country. Scot contributed to the OSV book The Church and New Media: Blogging Converts, Online Activists, and Bishops Who Tweet
.
Fr. Matt asked about the relationship to the diocese of Fort Wayne-South Bend today. Kyle said the bishop is always the de facto chairman of the board, although OSV is an independent 501(c)3. Fr. Matt asked how much the mission of the Church informs the direction of OSV. He thinks they are living the work of the new evangelization. How does it inform how they work there on a daily basis. Terry said they are passionate about they do. OSV takes it's net profits and gives them all to the OSV Institute which has an independent board that decides where to make grants that support the mission of the Church. It's deeply ingrained in the culture of OSV.
Scot said he sees OSV as being the same league as the Knights of Columbus in the impact they have on the Church in the United States. Scot was struck by OSV's giving through the Institute. In 2011 so far they've made grants totaling more than $2.5 million. They focus on catechesis and stewardship in their grant giving. The gifts average about $20,000. They constitute seed money for specific projects. Terry said he particularly favors the support for the University of Notre Dame for a Masters degree in religious education for DREs to attend even part-time. OSV also provides materials to military bases all around the world through the Military Archdiocese.
Scot said OSV Offertory Solutions helps enhance offertory, improve communications, and fosters vibrant community. They help parishes create an engagement with people, to help them find out where they fit into the ministries of the parish. Scot asked what it would look like if a parish signed up for all of OSV communications tools. Terry said they could be receiving books, the many pamphlets that provide short synopses on many topics, offertory solutions, which depends on parish communications. They often include communications from pastor and pamphlets in the mailings for the offertory envelopes. They could a parish website, an increased offertory program, a focused welcome back program for Catholics at Christmas and Easter. They can help with quarterly or monthly newsletters and state-of-the-parish reports.
Scot asked Terry about the percentage of Catholics who participate in online offertory. Terry said it's about 12% now and growing significantly. Some parishes reach 50% or more. They find that those who switch often give up to 30% or more because it's a conscious gift and because they don't miss giving when they are away.