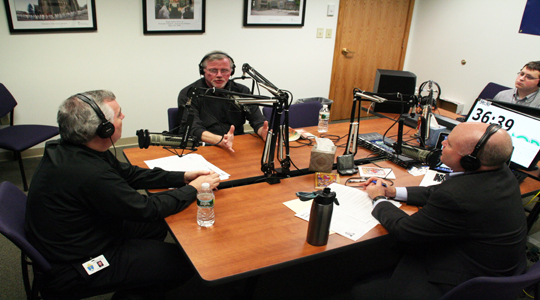 Listen to the show:
Podcast: Play in new window | Download
Today's host(s): Scot Landry and Fr Mark O'Connell
Today's guest(s): Fr John Sassani, Pastor of Our Lady Help of Christians Parish in Newton
Today's topics: Priest Profile: Fr John Sassani; the importance of a healthy prayer life, this Sunday's Mass readings
Summary of today's show: Fr John discusses his vocation story and past assignments with Scot Fr Mark, as well as the new high school forming next year in Newtown. The group also discusses the readings for this Sunday, the 28th Sunday in Ordinary Time.
1st segment: Scot welcomed Father Mark to the show, and said it felt like they had been together all day. They discussed that the Cardinal's Cabinet had met today, as is the custom on the first Friday of every month. Scot said they covered many important topics, especially a discussion of how to follow up on the Catholics Come Home campaign and continue to increase Mass attendance. Fr Mark added that with the wide variety of people that make up the cabinet, it adds a great wealth of opinion to the discussions. Scot mentioned that the Cardinal could not be present at the meeting but will get a full report – Cardinal Sean was at the funeral Mass for Msgr Stanlislaus Sypek this morning. Fr Mark pointed out that Msgr Sypek was still a pastor at 96 years of age – showing his legendary dedication. Scot said that people of the Archdiocese may remember Msgr Sypek from his work at St Adalbert parish and as a professor at Emmanuel College and Boston College.
2nd segment: Fr John Sassani joined Fr Mark and Scot on the show. Scot asked Fr John to describe how he heard the calling to the priesthood. Fr John explained that when he was in the 2nd grade, Fr Dick Little came to Swampscott as a new priest, and caught Fr John's attention and had great influence on his life. Fr John also said that the Sisters of St Joseph, who taught at his school, gave him a sense of what was important in their lives and how their vocations affected it. He attended St John's Prep in Danvers, and entered St John Seminary College Division when he was done with high school. He would speak with his dad, who had been a seminarian for several years in New York, and supported him greatly through his seminary years.
Scot asked Fr John what things his parents did to create a culture of vocation and openness to a priestly vocation. Fr John said that his parents were people of great faith – even if they didn't say prayers before dinner every night, their faith came into play every day of their lives. Scot asked Fr John to speak about his early priestly assignments, the first of which was at Sacred Heart in Roslindale. Fr John said that while he had requested a parish north of Boston, as a second or third priest and without a school, he was sent south of Boston to Roslindale as the sixth priest and a large, thriving school. He said that being in Roslindale gave him a wide variety of experiences with different people over the three years he was there, until he was asked to do graduate studies in liturgy in Rome. Fr John said that he spent a year there, but it wasn't a good match, so he came home and served at St John's in Winthrop. Fr John continued that St John's was a great place to be and had a solid history and active parishioners.
After Winthrop, Fr John was assigned to the Office of Spiritual Development along with Msgr Dennis Sheehan. They also managed St Jean's, a small parish in Newton. Fr John explained that the Office of Spiritual Development was founded by Bishop D'Arcy to help parishes renew themselves in a spiritual way. He worked during the academic year, and spent his summers at Creighton University studying spirituality. It was at this time that he and Maryann McLaughlin created the "Meeting Christ in Prayer" program, which eventually was published by Loyola Press.
Scot asked Fr John what was involved with spiritual renewal at the parishes. Fr John said all of it was rooted in prayer – the sessions were about helping people experience personal prayer in a communal setting. Small group and large group sessions would follow in the parishes. Fr John explained that Meeting Christ in Prayer was an opportunity provided by the Cardinal to encourage small-group spiritual renewal leading into the year 2000. Fr John said that the goal of the program was to deepen the faith in the parish, but to instill the desire to continue growth in prayer and faith lives instead of a momentary renewal. Sometimes, Fr John said, we think other people pray better than we do, but are still willing to learn to pray better. Prayer should come to be second nature to us – we are made for God, so having a connection with Him is something everyone can do, not just monks and nuns.
Fr Mark said he was struck by the thought that people think other people pray better – he said we need to remember that we are all called to our own personal relationship with God. Fr John agreed that the personal relationship is a major theme in Christian spiritual life. We are invited to work with God's grace to become the person he wants us to be through prayer, moral decisions, and our everyday relationships. Mostly though, Fr John continued, it's through knowing that God desires a relationship for us and knows who He wants us to be.
Scot asked Fr John for a few thoughts about how people can pray better. Fr John said people don't take enough time to be relaxed in order to pray – most of us are used to prayers that we learned or memorized. Those are fine, Fr John said, but we need to take a few silent seconds to prepare for them. Scot and Fr John discussed that a good second step is to say what you want to say to God, and then listen for God's response. Sometimes, Fr John said, it may be a deliberate thought that comes into his head that wasn't there a moment before, other times it is being challenged by someone or something in our lives. Fr John also said that we need to develop confidence in our faith lives about our tangible experiences with God. Fr John said the last thing was to stay for a specific period of time every day in prayer, even if you think you're finished – whether it be an hour or just five minutes, having time set aside for God is important.
3rd segment: Scot asked Fr John about his transition from one of the smaller parishes of the Archdiocese (St Theresa's in Sherburn) to one of the larger parishes, Our Lady Help of Christians in Newton where he is the parish. Fr John said it was a big difference, but the neighborhood nature of the parish, active outreach, and great location made the transition great. Fr Mark noted that the parish was also beautifully renovated – Fr John agreed, and said that the open sanctuary and the Baptismal pool make it a very hospitable and welcoming environment. Scot said that Our Lady's has one of the most involved parish communities in the Archdiocese. Fr John said that one of the things the ministries offer is not just service to the larger community, but an opportunity for people to feel connected to the parish community as well. He explained that new parishioners are encouraged to find a ministry that they want to contribute to and become excited by, because it will not only be ministry being done by more people, but people in the parish getting to know one another in a deeper way. Fr John described the Bereavement Ministry that met just last night – a group of 40 people who volunteer to help families of deceased parish members plan funeral liturgies and provide support in prayer.
Scot mentioned that the parish roster holds over 20 zip codes at Our Lady's, a real testament to how connected the parishioners feel they are. Some parishes seem to be very good at building a community, Scot noted, and asked Fr John what things Our Lady's does to promote this feeling. Fr John said the core of the parish being a neighborhood parish and the family nature and closeness of fellow parishioners has carried through to a hospitable community. He also said that the location of the Church and Fr Walter's reputation for welcoming people helped as well. Fr Mark noted that some people are shocked by the community – he said that at times it seems some Catholics want to go to Mass but not be talked to! Fr John said that while the welcome is appropriate and heartfelt, it's never coercive.
Scot said that last week there was an announcement that Mount Saint Joseph Academy and Trinity High School will be merging, a significant moment for Our Lady's and the Catholic Community in Newton. Fr John said it was a pastoral challenge to help people along with the transition, but ultimately will allow both schools to continue providing a financially stable and academically rigorous education to the communities. Fr John said that when the announcement was made to the students, some of the young people started asking for a retreat with the students from the other school so they could start the process of integration and get to know people. Fr John said that he felt it was a clear sign that the new enterprise, while not pain-free, is full of hope and desire in the new purpose.
4th segment: Scot read the first reading from Isaiah, and Fr. Mark read the Gospel, from Matthew.
Readings for the 28th Sunday in Ordinary Time.
First Reading: Isaiah 25:6-10a
On this mountain the LORD of hosts
will provide for all peoples
a feast of rich food and choice wines,
juicy, rich food and pure, choice wines.
On this mountain he will destroy
the veil that veils all peoples,
the web that is woven over all nations;
he will destroy death forever.
The Lord GOD will wipe away
the tears from every face;
the reproach of his people he will remove
from the whole earth; for the LORD has spoken.
On that day it will be said:
"Behold our God, to whom we looked to save us!
This is the LORD for whom we looked;
let us rejoice and be glad that he has saved us!"
For the hand of the LORD will rest on this mountain.
Second Reading: Philipians 4:12-14, 19-20
Brothers and sisters:
I know how to live in humble circumstances;
I know also how to live with abundance.
In every circumstance and in all things
I have learned the secret of being well fed and of going hungry,
of living in abundance and of being in need.
I can do all things in him who strengthens me.
Still, it was kind of you to share in my distress.

My God will fully supply whatever you need,
in accord with his glorious riches in Christ Jesus.
To our God and Father, glory forever and ever. Amen.
Gospel Reading: Matthew 22:1-14
Jesus again in reply spoke to the chief priests and elders of the people
in parables, saying,
"The kingdom of heaven may be likened to a king
who gave a wedding feast for his son.
He dispatched his servants
to summon the invited guests to the feast,
but they refused to come.
A second time he sent other servants, saying,
"Tell those invited: "Behold, I have prepared my banquet,
my calves and fattened cattle are killed,
and everything is ready; come to the feast."'
Some ignored the invitation and went away,
one to his farm, another to his business.
The rest laid hold of his servants,
mistreated them, and killed them.
The king was enraged and sent his troops,
destroyed those murderers, and burned their city.
Then he said to his servants, 'The feast is ready,
but those who were invited were not worthy to come.
Go out, therefore, into the main roads
and invite to the feast whomever you find.'
The servants went out into the streets
and gathered all they found, bad and good alike,
and the hall was filled with guests.
But when the king came in to meet the guests,
he saw a man there not dressed in a wedding garment.
The king said to him, 'My friend, how is it
that you came in here without a wedding garment?'
But he was reduced to silence.
Then the king said to his attendants, 'Bind his hands and feet,
and cast him into the darkness outside,
where there will be wailing and grinding of teeth.'
Many are invited, but few are chosen."
Scot noted that Jesus often described Heaven as a banquet in parables, as in this Gospel reading. We all get an invite to Heaven, but we don't always receive it, and sometimes might even put to death the people sent to invite us. Fr John agreed, saying that Jesus is giving us a glimpse into the goal of Salvation History with this parable – there is the eternal feast in Heaven, but also many feasts on Earth that we are invited to as well. Fr John also noted that the king in the parable invites people a second time – very much like how we are inviting our brothers and sisters to come back to the faith.
Fr Mark pointed out that there are people, like the man who wore the wrong garment, that are present at the feast but not totally into it. There are people who think they are going to Heaven, Fr Mark said, because they are walking a certain line, but there are parts of their life that are completely inconsistent. God is constantly inviting us in this life, he continued, to come back to Him. Scot said the end of the Gospel might be misunderstood as fashion advice – it may point to the lesson that we cannot just show up at the Heavenly banquet unprepared and have God accept us anyways. One of the ways we can prepare, Scot concluded, is to take part in the sacraments and receive those graces.