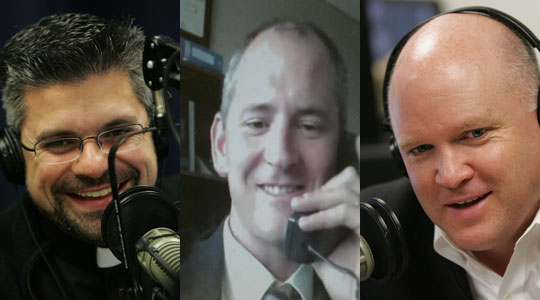 Listen to the show:
Podcast: Play in new window | Download
Today's host(s): Scot Landry and Fr. Matt Williams
Today's guest(s): Martin Doman, Assistant Director of Campus Ministry at Ave Maria University
Today's topics: Martin Doman, Catholic praise and worship music leader
Summary of today's show: On our 150th show, Martin Doman talks with Scot and Fr. Matt about his ministry as a Eucharistic praise and worship leader, his experience of writing and performing Catholic music, including "St. Patrick's Breastplate", the theme song for The Good Catholic Life; and his advice as a campus minister for parents looking at Catholic colleges for their children.
1st segment: Scot said we celebrated our 150th show since we started on Ash Wednesday. Scot said he's learned so much about his faith and its tough to believe it's been that many. We've profiled more than 75 priests and had about 200 guests. Scot said he's not sick of his own voice yet. Just today Scot received a card from a listener who sent his condolences after Scot mentioned his uncle who had passed away.
Fr. Matt said last Thursday he spoke to the first-year men discerning the diaconate. He spoke on living out your baptismal call. His cousin Brian was married on Saturday and it was a joy to be able to celebrate the sacrament with them.
Scot said our guest today has had perfect attendance on the show. Martin Doman wrote the music we use as the theme for our show. It's called St. Patrick's Breastplate. Fr. Matt said he's known Martin when he was worship leader for the Steubenville East youth conference.
2nd segment: Scot asked Martin what it was like to move from his native Pennsylvania to FLorida at Ave Maria. He said it was a big change for someone so used to winter. He said the university is surrounded by a brand-new town that is inhabited mostly by Catholics and it's a great environment for his kids to grow up in. On their block alone, there are 40 or 50 kids their ages.
Martin has been involved in leading Eucharistic worship for at least a decade. Scot asked him how he got started in this life. Martin said in high school he was exposed to the charismatic renewal and heard someone lead prayer in music. In his college years at Franciscan University of Steubenville, he decided that playing music at Mass was the path was God calling him to.
Fr. Matt said he encountered Martin at Steubenville East in Attleboro. Martin was involved there for nine years starting in 1998. He got involved in conferences when he was in school in Steubenville when the music leader Jim Cowan asked him to be part of his band. He did well and so they asked him to lead the music himself at the Boston-area youth conference.
Scot asked him to explain Eucharistic praise and worship and place it in context. He said praise and worship means just praying with music and that has it roots in Hebrew worship. So it's praying with music, participating in song. St. Augustine mentions praise music very clearly in his writings. Eucharistic praise and worship means to worship the Lord with music in His presence during Adoration or during Mass.
Scot said he used to think that Adoration just had the opening and closing hymns with silence in between, until he heard Martin play during Adoration at the Men's and Women's Conferences where he would sometimes pick quietly during prayer. Martin said the rite for adoration allows for music during adoration. He plays quiet and meditative music. The words of the music he uses draw out our personal relationship with God. There is emotion in that relationship, not unlike the emotion found in the Psalms. It's the same kind of communication. The words of the song and music life the spirit. St. Augustine said he who sings, prays twice.
Fr. Matt said upbeat praise music can lead to more solemn worship as the Holy Spirit fills the place and you experience the deeper presence of God. The twofold action of liturgy is the people of God participating in worship are offering blessings to God and God in turn sanctifies his people. When you enter into worship, including the words of music, the Holy Spirit starts pouring out on people in a way that leads to a silence where you just want to be.
Martin said the goal of praise and worship is silence where nothing more needs to be said. At the end of the conversation where you feel like God is ministering to you and you enter silence. It's not awkward silence, it's a pregnant silence. In our media-saturated culture, we need that silence and that music helps our brains to slow down to focus on the Eucharist and enter silence.
Fr. Matt said he often sees Martin "calls an audible" while on his knees and playing the guitar during Adoration. Martin likened it to surfing where you have to adapt to the wave. He is very open to what God is saying to him, where He is leading. All of us are called to follow the promptings of the Spirit. We're not all called to be prophets like John the Baptist or Elijah, but we are called to be priest, prophet, and king in a sense. For Martin he feels an external prompting. For example, if he plans to start with O Salutaris, the traditional hymn for adoration, then O Come Let Us Adore Him, and then enter into silence. Perhaps he's planning on playing a particular song and suddenly a different song comes into his head and he may feel like he needs to play that one now. If he's looking for another song to play and he feels no prompting, he may take that to mean he's supposed to be silent.
Martin said he's learned from the Charismatic renewal that you need to always be listening to the Lord in your prayer or daily life and when you do it can have powerful effects.
3rd segment: Scot noted the song we just heard is called "Legacy". Martin wrote it to help us celebrated the bicentennial of the Archdiocese of Boston in 2008.
Scot said 7 years ago he was encouraged to ask Martin Doman to lead worship for the Boston Men's and Women's Conferences, but all he'd heard was that he'd been a music leader for youth. But he later learned that Eucharistic praise and worship can help many people.
Martin said singing praises to God is universal. It's not tied to a particular age group. But the style of music is contemporary so it naturally appeals to a younger audience. Yet as prayer it is universal. In terms of the style, a lot of the songs he plays break the mold of one genre. He worked a t a Pennsylvania parish for several years and there was one coarse, crusty and blunt elderly man who once came up to him to tell him to play a hymn in the book. It turned out to be a beautiful song although it was older. A lot of these old hymns that were lost after Vatican II were simple intimate prayer songs between God and people. These hymns were so important and personal to another generation so he likes to blend these older hymns in among the newer ones. They bring out that universal thirst for God.
Scot said there has been a rich patrimony of hymns built up over 2,000 years, but Martin also writes new hymns. He asked Martin what it's like to put prayers in music. Martin said there's a rich tradition in our Church and he mines the prayers. He suggested the Manual of Prayers as a good resource because it contains many of the great prayers of our Church.
Fr. Matt asked Martin what song he wants to be remembered for? Martin said after awhile everything you do is just an attempt to capture the beauty of God, but fail to do so completely. He loves St. Patrick's Breastplate. He said if someone asked him to play the one song he wants to play, it would be "My Desire" from his new CD.
4th segment: It's time to announce the winner of the weekly WQOM Benefactor Raffle.
In honor of St. Therese, whose feast was this past week, our prize this week is "The Story of a Family: The Home of St. Therese of Lisieux", by Fr. Stephane Joseph Piat, OFM.
This week's benefactor card raffle winner is Anne Magnus from Reading, MA. Congratulation, Anne!
If you would like to be eligible to win in an upcoming week, please visit WQOM.org. For a one-time $30 donation, you'll receive the Station of the Cross benefactor card and key tag, making you eligible for WQOM's weekly raffle of books, DVDs, CDs and religious items. We'll be announcing the winner each Wednesday during "The Good Catholic Life" program.
5th segment: Scot asked Martin to give listeners his advice for parents choosing a good Catholic college for their kids. Martin said people typically think Notre Dame or Georgetown, but some colleges have come under fire for not being as Catholic as they used to be. He attended Franciscan University of Steubenville and works now at Ave Maria University. Parents should look for a good education that prepares the student for life, not just for a job. College is pivotal for the life of a person in terms of life-changing decisions and so you need to given them a good foundation. The academic has to be good, with a curriculum that forms the whole person. They should also look at the student life on campus. The best measure of catholicity is whether the students are living the faith on campus. The peer pressure is positive toward living authentically. They don't have to be weird religious nuts, just cool kids who love God.
He said at Ave Maria, he's come to know the faculty well and they really look at the foundations of the classics and where the Church's gifts come from. There's also a powerful sense of faith that's not in your faith.
Scot asked what the faith life is like there and what makes it distinctive. Martin said it's not so much distinct from Steubenville. There's definitely a sense of deep reverence there. The location creates a different lifestyle. It's a relatively new college, but they have a student population that comes from all over. They are attracted by being in Florida, but also by the academics and faith environment.
Fr. Matt said he's seen so many kids leave solid Catholic high school youth ministry to come back from college deflated by the hedonism they encountered at college, even at the best Catholic colleges and by the anti-Catholicism they encounter in the classroom. Then the campus ministry is often not strong in countering the tsunami of challenges to their faith.
He said he tells students considering a particular school to check out the campus ministry as a way to gauge how they feel about the school and see how it will help them in school. At Ave Maria, they'd find opportunities to grow deeper in faith and to be converted.
Scot said to consider whether students graduating from the school have a concept of a personal vocation. Martin said at Ave Maria they have a weekly program to talk about vocations, all of them, not just marriage. We have to look at our vocation as a call to holiness.