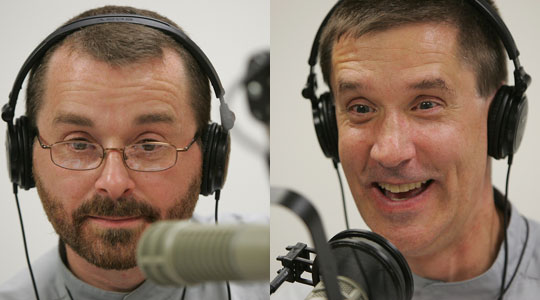 Listen to the show:
Podcast: Play in new window | Download
Today's host(s): Scot Landry and Fr. Matt Williams
Today's guest(s): Br. Rahl Bunsa, General Superior of the Brotherhood of Hope, and Fr. Ted Psemeneki
Today's topics: The Brotherhood of Hope
Summary of today's show: Br. Rahl and Br. Ted of the Brotherhood of Hope sit down with Scot and Fr. Matt to tell them about their small religious order's very big mission in Catholic campus ministry in Boston that reaches out to more than 60,000 Catholic college students across the city. They also play selections from the Brotherhood's music CDs and discuss a TV show produced by the Brotherhood called "Hope on Campus".
1st segment: Scot welcomed back Fr. Matt. He offered him a congratulations on his Name Day because today is the Feast of St. Matthew the Apostle. Fr. Matt said he loves the Caravaggio image of St. Matthew being called by Jesus. It's a beautiful interplay of darkness and light, with Matthew being called out of the darkness and into the light. Jesus' finger in the painting recalls the image of God's finger touching Adam's in Michaelangelo's Sistine Chapel. Fr. Matt said the consolation of Matthew a sinner being called by God is that God knows what he's getting into when he calls us. It's not our qualifications that concern God, but who we are.
Scot said his uncle, Frank Cluff of Lowell, died last night at 73. He was able to spend time with him last night and was inspired by this holy man prepare for death. He told Scot's brother, Fr. Roger Landry, to tell others in his funeral homily to encourage people not to fear death. Scot related his story that 21 years ago his uncle was within days of death because he couldn't get a kidney transplant. He had coffee with a friend and told him it might be their last opportunity to be together. That afternoon, the friend's 21-year-old son died in a car accident and it turned out his son was a perfect match for the kidney. May the souls of the faithful departed rest in peace.
Today's guests are from the Brotherhood of Hope, who specialize in campus ministry across the country, and a new citywide campus ministry they'll be starting at Cardinal Sean's urging.
2nd segment: Scot welcomed Br. Rahl and Br. Ted. He said Br. Rahl was one of the first members of the order when it began 31 years ago. It started out of lay communities in Michigan and New Jersey. There were five brothers at first in 1980 and now there are a little more than 20. Their main work is in campus ministry, but also men's ministry, youth work, service trips to Tanzania, and some seminary work. Br. Rahl first encountered the Brotherhood when he was studying at Seton Hall University. He was impressed at how they were just good guys to be around. He had just discerned that God wasn't calling him to the priesthood and he had thought God was calling him to marriage. But a brother asked him to consider this call.
Scot said even growing up in a very Catholic community, you don't encounter religious brothers as often as you see religious sisters, unless you are connected to particular ministries, like schools.
Br. Rahl said in the beginning the order created a painting company to support itself. The men had to shift from their secular jobs to other kinds of jobs as they transitioned to full-time ministry. Their first applied ministry was as campus ministry at Rutgers. Br. Rahl said Br. Ted was among the first new members to come from Rutgers.
Br. Ted was an engineering student at Rutgers. Since high school, he'd been attending church on his own. By his sophomore year, he'd connected to the Brotherhood and experienced a life change and the indwelling of Christ within him. A certain loneliness was gone. He'd never felt a calling to the priesthood, but on a visit to a monastery he felt God's call. One of the brothers told him that he'd been waiting for God to give Br. Ted a call and that gave him the confidence.
Fr. Matt noted that they are the first group of consecrated brothers on the radio show. He asked them to explain what a consecrated brother is. Br. Ted said we look at Jesus who became our brother to us so we could be adopted by the Father. They imitate Christ the brother who came to lead people to the Father and to be adopted. Br. Rahl added that in imitating JEsus, they take vows of poverty, chastity, and obedience and then live in community with a common mission together, like Jesus and the Apostles. That's in the nature of a brotherhood.
Scot noted that it's their presence in the Church and commitment to the vows in the community is itself a sign of the new evangelization. It is a sign to the world.
Scot asked them to explain the difference between Hope and an optimism or natural hope. Br. Rahl said the theological virtue of hope means that through the indwelling presence of Christ we receive through baptism, Hope recasts the whole of reality so we understand the truth of God's promises as heaven-focused, but earth-rooted. When we intercede for one another or bring the Gospel to others, that's an exercise of the virtue of hope.
Scot described their logo, which incorporates a cross and anchor. Br. Ted said their hope is anchored in heaven and gives a confident expectation of heaven. There is also an M to signify Mary at the foot of the cross.
Br. Rahl said while they were ministering at Rutgers, they received an invitation from the bishop in Tallahassee to minister at Florida State University, which is their largest campus ministry. Later, during an impromptu visit by Cardinal Bernard Law who happened to stop by their house he got to know them. In 1995 they were asked to come up to Boston where they did some ministries. In 2000, they started at Boston University and in 2005, at Northeastern University. They live at St. Catherine of Genoa in Somerville. Nine of them live there. So currently they are ministering at Florida State, Rutgers, and Northeastern.
Scot first encountered the Brotherhood of Hope through their Advent retreats for men. Those men Scot met there became the team that organized the Boston Catholic Mens' Conferences. He asked them how they felt the call to focus their ministry on campus ministry. Br. Rahl said many of the brothers experienced their call to holiness while at college and it seemed to make sense to minister to young people at a critical point in their lives. They see very encouraging fruit in campus ministry.
3rd segment: It's time to announce the winner of the weekly WQOM Benefactor Raffle.
Our prize this week is Crossing the Goal: Playbook on the Virtues
and Crossing the Goal: Playbook on Our Father
, both by Danny Abramowicz, Peter Herbeck, Curtis Martin and Brian Patrick.
This week's winner is Joanne and Robert Massey from Chelmsford, MA. Congratulations, Joanne and Robert!
If you would like to be eligible to win in an upcoming week, please visit WQOM.org. For a one-time $30 donation, you'll receive the Station of the Cross benefactor card and key tag, making you eligible for WQOM's weekly raffle of books, DVDs, CDs and religious items. We'll be announcing the winner each Wednesday during "The Good Catholic Life" program.
4th segment: Scot noted that Br. Ted wrote and performed the song just played during the break. Br. Ted said the Brotherhood of Hope creates Advent music CDs because no one really creates Advent music CDs. Advent is a natural topic for the Brotherhood because of Advent's relation to hope.
Scot noted that Br. Rahl just completed 11 years of ministry at Boston University. Cardinal Seán asked the Brotherhood to expand their ministry to cover many more campuses in Boston through a new initiative called H.U.B. (Hope for Undergraduates in Boston), based at Northeastern University, but reaching out to 60,000 Catholic college students. Br. Rahl said they have seen so much fruit from their campus ministry over the past 11 years at both BU and Northeastern that Cardinal Seán to expand their ministry to schools which don't have the resources for campus ministry, like Wentworth, Mass. College of Pharmacy, Berklee, Wheelock, Simmons and many more. Br. Rahl said they are just beginning their program. It's going to be an organic process. They are working with students to train them to reach out to their peers, to lead Bible studies, to invite others to Mass. Over the next year, they will be working to get to know administrators and staff at these schools as well. He's encouraged the Cardinal has confidence in them and asked for prayers from listeners in their work.
Fr. Matt said he's heard people say that a critical area of focus for the Church is college campus ministry because it is crucial for the Church to connect people at that age to connect with the life of the Church. He asked what challenges the Brotherhood is facing on campuses now. Br. Ted said it's a key time to be reaching out to an age group that is mature enough to make good decisions while they're making lifelong decisions. On one hand they have time, but on the other they're busy, so that's the first challenge. There are also a lot of options for students. When a freshman settles in, they are bombarded by all that they can get involved with: clubs, sports, and other organizations, most of which demand far less than the Church does. Br. Ted said they have come to realize that they have to challenge the students and ask something of them, to make it seem worthwhile through sacrifice and hard work. The students are also bombarded by a lot influences, including sex and drugs and drinking. Sometimes, the universities don't help with those issues. Many of the students are lonely or depressed or stressed for the first time.
Scot asked how many of the students involved with the Brotherhood connect with them right away versus those who come along later. Br. Ted said there is a good mix of how people come to them. If people come and get involved early, they tend to stick it through. Br. Rahl said many of them, as their relationship with Christ deepens, they want to tell their friends and start inviting them to programs. The Brotherhood create experiences that connect with what's going on on campus. For example, they have intramural sports teams that compete with other campus organizations.
Br. Ted said they offer card and games nights, minor competitions, lots of food (barbecues and dinners), but the primary end is to bring them to Mass. They also do a Wednesday night gathering called A New Life with prayer and a talk to challenge them in their faith. Br. Rahl told a story of a Texas Hold-Em tournament where one of the students who wasn't Catholic, but was a good card player, won and eventually has become very involved in his faith and inviting others to be involved.
Scot asked them how they minister to students in the midst of a hook-up culture. Br. Ted said he sees even good Catholic church-going students who live a double life, involved both kinds of culture. They try to teach them about self-control and not objectifying others. Br. Rahl said as they connect with Christ it becomes more than just growing in natural virtue, but also in the Gospel virtues. He said one of the universities they work at offers a yearly sex week, which promotes the hook-up culture. The Brotherhood provides a counter-culture and encourages the students that they don't have to be slaves to it. Br. Ted notes that it's not all on the brothers, but that the students who are already living the life of faith and are the best witnesses for Christian love and chastity.
Scot noted that the Brotherhood of Hope is mainly supported through donations of those who want to make an impact on college campuses. People can make donations at their website at BrotherhoodofHope.org.
CatholicTV also came to the Brotherhood of Hope a few years ago to film a 13-part series called Hope on Campus. People can watch the shows right from their website.