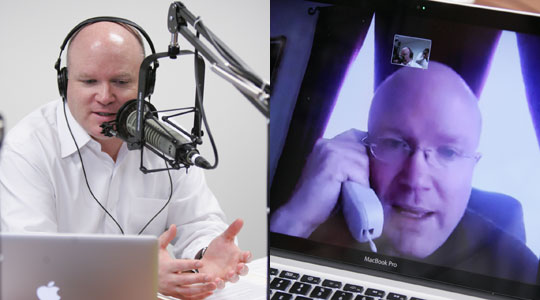 Listen to the show:
Podcast: Play in new window | Download
Today's host(s): Scot Landry
Today's guest(s): Fr. Roger Landry, Pastor of St. Anthony of Padua Parish, New Bedford, and Executive Editor of The Anchor, the newspaper of the Diocese of Fall River
Today's topics: The Church's teachings on the Blessed Virgin Mary
Summary of today's show: Fr. Roger Landry joins his brother Scot to discuss what the Church believes and teaches about Mary, the Mother of Jesus, and how best to prepare for the upcoming Feast of the Assumption.
1st segment: Scot welcomed his brother, Fr. Roger Landry, to show to discuss the role of Mary in the economy of salvation. Fr. Roger has led retreats called the School of Mary on the teachings of the Church on Mary.
Fr. Roger said he took the term School of Mary from Bl. John Paul II. HE spoke about entering into a school of Mary, just as Jesus would have been in a school at the feet of Mary. It also refers to the school of the Rosary which teaches us in meditations on Mary.
John Paul II wrote an encyclical called Redemptoris Mater in which he asked the Church to look to Mary as a model for the faith.
The Mother of the Redeemer has a precise place in the plan of salvation, for "when the time had fully come, God sent forth his Son, born of woman, born under the law, to redeem those who were under the law, so that we might receive adoption as sons. And because you are sons, God has sent the Spirit of his Son into our hearts, crying, 'Abba! Father!'" (Gal. 4:4-6)
Scot asked what is the blessed Mother's role in the economy of salvation, God's plan to save us all. Fr. Roger said the first point is her free Yes to God's proposal made through the Archangel Gabriel, which set into motion God's plan of salvation. This allowed Christ to take on our human flesh in order to provide expiation for our sins through His flesh and open up the gates to heaven.
The second point is the third annunciation of the Cross. The first was Gabriel's and the second was when Simeon told her her own heart would be pierced. The third is when Christ said to her to behold her son, John (and through him all of us), and to all of us. By her prayers and intercession, by her example, and by her continuing to hand on to us her Son, our savior.
The Catechism begins talking about Mary by calling her the Mother of the Church. Why is it significant that she is our mother? Fr. Roger said we all need spiritual mothers. Most of us have learned our faith from our mothers. Mothers have a particular genius for handing on the faith to their children. Also, Jesus came from heaven to found a family. We have a father, Jesus is our brother, and no better person has existed who has heard the Word and put it into practice than Mary. Jesus said his mother and brothers and sisters are those who hear the Word and put it into practice.
Scot said the Church has proclaimed two dogmas about Mary. The first is the Immaculate Conception, which means she was preserved from sin.
the Immaculate Conception was proclaimed in 1854 and the Assumption in 1950. This doesn't mean they were invented then, but that they were conclusively stated at the time. Immaculate Conception was debated. It was universally acknowledged that she did not choose to sin but was she preserved from Original Sin. The dogma said that when God gave Mary a soul at conception, she was preserved from sin.
Fr. Roger explained Original Sin. Adam and Eve had supernatural and preternatural gifts, which we lost when they freely disobeyed the Lord and squandered our inheritance. The Immaculate Conception says Mary was conceived with these gifts. This was the complicated question theologians asked: How did this happen?
Blessed Duns Scotus spoke of prevenient grace, it comes before. What Jesus did on the cross was an eternal act outside of time, in that it's effects were felt throughout time before and after. She was conceived without Original Sin and the ultimate effect of Original Sin is to be born without the preternatural and supernatural gifts.
At baptism, we are put back in the state of grace although we still have some of the effects of sin. Both Jesus and his Mother would have felt temptation (Scripture says Jesus was tempted), buy they are able to say no to all temptation.
2nd segment: Scot asked Fr. Roger what we learned about Mary during the Annunciation. He said we learned first that she was immaculately conceived. The Archangel uses a word that means "you who have been filled with grace." To be filled with grace means to be filled with God in such a way that there is no room in which God isn't present. This is implicit testimony to her Immaculate Conception. Then he says, The Lord is with you. They were already in communion. St. Athanasius said before she conceived Jesus in her womb, she conceived him in her heart.
Then she was afraid, with a sense of awe that God was calling her to something she is not worthy of. She confessed that she is a virgin. She would know how babies were conceived, but she had already made a vow to remain a virgin in her marriage. And in the end, she said Let it be done to me, which changed the world. Her full cooperation with the Lord was the beginning of our redemption.
After conceiving Jesus, she went to visit her cousin Elizabeth. We see what a woman of charity and faith that Mary is. She went in haste because the Archangel had her told that Elizabeth, who was quite old, would need assistance. Newly pregnant Mary traveled through mountainous and rough country because she loved and because she totally believed everything she'd been told.
Elizabeth said in the Holy Spirit that she was totally blessed because of her faith and that Mary was carrying her Lord within her, even though Mary would only have been pregnant a few days. Mary then exclaimed the famous Magnificat. Mary exclaims that her existence is full of God.
My soul glorifies the Lord, *
my spirit rejoices in God, my Saviour.
He looks on his servant in her lowliness; *
henceforth all ages will call me blessed.
The Almighty works marvels for me. *
Holy his name!
His mercy is from age to age, *
on those who fear him.
He puts forth his arm in strength *
and scatters the proud-hearted.
He casts the mighty from their thrones *
and raises the lowly.
He fills the starving with good things, *
sends the rich away empty.
He protects Israel, his servant, *
remembering his mercy,
the mercy promised to our fathers, *
to Abraham and his sons for ever.
Scot said Pope John Paul II talked about the visitation as the highest expression and inspiration of the feminine genius, in the way Mary responded by putting motherhood and service as her primary vocation in life.
Fr. Roger said the expression feminine genius is receiving a lot of theological study. Pope John Paul II was describing a maternity in a woman that loves and other teaches them to love. A woman gives love first by receiving it and receiving it is capable of sharing it. Mary received Love himself and couldn't keep it to herself.
Mary just learned she was to be mother of the messiah and her first thought is to go to Elizabeth. Men do not have this genius because they are more selfish.
3rd segment: Mary provides a lot of guidance on how we are to be Christians in the episode from Scripture of the Wedding feast of Cana. The scene is a wedding where no one notices that they are out of wine except Mary because she is one who loves and those who love pay attention to details of others. The Jewish wedding feast would be an eight day feast and if you ran out of wine, it would be a huge embarrassment for the family and the couple. So she went to her Son and told him. She didn't twist his arm or ask for anything.
Saints and theologians have debated his next words: "What's this to you and to me." She tells the servants, "Do whatever he tells you." These are her last words in Scripture.
A lot of time we don't recognize that we are ourselves are running on empty. Fr. Roger imagines Mary in heaven standing at the side of Jesus, asking Him to take care of those who need grace as she notices their needs. She takes our prayers to Him and He answers.
The young servants can also be an inspiration. They had to take small leather pouches of about a gallon to fill 180 gallons of water in the jugs, filled all the way to the brim. Would that we would respond with as much enthusiasm to Mary's message to us.
Scot said Mary was assumed into heaven and then crowned as queen of heaven where she intercedes for us.
The Assumption was a tradition in the Church from the beginning. We know from history that while the burial spots of Jesus and all saints were venerated, there was no known burial place for her. The Assumption was defined as God taking Mary's soul and body into heaven, preserving her immaculately conceived body from the corruption due to sin and death through Original Sin.
Heaven is not a retirement where we sit a leisure. Pope John Paul said that for Mary to reign in heaven is for her to continue to serve, just as Jesus the King continues to serve and govern. She continues to love us. On her deathbed, St. Therese the Little Flower said she wanted to spend her time in heaven doing good on earth. That's what Mary does.
How does her assumption and coronation in heaven help us to know what our destiny is? Fr. Roger said Mary is the fulfillment of the human vocation to be with God in heaven forever. Her assumption shows that the human body is sacred and a temple of the Holy Spirit. We're called body and soul to heaven one day to rejoice fully human with God and all the saints as long as continue to say fiat to Jesus.
Hopefully, we when get to heaven, by God's grace, that we will spend our time in heaven praying for our kids and grandkids and descendants until the Second Coming.This is supposed to begin now on earth, not waiting to start until we die. The best way to prepare for heaven is to start doing this now.
4th segment: Scot said the Fr. Roger that most people know that Pope John Paul II's motto was Totus Tuus. What is the total translation of the phrase that this is just the first few words of. Fr. Roger said when John Paul was a young man working in a factory, he was a little suspicious of Marian devotion because felt some went overboard that even raised her over her Son. But a fellow worker introduced John Paul to St. Louis de Montfort who created a prayer of Total Consecration to Mary. It started with "totus tuus."
"Totus tuus ego sum, et omnia mea tua sunt. Accipio te in mea omnia. Praebe mihi cor tuum, Maria." ("I belong entirely to you, and all that I have is yours. I take you for my all. O Mary, give me your heart")
John Paul II would pray this prayer every day. Mary had said at Fatima that the solution to the problems of the 20th century was consecration to Mary's heart, to her purity, to the way she would treasure the message of the Word. John Paul could say "Be not afraid," because he'd given himself to her totally and trusted totally. The Lord wants us to consecrate ourselves to him through Mary, living in our own being Mary's total consecration to the Lord so we can live and extend salvation, just as Mary did before us.
Scot asked why the Church teaches that Jesus wants us to go through Mary. Fr. Roger said there was no reason for Jesus to be conceived as an embryo, but could have come as an adult. He chose to come into the world through Mary as God's plan throughout all eternity. Why would he change now? In this way, we are not intimidated because Mary is not intimidating.
Mary is not trying to be a hero. Jesus praises Mary not just because she is a blood relation, but because of her spiritual relationship to Him. Mary hears the Word of God and puts it into practice. She teaches us how to be a better Christian.
5th segment: Scot asked Fr. Roger about Marian apparitions, why she is appearing, and how we should receive these messages. Fr. Roger said we need to be alert that Satan can try to fool us. Catholics need to be judicious and not be gullible when it comes to every report of an apparition.
Mary always comes down with God's permission not to teach us anything new, but to understand anew what has already been revealed. In Guadalupe, Mary gave a message through Juan Diego for the whole nascent Church in the Americas. That she appeared as a mestiza, a woman of European and native heritage, is something that helped the evangelization of our continents.
In Lourdes, Mary revealed herself as the Immaculate Conception. It was a great means for the whole Church to reflect on the dogma that had just been defined.
Fatima was a call to repentance, that we need to get with it in term of her Son's teaching.
As Catholics we don't need to listen to private revelation. Public revelation ended with the death of the last Apostle. But we need to hear the echoes of public revelation should be sought in the private revelation. We need to evaluate these reported apparitions with our common sense. These message can be great assists for us as we live the message of the Gospel in our lives today.
Scot asked about the miracles at apparition sites. Fr. Roger said we see Jesus' miracles in the Gospels and the greatest are not the physical healings, but they were always a prelude to the deeper miracle of spiritual conversion. The reason for the miracles might be for us to have confidence in the message of Lourdes and to draw people to that place in order to have deeper spiritual miracles take place in us.
Fr. Roger said as we prepare for the Assumption, it is a time for preparation. We could pray the Rosary or pray it with greater devotion, to recall Michaelangelo's depiction of the Last Judgment in which the Rosary was used literally to lift souls into heaven.