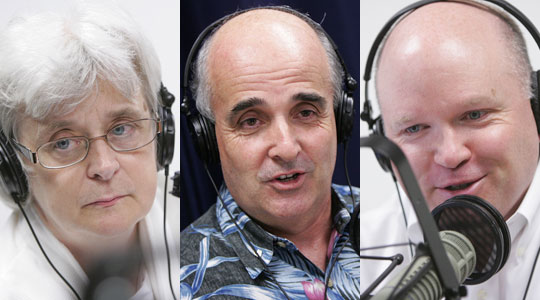 What is this?
Listen to the show:
Podcast: Play in new window | Download
Today's host(s): Scot Landry
Today's guest(s): Brendan O'Connell and Marianne Luthin
Today's topics: Life Matters TV
Summary of today's show: Brendan O'Connell talked with Scot about his widely available cable access program, Life Matters TV, that has had more than 300 episodes and can reach more than 1 million homes in Massachusetts. Marianne Luthin of the Pro-Life Office also discussed the various ministries of the Archdiocese helping women in crisis pregnancy and suffering from having had abortions.
1st segment: Scot welcomed Marianne Luthin, director of the Pro-Life Office, and Brendan O'Connell, host of Life Matters TV, available on Boston cable access television. Marianne was one The Good Catholic Life show #8.
Scot asked Brendan how he became involved in pro-life work. Over a 20 year period, starting in business school, he started to see how the public was deceiving the public purposefully and it bothered him. When he was about 35, he started dating a woman who'd had an abortion and got pregnant again. She was in law school and her parents offered to pay for school if she had an abortion. She instead had the child and started dating her when the child was 1-1/2 years old. When he moved back to Boston, he had written to a pro-choice Republican running for office saying that he would never vote for him and he ended up as a Mass. Citizens for Life chapter president. He realized the need to get our voice heard and our message out there. He said there were many people who could be convinced of the value of life.
Scot said he often see intentional mischaracterizations of people in the media. Brendan said his show looks at life issue from legal, legislative, biological, political, and spiritual viewpoints. He had no idea when he began that life is being attacked at so many different levels, from the beginning of life to the end of natural life.
Around 2050, he said, there is predicted there will be a dramatic decline in world population because of the initiatives against life. He had as a guest recently Don Feder who shared many of these statistics.
Scot said there are many efforts our Church takes on life issues, including education through the media. Marianne said Brendan has had her on his program to talk about Project Rachel. Even though it's a secular program, she gets many responses from people who seek out help from the Church.
Scot said leadership in the pro-life movement can't be easy. Brendan said he's been ostracized. Sometimes people in your own family won't talk to you. The program is in 1.3 million cable homes. He has realized that other side isn't on television, except through the occasional commercial. He realized that they have nothing to talk about except the process of killing people. He said one aspect that he's covered on the show is the economic impact of abortion, 53 million people in the US who are dead now who would have contributed to the economy.
Brendan said the show is a tremendous sacrifice because he often take part-time jobs to support himself. Yet he's been invited to the White House as well. He wants to grow the program throughout New England and nationally.
2nd segment: Brendan said the program came from wanting to have our voice heard. It was a struggle to get it on in Boston on cable access. They had filled out the application to the local cable access organization, but they couldn't get approved until Mayor Menino's former press secretary helped him get through the bureaucracy. He had a passion for getting the word out to people to change hearts and influence minds.
Marianne said it's important to have such programs. We have only about 18% of Catholics in pews on Sunday and if you look at abortion statistics, you see that Catholic women have abortions at the same rate as the rest of the population. Cable access gives them access to the whole population, not just those who come to Church. The show airs in about 130 communities in Massachusetts, which is about 65% of cable viewers in the state. Being on cable access is good because people often are clicking through from local stations to other cable show and pass right by the cable access.
By being low on the dial, there's a higher probability that people will click through and see the show. He has a lot of post-abortive women who confide their experiences on the show. He had a guest recently, Melissa Ohden, who survived an abortion. When she turned 14, her older sister was going to have an abortion and the adoptive parents revealed that Melissa was adopted. At 19 she sought her biological parents and 11 years later found out that she was aborted alive and survived a saline-infused abortion. She had many medical problems as an infant, but is fine now. There is a documentary about her, "A Voice for Life."
She also found out that her mother was coerced into the abortion and was more than 30 weeks into the pregnancy. Marianne said the Pregnancy Help Center in Brighton works every day with women being pressured into abortion and it gets worse in a bad economy. They are often abandoned by the fathers of the babies. If even your parents don't support you, it leaves you in a very difficult situation. That is why the Church's work in pregnancy help is so important. More than 100 parishes across the archdiocese provide assistance in this area.
Pregnancy Help is available in English, Spanish, and Portuguese at PregnancyHelpBoston.org or at 888-771-3914.
Scot said 313 episodes of LifeMatters TV is very impressive. Brendan spoke of some of his favorites. He had Fr. Tad Pacholczyk on in 2004 to talk abouit embryonic stem cell research. This has been a frequent topic, including Fr. Kevin Harrington and Fr. Nicanor Austriaco. Mary Ann Glendon was also a guest on the show. He gives her credit for refusing an honor at Notre Dame when President Obama was asked to speak.
He's also had Nellie Gray, Ambassador Ray Flynn, and Cardinal Seán. Brendan said Nellie Gray has a unique perspective on abortion, that they should be considered crimes against humanity. She is a key organizer of the March for Life, which brings hundreds of thousands of people every year and get almost no press coverage.
How would someone get Life Matters TV on their town local's cable access station? Brendand assumes there would be one pro-life person in each town. Go to the Life Matters TV and become a town sponsor. It costs nothing to become a local sponsor; they just need to be the local person requesting it. They could become involved in raising awareness of the show, especially in their local parishes. Brendan takes care of most of the distribution, although a town or two may require the local sponsor be the one to bring the DVDs into the station.
In the top 40 metropolitan areas in Massachusetts, they're all in but about 3 or 4 of them and he'd like to get in those as well. They would also like to get more than one sponsor for each town in case there's someone who moves.
3rd segment: When we talk about the teachings on the dignity of human life, we should refer to Pope John Paul's encyclical Evangelium Vitae. He talked about the fact that our sense of the dignity of human life is undergoing an eclipse.
In talking about the eclipse of the value of human life, everyone acknowledges there are some things that are very wrong. But the pope points out in abortion and euthanasia, we've got them upside down and our culture calls them human rights.
All this explains, at least in part, how the value of life can today undergo a kind of "eclipse", even though conscience does not cease to point to it as a sacred and inviolable value, as is evident in the tendency to disguise certain crimes against life in its early or final stages by using innocuous medical terms which distract attention from the fact that what is involved is the right to life of an actual human person.
The challenge is to break that eclipse. Scot said the debate of the issues uses lots of euphemisms: Who isn't in favor of choice or women's rights? But who suffers more than the women, except for the babies?
Marianne said in her work with Project Rachel she sees so much pain. It is a ministry to those who have undergone abortion. Many women have identified their entire adult experience around this pain of abortion. Yet everyone around them have said, "What's the big deal?" The woman is in grief from a loss that is never going to be completely reconciled.
Scot said Planned Parenthood and others profit from this pain, sometimes using our tax dollars, and then use that money to market to other women.
Scot said some people say that calling ourselves pro-life and not anti-abortion desensitizes people to the evil of abortion. Brendan thinks pro-life is a better term because it's optimistic. In fact, pro-choice as a term was a response to pro-life.
They change the language to make it all palatable. Now abortion is only considered after implantation in the womb because Planned Parenthood sells contraception that itself aborts the baby by preventing implantation. Thus women are told it's just contraception and not abortion.
The stress on a woman of taking an abortion pill, like RU-486, can even be greater than a surgical abortion. Brendan said research shows that it has a more devastating impact physically and psychologically. The reason is that the women are ingesting the pills themselves and don't have an abortionist to blame in their mind and they then don't have anyone to turn to. Also, it takes 3 or 4 days to work, but once the pill is taken it can't be stopped, which can be agonizing for a woman who changes her mind. Brendan pointed out that the pills also suppress the immune system, which is leading to illness and even death for women who take them. Marianne said the Centers for Disease Control released a study that has shown women dying from RU-486. Nevertheless the FDA approves the pill in the US.
Scot said if the drug did not receive so much political support because of abortion, it would never be legal.
Brendan also brought that a guest, Dr. Joel Brind, talked about the increase in the number of younger women having breast cancer. Many studies show that there is a real abortion/breast cancer link. Women who've had abortion have a much higher percentage of breast cancer starting ten years out from the abortion. It's primarily abortion of a first pregnancy. The women's breast does not complete development until the first pregnancy and with abortion the development is stopped abruptly and leads to the developing cells becoming cancerous.
4th segment: Scot asked Marianne about some key initiatives in the pro-life office. The Archdiocese is one of the few US dioceses that runs its own crisis pregnancy center. They also run Project Rachel, a post-abortion ministry for women and men feeling grief and sorrow from an abortion. There is a network of priests who minister to them, they have counselors on call, and they provide a series of retreats. Project Rachel is at ProjectRachelBoston.com or call 508-651-3100. Her office also overviews parish-level respect life education for students as well as parish baby shower programs to help provide support and resources for women who need help continuing their pregnancies.
The Catholic Daughters of America every year do a ministry called Pennies for Life, where they collect pennies outside of parishes. They have raised $100,000 from pennies and provide those funds to various pro-life ministries.