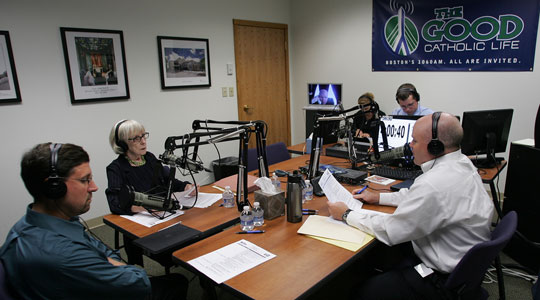 What is this?
Listen to the show:
Podcast: Play in new window | Download
Today's host(s): Scot Landry and Susan Abbott
Today's guest(s): Fr. Roger Landry, executive editor of The Anchor, the newspaper of the Fall River diocese; and Gregory Tracy, managing editor of The Pilot, the newspaper of the Boston archdiocese
Some of the stories discussed on this show will be available on The Pilot's and The Anchor's websites on Friday morning. Please check those sites for the latest links.
Today's topics: Fr. Roger's 2nd editorial on true pastoral care of those with same-sex attractions; a new priest for Fall River; a silver anniversary for an altar server; Fr. John Corapi
Summary of today's show: Gregory Tracy and Fr. Roger Landry discuss the news of the week with Scot and Susan, including Fr. Roger's latest editorial battling common falsehoods about Catholic teaching on homosexuality; the first ordination of a priest for Fall River in two years; the silver anniversary of a very special altar server; and the troubling facts about Fr. John Corapi.
1st segment: Scot welcomed Susan back to the show asked how her week has been. She's been talking to pastors about new programs they're looking to start and using the slower summer to prepare for September. Today is Scot's anniversary. He and his wife were married in Mexico City 11 years ago and it was one of the first wedding Masses celebrated by his brother, Fr. Roger Landry.
2nd segment: Scot and Susan welcomed Gregory Tracy and Fr. Roger Landry back to the show. Scot said there will be plenty of coverage this week on the Mass that will be held at St. Cecilia's in Boston that has been in the news this week. Fr. Roger has dedicated his editorial in The Anchor in recent weeks to the bigger issues being discussed about the situation at St. Cecilia's. This week's editorial talks about what true Christian love is.
Fr. Roger said it's clear that there is a real movement by those who want to have the gay idea of sexuality normalized in America that there are certain principles that go against the Church's teachings with regard to the human person. The Church needs to speak clearly about this to help people understand why and what and avoid confusion. The only adequate response to a person must be love, but it can't be a pale hospitality that doesn't call someone to communion with Christ in truth. He believes this is a critical moment for the Church to respond to moral heresies promoted by members of the gay agenda. He takes up three common falsehoods in this editorial.
People said "What would Jesus do?" implying that Jesus would just embrace those in the gay movement without criticism. But Jesus really wants to help those with same-sex attraction to change, just like the woman caught in adultery. He protected her from violence and didn't condemn, but lovingly insisted she leave that lifestyle behind.
The second is that the "acceptance" they ask for is on the level of their sexual attractions, but the Church wants to accept someone on the basis of who they are as God made them. True acceptance also involves recognizing that at the deepest level of their being, those with same-sex attractions are made in God's image and likeness, and ordered ontologically as male or female toward sexual complementarity. Also, some with same-sex attraction don't make a distinction between accepting themselves and accepting their acts. Fr. Roger said we need to say that because we love them, we can't accept their behavior. Scot said this is the same for many of the teachings in the Church. God created us in a certain way and sent His only Son for us and the Holy Spirit to guide the Church to teach on moral matters.
Susan said when we don't understand the why behind a teaching, to seek out the why and have a preferential option for the Church's teaching. She said when people stand before a group as a representative of the Church, integrity demands they teach what the Church teaches. Scot said it's natural to project the way we think the Church ought to be, but it's troubling when Catholics believe they know more about what God wants or what Jesus would do than the magisterial authority of the Church. Our core teachings don't change. Susan said we can wrestle with doctrines we don't understand, but we should be glib about refusing them.
Gregory said the real challenge is to speak the real truth with love. He said The Pilot tries to bring light into these thorny issues that people don't often understand. When people get a real detailed explanation, they usually come to realize the wisdom of the Church's teaching.
Fr. Roger said the third common falsehood is that claim that those opposed to the gay agenda are motivated by homophobia or hatred. It supposes that there would be no reason for someone to oppose redefinition of marriage or approval of some kinds of sexuality other than hatred. From the editorial:
While there's no dispute that, sadly, in some places real homophobia does exist, ministers to the gay community have a duty not only not to abet this confusion but to disabuse those entrusted to their care from thinking the Church's teachings on same-sex activities are based on hatred rather than love grounded in truth; they also have the responsibility to remind them that judging others or mendaciously bullying others with epithets about their character are grave sins that those with same-sex attractions are not exempt from committing.
Fr. Roger said the tide has turned in society with regard to bullying. In the past, those with same-sex attraction who would be subject to ridicule and discrimination. But now it's Christians who stand up for their faith who are subject to ridicule and even job loss for refusing to accede to a particular agenda or just for being Catholic. He cited a woman in the Boston Globe who said it was more difficult to "come out" as Catholic than it was to come out as lesbian.
Scot noted that there was a bill in California filed this week mandating that history of the gay movement to be taught in all schools with no opt out for parents. In Rhode Island, the governor signed a bill legalizing civil unions. Bishop Tobin of Providence wrote that civil unions cause grave scandal and are grave matter. He said that Catholics may not participate in civil unions.
Saying that civil unions "promote an unacceptable lifestyle, undermine the faith of the church on holy matrimony, and cause scandal and confusion," Providence Bishop Thomas J. Tobin reminded Catholics that they may not participate in such ceremonies. "To do so is a very grave violation of the moral law and, thus, seriously sinful," he said in a statement June 30 …. Bishop Tobin said he was "deeply disappointed" at the decision to permit civil unions. "The concept of civil unions is a social experiment that promotes an immoral lifestyle, is a mockery of the institution of marriage as designed by God, undermines the well-being of our families, and poses a threat to religious liberty," he said.
Gregory said he recalls people who said during the gay marriage debate in Massachusetts that allowing it would not harm anyone else's marriage. But as we see, it never ends at just allowing it. Instead, it often becomes necessary for all to accept it. For example, schools begin to teach about same-sex couples in their curricula as part of an ongoing agenda to indoctrinate children.
Scot noted an Anchor story this week about a series of videos produced by the US Bishops Conference on marriage, including religious liberty and traditional marriage. The aim of the videos is to help educate, catechize, and advocate for a better understanding of the truth that marriage is a permanent, faithful union of one man and one woman.
3rd segment: In the Anchor this week, the Diocese of Fall River will ordain Deacon Riley Williams to the priesthood. He will be the first priest ordained for Fall River in two years. Fr. Roger has know him since Riley was in high school. He also attended the Pontifical North American College in Rome, where Fr. Roger went to seminary. He's a convert to the faith who comes from Cape Cod. His first year as a priest will be spent in Rome getting an advanced degree.
Fr. Roger said many in Fall River are concerned that they have only 6 seminarians for the diocese. Riley said in the article that his formation was enhanced by St. Francis Xavier Prep School in Hyannis, where the faculty often spoke of the possibilities of a vocation to the priesthood. We all need to promote more priestly vocations in our homes, our schools, and our parishes.
It's harder to ask young men to give their lives over to Christ in the Church if the families themselves are not immersed in the Christian life, giving everything over to the Lord.
Scot noted that during Reconfiguration in the Archdiocese many were upset their own parishes were closing, but a part of the problem is that there aren't enough priests. It shouldn't be just up to priests to ask young men if they want to go on a vocation retreat, but should be the duty of all Catholics. As Mother Teresa used to say, No priest, no Eucharist. Without the priests we lose most of the sacraments.
Scot said another Anchor article talks this week about a man who was born with Down syndrome and started as an altar server when he was 8 years old. He is now celebrating his 25th anniversary as a server. The young man, Eric White, had cancer in his bones and lymphatic system. His family took it to prayer and the next morning he was cancer free. "I prayed and my faith in God cured me," Eric said.
"I like serving Mass," said Eric, who began as an altar server alongside his brother when he was just eight years old. "My brother Bobby taught me everything. I like bringing the chalice to the altar and I also carry the cross and lead the procession at the beginning of Mass."
Gregory said the mother's doctor, when she became pregnant with another child after Eric, suggested she abort the child in case he had Down syndrome too. The implication is that Eric was a mistake, that his life was not worth living. Society has come to the notion that if anyone has any suffering that perhaps their lives are not worth living.
Susan said her office is encouraging parishes to prepare for religious education with special needs children. St. Francis of Assisi in Braintree recently received an award from the town for their work with special needs children who received First Communion.
Fr. Roger also recalled another man with Down syndrome who had been serving at the altar for 40 years in a parish Fr. Roger had served at on Cape Cod. He had a beautiful faith and a great reverence for the Mass. It's the unsung heroes like Eric White who not only make the Church run, but make it shine.
4th segment: Scot said earlier this week, the news come out that Father John Corapi's religious order, the Society of Our Lady of the Most Holy Trinity released a statement to respond to some remarks made by Fr. Corapi about the investigation of allegations made against him. The statement wanted to set the record straight.
While SOLT does not typically comment publicly on personnel matters, it recognizes that Fr. John Corapi, through his ministry, has inspired thousands of faithful Catholics, many of whom continue to express their support of him. SOLT also recognizes that Fr. Corapi is now misleading these individuals through his false statements and characterizations. It is for these Catholics that SOLT, by means of this announcement, seeks to set the record straight.
Scot said it is a troubling development and he wanted to discuss it because he was a well-known presence on the radio network and he was scheduled to speak at a conference in Boston this summer.
Fr. Roger said it is very troubling to see a priest go down the path of open vice. We have to increase our prayers for Fr. Corapi because this is a path that he used to preach to get people away from. For anyone who has been helped by Fr. Corapi needs to return the favor and pray very hard for him.
Scot noted that the order has directed him under obedience to return to the community and drop the lawsuit he filed against his accuser. Gregory said that for anyone scandalized by this case, especially those who were helped by him, it doesn't necessarily invalidate everything he said. The truth of the message does not depend on the virtue of the messenger. He has seen people lose their faith when a previously revered priest were removed from ministry after accusations of abuse. If you receive a counterfeit bill, it doesn't mean you shouldn't trust US currency.
Susan said she was troubled by the articles and the list of transgressions. She was also troubled that it had to be aired this way because the order felt that it had no other choice.