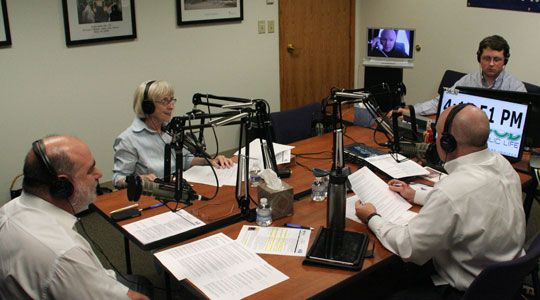 [wdgpo_plusone]What is this?
Listen to the show:
Podcast: Play in new window | Download
Today's host(s): Scot Landry and Susan Abbott
Today's guest(s): Antonio Enrique, Editor of The Pilot, the newspaper of the Archdiocese of Boston, and Fr. Roger Landry, Executive Editor of The Anchor, the newspaper of the Diocese of Fall River
Some of the stories discussed on this show will be available on The Pilot's and The Anchor's websites on Friday morning. Please check those sites for the latest links.
Today's topics: Pope Benedict's 60th anniversary of ordination, he launches a Vatican news website with a tweet, and appoints a new archbishop of Milan; Fr. Roger's editorial on the Church's pastoral care of those with same-sex attraction; the US bishops issue a document on assisted suicide
Summary of today's show: Scot and Susan are joined by Fr. Roger Landry and Antonio Enrique to discuss the news of the week, including Pope Benedict's 60 years as a priest; an historic papal tweet to launch a new website; a significant appointment of an archbishop; Fr. Roger's editorial on what being "welcoming" really means; and the US bishops' new policy on assisted suicide.
1st segment: Scot welcomed Susan back to the show. They noted that Cardinal Seán gave Pastoral Center employees Friday off for the long weeked. The end of June is busy at the Pastoral Center to end the fiscal year and finish programs before the height of the summer period.
This week, because the Pilot is on its two-week hiatus, news stories are from the Anchor and from Catholic News Service. Also, Greg Tracy is on vacation so his boss, Antonio Enrique, is here in his place.
2nd segment: Scot welcomed Fr. Roger and Antonio to the show. Scot said it's great to have Antonio to have on the show finally. He's been the editor of the Pilot for 10 years. His first week was the week of September 11, 2001. The newspaper's offices were downtown in Boston. It was quite a hectic time as they reported on the events in relation to the Church.
One of the big stories this week was Pope Benedict celebrating his 60th year as a priest. He gave a homily as the Mass of Sts. Peter and Paul where reflected on his 60 years. Fr. Roger celebrated his 12th anniversary on Sunday and he can't imagine how rich the experience of 5 times that many years would be. The Pope almost never preaches on the first person singular in his homilies.
He recalls being frightened at his ordination when he realized Jesus would be using his own very being to forgive sins and bring the Body of Christ to others, that he was immersed in wonderment at being a priest and this continues to today. He also talked about what friendship with the Lord means and led a public examination of conscience by asking us whether we make the commitment back to Jesus that Jesus makes to us. He also applied the image of how great wine is made with sunshine and rain and crushing of grapes and fermenting to his own experiences in life of joy and suffering.
Scot was struck by the Pope saying that this calling of the priest to friendship with God is "so awe-inspiring that one can feel daunted as the decades go by amid so many experiences of one's own frailty and his inexhaustible goodness," he said.
Susan noted that the Holy Father connected the pallium that was being imposed upon new archbishops at the Mass with this Sunday's Gospel on the yoke of Christ.
On Tuesday, Pope Benedict launched a new News site for the Vatican. Antonio said he is happy to see the Vatican embracing the new media, that now everyone is online, not just young people. That the Pope launched the site personally shows the importance he attaches to this.
"Dear Friends, I just launched http://t.co/fVHpS9y Praised be our Lord Jesus Christ! With my prayers and blessings, Benedictus XVI"
Scot said it was very powerful that the Pope did this on an iPad with a tweet. Susan said we have to give credit to Cardinal Seán for being at the forefront of this. She also noted how the Pope has said he wants to be present wherever the people are found. Fr. Roger said the Vatican is trying to integrate the separate departments in television, radio, a news service, its website, the Fides missionary news agency and more, and you used to need an expert Vaticanologist to find these things. It used to be that when the Pope traveled over the weekend, you didn't read his homilies until Tuesday. Now, the speeches will be available immediately, including PDF copies of L'Osservatore Romano, radio stories, video, and other forms.
Pope Benedict for the last several years in his World Day of Communications messages has been calling the whole Church to evangelize in the new media, particularly priests. Pope Benedict is leading the way.
The Pope also made a significant appointment in the new archbishop of Milan, one of the five most important dioceses in the world. It's one of the largest dioceses in the world and almost every archbishop of Milan is considered a possibility to become next Pope. Cardinal Angelo Scola was the Patriarch of Venice previously. Antonio said Scola is very forward-looking. He's very interested in Christian-Muslim dialogue. He's been a personal friend of the Holy Father for many years. Antonio said it's significant that Cardinal Scola goes back to Milan. He's from Milan, but wasn't ordained for that archdiocese because the archbishop at the time did not like the Communion and Liberation movement that Cardinal Scola belonged to then.
Fr. Roger studied under Cardinal Scola in Rome. He had three courses with him at the John Paul II Institute for Marriage and Family at the Lateran University. He was incredibly brilliant but a terrible teacher, Fr. Roger said. His sentences would go on and on. Yet absolutely brilliant and a tremendous interpreter of the theologian Hans Urs von Balthasar and John Paul II, especially his theology of the body. He's a great theologian in his own right. He's an incredible personal and dynamic man. He always treats others with great attention.
3rd segment: St. Cecilia Parish in Boston has been in the news lately with regard to a Mass that had been planned for gay pride month in Boston. Fr. Roger wrote an editorial in the Anchor about how the Church cares for those with same-sex attraction.
Fr. Roger wrote that the Church calls for authentic welcome of those with this attraction, but that doesn't mean just making them feel at ease, but offering the great gifts of the sacrament of cleansing through conversion in confession. He said there's been a great calumny against the Church that the Church doesn't love people with same-sex attraction because we ask them to leave the gay culture behind. We're not loving and serving people if we don't offer them the truth and Christ's authentic love.
He said one of the issues facing the whole Church is whether so-called welcome Masses really welcome people or encourages dissent from the Church. Antonio said the Church's teaching is clear so it's hard to understand why it's so often misunderstood. The Church welcomes everybody already, but the Church is about conversion, about where we are and where Christ wants us to be, leaving what is wrong and embracing what is right. When we try to say that people don't need to change, we are not encouraging them to embrace Christ, but to continue a destructive lifestyle. Christianity is about happiness, and that happiness is found in being in conformity with the mind and will of Christ.
Susan said parishes are already welcoming and open to all who want to come to Christ. But they are also teaching the truths of the Catholic faith, because people have a right to the truths of the faith.
Scot said sometimes "welcoming" is used by some people who have an agenda that is in contradiction to the objectives of the Church and the truths of the faith. Fr. Roger said he was moved by someone in a Globe article who said she suffered more for "coming out" as a Catholic than she did for "coming out" as someone with same-sex attraction. Being Catholic is much more likely to result in discrimination in some circles. He said some parishes give a wink and a nod to Catholic teaching and promise that people with unrepentant sin need never worry about being made to feel uncomfortable.
4th segment: Scot said at their June meeting, the US bishops' conference approved their first document on physician-assisted suicide.
Cardinal DiNardo of Houston was the chair of the bishops' pro-life committee and had much to say on the topic.
"With expanded funding from wealthy donors, assisted suicide proponents have renewed their aggressive nationwide campaign through legislation, litigation and public advertising, targeting states they see as most susceptible to their message," the document says. "If they succeed, society will undergo a radical change." It specifically criticizes the former Hemlock Society, "whose very name reminded people of the harsh reality of death by poison," for changing its name to Compassion & Choices. "Plain speaking is needed to strip away this veneer and uncover what is at stake, for this agenda promotes neither free choice nor compassion," the policy statement says.
This shows the power of words. They chose a name that gives the impression that they are about life, not about death.
Susan said bravo to the bishops for a document that is very much needed. She said she'd recently been to a eugenics exhibit at Harvard University. It shows how the Nazis worked to create an "ideal society". She said assisted suicide is part of that slippery slope. She could picture an argument for ending life "compassionately" in order to save money for causes like books for kids to make it sound good.
The head of the Compassion & Choices responded: "While we respect religious instruction to those of the Catholic faith, we find it unacceptable to impose the teachings of one religion on everyone in a pluralistic society. We believe end-of-life care should follow the patient's values and beliefs, and good medical practice, but not be restricted against the patient's will by Catholic Church doctrine."
Cardinal DiNardo responded that true compassion is to bring assistance to people. Also, the Church needs to be in the public square because it's one of the few institutions defending the poor, needy, and suffering against these threats against the dignity of the human person. Society turns people into objects, but the Church upholds people's God-given dignity and right to life.
Scot's favorite quote from the document: A society that devalues some human's lives, by hastening and facilitating their deaths, will ultimately lose their respect for their other rights and freedoms.
Fr. Roger said its was encouraging that the language of the document is direct and practical and forthright. Cardinal DiNardo said clearly that if we don't do this, people will die. As we've seen in the Netherlands where assisted suicide is legal, it's not just people at the very end of terminal illness who seek suicide, but even teens who are heartbroken killing themselves under this law. And when we say some lives are less worthy, we can say "your" life is less worthy. We move from voluntary assisted suicide move to "involuntary" assisted suicide and incredible pressure is put to bear on the ill to kill themselves for the convenience of others.
The movement for assisted suicide is pushing this issue in many places, including Massachusetts. Fr. Roger encourages all Catholics to read this brief document so they can have informed conversations with family and friends when it come up.
Scot's second favorite quote from the document:
The founders of our country declared that each human being has certain inalienable rights that government must protect. It is no accident that they named life before liberty and the pursuit of happiness. Life itself is a basic human good, the condition for enjoying all other goods on this earth. Therefore the right to life is the most basic human right. Other valued rights—the right to vote, to freedom of speech, or to equal protection under law—lose their foundation if life itself can be destroyed with impunity.
Also in the Anchor this week is a story about a movement to strip Medicare funding from abortion providers at the state level.
Susan recommended stories on our own Sr. Olga Yaqob, who is starting a new religious order in Boston. Scot said it's uncommon for a bishop to ask a religious sister to start a religious order, as Cardinal Seán has done here.
Antonio noted that the Pope has advanced several causes for sainthood, including those from his native Spain from the Spanish Civil War. Antonio's own parents and grandparents lived through this time in which people were murdered for their faith, including thousands of priests and religious. He said we cannot forget this because it shows that this can happen anywhere. Spain itself was a very Catholic country that respected people's rights and it all changed so quickly.