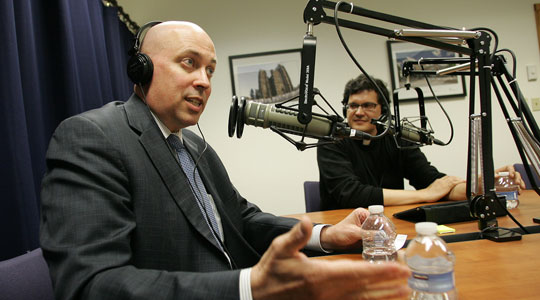 [wdgpo_plusone]What is this?
Listen to the show:
Podcast: Play in new window | Download
Today's host(s): Scot Landry
Today's guest(s): Jeffrey Thielman and Fr. Jose Medina from Cristo Rey Boston High School
Cristo Rey on CBS' "60 Minutes"
Today's topics: Cristo Rey Boston High School, a new model of Catholic education
A summary of today's show: Jeff Thielman and Fr. Jose Medina tell Scot about Cristo Rey high school in Boston and its unique model that puts students to work in the corporate world one day per week to give them important life skills and to help them pay for an education they wouldn't be able to afford otherwise.
1st segment: Scot said Catholic education is one of the Church's most important outreach initiatives, especially to non-Catholic students to help them improve their lives and communities. Today an exciting topic. Cristo Rey has a unique model of secondary education. Joining Scot is Jeffrey Thielman and Fr. Jose Medina. Jeff was a Jesuit Volunteer from 1985 to 1989 in Peru. In 1994, a priest he had worked with there founded Cristo Rey high school in Chicago. The students there work at white collar firms to earn their tuition. In 1997, he visited the school and was hired as development director and worked there for three years.
In 2000, a venture capitalist originally from Lowell came to the school and said he wanted to see Cristo Rey schools all over the country. He hired Jeff in 2001 and he oversaw the founding of 24 schools all across the country. In 2008, he moved to working exclusively locally at Cristo Rey Boston. The school started in Cambridge and moved to Boston's Dorchester neighborhood this year.
In Boston there are two Cristo Rey schools, Cristo Rey in Boston and Notre Dame in Lawrence, founded in 2004. Chicago has three, Boston has two, and no other diocese has more than one.
Fr. Jose taught for a year at North Cambridge Catholic High School, which was the school Cristo Rey Boston was founded from. It was struggling financially and it was converted to Cristo Rey. He and Jeff wrote a feasibility study for the idea. He moved to Washington, DC, and came back 5 years ago and became principal of the local Cristo Rey school.
Jeff described what makes Cristo Rey unique. It is the work-study experience. Four students split a full-time entry level job in greater Boston. Every student works five full 8-hour days per month. One student works 9-5 on Tuesday, the next on Wednesday, etc. and they rotate a Monday. The school is organized so that all the freshman have the same work day, and so on, so no one misses a class. They work to make tuition. The family assigns all the earnings to the school. The kind of student they get is one who wants to work hard for a better life. They learn how to work in a team, to be on time, to work hard, to learn.
They are a Catholic school. All students take theology, go on retreats, go to Masses. It's a small school. Every student is known by everyone, especially faculty. It's also college prep, preparing every student to go to college.
Fr. Jose said they serve low income students exclusively. From the first Cristo Rey school was to serve the students who don't have the resources to go to a Catholic college preparatory school. It is easy to get away from your mission if it can't be measured, so they are committed to a low-income population, which here is 75% of the per capita income of Boston. For a family of four children is $40,000 income. They will also be academically excellent.
They see a population in eed of great support and help. When the family doesn't have the means, they need someone who will not just give money, but will support them. They want their children to be better than they are, to be more successful. They know they will need help from someone else. The students play that role for others as well. When the family signs the agreement for the school, they go over what the parents will pay (between $100 and $2,800), what the school will fundraise and what the student will earn ($7,250). The students bring in 60% of the school's budget. They are responsible for their education but they also raise the money for their teachers' jobs.
Scot asked Jeff for the demographics. The average income of the current student body is $34,000. Next year, the average income will go even lower. 93% are people of color, 73% are residents of Boston, 30% from Quincy, Braintree, Randolph, Malden, Medford, Saugus, Revere, Lynn. They are young kids with desire and are willing to work hard for a better life. The average student is a grade below where they are academically, i.e. in 8th grade they are doing 7th grade work. They have mandatory remediation for freshman. They have a monthly proficiency exam developed by the teachers. A lot of them score "needs improvement" on the MCAS. But the kids have a burning desire to make it.
When they did a feasibility study in 1993, parents came to them and said they want their kids to go to college. 15% are Haitian a little less Cape Verdean; 20% are Latino, and the rest are African-American. A high percentage had parents who were born outside the United States, many were themselves born outside the country.
2nd segment: Scot said he was never taught basic job and career management skills in high school, but these students are prepared at 14 to be able to go into business and hold their own.
Jeff said they're working at 104 companies in Greater Boston. The biggest objection is whether the students will be ready to work. They start a summer training program in June and August. It's a boot camp to learn hard skills—telephones, message taking, email, how to use the Internet, how to make copies—and soft skills—look people in the eye, dress appropriately, show up on time, ask if you don't understand an assignment. They have state of the school addresses to students: number of jobs, amount of money raised, how students were terminated, so they know how their work is important to their own futures. The experience pays the bills and forms them to be fantastic young people.
Scot said when they walk into a skyscraper for the first time, they may never have thought they'd work in such a place. Fr. Jose said it's a humbling experience that the kids bring back to the school. Four years ago a student said work is more serious than school, because at work you can only get something wrong once. It gives them a sense of reality, that they need to do their best with precision and accuracy.
They always ask the students to ask for more work. That would sound strange in a classroom, but it's expected in the workplace. Fr. Jose said there's been a big change in the teachers coming from the desire and drive and high standards of the students. If the kids criticize teachers, it's because they want to learn more and better.
Because they're paying their own way, they are more serious about their education. In heir senior year, they see that they are forming themselves.
Jeff said they do entry level work: copying, filing, data entry, inventory, small research projects. In one company, a student is assigned to update the CEO's Christmas mailing list constantly. Some kids help with hospital intake because they're multilingual. Some kids work the front desk reception. At law firms, they run documents to court or other law firms. When the recession hit in 2008, a lot of clerical workers were cut. but the work still needed to be done and Cristo Rey was able to fill those gaps.
this whole work makes education relevant. One of the challenges in high school education is making it relevant to kids who could care less. It helps them understand why they're studying all these various subjects; so that one day they can have an important role in business. Relevance is critical in education today.
Fr. Jose said in some ways they teach at a more practical level because they want to use the skills immediately in their jobs, but they still offer a more classical education. What matters to the students is that they understand that there is a value in learning as much as in working. Students know that what they are studying affects their lives, even if it's not directly applicable to their jobs. What you learn in school is what is left when you've forgotten everything else: You've learned to think, to sacrifice, to commit, to pay attention, to have curiosity.
Students in other schools sometimes think life would be better in a job than in school, but Cristo Rey students have a better perspective. They have the tools to do better in college, which is what makes them different from vocational education.
100% of the students get accepted to four-year colleges. Scot said this is astonishing given how many come in with remedial educational needs.
There are 104 corporate sponsors. Scot asked how they benefit besides getting a worker for $29,000 per year. Jeff said the students have to add value to the school through their work. They add value by diversifying the workplace. They are potential future employees or customers or suppliers to these firms. A lot of people who work in Boston live outside the city and don't know it well, just what they hear in the news. Companies are able to do something concrete and tangible for city kids. Sometimes people from the firms get more involved in the school because of that exposure. Jeff said corporate American becomes closer to the center city.
Scot asked what kind of feedback do they get from corporate sponsors. Jeff said there's a 90% retention rate, i.e. they renew in the program from year to year. For one thing, these positions usually have high turnover so what Cristo Rey offers is four excited, hard-working students who do the same task for an entire year, stabilizing those positions.
3rd segment: 60% of the students are CAtholic, but the Catholic identity of the school is primary part of their identity. Fr. Jose said they believe it's important for the school to give students the Catholic theological basis for facing the challenges of the rest of their lives. Even the value of work is at stake. The question of the purpose of life is present from the very beginning.
Theology classes give the students a deep understanding of Scripture. In junior year there is a course on world religions to compare and contrast different religions. It helps them understand the root of each student's faith. With the diversity of faiths in the student population, this difference in faiths is enriching for everyone. Fr. Jose sees his mission as helping each student deepen in his own faith.
Scot said Pope John Paul talked about work as a gift of God. Jeff said the mission of Cristo Rey is to form people of faith, purpose, and service. They have a call to do something special in life and to serve the world, making it a better place. they reflect on it in retreats and continuously through the year. The learn that there is a dignity to work for everyone in the workplace from janitor to CEO. They understand why having a job and doing a good job is important for a good society.
Students often go on to Catholic colleges, especially Jesuit colleges, because of the Jesuit connection. The students who come back report that they feel at home. The sense of community in the school as they grow and sacrifice. They often have to sacrifice sports and other activities in order to be successful.
Jeff said the school is now tracking the students after graduation. The class of 2009, 100% started college and 85% went from freshman to sophomore year. Most of the last three years of students felt they were doing well in college and were well prepared. the school finds it important that the students will be well-cared for. They look for colleges with high graduation rates, that offer freshman assistance programs, and more. They research colleges to make sure they're sending them to the right place.
For most of the students, they are the first in their families to go to college. The college application process involves the whole family and the school walks them through the entire process, including the whole financial aid package. they don't recommend any family take on more than $8,000 of family contribution to tuition each year. The students bring a maturity with them to college, often greater than any of the other freshman.
Jeff said sometimes supervisors give letters of recommendation. He also finds that colleges are impressed by the lists of employers that the students' resumes have. When they go off to college, the students think a lot about their experience and that influences what fields of study they pursue. A lot of kids want to go into healthcare so Jeff is looking for more job opportunities in biotech and healthcare.
Jeff said one their graduates is now working at Deloitte, a big financial services firm, in Boston, who worked there when in high school. Some kids decide against a particular career after some experience at a particular kind of job and go into another field instead.
4th segment: A significant milestone for the school this year was the move from Cambridge to the former St. William's school in Savin Hill in Dorchester. Jeff said it's helped them to get closer to their kids physically. It's also larger and more functional than the old school.
If a family wants to find out more is to visit the school. Every applicant spends a half-day at the school. Also visit the school's website. If a corporate sponsor wants to learn more, go to the website, call the school 617-825-2580 and ask for the corporate study office, or get off Exit 15 on the Southeast Expressway right by the Savin Hill MBTA stop.
They need 20 new corporate sponsors per year over the next 5 years. They want to place 100% of the students by the first of August.
Thirty percent of the operating costs of the school come from fundraising, about $900,000 per year. At the academic signing day each spring, the top 5 students announce where they're going to college at a public event, a ceremony like athletic signing ceremonies. They raise money at that event, but they also accept donations all year long.
49 students are graduating later this week. Two are going into the US Marine Corps and the rest to 4-year colleges. Dr. Mary Grassa-O'Neill, the superintendent of schools in the Archdiocese of Boston, will speak about the commencement.
Jeff said they love to have people come visit and people who come find it welcoming and inspiring.