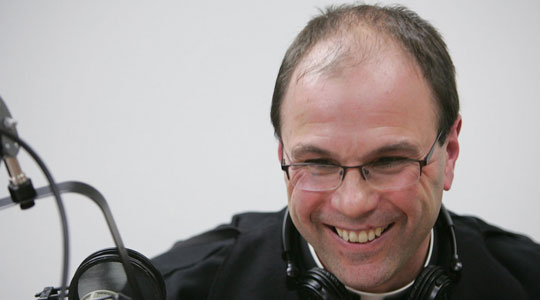 Listen to the show:
Podcast: Play in new window | Download
Today's host(s): Scot Landry and Fr. Chris O'Connor
Today's guest(s): Fr. Wayne Belschner, pastor of Sacred Heart Parish, East Boston
Today's topics: Fr. Wayne Belschner's vocation story and the unique pastoral situation of Sacred Heart Parish, East Boston
A summary of today's show: Scot and Fr. Chris welcome Fr. Wayne Belschner to discuss his journey to the priesthood, his seminary years in Rome, his first assignment in Woburn, and his present parish of Sacred Heart in East Boston, where he serves an ethnically diverse parish that comes together as one Catholic family.
1st segment: Scot welcomes Fr. Chris O'Connor back to the show. This Saturday 5 men are preparing for ordination to the priesthood as well as a brother with the Franciscans of the Primitive Observance. This week they are on retreat at the retreat house in Milton run by the Oblate Fathers. The ordination on Saturday is at 9am. It's a busy time for the men and the Mass itself is 3 hours long. After, they will have a reception with family and friends where they offer their first priestly blessings. On Sunday, they have their first Mass celebrated throughout the diocese, typically in their home parishes. They will have a week off, but will typically return to the parishes they served as seminarians and celebrate Mass there. Usually during the month of July, Cardinal Sean's blog includes the new priests writing their stories.
At their first Mass, the new priests typically ask another priest to preach the homily. It's usually a spiritual director or another priest who was instrumental in their vocation. This week's Pilot will have profiles of each of the men and CatholicTV will show the Mass live. Everyone is welcome to the cathedral for the Mass.
2nd segment: Scot and Fr. Chris welcome Fr. Wayne Belschner to the show. Fr. Wayne was the youngest of 11 children in his family. He one sister and 9 brothers. They lived in a small house with just 4 bedrooms for everyone. They all ate dinner at one table and this was family time where everyone shared their day. His whole family remains extremely close. Having nine brothers prepared him well for the fraternity of the priesthood.
His parish growing up was St. Mary of the Assumption in Revere. His parish priest was an example and a mentor that had a tremendous impact on his vocation. He first had thoughts about a priestly vocation as a sophomore in high school. His pastor, Fr. Mahoney, took ill and he spent a lot of time helping him and saw how remarkable he was in how he worked in his ministry. He was a gentle person, but his example affected his life deeply. Fr. Mahoney's recommendation for his entrance into seminary was received on the day that Fr. Mahoney's funeral was celebrated. When Fr. Wayne first asked him for a letter of recommendation, Fr. Mahoney tore it up and said he would only sign it if he knew Fr. Wayne was not being pressured to enter the seminary.
He studied for a time in Rome at the North American College. During the four years of college seminary, there 70-80 men there in the late 80's and early 90's. And as he was finishing, he was asked to go to Rome for the NAC. He made some close relationships with friends in Italy that he remains in touch with. His mother was Italian and she was very proud that her son was becoming a priest. His father was like Fr. Mahoney who wanted to be sure he was doing this not to prove something, but because it was what he really wanted. His parents came over to Rome to visit, which was their first trip overseas. His parents were very supportive.
A highlight of studying in Rome was meeting Bl. John Paul II. They had many opportunities to go over for Mass with him and he served Mass with him in his private chapel. The classes, as well, showed him the universality of the Church. There were religious and lay people in the college. He studied at the Pontifical Gregorian University. Some of the professors were in fact many of the experts at Vatican II, who wrote some of the documents of the council.
Fr. Wayne was ordained 16 years this week. His class of priests was 21 men, 18 from St. John's. The cathedral was completely silent as their names were called and as they approached the altar. It's an awesome feeling. They got an understanding of being part of something bigger.
The priest who was supposed to preach at his Mass became ill and he had someone come in at the last minute. Like Fr. Chris, he remembers being so nervous. His mother said her favorite part of the Mass was the end when the deacon gave the dismissal because it was the first time in public they'd ever seen anyone get the last word over Fr. Wayne.
3rd segment: In the past 16 years, he's had two assignments. His first assignment was at St. Charles Borromeo in Woburn, where he had two different pastors. After his first term of five years was up, he got two one-year extensions. He was going to go to work with the Military Archdiocese, but that fell through and he stayed for an eighth year. The parish was thriving and it seemed the lives of the people were centered on the church. The community allowed the church to be very active in the community and they valued the input of the church. Leaving after his eighth year was the most difficult transition for him. Then he went to Sacred Heart Parish in East Boston. He went to check out the parish ahead of time in street clothes and he tried to go into the church during First Communion practice and was literally pushed out the door by the religious education director. That was his introduction to his new parish.
St. Charles in Woburn is known for producing many vocations, to the priesthood and religious life. Fr. Hank Garrity was a pastor there and was very strong working with the youth in the city and promoted vocations. The city is a very close-knit community that values faith and the input of the church. All of that is a recipe for vocations. It is a vocations factory.
He learned by example also from a pastor, Fr. Paul Sughrue, on how to be a pastor. When the abuse scandal broke, Fr. Sughrue was proactive and provided good leadership. Fr. Timothy Shea came in and continued the momentum of the parish looking forward. He was very good at shoring up the finances of the parish, paying all of the parish's debts and the school was operating in the black as well with a full enrollment.
His favorite part of being a priest is the opportunity to say Mass every day. It is at the table that families and friends exchange the intimate moments of our life and at God's table we share our moments, but also God's intimate moments. The Mass fuels everything that takes place. At his deacon assignment there was a sign over the chapel door: "This is the most important thing you will do all day."
One of his favorite saints is St. Josemaria Escriva, founder of Opus Dei. His spirituality was that you find God in the ordinary moments of the day, being with ordinary people. And then you come to the Mass you see that this is the most extraordinary thing that you'll be doing. He likes the movie "There Be Dragons" and it presents both the man and the message in a positive way.
4th segment: Fr. Wayne describes Sacred Heart as unique and very diverse. Their weekend Masses are celebrated in English, Italian, and Vietnamese. When the parishes closing around them, they started to absorb different ethnic groups and they were intent on being one parish, not three different parishes. All holy day Masses are celebrated trilingually and they incorporate all the groups into the liturgies. This was done with very little effort. The people were very accommodating. In East Boston, they are characterized by their understanding of family. When someone comes to the door, they are brought right in to the table and they are the same way at church.
When Fr. Wayne was in Woburn, he found it too quiet, but when he got to East Boston, he found the planes flying so low over the house, he heard the stewardesses telling him to sit down. But what he finds the most difficult part of being pastor is the language barrier with the Vietnamese community. He feels he could be doing more to minister to the elderly Vietnamese community. They have priests who come in on the weekend for Masses, but they have difficulty ministering and reaching out during the weekend. He has been learning Vietnamese from the young people in the parish, and he's trying to learn the prayers of the Mass in that language.
He finds the community to be quite stable. Even though people may move out of the city, they come back to the parish for Mass on Sunday with their parents or grandparents. They may live in Saugus or Lynn or Randolph, but they come back for Mass. This is true for both the Italian and Vietnamese communities. The Vietnamese community has many activities for the whole group from about 1pm until 8pm at night.
Fr. Chris notes that the communities all have their own special traditions that continue to live on, whether Italian or Portuguese or Vietnamese. Fr. Chris celebrates Masses on the weekends and the community has embraced him. It is very welcoming. In their diversity, there is a unity.
Scot asked what lessons Fr. Wayne has learned about bringing together merging parish communities. Fr. Wayne said East Boston at one time had 9 parishes, 11 worship sites (including the Madonna shrine and the airport chapel) and 7 schools. But the demographics changed and some of the churches could not be maintained. People were tied to and identified with their parish. But the people of Sacred Heart were ready to welcome others from outside. Out of the 7 schools, four pastors closed their schools and opened East Boston Central Catholic School in 1972, one of the first regional consolidated schools in the archdiocese. When Star of the Sea school closed, the parents from that school were invited over the next day. They didn't join the school. They became part of the family as one group together. They also recognize that they don't have all the answers. They are open to having a dialogue. The spiritual life of Sacred Heart took off when they welcomed these other communities in.
5th segment: In his spare time, Fr. Wayne is studying for a doctorate in church history, as if he doesn't have enough to do. He's studying at Boston College School of Ministry. He received a Licentiate degree (STL) (which is the ecclesiastical academic degree equivalent of being halfway between a Master's and Doctorate). He has now moved on to the doctoral thesis stage.
Scot said the history of the Church in East Boston must be amazing. So many of the ethnic parishes in the archdiocese have been closed because they were no longer needed for the original purpose of ministering to people of a particular language because people now spoke English or have moved out to the suburbs. In East Boston, there were two parishes across the street from each other.
Fr. Wayne said ethnic parishes were established with an eye toward the own closure when they had helped the immigrant assimilate into the wider Catholic community. Instead, the national parishes become closely identified with the people. In East Boston, there were Spanish, French, Italian, Irish parishes. Over time, those groups moved on and other parishes moved in who didn't need the Mass in those languages.
That will conclude today's presentation of The Good Catholic Life. For recordings and photos of today's show and all previous shows, please visit our website: TheGoodCatholicLife.com. You can also download the app for your iPhone or Android device at WQOM.org to listen to the show wherever you may be. We thank our guest, Father Wayne Belschner. For our co-host, Father Chris O'Connor, our Production team of Rick Heil, Anna Johnson, Justin Bell, Dom Bettinelli, and George Martell, this is Scot Landry saying thank YOU for listening, God bless you and have a wonderful evening!