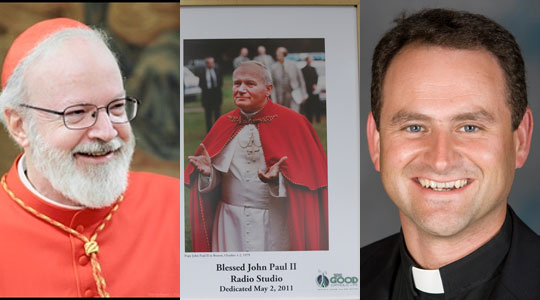 Listen to the show:
Podcast: Play in new window | Download
Today's host(s): Scot Landry
Today's guest(s): Cardinal Séan O'Malley, Andreas Widmer, Fr. Daniel Hennessey
Today's topics: Reflections on the Beatification of Pope John Paul II; Dedication of the radio studio to Bl. John Paul II
A summary of today's show: Cardinal Sean, Fr. Dan Hennessey, and Andreas Widmer called in from Rome to give their own unique perspectives on the beatification ceremonies: as a cardinal, a priest, and a former Swiss Guard. They also imparted the flavor of the day, the peace and joy evident in the event even in a crowd numbering close to 2 million. Also, today, we dedicate our radio studio under the patronage of Bl. John Paul II.
1st segment: Yesterday, on Divine Mercy Sunday, Pope Benedict XVI beatified his predecessor, the now Blessed Pope John Paul II. This holy pope was a spiritual father to all of us and an inspiration. On today's program, we'll receive the reflections of 3 pilgrims who are familiar to listeners here on The Good Catholic Life. Later, we'll hear from Father Dan Hennessey, the director of Vocations for the Archdiocese, and Andreas Widmer a former Swiss Guard who now lives in Boston.
Cardinal Sean now joins Scot. The Cardinal said it was exciting to be there yesterday. The crowds were enormous, and luckily there were many opportunities for people to participate in different ways. With up to 2 million people in the city, it was very challenging to get up close to the ceremony itself. Last night, the Basilica was open until 3am and there was a column of people filing past the casket of Bl. John Paul. Today there was a Mass of Thanksgiving celebrated by Cardinal Bertone. There were pilgrims from all over the world, virtually every continent. Obviously, yhr Holy Father had touched so many people's lives. No one in history had ever been seen by so many people as John Paul. This ceremony gives testimony to the connectedness that people felt with him.
Scot asked what it's like to know someone he knew so well become a blessed in the Church. Cardinal Sean never thought he would grow so old that he would know two people who were beatified: John Paul and Mother Theresa. He was with the Holy Father many times as both a priest and a bishop. He was extraordinarily gifted and real grace for the Church. It's wonderful in our lifetime to have the opportunity to celebrate his ministry and his life.
Scot said Pope John Paul wasn't beatified for his papacy, but for his holiness and virtues. He asked Cardinal Sean for any reflections on his holiness. Cardinal Sean said he was impressed how, in the midst of a chaos of a papal visit, wherever it was, he had the ability to concentrate and pray and be recollected. He's sure that was the source of his strength. That was evidence of just how profound his spirituality was.
Cardinal Sean said it looked like the entire College of Cardinals was present and he was pleased that Pope Benedict asked all the cardinals to concelebrate. Even a number of retired cardinals in poor health came to Rome to be part of it.
Scot asked how Rome was different than all the Cardinal's many trips. There were many people from all over: lots of French and Spanish, also many from Africa. Many people slept in the St. Peter's Square and along the Via della Conciliazione.
Scot said he followed many of the Catholic bloggers and Twitterers who were writing during the whole night from the vigil and through the Mass. When Cardinal Sean went by the Basilica last night about 11pm and there was still a huge column. Cardinal Sean also ran into some of those attending today's Vatican meeting of Catholic bloggers, including Anna Arco of the Catholic Herald in London.
2nd segment: Now joined by Fr. Daniel Hennessey from the Basilica of St. Paul-Outside-the-Walls in Rome. He attended the Saturday night vigil at Circus Maximus. He thinks there were several hundred thousand people and it was very peaceful. There was a magnificent of Our Lady and Child. There were several witness interviews, including the religious sister who was cured of Parkinson's and whose miracle was the one that allowed Bl. John Paul to be beatified.
On Sunday, he had to get up very early. It wasn't easy to get through the crowds and the security checkpoints, but eventually they got through to sit in the section reserved for priests. He got to sit in front of about 90 percent of the millions who were present. As vocation director, Fr. Dan has talked to a lot of seminarians about the affect John Paul may have had on their lives. To say it was beautiful was an understatement. He believes Bl. John Paul is interceding for us for vocations right now. As a priest himself, he had a total sense of gratitude for the gift of the priesthood. God uses each person, especially priests, as instruments. He was struck how God used John Paul as an instrument to touch so many people. It seemed every person there had a personal connection with John Paul.
After the Mass, there was announcement that everyone was welcome to enter the Basilica and venerate the relics. Hundreds of thousands of people started filing in. They closed it at 3am to prepare for today's Thanksgiving Mass. Because of where he was seated, Fr. Dan was able to go in within about an hour. Inside he was struck by the numbers of the infirm who were being brought in and a wide variety of people of all different age groups: families, youth groups, elderly. It was a sign of the universality of his pontificate.
Fr. Dan plans to visit the Gesu church, where St. Ignatius' remains are, to celebrate Mass and then go to St. Peter's Mass again before he leaves. He said he prayed for the missionary work of The Good Catholic Life at St. Paul Outside-the-walls.
3rd segment: Joining Scot now from Rome is Andreas Widmer, former Swiss Guard now living in Boston. He wanted to go to Rome as a pilgrim. As a former Guard he had many privileges and many opportunities for something extra. But now he wanted to be at the beatification as himself, a pilgrim. He wanted to be with the people and a part of the whole event. He ended up standing in the square behind St. Peter's Square. Being tall, he had a good view. Even though there were 1.5 million people, the experience was one of peace and joy. Even though there was hardly space to put both feet on the crowd, there was a fraternity and peacefulness. No one pushed, no one raised their voice. It is a very deep experience of the universal Church.
The weather forecast was for rain on Sunday, but it never rained all day. Instead it was blue sky and sun. In front of Andreas was a very young Franciscan who put up his hood to cover his head from the sun. There some people from Argentina, an elderly Italian couple, some Frenchmen, and of course many Poles.
Andreas knew Pope John Paul very well in his life, what was it like to be there. He said that John Paul was present in the crowd. There was a jovial atmosphere. People who loved him came together and lived out his spirit.
Pope Benedict has made some interesting and positive changes to the beatification ceremony. First, there was the reading of the proclamation and the Pope's approval. The picture of Bl. John Paul was unveiled and the crowd went wild. After that, they had an announcement in 10 languages asking for a prayerful atmosphere for Mass, no clapping and no banners or flags. There were several times in the Mass when it was so quiet and prayerful that he could hear the doves flying above the street.
Scot asked what Communion was like. He was in a non-official section, even though there were no official tickets for the event. So he was afraid they wouldn't receive Communion. They did receive, but it took so long that the Mass was continuing on despite them. He believes there was enough for everyone.
Andreas was able to venerate John Paul's casket. He said he admires the pilgrims who stood for the Mass and then stood for another 4 hours waiting to see the casket and they only get a few moments to see as they walked past. Andreas said he used his connections with the Swiss Guard to be able to pray next to the casket for a while. There were a lot of people praying, quietly. It was very reverent and quiet.
Andreas is also in Rome for the annual swearing-in of the new Swiss Guards on May 6. His nephew is going to be sworn in for the Guard this year. It's also Andreas' 25th anniversary since he joined the Swiss Guard.
4th segment: Last Tuesday on The Good Catholic Life, Dr. David Franks from St. John's Seminary asked for our prayers as his wife Dr. Angela Franks was prepared to deliver their 5th child on Tuesday 5/3. Well, David texted me earlier today letting me know that Maximilian Joseph Franks didn't want to wait until Tuesday. He was born at 2:27am this morning. 6 pounds, 9 ounces and 18 inches. Angela is doing well. Congratulations to David, Angela, Maximilian Joseph and his 4 older siblings in the Franks household.
Pope Benedict is the first pope in 1,000 years to beatify his predecessor and it was a moving day for him yesterday.
Six years ago we gathered in this Square to celebrate the funeral of Pope John Paul II. Our grief at his loss was deep, but even greater was our sense of an immense grace which embraced Rome and the whole world: a grace which was in some way the fruit of my beloved predecessor's entire life, and especially of his witness in suffering. Even then we perceived the fragrance of his sanctity, and in any number of ways God's People showed their veneration for him. For this reason, with all due respect for the Church's canonical norms, I wanted his cause of beatification to move forward with reasonable haste. And now the longed-for day has come; it came quickly because this is what was pleasing to the Lord: John Paul II is blessed!
Later on he said:
Today is the Second Sunday of Easter, which Blessed John Paul II entitled Divine Mercy Sunday. The date was chosen for today's celebration because, in God's providence, my predecessor died on the vigil of this feast. Today is also the first day of May, Mary's month, and the liturgical memorial of Saint Joseph the Worker. All these elements serve to enrich our prayer, they help us in our pilgrimage through time and space; but in heaven a very different celebration is taking place among the angels and saints!
Then he said:
Dear brothers and sisters, today our eyes behold, in the full spiritual light of the risen Christ, the beloved and revered figure of John Paul II. Today his name is added to the host of those whom he proclaimed saints and blesseds during the almost twenty-seven years of his pontificate, thereby forcefully emphasizing the universal vocation to the heights of the Christian life, to holiness, taught by the conciliar Constitution on the Church Lumen Gentium. All of us, as members of the people of God – bishops, priests, deacons, laity, men and women religious – are making our pilgrim way to the heavenly homeland where the Virgin Mary has preceded us, associated as she was in a unique and perfect way to the mystery of Christ and the Church. Karol Wojtyla took part in the Second Vatican Council, first as an auxiliary Bishop and then as Archbishop of Kraków. He was fully aware that the Council's decision to devote the last chapter of its Constitution on the Church to Mary meant that the Mother of the Redeemer is held up as an image and model of holiness for every Christian and for the entire Church. This was the theological vision which Blessed John Paul II discovered as a young man and subsequently maintained and deepened throughout his life. A vision which is expressed in the scriptural image of the crucified Christ with Mary, his Mother, at his side. This icon from the Gospel of John (19:25-27) was taken up in the episcopal and later the papal coat-of-arms of Karol Wojtyla: a golden cross with the letter "M" on the lower right and the motto "Totus tuus", drawn from the well-known words of Saint Louis Marie Grignion de Montfort in which Karol Wojtyla found a guiding light for his life: "Totus tuus ego sum et omnia mea tua sunt. Accipio te in mea omnia. Praebe mihi cor tuum, Maria – I belong entirely to you, and all that I have is yours. I take you for my all. O Mary, give me your heart" (Treatise on True Devotion to the Blessed Virgin, 266).

In his Testament, the new Blessed wrote: "When, on 16 October 1978, the Conclave of Cardinals chose John Paul II, the Primate of Poland, Cardinal Stefan Wyszynski, said to me: 'The task of the new Pope will be to lead the Church into the Third Millennium'". And the Pope added: "I would like once again to express my gratitude to the Holy Spirit for the great gift of the Second Vatican Council, to which, together with the whole Church – and especially with the whole episcopate – I feel indebted. I am convinced that it will long be granted to the new generations to draw from the treasures that this Council of the twentieth century has lavished upon us. As a Bishop who took part in the Council from the first to the last day, I desire to entrust this great patrimony to all who are and will be called in the future to put it into practice. For my part, I thank the Eternal Shepherd, who has enabled me to serve this very great cause in the course of all the years of my Pontificate". And what is this "cause"? It is the same one that John Paul II presented during his first solemn Mass in Saint Peter's Square in the unforgettable words: "Do not be afraid! Open, open wide the doors to Christ!" What the newly-elected Pope asked of everyone, he was himself the first to do: society, culture, political and economic systems he opened up to Christ, turning back with the strength of a titan – a strength which came to him from God – a tide which appeared irreversible. By his witness of faith, love and apostolic courage, accompanied by great human charisma, this exemplary son of Poland helped believers throughout the world not to be afraid to be called Christian, to belong to the Church, to speak of the Gospel. In a word: he helped us not to fear the truth, because truth is the guarantee of liberty. To put it even more succinctly: he gave us the strength to believe in Christ, because Christ is Redemptor hominis, the Redeemer of man. This was the theme of his first encyclical, and the thread which runs though all the others.
And at the end of his homily:
Finally, on a more personal note, I would like to thank God for the gift of having worked for many years with Blessed Pope John Paul II. I had known him earlier and had esteemed him, but for twenty-three years, beginning in 1982 after he called me to Rome to be Prefect of the Congregation for the Doctrine of the Faith, I was at his side and came to revere him all the more. My own service was sustained by his spiritual depth and by the richness of his insights. His example of prayer continually impressed and edified me: he remained deeply united to God even amid the many demands of his ministry. Then too, there was his witness in suffering: the Lord gradually stripped him of everything, yet he remained ever a "rock", as Christ desired. His profound humility, grounded in close union with Christ, enabled him to continue to lead the Church and to give to the world a message which became all the more eloquent as his physical strength declined. In this way he lived out in an extraordinary way the vocation of every priest and bishop to become completely one with Jesus, whom he daily receives and offers in the Eucharist.

Blessed are you, beloved Pope John Paul II, because you believed! Continue, we implore you, to sustain from heaven the faith of God's people. Amen.
5th segment: Two weeks ago a benefactor, who wishes to remain anonymous, contacted me with the interest of helping to support the expansion and reach of The Good Catholic Life program. The gift was very generous and I asked if there was a favorite saint that the benefactor would want to suggest to dedicate the studio to and the response was "Pope John Paul II." So how we are pleased to be able to dedicate this radio studio to Blessed John Paul II. Father Matt Williams is here to lead us in the prayer of blessing and dedication.
God our Father, in your wise and loving providence you raise up men and women, outstanding in holiness, to proclaim the Gospel of your Son, Jesus Christ.

In our generation, you chose and anointed Blessed John Paul II to be shepherd and father of your pilgrim Church on earth.

Ablaze with the radiance of your Son, John Paul traveled to the farthest corners of the earth to bear witness to Jesus Christ, the light of the nations; in season and out of season, whether convenient or inconvenient.

His example teaches and inspires us to "be not afraid" to walk in justice, to proclaim the Truth that sets us free, and to experience the depths of your love and mercy.

He encouraged the Church in his address for the 34th World Communications Day in 2000 to proclaim Christ through the Media in the new millennium. He said:

"The impact of the media in today's world can hardly be exaggerated. The advent of the information society is a real cultural revolution, making the media "the first Areopagus of the modern age" (Redemptoris Missio, 37), where facts and ideas and values are constantly being exchanged. Through the media, people come into contact with other people and events, and form their opinions about the world they live in – indeed, form their understanding of the meaning of life… The proclamation of Christ must be part of this experience.

…Naturally, in proclaiming the Lord, the Church must make energetic and skilful use of her own means of communication – books, newspapers and periodicals, radio, television, and other means. And Catholic communicators must be bold and creative in developing new media and methods of proclamation.

…May the media give voice to Jesus himself, clearly and joyously, with faith and hope and love. To proclaim Christ in the media at the dawn of the new millennium is not only a necessary part of the Church's evangelizing mission; it is also a vital, inspiring and hope-filled enrichment of the media's message. May God abundantly bless all those who honour and proclaim his Son, our Lord Jesus Christ, in the vast world of the means of social communication."

Now that John Paul has crossed the threshold of hope into the heavenly kingdom, we ask you Father, through his intercession, to pour out your graces upon the Archdiocese's efforts of evangelization, and in a particular way- this Radio Studio for The Good Catholic Life program.

Instructed by John Paul's teaching, we pray that we may open our hearts to the saving grace of Christ, the sole redeemer of humankind, and proclaim HIM with the power, the breath and the fire of the Holy Spirit.

May all listeners come to know and discover the truth that they are a unique and unrepeatable gift from the heart of God. And may they discover in Jesus Christ and His Bride, the Church, the answer and remedy to their heart's deepest questions and longings.

Father, we ask you now to bless this Radio Studio, for your glory. United under the intercession and maternal care of our Heavenly Mother Mary, we say along with Blessed John Paul II, Totus Tuus Maria.

We consecrate this Studio to you dear Father, through the powerful intercession of our Lady, and your servant Blessed John Paul II, and we give to you our "FIAT"-"let it be done unto me according to your Word."

And may almighty God bless this Radio Studio, In the Name of the Father, and of the Son and of the Holy Spirit. Amen.

Mary, Star of the New Evangelization – Pray for us!
Blessed John Paul II – Pray for us!
Last night, Fr. Matt Williams preached a Mass on the occasion of the ending Sr. Olga Yaqob's long service in the chaplaincy at Boston University. He noted that several significant events this weekend point us to heaven: the royal wedding points us to the sacrament of marriage and the heavenly marriage banquet of the Lamb of God; the beatification of John Paul; and Sr. Olga's Mass on the feast of Divine Mercy and how that Mercy brings us to heaven.
Sr. Olga spoke at the Boston Catholic Women's Conference several years ago, telling her story about coming from Iraq to now being asked by Cardinal Sean to found a new religious order.