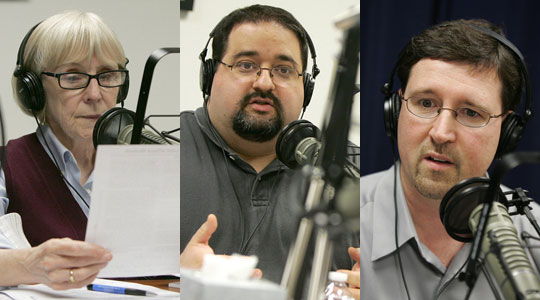 Listen to the show:
Podcast: Play in new window | Download
Today's host(s): Scot Landry and Susan Abbott
Today's guest(s): Gregory Tracy, managing editor of The Pilot, the newspaper of the Archdiocese of Boston, and Domenico Bettinelli, creative director of Pilot New Media and former editor of Catholic World Report magazine
Today's topics: Pope John Paul's upcoming beatification and his feast day is set; Supreme Knight Carl Anderson's JFK talk; a great pro-life essay from a pre-teen; two new pastors in the Archdiocese and one going to Rome; closing of a school in Lawrence; the Archdiocese's annual financial report
A summary of today's show:
1st segment: Scot welcomes Susan back to the show and asks how her week was. Susan said life is always exciting in religious education, and she was looking forward to a Lenten day of prayer the next day. Her religious education department holds days of pray four times a year. This time they are going to Glastonbury Abbey in Hingham, a wonderful way to enter Holy Week. Scot said that it is one of many beautiful retreat centers here in Eastern Mass.
Susan also mentioned the Co-workers in the Vineyard, the 4th annual conference for ecclesial ministry, held this year in Our Lady Help of Christians in Newton.
2nd segment: Scot welcomed Gregory Tracy and Domenico Bettinelli to the show. They started by talking about beatification of John Paul II and the Vatican's announcement that his feast day would be October 22. Scot asked Dom which dioceses could celebrate this feast day and Dom replied the Diocese of Rome, of which he was bishop, of course, and the dioceses of his home country, Poland. Susan said that two merging parishes in Rhode Island were going to ask for the special permission necessary from Rome to name the new parish Blessed John Paul II. Susan said October is a really notable month with the celebrations of saints days for St. Therese of Lisieux, St. Francis of Assisi, St. Teresa of Avila and others.
Scot said he thought there was only one parish named for a "blessed" in the Archdiocese, Blessed Kateria Tekawitha, but Gregory noted that there is also Blessed Mother Theresa Parish in Dorchester. He mentioned the distinction between saint and blessed is the universal veneration for saints and local veneration for beati. Greg said that since John Paul II has been called John Paul the Great since his death and because of the unique nature of his ministry as Universal Pastor, a special permission has been granted for all dioceses worlwide to celebrate a Mass of Thanksgiving for the Blessed John Paul II sometime before May 1, 2012.
Scot mentioned that most people were aware of Blessed Mother Theresa, but she was not as present in people's daily lives as John Paul II. Gregory said that for almost anyone under the age of 30, Pope John Paul II was not just a pope, he was the pope.
3rd segment: Supreme Knight Carl Anderson of the Knights of Columbus gave an address at Faneuil Hall to mark the 50th anniversary of the inaugural speech of John F. Kennedy. Scot said the event had a national feel and he believes the Knights were very deliberate in choosing this historic venue. Nine out of 10 Americans find this address still relevant; there are very few known speeches. Anderson stepped away from JFK's controversial aspects, but focused on the roots of the speech. Gregory said what he found was that JFK reminded us that we should be guided by our faith in the public square.
Scot said many secularists want to separate our country from our roots. Dom said that our rights come from God and not the state, and JFK was reminding us of our obligation to use those rights to build a better society and community. The state should not get in the way of our rights, but should foster an environment in which we can exercise them.
Scot asked Susan about JFK's words about being neighbors to each other. She replied that he got to the root; that our country is about helping our neighbor, the dignity of the human person, and being our brother's keeper. Scot said Anderson's talk was a fantastic speech, but it will be better to read it and encouraged people to do so.
The Anchor had a pro-life essay contest for students in the Fall River Diocese. Scot asked Susan to read the last couple of paragraphs of the winning 8th grader essay by Kevin Agostinelli:
"Two human beings who have realized the value of God's everlasting love are Italian singer Andrea Bocelli and his mother, Edi. While she was pregnant with Andrea, Edi Bocelli was mistakenly diagnosed with appendicitis. Doctors advised her to terminate her pregnancy since there was a high probability that the appendicitis treatments would cause a disability in her child. However, Edi, a devout Roman Catholic, chose not to abort her son. She realized that God had a plan for her beloved unborn child. Because of her willingness to put God first, Edi bore a son who is universally renowned for his angelic voice.

At the age of 12, Andrea Bocelli was blinded during a spots accident, but he still witnesses God's love without physically seeing it…
Scot said the students is a great writer and that it's good to see that Catholic schools are producing this kind of work with their students.
Gregory was reminded how women can be lead into pressure-filled situations to abort a baby, based on possible medical complications. He was stuck that it speaks to the value of every life. His oldest daughter works with Down Syndrome students, and she has amazing stories of these students and their joy. You don't have to bring up an Andrea Bocelli to bring joy to the world.
Dom was thinking about how many angelic voices have been silenced due to abortion, but also normal voices of children. He said that every life, even the those who some say won't have a life that's worthwhile can still praise God.
4th segment: Scot began with two appointments of new pastors: Fr. Stephen Linehan has been announced as pastor of St. Margaret Mary Parish in Westwood, effective 5/19, and Fr. William Devine as the pastor of St. Thomas Aquinas Parish in Bridgewater, effective 5/31.
Scot also noted that one of the legendary priests of the archdiocese, Msgr. Cornelius McRae, pastor St. Catherine of Siena Parish in Norwood, has been given a new assignment in Rome as the spiritual director of the Casa Santa Maria, where American priests pursuing graduate students at various Roman universities live. He was at one time the rector of John XXIII seminary and later spiritual director of the North American College in Rome.
Dom said he knows a number of parishioners at St. Catherine's and everyone speaks well of Msgr. McRae. Scot said he has an infectious smile and puts those around him in a good mood. Gregory said that Msgr. McRae dropped by the Pilot's offices to help with the article. Any time Gregory has had a chance to talk with him, Msgr. had a great attitude and said that there are many great things going on in his parish, including faith formation. He could see special things going on in Norwood. Scot said that there are so many Boston priests in leadership at Casa Santa Maria now that priests from the rest of the country will be coming back from Rome with Boston accents.
On a less joyful note, St. Mary of the Assumption School in Lawrence is closing. Gregory said the pastor, Fr. Jorge Reyes, made the announcement about the school closing. Lawrence Catholic Academy, a collaboration of two other Catholic schools in the area, opened this past Fall and St. Mary's, at that moment, decided not to join the academy because of the expense and because they hoped to be able to survive on their own.
Scot said the school did not know if they would receive funds from the Catholic Schools Foundation this year. He had not heard of a school closing with such a high attendance, but it speaks to the poverty in Lawrence and that families, especially in inner city neighborhoods, need assistance sending their children to Catholic schools.
Susan says it is always sad when a school closes and this school has a high minority rate. A century ago the minorities in these schools were Irish, and now they are Hispanic.
Scot said that Fr. Paul O'Brien, the pastor of St. Patrick parish in Lawrence, is hoping a lot of the students from St. Mary will apply to Lawrence Catholic Academy. Scot said that St. Mary's parish is very strong in many ways, and noted that it often seems that half of the archdiocese's annual group of confirmandi and converts at Easter are from that parish.
Dom was struck by the fact that at a time when so many Hispanic Catholics are going to other Christian denominations, in Lawrence you have so many Hispanic families trying to keep their children in Catholic schools, and he hopes they can get their educations at other Catholic schools.
Scot said it highlights the need for donations from everyone to assist these inner-city Catholic schools.
5th segment: The Archdiocese of Boston released its annual report for the Fiscal Year 2010 on Thursday afternoon. Gregory said the takeaway from the report is that the Archdiocese has established a balanced budget, and that Cardinal Sean said this is a priority.
There was a $15 million deficit when Cardinal Sean arrived in the Archdiocese. Scot asked Susan about the tough decisions that have happened to achieve this balanced budget. Susan has experienced firsthand how ministries have suffered due to cuts. She cites the history of her office by the notable budget cuts that have resulted in the loss of programs and people. The ministry work is still there and it is difficult.
Dom has mentioned that there has been a reduction of the workforce and expenses. The leadership of the Archdiocese has made it known that laying off people is the last option they want to explore, and that they seek other cost reductions first.
Scot expressed appreciation for the 50,000 people who give to the Catholic Appeal every year, which funds the work of the Central Ministries.
Meanwhile, the development office announced their goal for the 2011 Catholic Appeal of $14 million. Last year they raised $13 million and $15 million the year before that.
Gregory also noted that the report mentions parishes and their financial health. About 1/3 of parishes are in the black, 1/3 are breaking even, and a full 1/3 are not able to raise more funds than their expenses. Scot said that with 291 parishes, the Archdiocese realistically 50% Mass attendance to hope to cover expenses. Right now Mass attendance is 16% of nominal Catholics. Catholics Come Home and other programs are efforts to boost Mass attendance and re-engage Catholics with their faith.
Gregory pointed that some parishes, especially in the inner city, which never be self-sustaining, that they will always rely to some degree on assistance from other parishes through the Archdiocese.
Finally, Scot asked Susan about the Co-Workers in the Vineyard Conference, at which 300 people from parish staffs came together to discuss the future of parishes. Susan said recalled the keynote by Msgr. James Moroney and his four marks of a successful parish: Eucharist- centered, unified, modeled on love, hoping in Christ.
After lunch, in three breakout sessions, Janet Benestad gave a talk about being a welcoming parish and evangelization best practices, Fr. Bob Rivers spoke on the topic of his book "From Maintenance to Mission", and Fr. Paul O'Brien spoke on being a diverse parish.
Scot noted Cardinal Sean's remarks, calling us to stop being mere consumers in the pews, but to become active disciples who share in the mission.
Scot tied it into the famous JFK quote "Ask not what your country can do for you, ask what you can do for your country," and the consumerist attitude toward parish life: "I don't like that parish, I don't get anything out of the Mass." He drew a contrast between what we give or put into parish life, and a mindset that asks what we get out of it.