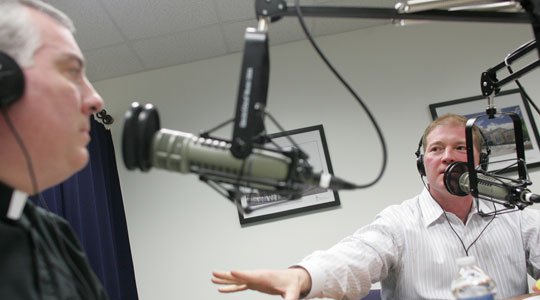 Listen to the show:
Podcast: Play in new window | Download
Today's host(s): Scot Landry and Fr. Mark O'Connell
Today's guest(s):John Monahan, host of "ClearVoice," the original magazine show on CatholicTV
Today's topics: Former Fox25-Boston TV news reporter John Monahan's journey to CatholicTV's new magazine show, "ClearVoice". Also, this coming Sunday's readings for Mass.
A summary of today's show: John Monahan, host of CatholicTV's ClearVoice, recounts his journey from Dorchester to local TV news to the new Catholic newsmagazine show; talks about what it's like to chase breaking news stories; and gives tips for being a more effective communicator in business, job interviews, and even for priests giving homilies. Also, the Mass readings for the Fifth Sunday of Lent.
1st segment: Scot welcomes Fr. Mark. Scot notes today is Red Sox opening day at home. He suggests listeners turn up WQOM, turn on the TV and turn down the volume there. Fr. Mark went to the funeral of Msgr. Daly, who had served 36 years at the seminary. He was the rector of the seminary when Fr. Mark was there in 1986-1990. He said Cardinal Seán was there as well as 60 priests. Fr. Mark said it was a beautiful turnout.
Scot notes that homilist at priests' funerals is a friend of the priest. At this funeral, Msgr. James McCune was the homilist. At the end of priest's funeral, all the priests gather around the casket and sing the Salve Regina as they accompany the casket to the hearse.
2nd segment: Scot and Fr. Mark welcome John Monahan to the program. Scot notes that John's voice is familiar to CatholicTV and Fox25 viewers. John grew up in Dorchester in St. Brendan's parish and went to BC High School. Studied communications at UMass Amherst. After graduation he worked at Boston University on a half-hour news show for a cable-access news show.
He wanted to move to California to pursue his career in broadcast journalism. He brought resume tapes to about 10 stations in California and Oregon. He got a call from a station in Monterey, California. Fr. Mark asked how much John's natural voice opens doors? He said the voice has never been a big part of his success. TV news is so subjective that you can't guess what will grab a station manager's attention. His first job in Monterey was doing the farm report because he looked like he grew up on the farm and a Midwesterner.
He never intended to move back to Boston. He had wanted to move up to a larger market than Monterey and had been focusing on Los Angeles and San Francisco. His agent sent out tapes and he happened to get a call from the station manager at WB56. When the manager found out he went to BC High across the street, he had the job. He was there for 3 years, starting out on a morning show. He moved to Fox 25 and was there for 4-1/2 years.
Scot asked what his favorite stories were. John said he liked the feature stories, digging down deep and getting to know a person and telling their story. He also loved covering breaking news, the heat of the moment. He covered the infamous "shoe bomber" story, the terrorist on the plane who had tried to blow up the plane and the plane was diverted to Boston. Scot asked what it's like to cover breaking news? Is it competitive or collaborative?
He said they want to get the story, but there is collaboration. You help someone else so they're not completely left behind, but you don't put your own story in jeopardy. He loved working in spontaneous situations.
Fr. Mark said sometimes when he knows the story, often a reporter will blow up a small kernel into something awful. John said the reporter is always trying to find the conflict in the story, the juxtaposition, to entice the viewer and draw them in. Some stations do this to a greater degree than others. The news used to be more objective, but the competition is so fierce today.
You prepare yourself for horrendous situations by preparing yourself and eventually learning to stay somewhat detached. Often there is black humor to help themselves deal with it. Scot asked if there's any kind of post-traumatic stress. John recalls a story about a Christmas tree that caught fire and killed the babysitter and three kids. He can't forget the screams of the mother on hearing what happened.
Fr. Mark asked if its hard as a Catholic to cover some of the news that relate to his faith. John said he tries to put the story in its most objective light. You can't control what the anchors say, but he can control the content of the report.
3rd segment: How did ClearVoice start? John had been talking with Fr. Robert Reed, director of CatholicTV, about the show for a while. ClearVoice is a newsmagazine show. The difference from a news show is that a news show is events of the day. A newsmagazine is more in-depth, more lighthearted, not so much about the current events. They had the CBS Sunday Morning show in mind, in-depth profiles of people and lighthearted segments.
They've had 19 shows so far. He was particularly happy with the shows about Christmas time. The March for Life was a big story for them as well. They interviewed former Sen. Rick Santorum recently as well as chastity speaker Jason Evert last week.
John is impressed by CatholicTV and its high quality. The environment is much nicer than when he worked in news.
They have amazing technology. Their set is a wall of 24 high-definition televisions. You don't see sets like this even in secular stations. It can be one big screen or 24 individual screens or any combination.
ClearVoice is aiming at a national market, not just the Boston area. Catholic TV now serves 25% of the United States and 75 cities. It's the second-largest Catholic TV network after EWTN.
They get reports from Rome each week from Rome Reports, H2O and Catholic News Service, which CatholicTV has an arrangement with. Kevin Nelson, the executive producer of the show, goes through all the content to choose the right stories. They broadcast on Thursday nights.
John's co-host is Christine Caswell, who is also a veteran of Boston TV news. They'd known each other as acquaintances in their previous careers. Her day job manages the interns at Boston College, which is how Fr. Reed got to know her.
John hopes that ClearVoice becomes even more relevant to the news that is going on the week of broadcast. He's also looking for more in-depth features. He'd love to have Cardinal Seán on the show. He has a lot of admiration for Archbishop Dolan in New York. But he'd also like to interview regular local people, like the guy who plays the flute at noon Mass at Mission Church.
This is the first newsmagazine on any Catholic network in North America. John said it says a lot about CatholicTV and where Fr. Reed wants to take it. It indicates the future growth of the network nationally and internationally.
All the recorded shows are available at CatholicTV.com.
4th segment: John now has his own communications consulting firm where he advises corporations on communications skills. Scot asked what are some of the ways to overcome the fear of public speaking?
John said preparation is important. He was in Chicago early in his career and he still nervous about being on-air. He met this anchor who was cool as cucumber on air. When he asked the man how this guy wasn't nervous, and he told John that of course he's nervous. In fact, everyone is nervous, but many people turn that around and turn it into energy and excitement. If you've prepared enough, including practice what you're going to say, you own the words. You write it out by hand to help you remember it.
Scot asked what high-level businessmen are asking for help with? John's biggest skill is taking a lot of information and boiling it down to the essential nuggets. He also helps them translate written speeches into a conversational tone and make them into a good narrative. Give it a beginning and an end that reach the same point to bring everything full circle.
Fr. Mark asked what makes a good homily as a communicator? John said it's about intertwining a story with the message. Facts alone are difficult to digest, but people remember a story. Fr. Mark said some priests can't land the plane; you think they're ending the homily and then go off again. John said sometimes they don't even know they're doing it. But then keep a phrase or idea in mind so that when you get to that, you know to wrap up and end.
Scot said that you have to prepare the close as much as you prepare the open and the content. John said the speaker should finish in a way that people remember what you said.
Fr. Mark said he's never begun a homily with "In today's Gospel…" because by the time he says Gospel they're asleep. John agreed that you have to have something memorable to grab their attention.
John mostly works with mid- to upper-level management, also sales groups. He also helps train with media management. He recently worked with Stonehill College.
He also has tips for communicating during job interviews. Have a beginning, middle, and end. Who are you? What's your background, your skills, your traits? Then offer a summary. And finally anticipate what kind of questions you'll get from the interviewer and practice your answers. Scot noted that many people are humble and shy about talking about themselves so they aren't used to it. John said to find a friend or family member to act out the interview.
5th segment: Scot and Fr. Mark will look at the Gospel for the Fifth Sunday of Lent. This the story of Lazarus from the Gospel of John
The sisters of Lazarus sent word to Jesus, saying, "Master, the one you love is ill." When Jesus heard this he said, "This illness is not to end in death, but is for the glory of God, that the Son of God may be glorified through it." Now Jesus loved Martha and her sister and Lazarus. So when he heard that he was ill, he remained for two days in the place where he was.
Then after this he said to his disciples, +Let us go back to Judea."

When Jesus arrived, he found that Lazarus had already been in the tomb for four days. When Martha heard that Jesus was coming, she went to meet him; but Mary sat at home. Martha said to Jesus, "Lord, if you had been here, my brother would not have died. But even now I know that whatever you ask of God, God will give you." Jesus said to her, "Your brother will rise." Martha said, "I know he will rise, in the resurrection on the last day." Jesus told her, "I am the resurrection and the life; whoever believes in me, even if he dies, will live, and everyone who lives and believes in me will never die. Do you believe this?"She said to him, "Yes, Lord. I have come to believe that you are the Christ, the Son of God, the one who is coming into the world."

He became perturbed and deeply troubled, and said, "Where have you laid him?" They said to him, "Sir, come and see."
And Jesus wept. So the Jews said, "See how he loved him." But some of them said, "Could not the one who opened the eyes of the blind man have done something so that this man would not have died?"

So Jesus, perturbed again, came to the tomb. It was a cave, and a stone lay across it. Jesus said, "Take away the stone."
Martha, the dead man's sister, said to him, "Lord, by now there will be a stench; he has been dead for four days." Jesus said to her, "Did I not tell you that if you believe you will see the glory of God?" So they took away the stone. And Jesus raised his eyes and said, "Father, I thank you for hearing me. I know that you always hear me; but because of the crowd here I have said this, that they may believe that you sent me." And when he had said this, He cried out in a loud voice,
"Lazarus, come out!" The dead man came out, tied hand and foot with burial bands, and his face was wrapped in a cloth.

So Jesus said to them, "Untie him and let him go." Now many of the Jews who had come to Mary and seen what he had done began to believe in him.
Scot said the Church wants us to reflect on this just before we attend to the crucifixion and resurrection of Jesus during Holy Week. John is struck by the faith of Mary and Martha.
Fr. Mark said Jesus is weeping because He understands the human experience and pain and suffering. He knows that death hurts those who are left.
Scot said he didn't realize before that Jesus was risking His own life going to Bethany. Fr. Mark said we remember Thomas as the doubter, but here he is the one who stands up and says, "Let's go with him to die with Him."
The four days in the tomb is significant because of an ancient belief that the soul stayed with the body for three days, so St. John is conveying that Lazarus is really and truly dead.
St. John is also recalling the Book of Genesis. God speaks and creation happens. Here the Word of God speaks and He conquers death. His Word is so powerful that something so impossible can happen.
It's easy for us to know Jesus is divine, but when Jesus weeps for Lazarus and for the mourners, it reinforces His humanity.
Jesus delays and Lazarus dies. So Lazarus' suffering glorifies God and that is a lesson for those who suffer and believes God is delaying.
Jesus also challenges Martha if she believes that Jesus is the Resurrection and the Life. This is a question presented to all of us.