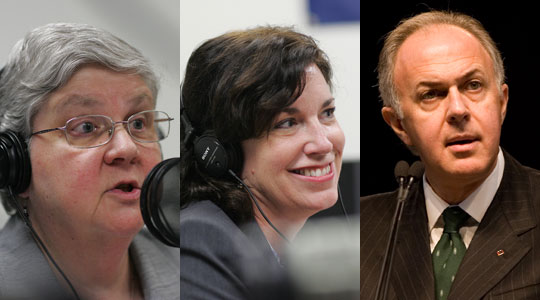 Listen to the show:
Podcast: Play in new window | Download
Today's host(s): Scot Landry and Fr. Chris O'Connor
Today's guest(s): Carl A. Anderson, Supreme Knight of the Knights of Columbus, Karen Walters from the Catholic Leadership Institute, and Linda DeCristoforo, Pastoral Associate at Our Lady of Grace Parish in Chelsea
Today's topics: Catholic Leadership Institute's Tending the Talents program launched nationally in the Archdiocese of Boston 18 months ago; Carl Anderson's speech this Thursday at Fanueil Hall on John F. Kennedy's inaugural address
A summary of today's show: On today's show, Supreme Knight Carl Anderson calls John F. Kennedy's inaugural address is one of the most eloquent expressions of human rights and dignity in history and reconciles it with his famous "Houston" speech on his Catholic faith. Also, the Catholic Leadership Institute is preparing a generation of laity to assist their pastors in leadership in the Church and the Massachusetts Catholic Conference has a new executive director.
1st segment: Scot and Fr. Chris welcome Carl A. Anderson via phone. On Thursday, 5:30pm at Fanueil Hall, he will be delivering an address called "Making God's Work our Own: The Continued Importance of President John F. Kennedy's Inaugural Address 50 Years Later." Carl said the address was so inspiring for so many Americans, that "Ask not what your country can do for you, but what you can do for your country," became a byword. The Knights have always been proud that JFK was a 4th degree Knight of Columbus. They were surprised that so little was being done in general to mark the 50th anniversary of the speech and so they set out to properly mark the event.
(To RSVP for the address on Thursday please email jfk@kofc.org or call 203-752-4483. The event is co-sponsored by the Boston Leadership Forum, which brings speakers to downtown Boston.)
Scot said one of the more powerful lines is "the rights of man come not from the generosity of the state, but from the hand of God." Carl said this is the main statement he will address in the speech he will deliver on Thursday. The Knights led the movement to have the words "under God" added to the Pledge of Allegiance because they hold to the truth that the rights and human dignity we possess is a gift not from the State, with discretion to give and take, but is ingrained in the human person by God, that it is intrinsic to us. These rights are superior and precede the State. There is a standard which government must measure itself by, not political power, but a moral standard. This is key to Kennedy's thinking, to his address, and to America.
Fr. Chris said much of the inaugural address sounds so much like Gaudium et Spes, the pastoral constitution on the modern world from Vatican II. You can see the relationship between the speech and Vatican II. Carl said it's not a coincidence that the speech opens with a recognition of God's authority and closes with a recognition of the duty of to provide for our fellow man under the authority of God. It's known that then-Cardinal Montini, who later became Pope Paul VI, heard and then studied the address and it may have informed his encyclicals on social justice including Populurum Progressio.
In the address, Kennedy said:
We dare not forget today that we are the heirs of that first revolution. Let the word go forth from this time and place, to friend and foe alike, that the torch has been passed to a new generation of Americans — born in this century, tempered by war, disciplined by a hard and bitter peace, proud of our ancient heritage, and unwilling to witness or permit the slow undoing of those human rights to which this nation has always been committed, and to which we are committed today at home and around the world.
Carl said that while JFK famously said he would not let his Catholic faith impose itself on the government of the US, his inaugural also shows that he would let his Catholic faith and its fundamental principles about the nature of Man inform how he governed. A nation is a living organism, an expression of a people with a culture and history and roots. Kennedy's address is one of the most eloquent addresses in history because of the kind of human rights it articulated. Carl feels strongly that heritage is important to pass on to our children because the lesson of the last century is that freedom is only one generation from passing away.
Fr. Chris was struck by the hopefulness of the speech: "If a free society cannot help the many who are poor, it cannot save the few who are rich." He sees a masterful use of words to display optimism and hope. Carl said this is the fourth pillar of his own speech this Thursday. Catholics reading JFK's speech can see a resonance with their own worldview.
Scot asked how Catholics can reconcile this speech with the speech JFK gave weeks earlier in Houston in which some, including Archbishop Charles Chaput of Denver, say he privatized the religious faith of public officials. Carl said in the context of the vicious anti-Catholic presidential campaign, JFK was addressing a different kind of audience before his election than those he was addressing after his election when he'd broken through that barrier. He also said both speeches should be read together to see JFK was not abandoning these fundamental issues. After all in Houston, JFK said he would not impose his religious belief on the country, but if there comes a time when his religious faith comes in conflict with the duties of his office, he would resign his office, not his Catholicism. Too many Catholics in public office today opt to resign their Catholicism.
On the subject of the Knights of Columbus, in 1981 they had 1.3 million members, and now Carl noted that today they have 1.8 million members with 40 years of consecutive annual membership growth and $80 billion of life insurance in force for KofC families. Last year, local councils gave $150 million to charity. The growth continues to produce more works of charity to make our parishes and communities better.
Fr. Chris said as a priest and as a seminary vice-rector he knows of the works of the Knights to support both parishes and seminarians. Carl said they are proud to support seminarians in so many countries. He said they are also proud that a fellow Knight, Sargent Shriver, started Special Olympics and they continue that support. They support the Wheelchair Foundation to provide wheelchairs to the poor worldwide. After the Haiti earthquake, they decided that every amputee child in Haiti would receive a prosthetic arm or leg. They are partnering with Project MediShare in Haiti.
They provide food and flood assistance in Mexico and the Philippines. At the local level, they are doing what people need. If a family is struck with tragedy they are there to help. They provided $11 million after Katrina to help the Gulf Coast.
There are also 70 million volunteer-hours of Knights of Columbus in parishes and communities. Men who aren't Knights already will become a better Catholic man, husband, father, citizen, and parishioner as Knights. It's a place they can increase their own spiritual life and devotional life, but also help their family and their community. Get involved and do yourself and your family a world of good.
2nd segment: Scot and Fr. Chris discuss their interview with Carl Anderson. Scot noted that the Kennedy family in recent years have been criticized for not putting Catholic teaching into practice in their public service, but the JFK inaugural speech is obviously Catholic faith being put into action. Fr. Chris said it shows that faith is not something we hide or keep in a back room, but use to bring us closer to the Lord and to our neighbor.
Carl Anderson's book "A Civilization of Love" (Link to purchase on Amazon.com) articulated a lot of Catholic social teaching as a very easy read. He was clear in stressing that human dignity is a gift from God, not a gift of the State. Fr. Chris was happy to see that he wasn't afraid to take on politicians today who would compartmentalize their faith.
Carl is often called the leading Catholic layman today. He has been appointed to many Vatican and Church organizations as a member of the Pontifical Academy for Life (1998) and the Pontifical Council for the Laity (2002), and as a consultor to the Pontifical Council for Justice and Peace (2003). Pope Benedict XVI has appointed him as a consultor to the Pontifical Council for Social Communications (2007) and as a member of the Pontifical Council for the Family (2008). He is a member of the Board of Superintendence of the (I.O.R.) (Institute for the Works of Religion – Vatican Bank) (2009) and has served as a consultant to the Pro-Life Committee of the U.S. Conference of Catholic Bishops (USCCB) since 2002.
Fr. Chris recalled how one local Knights council in one of his parishes built a handicapped ramp at the home of a young man in a wheelchair. Scot also noted that the Knights of Columbus also gives to the Church on the macro level, giving a loan to the Archdiocese of Boston when Cardinal Seán first came to Boston to help the archdiocese stay on a steady financial footing. They also paid to restore the Bernini colonnade around St. Peter's Square. (Actually it was the façade of St. Peter's Basilica that the Knights funded the restoration.)
The Knights offer monetary support to seminarians so the seminarians can stay focused on their formation and studies. Fr. Chris said we often see the Knights outside supermarkets selling Tootsie Rolls to raise funds to help the vulnerable, poor, and marginalized. They are also very active in pro-life work.
Scot said he plans to be at the speech on Thursday and Fr. Chris said St. John seminary is bringing its seminarians as well, not just to show support for the Knights, but also to educate and inform them on the intersection of faith and politics in the public square.
3rd segment: Fr. Chris and Scot welcome Karen Walters from the Catholic Leadership Institute and Linda DeCristoforo, Pastoral Associate at Our Lady of Grace Parish in Chelsea.
Linda and her 16 classmates are graduating today from the Tending the Talents program. Karen said the group has been learning to lead how to lead in five contexts: self, one-to-one, team, organization, and the overall Church.
Growing in self-knowledge is the first step. Linda said they used a DISC profile inventory to look at their own personality types and to see the variety of personality types of the people they work with, and to learn the tools to improve relationships with others.
Karen said the curriculum is based on the leadership in context model. We use certain practices when we lead and we use them differently depending on the context. We need to be aware of how we're leading and what context we're in.
Fr. Chris asked about conflict resolution in the training. Linda said they learned how to look at conflict pastorally, to be compassionate, and to be able to speak on what the Church teaches on whatever the conflict is about. Sometimes it means to move on.
Fr. Chris asked about the time commitment. Linda said they had two full days every other month and online homework in between those gatherings.
Leadership in the Church context is different from corporate leadership. The main difference is that CLI follows the model of Jesus' leadership of the apostles and that of the apostles leading the Church, plus they incorporate the teachings of saints. But they also include best practices from the corporate world. It's also not just about the outcome, but the process for how they get there, including caring for the dignity of all those involved.
Linda said her favorite topic was studying her key responsibility areas for her personal life and then within her ministry. From that they were able to set goals, which gave her a better sense of her ministry and in the context of leadership. She said it was helpful for her own self to be self-reflective and then to articulate to her co-workers so that everyone is on the same page.
Fr Chris said many of his brother priests rave about the Good Leaders Good Shepherds program for priests. Karen said it is the same model of leadership in context. The key difference is that in Tending the Talents there is more that takes place away from the classroom and instead takes place online. In the GLGS program there is more content about building fraternity among the priests.
Tending the Talents is now in 8 dioceses with about 200 people participating. This program in Boston was the first in the country. Boston is also the first diocese to take part in all the programs of the Catholic Leadership Institute.
Linda's pastor went through Good Leaders Good Shepherds and hearing him talk about it made her curious, and now that they've both been through the same process they are on the same page with the same vision for their parish.
Karen said they found it important for priests and lay leaders to have this sort of formation because the unfortunate reality in the Church is we're losing more priests than we're gaining every year. The average pastor becomes pastor with less experience and has a larger parish than ever. He also needs to rely more often on the laity to help him lead. Scot said his sense is that in the old days, the seminary formation assumed many years of apprenticeship with experienced pastors.
Karen said priests are formed to teach, sanctify, and govern. The first two happen very well in seminaries, but governing was often neglected. They work to cover that gap for priests and to give the skills to lay people to help them.
4th segment: Scot and Fr. Chris discuss the appointment of James F. Driscoll as executive director of the Massachusetts Catholic Conference. He succeeds Gerry D'Avolio, who came back as interim director after the sudden passing of Ed Saunders last year. From the press release announcing his appointment, the Massachusetts bishops said:
"We are pleased to welcome Jim Driscoll as Executive Director. He is an experienced professional and dedicated Catholic who shares our common belief regarding the important role and mission of the Church. The Catholic Church in Massachusetts plays a pivotal role across a wide landscape that intersects secular society and the ministry of the Church. We seek to reach common ground on many issues, while working to advance the important positions of the Church in the areas of life, human dignity and social justice."
Scot said the Mass. Catholic Conference is the organized voice of the Catholic Church in Massachusetts on Beacon Hill. It applies Church teaching to the common good in public policy and speaks with one voice on behalf of all Catholics in the public square. Catholics look to the bishops for leadership on these social issues, including life issues, family issues, and more. They provide moral leadership and a definition of complex issues from a Catholic point of view. The four dioceses of Massachusetts are Boston, Worcester, Fall River, and Springfield. The Conference has existed since 1969. Each state has a conference of its own.
Fr. Chris said Catholic social teaching is not just for Catholics but serves the common human good and respects human dignity. It challenges the State and us as Catholics to recognize the common good.
Scot also wanted to mention Dan Avila, the associate director for policy and research, and Catherine Davis and Kathy Magno who also work at the Mass. Catholic Conference. They have continued all of the work of the conference during the change in leadership in the past year.
Fr. Chris said they have a strong moral theology program at St. John's to help the seminarians articulate the Church's teaching. They also bring in bioethics experts from around the country to help them articulate these very complex matters. The field changes so quickly that it's a constant work of learning.