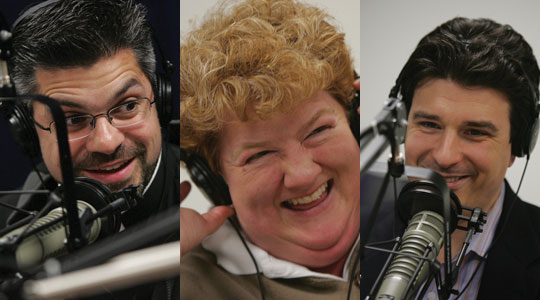 Listen to the show:
Podcast: Play in new window | Download
Today's host(s): Scot Landry and Fr. Matt Williams
Today's guest(s): Tim Van Damm, vice-president of advancement and admissions, College of St. Mary Magdalen, and coordinator of AdorationBoston.org; and Kathy Reda, coordinator of the Eucharistic Congress for Youth and Young Adults
Today's topics: The College of St. Mary Magdalen's new name and new vision for itself; Perpetual adoration in the city of Boston at St. Clement's Eucharistic Shrine; the 4th annual Eucharistic Congress for Youth and Young Adults; and questions about confession
A summary of today's show: Tim Van Damm shares that thew name for the College of St. Mary Magdalen is just the first indicator of all that's new at the New Hampshire Catholic college. Tim also talks about his key involvement in an initiative that brought back perpetual adoration in the city of Boston for the first time in decades and the fruits of that work over the past 18 months. Kathy Reda then joins the panel to talk about the upcoming Eucharistic Congress for Young Adults and the benefits to both participants and the city. Finally, the panel answers listener questions on the sacrament of confession.
1st segment: Fr. Matt said the past week has been busy including a meeting with pilgrim leaders for the upcoming World Youth Day in Madrid. This past Friday, he experienced the humility of St. Francis by going through the North End begging for donations of food from restaurants for the Eucharistic Congress. They feed over 400 participants in the congress at a dinner on Saturday. La Famiglia Giorgio alone will provide food for 200 of the attendees.
On St. Joseph's Day, this past Saturday, and then on Sunday, they had the archdiocesan CYO basketball "March Madness" tournament, the first 3 weekends of March, at Milton High School gymnasium. Scot recalled his experience in the CYO basketball tournament in high school. The strength of CYO is in the coaches who model their Christian witness and it can be a wonderful introduction to pre-evangelization of our young people.
Scot and Fr. Matt will also be taking questions at the end of the show on confessions. Scot's 9-year-old son will be experiencing his second confession on Wednesday night during the weekly Lenten The Light Is On For You. Fr. Matt said it so very important for parents to model the practice of the faith for their children because studies show that this is the most important way for children to remain Catholic.
2nd segment: Scot and Fr. Matt welcome Tim Van Damm. Scot and Tim became friends 6 years ago when they started working together on the Catholic Men's Conference. He's been involved in many initiatives in Boston. He's now vice-president of advancement and admissions at the College of St. Mary Magdalen. Scot asked him how Tim ended up at Magdalen.
He;s from New York and fell away from the Church in college, but discovered the Oblates of Mary at St. Clement's shrine in the Back Bay. Through the young adult group at St. Clement's his faith grew and he eventually met Scot when they worked together on the Catholic men's and women's conferences. His faith life has deepened a lot in the Archdiocese of Boston. There is much good going on here and so many solid Catholics he's met along the way. The next leg of his journey has been to St. Mary Magdalen College.
Scot said there has been a lot of changes at the college including changing its name last August from Magdalen College to the College of St. Mary Magdalen. When Tim first arrived at the college he wasn't too familiar with Catholic higher education and was surprised to learn that according to the Newman Guide to Choosing a Catholic College that Magdalen was one of only about 20 authentically Catholic colleges in the US. So he asked early on was why the college was called Magalden and not Saint Mary Magdalen to emphasize the Catholic identity of the college, to bring greater respect and knowledge about their patroness, and to indicate a new direction for the school.
About St. Mary Magdalene, they want to show that she was close to the Lord, that she had a life of suffering and a sinful past, but through His mercy that she was forgiven and persevered to the foot of the cross. She's traditionally called the Apostle to the Apostles because she was the first to see the risen Christ and took that message to the apostles. As an institution, they want to the be apostles to the apostles in the Church.
Their academic dean was recently named the next college president, Dr. George Harne. Tim said he is a man of great humility with a Ph.D. from Princeton and a Master's from St. John's. They are a Great Books institution and that's the model that St. Mary Magdalen is following. He is also a convert to the faith. His grandfather was a Presbyterian preacher and George himself became Episcopalian and then through experiencing a Corpus Christi procession, he came to believe in the True Presence of Christ and converted to Catholicism. As dean he strengthened the academics at Magdalen.
Another change was the retooling of the academic program. Harne looked at other schools with Great Books programs, and took the best practices of each. As the school gains a better reputation as an academic institution, the more it benefits alumni down the road as well and the better it competes in a competitive market for students in New England. They are also unique in having 4 years of catechesis in the core curriculum for students. They find many students come to the school not really not knowing their faith inside and out. They've also added Logic as a first semester freshman class to prepare the students for the seminar style classes.
The students come from all across the country, as far as Alaska, and about 40% were homeschooled. Their latest addition is a student from Haiti. After the earthquake, the board of the school offered a free education for a student from Haiti. They don't have a benefactor yet, but they took a leap of faith. They partnered with the St. Boniface Haiti Foundation in Boston. The young man now at Magdalen was in school in Haiti studying public policy. He survived the earthquake because he was home sick instead of at class and all his classmates died in the quake. He has persevered and has been overcoming obstacles, including the language barrier.
Campus ministry is trying to get the students to take more ownership of the ministry to each other. They have introduced other experiences of prayer and spirituality, such as Taize prayer. They're trying to say that Catholic is a broad term. While remaining orthodox, they want to expose students to all authentic expressions of the faith. They also have a strong pro-life group on campus.
For a long time, Magdalen had a reputation as a Catholic boot camp of sorts with everything required, including socials. Now they want the students, again, to take ownership of their own campus life. Three freshman got together to play basketball and then they formed a basketball team and started playing other schools. They've acquired their own equipment as well. There are students who've formed informal ski clubs and they have the well-known Magdalen Choir.
3rd segment: Scot and Father Matt now talk with Tim about the perpetual adoration initiative at St. Clement's Shrine. In 2009, Tim spearheaded a move to bring back perpetual adoration within the city limits of Boston for the first time in decades. They began again on August 15, 2009. The fruits have been incredible, Tim said. The Masses at the shrine are packed and there are many stories from people who relate how important it is to them to have perpetual adoration. He asked, "How can things not change when you offer Christ to the people in the city in the True Presence of the Eucharist." Whether you know it or not, you are changed by the Presence, just like someone who sits in the summer sun is affected by the sun's rays, even if he claims he is not.
Fr. Matt recalled in his high school days that his parish, Sacred Heart in Weymouth, began perpetual adoration as part of a whole parish stewardship model. He recalled that every Friday and Saturday they would have adoration all day long. He got a call from a parishioner asking him to give one hour once per month. He balked at first, and she reminded that he could give just one hour to the Lord. As he went month after month, often dragging his feet, being present and always feeling peaceful, joyful, and changed as he walked away after the hour.
Tim is on the advisory council for the Oblates of the Virgin Mary and at a recent meeting the topic of vocations came up. They are seeing so many new vocations since adoration began at the shrine. Fr. Matt said that several priestly, diaconal, and religious vocations have come out of the parish since they started their perpetual adoration.
Tim said it's hard to say exactly how many people are participating at St. Clements. For each of the 24 hours of the day, they have an hour coordinator and they have divisional coordinators overseeing blocks of hours. From there each hour of the day should have 2 people. Sometimes there is only one person for an hour and some people sign up fro multiple hours. And of course there are many people who just show up to adore without being on the schedule.
The middle of the night is the biggest need for coverage as well as early Saturday and Sunday morning. Evenings, 6-10pm, are the strongest. To get more information, send an email to AdorationBoston@gmail.com or call St. Clement's Shrine and ask for Rich McKinney. There is also the website at Adorationboston.org.
4th segment: Kathy Reda joins Fr. Matt, Tim, and Scot. Kathy is involved in the Church in Boston in many ways. She is a consecrated virgin, which means in part that she has the honor of having the Blessed Sacrament reserved in her house. She is also project coordinator for the Eucharistic Congress this year. She finds it so powerful because it is all about the Eucharist. The weekend starts with adoration and confession and then on Saturday the participants do service in the neighborhood. On Saturday, the eucharistic procession parades Christ through the North End and provides a powerful witness to Christ.
Fr. Matt considered what kind of people are drawn to these kinds of events, like adoration or the congress. Tim said that it's important to remember that St. Clement's perpetual adoration would not have happened had Tim not gone to Holy Ghost parish in Whitman with someone who's not even Catholic who was powerfully affected by the experience. It brings everyone from all walks of life and all demographics, young and old, rich and poor.
Kathy said she's met all different kinds of people at the eucharistic congress, and by the end of the weekend they are powerfully affected by the experience.
Scot asked about the speakers who are coming to talk on the topic of Pope John Paul II and his phrase "Be not afraid." Fr. Roger Landry is coming to speak on the life of Pope John Paul. Andreas Widmer, a former Swiss Guard, and Sr. Mary Karen Toomey from the Sister of Life, will speak on Saturday. Cardinal Seán will celebrate Mass.
Why would someone who's never been come to such an event? There are great speakers and great fellowship with new people, a wonderful dinner provided by the restaurants of the North End, and the amazing experience of the eucharistic procession.
Fr. Matt said the service project was always a key component of the congress. Fr. Dan Hennessey who first envisioned the Eucharistic Congress several years ago wanted to wed together service and Eucharist, to inspire young adults to see that service flows from the Eucharist and leads back to the Eucharist. In the timeline of the congress, service is also the middle part as well.
Kathy said there are between 25 and 50 different service projects available typically to appeal to every person's personalities and capacities. From praying before an abortion clinic to visiting elderly religious and priests to cleaning up the streets of the North End to preparing for the dinner. Scot said it's a great way to meet new Catholic friends, by working side by side with these people. Kathy said that once you pray with people and work beside them, you become friends for life.
Find out more information at EucharisticCongress.org.
5th segment: Every Wednesday we are happy to announce the winner of the 1060 WQOM Benefactor raffle. This week the recipient will earn a copy of the book "The Leadership of Jesus: 10 Fundamentals of Leadership" from Master Sergeant Michael Cutone from CatholicsLeadTheWay.com. The book integrates the leadership training Sergeant Cutone received in the military with the Catholic faith.
This week's winner of the Benefactor Card raffle is Anne Tomchik from Peabody, MA. Congratulations to Anne!
If you would like to be eligible to win in an upcoming week, please visit WQOM.org. For a one-time $30 donation, you'll receive the Station of the Cross benefactor card and key tag, making you eligible for our weekly raffle of books, DVDs, CDs and religious items. We'll be announcing the winner each Wednesday during "The Good Catholic Life" program.
6th segment: Tonight is the second Wednesday of The Light Is On For You. To locate a parish, go to Pilot Parish Finder, perhaps to find a parish along your commute home. Since Wednesdays are so important for confession in the Archdiocese during Lent, we're taking questions on confession.
First question: What are the spiritual effects of a sacramental confession?
Fr. Matt said to imagine having the weight of the world on your shoulders because of the tremedous guilt of past sin. Our conscience always tells us, even in the back of our mind, even if we pretend it's not there. The Lord is calling us to reconcile with him, to be healed, to let Him take the burden off your back. So the first effect is to experience the joy, love and healing of Christ. Sin affects our relationship with God and steps need to be taken to heal what wound on the relationship, especially mortal sin. When we confess our sins, God takes those sins upon Himself, nails them to the cross, and through the priest offers absolution.
Tim said there is a grace that comes from confession to help you avoid the near occasion of the next sin. Kathy recalled a time she was on retreat with kids and during confession the priest offered to hear hers. At first she demurred, but when he asked if she needed it, she said yes. Then she started, "Bless me, Father, for I have sinned. It's been six months since my last confession. My first sin is I just lied to you. It's been more than six months." She said he laughed and asked kindly why she lied. She said that it's been years and she was so embarrassed. But he was so kind and they went on from there and she felt better. She said people get nervous about going and shouldn't be.
Second question: What should you do if you want to go to confession but forget how?
Tim said he's never met a priest who wasn't willing to help a penitent through the process. They are just happy to have you there. Like the father of the Prodigal Son who's just waiting for his son to return. As soon as he sees his son on the horizon, he races to embrace him. In the same way, the priest cares about your heart and your intention.
Third question: Why is it a good habit to go to confession more than you have to, just when you've committed a mortal sin?
Fr. Matt said we go to confession on a regular basis to be holy, to keep ourselves sharp. If we don't go on a regular basis, how can we shine? Even with venial sin, it dims the shine on our spiritual armor, whereas mortal sin completely dulls it. Venial sin introduces bad habits of sin that could eventually make it easier for us to fall into mortal sin.
For a lot of helpful advice and prayers and resources for confessions, go to The Light Is On For You