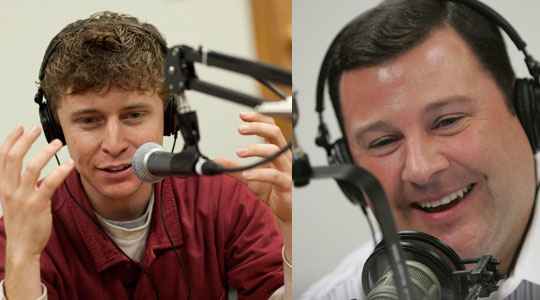 Listen to the show:
Podcast: Play in new window | Download
Today's host(s): Scot Landry and Fr. Matt Williams, director of the Office for the New Evangelization of Youth and Young Adults
Today's guest(s): Stephen Colella, assistant director of the Office for the New Evangelization of Youth and Young Adults, and Seth DeMoor, founder of the website OneBillionStories.com.
Today's topics: World Youth Day Madrid 2011 and the Boston pilgrimage; OneBillionStories.com telling the faith stories of one billion Catholics; Listener questions about the sacrament of confession
A summary of today's show: Stephen Colella of the Office for the New Evangelization of Youth and Young Adults talks about World Youth Day pilgrimages, including this summer's WYD in Madrid, and their value to young people on a faith journey. Seth DeMoor tells us about his plan to collect the personal witnesses of all one billion Catholics on their lifetime journeys of faith. And Stephen, Scot, and Fr. Matt answer listener questions about the sacrament of confession.
1st segment: How is Lent going for Fr. Matt? Sometimes it's hard to remain true to Lenten disciplines, and those failings remind us of how much we need a savior. So for him it's been wonderful and humbling. Scot has said a new diet regime has given him new appreciation for "praying with your whole body."
Today was very active at the Pastoral Center. There were 120 people at noon Mass with the Sisters of Life from New York and all the pro-life directors from around New England. Cardinal Sean gave a great homily as well. Fr. Matt said you see Catholics embracing the wonderful practice of daily Mass for Lent. Many people don't realize that we can go every day, that there is Mass every day of the year, except Good Friday. It's a good habit to form.
Tonight is the first of the six Wednesdays during Lent in which we will have the Light Is On For You. Every parish throughout the archdiocese will be open for confessions from 6:30 to 8pm.
Questions about confession may be emailed to LIVE@thegoodcatholiclife.com, texted or called into 617-410-MASS.
2nd segment: Stephen Colella joins Scot and Fr. Matt. World Youth Day 2011 is in Madrid. Every 3 years it's a celebration of young people gathering from around the world. Steve said Madrid is a classic European city, lots of plazas for gatherings, lots of historic churches and relics. His team has been planning since the last one, in Sydney, Australia, in 2008. Each WYD has its own flair, culturally, and the marks of the universal Church in that place. You also experience the culture, food, and music that makes that place unique. For example, on Wednesday of that week, the WYD organizers have rented every theater in Madrid and will be showing Catholic films submitted in every language.
Fr. Matt said pilgrims should expect it to be hot, hot, hot. Some forecasts say it can be 110 degrees. They prepare the pilgrims by drilling into them, "This is a pilgrimage, not a vacation. On a pilgrimage, we never complain about anything." With that said, in Spain, you have the oldest marian shrine in the history of the Church, Santiago de Compostela. Spain has some of the greatest saints in history. In Spain, you're always encountering churches, still in good condition, that are older than our country.
Scot said he would love someday to visit the Sagrada Familia in Barcelona. Fr. Matt said that the pilgrimage will be making a stop there. Stephen said his favorite church in Madrid, St. Gines, a smaller church and absolutely beautiful with side shrines dedicated to almost every saint you can imagine. The other is in Valencia, a church that traditionally is said to house the relic of the holy Grail.
Stephen said that the schedule of the week of pilgrimage reflects the paschal mystery, as Pope John Paul designed it. When the Boston pilgrims arrive they will land on Sunday; have Mass at the cathedral and a tour on Monday; the opening Mass by the local bishop on Tuesday night; then catechetical festivals by language group through the week. The Pope arrives during the week, and on Friday there is the Stations of the Cross. On Saturday morning, the pilgrims rise early and have Mass with Cardinal Seán (many pilgrims from other places will seek out the cardinal's Mass, knowing him from his blog.) Then the pilgrims will walk 3-4 miles from St. Francis Basilica to the overnight site, where the pilgrims camp out and have celebrations throughout the evening with Holy Father. In the morning, the Holy Father celebrates Mass and announces the next World Youth Day. The pilgrimage ends with a dinner for the whole Boston group, and then they return to the US.
3rd segment: Continuing the conversation about World Youth Day. Pope John Paul II made WYD a centerpiece of his papacy and he believed that moments in time can be a huge part of the faith journey. He had a theology for young people that was powerful and inviting.
Stephen said Pope John Paul had in mind with WYD to restore the concept of pilgrimage. Pilgrimage is not a program or itinerary, it's an experience that is coached or directed. The subjective person, with whatever they bring with them, can go through the experience as a member of a community and still receive the universal objective truth. People on pilgrimage can have profound moments. You can train adults to have a model of leading an experience. You coach pilgrim in a system that is successful and you make them successful, which is the Bill Belichick model. The leaders can help a young person process what they've experienced as perhaps a life-changing adult reversion or conversion experience.
Fr. Matt said he's been to 4 World Youth Days, the first one in Rome when he was a seminarian staying at St. Joseph, Quincy. In 2002, Toronto; 2005, Cologne, Germany; and 2008 in Sydney. In Rome, his powerful memories are of the heat, the crowds, and the incredible history of the Church, and the love of the Pope. A constant throughout this is the young people's encounter with the love of the Holy Father. The "Catholic sense" kicks in when the pilgrim encounters "Peter." The pilgrimage triggers the heart to be more receptive to the Gospel. His first two times, he went as a pilgrim, not a leader; but the second two he went as a leader, helping to direct young persons to grow in the areas they need. In Australia, what blew him away was when the young people started hearing the theology of the body teachings. At the end of the week in Australia, he and Stephen hosted a gathering of young people to help them be able to articulate what they had experienced to their friends and family, to be able share what they learned. Three young women on that trip used the contents of a girl's purse to illustrate the pressure that the world puts on them to be attractive to boys, and they said they learned that their relationship with Christ was more powerful and what gave them real value. When asked where they learned it on the trip, they said it was in the sacrament of confession.
4th segment: Scot and Fr. Matt welcome Seth DeMoor. He said he was raised Catholic, but was pretty lukewarm growing up. He learned the faith in his mind, but it never traveled to his heart. He attended the University of Colorado, where he encountered two excellent priests who helped him discover his faith. One Billion Stories refers to the one billion Catholics and he believes that all Catholics have a story to share. Jesus taught through parables and stories. Fr. Matt asked what sharing one's story does for the faith.
Seth said that it's difficult to connect with people just through the teachings of the Church or even Scripture, but they may listen to a personal testimony from someone if it's authentic and real.
In November 2009, he was about to graduate from university and didn't have a job, so he decided to start a bike ride from Florida back to Denver, Colorado over 2,400 miles, collecting stories. This was the start of the website. It took 90 days. Before he left he had only 4 contacts for places to stay during his trip. He brought camping gear, but over the 90 days he only had to camp out 7 nights. Every other night people would take him in, usually folks he would encounter at daily Mass. They would hear his story and soon he would be eating dinner at their house. Fr. Matt is reminded of Christ sending out the 72 disciples who he told not to bring extra supplies, but to depend on providence.
Seth said that story of the 72 was poignant because Christ sent the disciples in pairs, and he went alone and it was very difficult.
One of the surprising stories was interviewing a gentleman who popped out a glass eye in the middle of the interview. But more inspiring was a young man in Gainesville, Florida, who had fallen away from the faith, got into Buddhism and New Age then fundamentalist Christianity, hating the Church. But by the time Seth interviewed him, he was in RCIA.
Fr. Matt asked him what audience he was drawing to the website. Seth said as a 25-year-old he spends a lot of time with similar age people and that's the biggest part of his audience and those who are contributing their stories, but his most devout audience are mothers who are really engaged with the stories.
He is asking people to record and submit their stories on video. He's asking for 3-5 minute videos recorded in high def that share people's own stories of what they love about the faith. Email them to seth@onebillionstories.com
He's working on a new series for CatholicTV in 13 parts that's the back story to his pilgrimage and the stories he encountered. It will air in September. For OneBillionStories, he's also looking for people to help him take the mission to the next level, recording and compiling stories from around the globe. It's not his full-time job, but he's hoping to turn it into a non-profit.
5th segment: Every Wednesday, we announce the winner of the 1060 WQOM Benefactor Raffle. This week the recipient will win a copy of the "2011 Calendar of Indulgences" from Bridegroom Press. This week's winner of the Benefactor Card raffle is Rose Dacorta from Dorchester Center, Mass.. Congratulations to Rose.
If you would like to be eligible to win in an upcoming week, please visit WQOM.org. For a one-time $30 donation, you'll receive the Station of the Cross benefactor card and key tag, making you eligible for our weekly raffle of books, DVDs, CDs, and religious items. We'll be announcing the winner each Wednesday during The Good Catholic Life.
6th segment: Stephen rejoins Scot and Fr. Matt. They will answer questions submitted by listeners about confession.
Over the past few decades, many parishes have added reconciliation rooms to allow face-to-face confession. Is the Church suggesting that face-to-face confession is better than in a traditional confessional?
Fr. Matt said that allowing for face-to-face, an interpersonal communication becomes possible, but both forms are valid. The most important thing is to just go. Stephen said he prefers face-to-face, because it holds him accountable to the priests he frequents. Scot is strong for the anonymity of the confessional booth. He typically goes to St. Anthony shrine, where they start at 6:30 am every day.
I saw a story on the new iPhone app for confession. Some stories have suggested it's a way to go to confession rather than seeing a priest. Please tell me that it isn't true.
Scot said it is definitely not true. The app is a tool to prepare for confession, allowing you to examine your conscience. It's not unlike printing out an examination of conscience; it's just a digital version of that. It was the first app to receive a bishop's imprimatur. Fr. Matt said that the examination of conscience helps the penitent to have the courage to go to confession and to make it more fruitful by preparing before confession. Jumping into confession without reflecting ahead of time doesn't give the opportunity to make sure every part of life has been looked at before confession. Stephen says he does an examen and he likes the idea of the app. Technology is neutral, can be used for good or ill.
I know I need to confess my sins to a priest, but it's difficult to explain to others why sins need to be confessed to a priest when God is all-knowing and can see our contrition.
Fr. Matt said it goes back to Christ telling the apostles that they have the authority to bind and loose, a power and authority that was handed on in the life of the Church. Grace comes to us through the sacraments. When we confess, we encounter Christ through his ordained representatives. In confession the person articulates the sin aloud, and the priest is able to receive that confession and articulate the mercy and absolution.