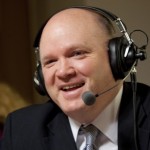 Scot Landry is the Executive Director of Catholic Voices USA, a lay media effort dedicated to increasing the number of well-catechized, media-ready Catholic communicators.  Training offered by Catholic Voices seeks to form lay people to be media-friendly, studio-ready, ego-free, articulate speakers who explain Church teaching through letters to the editor, blog posts, op-eds, and radio and television interviews, as well as parish and other talks with clarity and civility.  For more information on Catholic Voices USA, please visit CatholicVoicesUSA.org.
Scot also serves as the host of The Good Catholic Life, a live daily radio program (M-F, 4-5pm) on 1060AM WQOM in Boston, on TheStationofTheCross.com, iCatholicRadio mobile app.  Podcasts are available for download at iTunes and also at TheGoodCatholicLife.com
Prior to joining Catholic Voices USA in September 2013, Scot served as Secretary for Catholic Media of the Roman Catholic Archdiocese of Boston, where he oversaw the Archdiocese's media entities including CatholicTV, The Pilot newspaper, Pilot Bulletins, Pilot Printing, Pilot New Media and the Radio Apostolate. As a member of the steering committee of Cardinal Seán O'Malley's Cabinet, he also was heavily involved in strategic planning, resource allocation, and implementation of major initiatives. Scot had also served the Archdiocese of Boston as the Cabinet Secretary for Institutional Advancement for 4 years.
Prior to his service at the Archdiocese, Scot was the Chief Operating Officer at Eze Castle Software and Eze Castle Integration, a Principal at The Parthenon Consulting Group, a Dean's Research Fellow at Harvard Business School and a former Brand Manager at Procter & Gamble and James River Corporation.
Scot is the co-Founder of the Boston Catholic Men's and Women's Conferences and won the 2008 "Ambassador of the Year" award from Legatus, a group for Catholic business leaders. He is a graduate of Harvard Business School and Harvard College.
Scot lives in suburban Boston with his wife and three children. He was born and raised in Lowell, MA. His identical twin brother, Fr. Roger Landry, is a priest of the Diocese of Fall River